Shanxi - Datong Hiking Tours
Datong01 : 4 Days Datong - Yungang Grottos - Hanging Temple - Mt. Wutaishan
Upon arrival in Datong, first find a local guest house and get prepared. Start your hiking from Yungang Grottos which is about 16 km to the west of Datong city. Buses No. 3-1, No. 3-2 and No. 10 can take you directly there. You can also call Datong Bus Service Line at 0352-5037817 for consultation. Yungang Grottos consists of a series of 53 caves, and the caves are home to over 51, 000 stone sculptures that were completed during the Northern Wei Dynasty. The admission fee of Yungang Grottos is CNY60.00.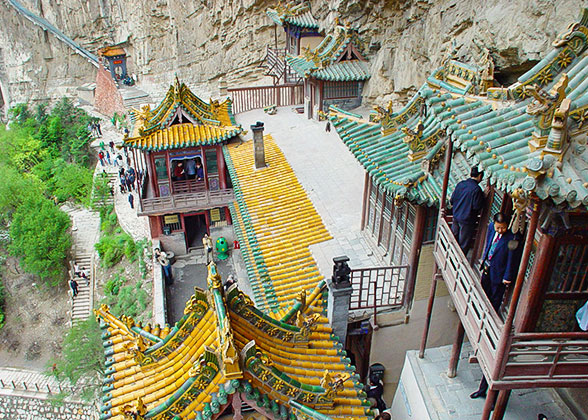 Hanging Temple, Datong
On the second day, continue hiking to Hanging Temple in Hunyuan town which is 75 km from Datong city. You can take the coach at Datong south coach station (Address: No. 20, Yantong West Road, Datong city; Tel: 0352-6036784). The coach leaves from 08:00 to 18:00 and the fare is about CNY15.00. Upon arrival in Hunyuan coach station, you need to take a taxi at about CNY10.00 or take the bus No. 8 to the Hanging Temple. The Temple is hung on the middle of the cliff, built 1,400 years ago and hosts worship for the Taoists, Confucians and Buddhists. The admission fee of Hanging Temple is CNY60.00. Then return to Hunyuan coach station to wait the coach from Datong to Mt. Wutaishan which will stop at Hunyuan coach station. The distance is about 132 km to Mt. Wutaishan. The admission fee to enter Mt. Wutaishan is CNY168 in high season and CNY140.00 in low season. Upon arrival there, settle yourself down in a guest house in Taihuai town and rest yourself.
On the third day, pay a visit to the temples around Taihuai town. In the morning, start hiking to Shuxiang Temple which is located 1 km southwest of Taihuai town and it is famous for its consecrating Bodhisattva Wenshu. Then head north to Wuye Temple, Tayuan Temple(CNY4.00), Luohou Temple and Xiantong Temple( ticket: CNY6.00). The four temples are not far from each other and it takes about 10 minutes from one site to another. Continue hiking to climb the 108 steps to reach Pusading(ticket: CNY5.00). If time permits, you can go on to climb the 1080 steps to visit the Dailuoding (ticket: CNY4.00).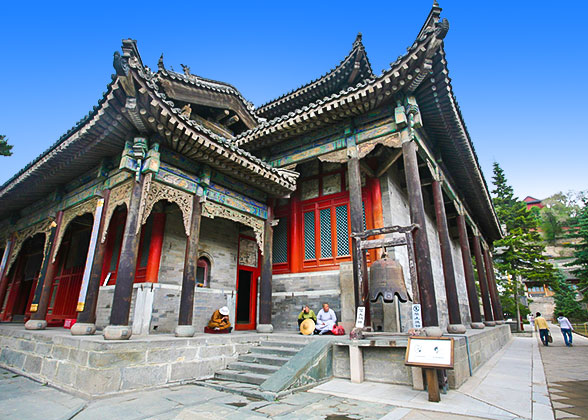 A temple on Mt. Wutaishan, Datong
On the last day, get up early to see the sunrise on the East Peak, also called Wanghai Peak with an altitude of 2795 meters which is about 10 km east of Taihuai town. If you plan to climb to the top of the Peak, you should get up very early. You can also take the van at Taihuai town. Then head for the South Peak (Jingxiu Peak) with an altitude of 2485 meters which is about 13 km south of Taihuai town. The South peak is very attracting for its natural scenery where you can enjoy different kinds of beautiful flowers.
After that, you can extend your days in Mt. Wutaishan to explore more of the place or you can leave according to your schedule.