Datong Attractions- Things to Do
As one of the twenty-four famous historical cities in China, Datong is known for its abundant historical relics and natural beauty. Unlike the pretty and elegant scene in cities south of China, sceneries here boast the air of majesty and grandeur. Datong was originally the capital of Northern Wei (386~534) and the 'support capital' of Liao (916~1125) and Jin (1115~1234). Northern Wei is a stage during which Buddhism developed quite rapidly in China. In the later Liao and Jin, the belief in Buddhism also increased to a high level. Therefore, as the country's political and economic center, many temples, pagodas and other buildings related to Buddhism were set up during these periods in Datong.
Top Things to Do in Datong
As the first on the must-go attractions of Datong, it is situated 16 kilometers (9.9 miles) to the west of the city center. According to the record, the construction of these grottoes lasted 50 years, and more than 40 thousand people took part in the project. There are now 53 grottoes with 51000 statues remaining. It is one of the largest grotto-groups in China.
The grand natural sceneries of the area can be found in Mt. Hengshan. It is located in the Hunyuan County about 60 kilometers (37.3 miles) to the south east of the urban area of Datong. As one of the Five Sacred Mountains in China, Mt. Hengshan is a great attraction to people all over China for its charming natural beauty as well as its intriguing manmade miracles.
The peculiar wood-structured Hanging Monastery on the cliff at the foot of Mt. Hengshan gives a breath-taking view of Chinese architecture.
Because of the numerous pagodas in Datong, the city has been known as the 'City of Pagodas'. Though there are only six left today, each of them is elaborate, especially the Wooden Pagoda in Ying County. This attraction is over 900 years old and is attractive for its exquisite design and delicate appearance.
| | |
| --- | --- |
| Hanging Monastery | Yungang Grottoes |
More Attractions
The Huayan Monastery in Daxi Street of Datong City established in Liao is typical. The statues, frescos and some of the buildings in Huayan Temple betray the typical artistic and architecture style of the Liao Dynasty.
Inside the south gate of the city, Shanhua Temple is a majestic well-preserved building group of Liao and Jin which is famous for the well-spaced layout as well as the vivid statues of Buddhas and Buddhism frescos.
The Nine-Dragon Screen in the East Street of the city is also worth a visit. This attraction is the largest and earliest one of the three famous Nine-Dragon Screens in China (Note: the other two are respectively in Forbidden City and Beihai Park.
It is within the Hengshan Mountain range is one of the three important passes through the inner line of the Great Wall in Shanxi section.
Great Wall in the city is mostly composed of ruined parts built of rammed earth rather than brick. Nowadays, people can see the majority of the remains of the Ming Dynasty.
| | |
| --- | --- |
| Brahma King Palace, Huayan Monastery | Nine-dragon Screen |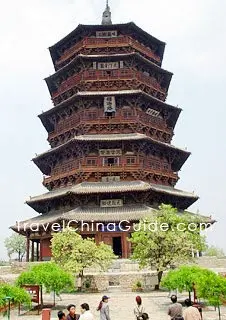 Wooden Pagoda in
Yingxian County
Recommended Routes:

1-Day Tour:
Route 1: Shanhua Temple→Huayan Monastery→ Nine-Dragon Screen→ Yungang Grottoes
The first three points of interest are all in the downtown area - you could get around it within half a day and then take the city-bus heading for Yungang Grottoes.
Route 2: Hanging Temple→ Mt. Hengshan→ Yungang Grottoes

2-Day Tour:
Day 1: Shanhua Temple→ Huayan Monastery→ Nine-Dragon Screen→ Yungang Grottoes
Day 2: Wooden Pagoda→Hanging Monastery

Tips:
1. The city-bus No.3-2 can take you to Yungang Grottoes.
2. Buses from Xinnan Passenger Transport Station can take you to the Wooden Pagoda.
- Last modified on Jul. 01, 2018 -
Questions & Answers on Datong Attractions
Asked by susi from INDONESIA | Jun. 11, 2018 04:59

Reply
Dear all, I plan to go for day trip at datong, wish to know :
1. how can i go to hanging monastery from DT train station? i suppose to be arrive at DT at 05.45 by train from beijing.
is it any bus from train station to hanging monastery?

2. after that, from hanging monastry, how can i go to yungang grottoes?

3. if time available, want to see nine dragon wall, how can i go there from yungang grottoes?

4. and last one, how can i back to train station from yungang grottoes or nin dragon wall?

any other suggestion for 1 day trip in DT?

planning to go there by sleeper bus from beijing and back to beijing in the same way.

Thank you

Regards
Susi
Answers (5)
Answered by Peter from USA | Jun. 11, 2018 21:00

0

0

Reply
1. You can take a taxi or bus line 70 to the Dongguan Bus Station and then take a bus to Hunyuan County. After arrival, take a tourist bus from Hunyuan Bus Station to hanging monastery.

2. You can take the bus line 603 from DT Railway Station directly to yungang grottoes, so you are advised to see yungang grottoes first.

3. Take bus line 3 from Yungang Station to Tongquan Road West Circle Station and walk about 100 m to take bus line 38 from another Tongquan Road West Circle Station to dragon wall.

4. Take a bus I mentioned above or take a taxi.
Answered by susi | Jun. 12, 2018 19:50

0

0

Reply
Dear Peter

Thanks for your information,
as your suggestion, if i go to yungang grottoes first, can you tell me :

1. if i go to yungang grottoes first, then how i suppose to go to hanging monastry after that? any bus from yungang grottoes to hanging monastry? or should i go back to dongguan bus station and take bus from there?

2. did you know the tourist bus timetable? in case i missed the tourist bus, what option i have to go back to train station?

Regards,
susi
Answered by Peter from USA | Jun. 12, 2018 20:23

0

0

Reply
1. Yes, you need to go back to dongguan bus station or sometimes there are direct buses from the railway station to Hunyuan.

2. I'm sorry I didn't find any timetable. However, maybe you can go Hanging Monastery first and it won't take long time to visit. The transportation of yungang grottoes is more convenient so you can put it later.

Answered by Rob from CANADA | Jun. 30, 2018 20:36

0

0

Reply
Hi Susi, my family and I did this yesterday. Just an FYI for everyone, we made arrangements with the taxi driver that picked us up at the train station to take us. We paid him 300 yuan for the day. He picked the three of us up at our hotel at 9:00 am and dropped us off at around 5:30.

He took us to the the hanging monastery, dirt forest (interesting), and the Grottoes which was a good day of travel.
Answered by SUSI from INDONESIA | Jul. 01, 2018 21:13

0

0

Reply
Dear Mr. Rob

Thanks for your information

Regards
Susi
Asked by BARBARA1982 | Mar. 26, 2018 07:14

Reply
Datong Daytrip
We'll visit Da Tong for a day in may (arriving 7 in the morning and leaving 10 in the evening). I'm not sure which sights we can visit in one day! Is it possible to see: Hanging Monastery - Yungang Grottoes - Huayan Monastery - Nine Dragon Screen? Is there something we shouldn't visit or something that we've to add to our plan?
Which route would you recommend? We'd like to hire a taxi, how much would that cost?
Thanks?


Answers (2)
Answered by Olivia from NEW ZEALAND | Mar. 26, 2018 22:24

0

0

Reply
Well, I'd like to give you some suggestions.
The car fare is around 300-500RMB par day based on car types.
As for the attractions, you are suggested to go to Hanging Temple in the morning and Yungang Grottoes in the afternoon. After visiting, if you still have some time left, you can visits other places you listed.
Answered by BARBARA1982 | Mar. 27, 2018 02:03

0

0

Reply
Thank you for your suggestion!
Asked by Simon Northcott from CHINA | Mar. 13, 2018 00:04

Reply
Datong - Hengshan & Hanging Temple - Wutaishan (Táihuái Village) - Taiyuan
Is there transport that can provide the above route, please?

Stay 1 night between Hengshan and Wutaishan and a 2nd between Wutaishan & Taiyuan - suggestions, please? Looking for character...!
Answers (1)
Answered by Tomson from CANADA | Mar. 13, 2018 22:38

2

0

Reply
You can take a bus from DT to Hunyuan and then take a taxi to Hengshan and Hanging Temple.
Then, you need to back to Hunyuan Bus Station and catch a bus to Wutaishan.
From Wutaishan, you can take a direct bus to Taiyuan.

As for accommodations, you are suggested to spend one night at Hunyuan Town and the other at Wutaishan (Taihuai Town). There are many hotels are in your choice!

Hope it help!
Asked by Clarice from PHILIPPINES | Jan. 26, 2018 05:47

Reply
Is there a long distance bus from Shijiazhuang airport to Datong? when is the earliest schedule?
Answers (1)
Answered by James from NEW ZEALAND | Jan. 28, 2018 21:00

1

0

Reply
No shuttle bus is available.
You can take shuttle bus line 3 to Shijiazhuang Railway Station and take a train there. The trains leave at 3:51, 17:26, 19:35 and 20:45. It takes about 10h; CNY152/158 for a hard sleeper, CNY233/243 for a soft one.

Or you can take a taxi to Shijiazhang North Railway Station and take the train at 14:31 to DT. It takes about 6.5h and CNY133 for a hard sleeper, CNY205 for a soft.