Fragrant Hills Park (Xiangshan Park)
Situated in the east part of Western Hills, 17 miles (28 kilometers) northwest of Beijing City, Fragrant Hills Park is very large, made up of hills and forest covering 400 acres (162 hectares). Both its natural sceneries and cultural relics are abundant. Xianglu Peak, literally Incense Burner Peak, 1,830 feet (558 meters) high, is its highest peak.
Fragrant Hills Park, aka Xiangshan Park, was first built in 1186 in the Jin Dynasty (1115-1234) and later expanded in the Yuan and Ming dynasties. In 1745, Emperor Qianlong (1711-1799) ordered the addition of many new halls, pavilions and gardens and gave it a new name, Jingyi Garden, meaning a Garden of Tranquility and Pleasure. Unfortunately, in 1860 and 1900 after the
Summer Palace
and the Yuanming Yuan (the
Old Summer Palace
) were set on fire, lots of relics in the Fragrant Hills were damaged by foreign troops. Since 1949, with a half-century's restoration and development by Chinese government, it has been recognized as one of the ten most famous parks in Beijing.
The most spectacular natural scenery in the Fragrant Hills Park is the red smoke tree leaves over the mountains. When autumn arrives, fiery red leaves blanket the entire mountain. Every year, thousands of tourists come to it. The cable cars are a great way to take in the beautiful scenes.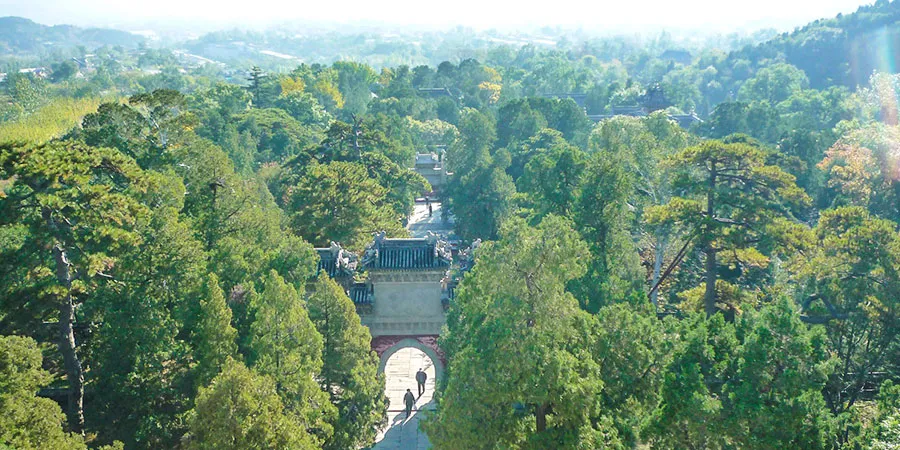 Xiangshan Park
Visitors may take two main routes to explore the park. The first one is to go along the north route, where visitors will see Spectacles Lake (Yanjing Lake), Study of Reading Heart (Jianxin Zhai), Bright Temple (Zhao Miao), etc. Spectacles Lake is a lake divided half by a bridge. Study of Reading Heart was built in the Ming Dynasty (1368-1644) and was noted as the park inside it. Bright Temple is a large Tibetan style lamasery complex built in 1780 as the residence for the sixth Panchen Lama during his visits to Emperor Qianlong. Buildings in the complex have partially been burned down. Among the surviving treasures are a majestic glazed-tiled archway in front of the complex, a Tibetan style terrace and a glazed-tiled pagoda. Bells hung on the eaves of the pagoda chime in breeze.
Another route leads to the south area of Fragrant Hills Park. Main attractions along the route include Tranquility Green Lake (Jingcui Lake), Shuangqing Villa, Fragrant Temple, Xianglu Peak, etc. This route is a little hard for the highest peak, Xianglu Peak. However it is worthwhile to try. One of the 'must see' points of interest is the Shuangqing Villa, which is attractive not for its natural beauty but more for its place in Chinese history - it was once the residence of Chairman Mao Zedong as well as an early sight for the headquarters of the Central Committee of the Chinese Communist Party. The alluring beauty of it for you to appreciate all it has to offer.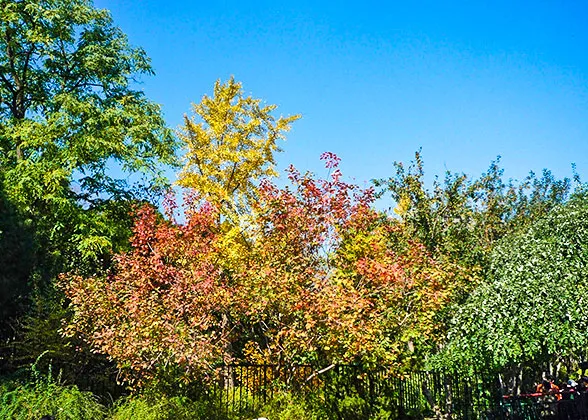 Red Leaves
This hill is one the most famous places in China to see the red leaves. Red Leaves Festival is held every Mid-October to early November. That is the busiest time of it. Travelers had better go there in week days to avoid great number of visitors in the weekends.

Best places to see red leaves:

Tranquility Green Lake - Walk 5 minutes from the east gate, you will arrive at the lakeside. It is the nearest from the entrance. The lake area is surrounded by hills in three directions, so, you need to find a good point of view to see and take pictures.

Best time to see red leaves: circa October 25 - November 9

Fragrant Hills Temple (Xiangshan Temple)
The temple is in the south hill foot close to Shuangqing Villa. First built in Tang Dynasty, the temple is the origin of Fragrant Hill's culture. Be cautious of many steps in this area.


Best time to see red leaves: circa October 18 - November 2

Heshun Gate:
It is on the south hillside, 980 feet (300m) above the ground. It is close to the red leave trees.


Best time to see red leaves: circa October 25 - November

Yuhua Xiu:
This is the largest flat area in it and the road to it from the east gate is even, within 20 minutes' walk along the middle road. There is broad field of vision.


Best Time to see red leaves: October 18 - November 4

Xiangwu Ku (literally Fragrant Mist Cave)
It has classical garden environment on the hillside. It takes over half an hour to climb up to this place.


Best time to see red leaves: October 15 - November 4

Recommended red leaves watching routes: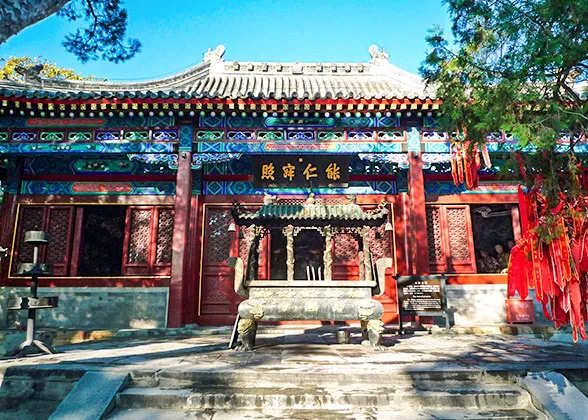 Biyun Temple

Route 1: East gate - Jingcui Lake - Shuangqing Villa - Xiangshan Temple - Heshun Gate - hill top


Tips: The route takes about two hours. Need to climb up the hill.

Route 2: East gate - Yuhua Xiu - Xiangwu Ku - hill top


Tips: This is a meek route and suitable for family going together.

Route 3: North gate - cable car station - hill top


Tips: It is 5 minutes' walking distance from the north gate southward to the cable car. By cable, you can get to the hill top nearly 20 minutes later. You can have a bird-eye view of Temple of Azure Clouds (Biyun Temple) and overlook the red leaves afar.

How to get there

By Subway:
1. Take line 10 to Bagou Station. Then transfer to Western Suburban Line and get off at Xiangshan Station. Walk southwest around 900 meters (984 yards) to arrive at the ticket office of this park.
2. Take line 4 and get off at Beigongmen Station. Get out from Exit A and transfer to bus 563 to Xiangshan Gongyuan Dongmen (east gate of the Fragrant Hills Park) Station.

By Bus:
Take bus 563 to Xiangshan Gongyuan Dongmen (East Gate of Fragrant Hills Park) Station, then walk westward for about 600 yards to the gate.
Beijing Bus / Subway Search

Admission Fee

Apr. 1 to Nov. 15:

CNY 10

Nov. 16 to Mar. 31: CNY 5

Half-price tickets for minors aged 7-18




Free tickets for children under 6 and the old over 60

Temple of Azure Clouds
CNY 10
Opening Hours

Apr. 1 - Nov. 15:

06:00 to 19:30 (stop entering at 18:30)

Nov. 16 - Mar. 31:

06:00 to 19:00 (stop entering at 18:00)

Suggested Itineraries:
One-day Beijing Fragrant Hills Park Tour to See Red Leaves
: best time is middle October to early November
Beijing 1-Day Hiking from Xiangshan Post Office to Badachu Park
: one of the most classic hiking routes in Beijing
More
Beijing Tours

Further Reading:
Where to Go in Beijing in Spring - Top 10 Destinations
8 Most Beautiful Places in Beijing in Autumn
Print

Neighboring Attractions:
Botanical Garden
Wofo Temple
(Temple of Recumbent Buddha)
Badachu Park
- Last updated on Jul. 19, 2023 by Gabby Li -
Questions & Answers on Fragrant Hills Park
Asked by ADEEBK | Dec. 22, 2018 13:05

Reply
Is it worth to visit Beijing Fragrant Mountain at January ?
Answers (1)
Answered by Aaliyah from NEW ZEALAND | Dec. 24, 2018 01:01

0

0

Reply
Well, to be honest, the best time to visit the mountain is from April to July and from October to December. You can see the beautiful spring scenery and the red leaves during that period of time. Thus you are advised to change the travel plan if possible.
Asked by John from USA | Oct. 09, 2018 23:52

Reply
Red leaves of Beijing Fragrant Hill in middle of November?
I am planning to visit in middle of November. Is if too late to see red leaves? Thank you.
Answers (1)
Answered by Kent from USA | Oct. 10, 2018 00:46

0

0

Reply
Don't worry, it is the best time to see the red leaves.
Asked by Irena from UNITED KINGDOM | Oct. 03, 2018 02:52

Reply
Closure days of Beijing Fragrant Hills Park
Are some properties inside the park closed on Mondays or does everything stays open 7 days a week?
Answers (1)
Answered by Rena from USA | Oct. 10, 2018 00:56

0

0

Reply
The opening time is:
06:00-18:30 from September 1st to June 30th next year(Monday to Sunday)
06:00-19:00 from July 1st to August 31th(Monday to Sunday)
Asked by Leslie from CHINA | Sep. 30, 2018 03:00

Reply
Are the prices of Fragrant Hill park the same above?
For example: combo ticket is 15¥, park admission is 10¥ and cable cars is 60¥ for one way. Also is the park open during autumn festival in October?
Answers (1)
Answered by Wolowitz from USA | Oct. 07, 2018 20:15

0

0

Reply
Yes, they are same. And it is opened during the Mid-autumn Festival.