Temple of Azure Clouds (Biyun Temple)
The Temple of Azure Clouds, aka Biyun Temple,
is
just outside the north gate of
Fragrant Hills Park
which is 17 miles (28 kilometers) northwest of Beijing City. It was initially built during the Yuan Dynasty (1271-1368) and was taken reconstruction during the Ming and Qing Dynasties. The interior buildings almost retain the style of the Ming Dynasty (1368 - 1644) completely.
The gate of the Temple of Azure Clouds facing the stone lions is called the Mountain Gate. Close to it is a very deep pool that never dries up. On both sides of it are two Buddhist guardians carved during the Ming Dynasty and each with a height of 16 feet (5m). Upon entering it, tourists first visit the Front Palace where the stout Maitreya is displayed and then they encounter the Sakyamuni's Palace where there are statues of Sakyamuni and his disciples as well as the Arhats.
| | |
| --- | --- |
| Temple of Azure Clouds | Dr. Sun Yat-sen Memorial Hall |
The most famous buildings inside the Temple of Azure Clouds, however, are the Sun Yat-sen Memorial Hall in the center, the Five Hundred Arhats Hall and the Vajra Throne Tower.
There is a red wooden plaque hanging above the front gate of the Sun Yat-sen Memorial Hall. The words on the plaque engraved in gold was written by Sun's wife, Song Qingling. Inside this hall lies an empty crystal coffin presented by the USSR government in 1925 in memory of Sun Yat-sen. Since his body had already been buried elsewhere, the coffin was left here till now. Photos of Sun Yat-sen, his handwriting, his books and his statue are also on display inside this hall.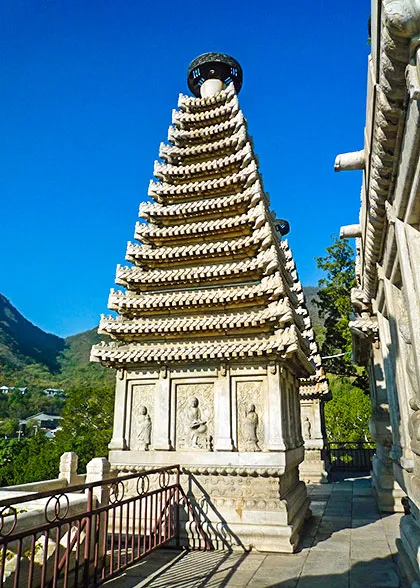 The Five Hundred Arhats Hall located on the west side includes nine rooms, four small wells and a pavilion. The inner side of the front gate has figures of four heavenly kings, and three powerful Buddhas, Burning Lamp Buddha, Sakyamuni and Maitreya, are placed in the middle of this hall. Another Buddha called Ji Gong, squats on the beam of the house.
There is a legend about Ji Gong: A long time ago when a meeting of selecting Arhats was to be held in this hall, Ji Gong had arrived very early and found that the door was locked, so he went out to take a walk and met a girl who was in danger. After rescuing her, he returned to the hall and found that all the seats were occupied. Therefore, Ji Gong had to sit on the beam.
Altogether there are 512 statues, including 500 wooden Arhats, 11 Bodhisattvas and one statue of Ji Gong. All the Arhats are vivid life-size statues with different poses and expressions. It has been said that two of these Arhats were the statues of Emperor Kangxi and Emperor Qianlong of the Qing Dynasty (1644 - 1911).
The magnificent Vajra Throne Tower is the highest building in the Temple of Azure Clouds. This 115-feet-tall (35-meter-tall) tower with elegant decorations is well-known within the area of Beijing City for its high elevation. The tower is located on Xishan (West Hill) and when you climb to the top, it is a perfect observational position to view all the scenery in the suburbs of the city.
It is suggested that tourists visit the
Wofo Temple
(Temple of Recumbent Buddha) first, then Fragrant Hills Park, and lastly the Temple of Azure Clouds. The three sites can be covered in one itinerary and can be reached by public buses.
How to get there

By Subway:
Take
Subway Line 4
and get off at Beigongmen Station. Get out from Exit A and transfer to bus 563 to Xiangshan Gongyuan Dongmen (east gate of the Fragrant Hills Park) Station. Visitors can also take bus 331 from Beihongmen Subway Station to Xiangshan (Fragrant Hills) Station.

By Bus:
1. Take bus 563 to Xiangshan Gongyuan Dongmen Station.
2. Take bus 318, 331, 360, 630, or 698 and get off at Xiangshan Station.
Beijing Bus / Subway Search
Admission Fee
CNY 10. Visitors need to buy the ticket of the Fragrant Hills Park in order to get into the temple.
Combo ticket for the Fragrant Hills Park and the temple:
Apr. 1 to Nov. 15: CNY 15
Nov. 16 to Mar. 31: CNY 14
Opening Hours
8:00 to 16:30
Recommended Time for a Visit
One hour
Neighboring Attractions:

Badachu Park

Stone Forest Gorge Scenic Area

Haolaosi Farm House

Jingdong Great Dissolving Cave Scenic Area

Huangsongyu Geological Museum

Shilinxia Resort
- Last updated on Aug. 20, 2019 -
Questions & Answers on Temple of Azure Clouds
Asked by Louis from GERMANY | Apr. 20, 2018 23:39

Reply
Hi, has the Vajra Throne Tower been reopened ?
When I last visited in spring 2017 the tower was closed to the public.

Best regards, Louis
Answers (1)
Answered by Caral from CANADA | Apr. 23, 2018 22:41

1

0

Reply
Yes, it's reopened!
Asked by Cikgu from MALAYSIA | Nov. 05, 2015 09:31

Reply
Wangfujing to Temple of Azure Clouds
Hi. I will want to visit the temple in December 2015. Which metro station to stop for me to take a local bus to the temple? Would a taxi be expensive? Please advice. This is my first trip to Beijing and I speak very little Mandarin
Answers (4)
Answered by Camille from AUSTRALIA | Nov. 07, 2015 02:52

0

2

Reply
Well, you are suggested to take subway line 1 to Gongzhufen Station, Exit B. Then take bus no.698 to get to Fragrant Hill. After arriving, walk northwest around 0.8 miles to find the scenic area.
If by taxi from Wangfujing directly, the cab fare is CNY 110 to 120 in the day time.
Answered by Cikguchin from MALAYSIA | Nov. 07, 2015 23:07

1

1

Reply
Thanks for the reply to my questions. Very informative. Probably will try to get a cab to go and then drop us at one of the tourists spot nearby where we can take a subway line back to Wanfujing. Hey can you help suggest a good place for us to stop after Fragrant Hill tour?
Answered by Camille | Nov. 07, 2015 23:55

0

1

Reply
After the hill tour, you can go to Summer Palace. Local bus 563 can take you to Beigongmen, close to the north gate of the Summer Palace. After a stay there, still go to Beigongmen to take subway line 4 to Xidan, then change to line 1 to Wangfujing.

If by taxi, you are suggested to get off at the south gate of the Summer Palace to avoid a detour.
Answered by Cikguchin from MALAYSIA | Nov. 09, 2015 02:22

1

2

Reply
Hey thanks for your reply. Much appreciate the information you provided. I will take a cab and then dropped off at the South gate as suggested.
Asked by Adam from AUSTRALIA | Sep. 25, 2012 21:34

Reply
I want to travel to China and stay in a buddist monastery.
Hello,

Can I go the Temple of Azure Clouds and stay? Will the monks allow me to stay with them?

If not, do you know where in the countryside would let me?
Answers (1)
Answered by Betty | Sep. 26, 2012 03:49

1

0

Reply
Hi, Adam. It seems that you can not stay there.
Considering your requirements, you may think about Jietai Temple. It is located at Ma'anshanlu, Mentougou at the suburb are of the city.