Beijing Subway Line 4

Anheqiao North ↔ Gongyixiqiao
(Identification Color: steel blue
)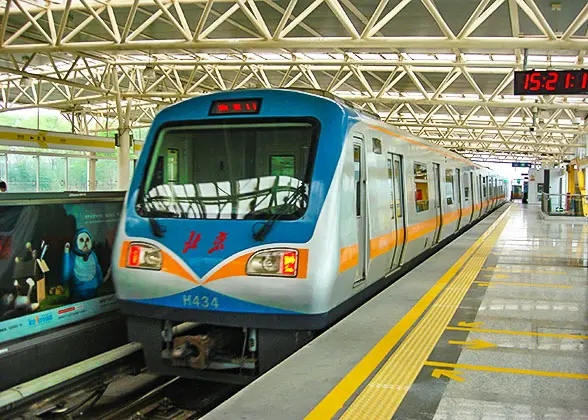 Beijing Subway Line 4 uses Gongyixiqiao in South 4th Ring Road, Fengtai District as the starting point, passes through Xuanwu and Xicheng districts, then arrives in Anhe Qiao Bei of Haidian District. The entire length of this route reaches about 28 kilometers (17 miles), owns 24 stations in total. This traffic artery between southern and northern Beijing runs about 48 minutes for a single trip. The speed is 80 kilometers (about 50 miles) per hour at the highest. Time duration between two scheduled vehicles is 2 minutes.
The line 4 shares Gongyixiqiao Station with the
Daxing Line
(Gongyixiqiao - Tiangongyuan) and the trains on line 4 run directly to reach Tiangongyuan.
See
subway maps
for reference.
Timetable
Station
To Anheqiao North
To Gongyixiqiao
First Train
Last Train
First Train
Last Train
Gongyixiqiao
05:10
23:10
--
--
Jiaomenxi
05:11
23:11
05:48
23:33
Majiabu
05:13
23:13
05:46
23:31
South Railway Station
05:15
23:15
05:43
23:28
Taoranting
05:18
23:18
05:41
23:26
Caishikou
05:20
23:20
05:38
23:23
Xuanwumen
05:23
23:23
05:37
23:22
Xidan
05:25
23:25
05:35
23:20
Lingjinghutong
05:26
23:26
05:32
23:17
Xisi
05:28
23:28
05:30
23:15
Ping'anli
05:30
23:30
05:28
23:13
Xinjiekou
05:32
23:32
05:26
23:11
Xizhimen
05:35
23:35
05:25
23:10
Zoo
05:37
23:37
05:22
23:07
National Library
05:39
23:39
05:19
23:04
Weigong Cun
05:42
23:42
05:17
23:02
Renmin University
05:44
23:44
05:15
23:00
Haidianhuangzhuang
05:47
23:47
05:13
22:58
Zhongguancun
05:48
23:48
05:10
22:55
East Gate of Beijing University
05:50
23:50
05:09
22:54
Yuanmingyuan
05:52
23:52
05:06
22:51
Xiyuan
05:55
23:55
05:04
22:49
Beigongmen
05:57
23:57
05:01
22:46
Anheqiao North
--
--
05:00
22:45
Transfers

Jiaomen West and Haidianhuangzhuang: Transfer with
Line 10

Xuanwumen: Transfer with
Line 2

Xidan: Transfer with
Line 1

Pinganli: Transfer with
Line 6

Xizhimen: Transfer with Line 2 and
Line 13

National Library: Transfer with
Line 9

Caishikou: Transfer with
Line 7

South Railway Station: Transfer with
Line 14

Xiyuan: Transfer with
Line 16
Surroundings and bus stations near All Stations
('

' subway transfer stations)



Gongyixiqiao
Buses Exchangeable:
A: northwest exit: 646, 48, 54, Special Line 8 Outer Ring
B: northeast exit: 646
C: southeast exit: 646
D: southwest exit: 377



Jiaomenxi
Buses Exchangeable:
A: northwest exit: 51, 54, 501, 646, 698, 707, 48, 66, 377, 474, 603
B: northeast exit: 51, 54, 501, 646, 698, 707, 48, 66, 485, 603
C: southeast exit: 646
D: southwest exit: 51, 54, 501, 698, 707, 646



Majiabu
Surroundings: Shijingshan Gymnasium, Shijingshan Stadium, Songlin Park, Bajiao Park, Shijingshan Amusement Park
Buses Exchangeable
A: northwest exit: 19, 48, 72, 377, 414, 454, 474, 626, 54, 485, 646, 66, 603
B: northeast exit: 54, 485, 646, 678, 732, 324, 529, 698, Yuntong 103, Yuntong 108
C: southeast exit: 51, 66, 485, 501, 603, 698, 707, Yuntong 108



South Railway Station
Surroundings: South Railway Station, Xinqiao Foreign Language School, Qiaoyuan Hotel, Chaohaihuayuan Hotel, Yongdingmen Long-Distance Bus Station
Buses Exchangeable:
A: northwest exit: 63, 72, 84, 122, 377, 454, 458, 741, 997, 54, 485, 646
B: northeast exit: 53, 63, 72, 122, 692, 741, Special Line 3, Yuntong 102, 943, 986, 20, 84, 106, 377, 381, 454, 458, 485, 939, Night 203
D: southwest exit: 72, 529, 652, 665, Special Line 5, 14, 40, 66, 70, 343, 603, 613, 741, Night 213



Taoranting
Surrounding: Taoranting Park
Buses Exchangeable:
A: northwest exit: 40, 59, 604, Night 213, 54, 381, 604, 613, 646
B: northeast exit: 40, 59, 613, Night 213, 54, 381, 604, 646
C: southeast exit: 40, 59, 613, Night 213
D: southwest exit: 40, 59, 604, Night 213



Caishikou
Surroundings:War-mart, Xinhua News Agency, Fayuan Temple, Former Residence of Tan Sitong, Buddhism College of China, China Mobile, New Century Grand Hotel
Buses Exchangeable:
A: northwest exit: 54, 102, 105, 109, 603, 604, 646, Night 204, Night 201, 5, 6, 48, 57, 381, 513, 715, Special Line 5
C: southeast exit: 5, 6, 48, 102, 105, Night 201, Night 204, 603, 715, Special Line 5, 54, 381, 604, 613, 646, 70, 10
D: southwest exit: 5, 6, 48, 57, 381, 613, 715, Special Line 5, Night 201, 109, 54, 604, 646



Xuanwumen
Surroundings: South Cathedral, Former Residence of Lu Xun, Hanting Hotel, Jinsha Hotel, Xuanwumen Restaurant, Xinhua News Agency
Buses Exchangeable:
E: northwest exit: 9, 673, Night 209, 47, 83, 102, 105, 109, 603, 604, Night 204, 7, 15, 808, 826, 22
F: northeast exit: 7, 15, 44, 47, 67, 83, 808, 826, Special Line 2, SL4, SL7, Night 204, Night 212
G: southeast exit: 15, 44, 67, 808, 9, 826, 646, Special Line 2, SL 4, SL 7, Night 209, Night 212, 54, 70, 102, 105, 109, 603, 604
H: southwest exit: 54, 102, 105, 109, 603, 604, 646, Night 204



Xidan
Surroundings: Xidan Commercial Street, Culture Palace of Nationalities, Xiehe Hospital, Edifice of Bank of China, China Unicom, Xidan Shopping Center, Books Building, Capital Time Square, Xidan International Building, Lun Xun Middle School, China Min Sheng Bank Building
Buses Exchangeable:
F: northwest exit: 10, 626, 22, 690, 808, 826, Night 204, 47, 83, 102, 105, 109, 603, 604, 46
G: northeast exit: 1, 37, 52, 105, 22, 728, 802, 10, 22, 47, 102, 109, 603, 604, 690, 808, 826, Night 204
H: southeast exit: 70, 1, 10, 37, 52, 205, 728, 802
J: southwest exit: 47, 83, 102, 105, 109, 603, 604, 826, 808, Night 204, 7, 22, 15



Lingjinghutong
Surroundings:Lingjing Hutong, State Archives Administration, China Law Society, Compilation and Translation Bureau of the CPC Central Committee, Xidan Shopping Center, Xidan International Building, Ministry of Education, China Telecom Xidan Branch, China Unicom, China Post Savings
Buses Exchangeable:
A: northwest exit: 22, 38, 47, 102, 105, 109, 603, 626, 604, 690, 826, Night 204
B: northeast exit: 68, 102, 105, 109, 22, 38, 47, 603, 604, 626, 690, 826, Night 204
C: southeast exit: 68, 22, 47, 83, 102, 105, 109, 603, 604, 690, 808, 826, Night 204
D: southwest exit: 22, 38, 47, 102, 105, 109, 603, 604, 626, 826, Night 204, 68, 46



Xisi
Surroundings: Guangji Temple, Honglou Cinema, Church of the Saviour, Shengli Cinema, Qiandaohu Grand Hotel, Shijilantian Hotel, Shindom Hotel, the Geological Museum of China, Ministry of Land and Resources, China Law Society
Buses Exchangeable:
A: northwest exit: 22, 47, 83, 626, Night 204, 38, 105, 409, 690, 826, 13, 823, 42, 101, 102, 103, 603, 604, 685, 814, 846, Night 202, Night 211
B: northeast exit: 13, 22, 38, 47, 83, 409, 626, 690, 823, 826, Night 204, 105, 42, 55, 68, 14, 108, 124, 101, 103, 109, 685, 814, Night 202, Night 211, 846, 102, 105, 603, 604, 808
D: southwest exit: 42, 102, 603, 604, 846, 13, 101, 103, 409, 814, Night 211, 808, 22, 47, 626, 690, 38, 105, 109, 826, Night 204



Ping'anli
Surroundings: Huguo Temple, Meilanfang Memorial Museum, People's Theatre
Buses Exchangeable:
A: northwest exit: 7, 11, 22, 38, 47, 108, 810, 826
B: northeast exit: 22, 38, 47, 409, 626, 690, 826, 83, 105, 111, 808, 810
C: southeast exit: 107, 118, 701, 13, 42, 68, 810, Night 204, 850, 38, 47, 626, 22, 83, 409, 690, 105, 823
D: southwest exit: 7, 70, 107, 118, 8, 13, 23, 42, 105, 826, Night 204, 22, 38, 47, 83, 409, 626, 690, 823



Xinjiekou
Surroundings: Xinjiekou Cinema, Xu Beihong Memorial Museum, Xinhua Bookstore, Beihai Hotel, Former Residence of Puyi, Xizhimen Church, Zhengyuanqing Temple
Buses Exchangeable:
A: northwest exit: 7, 105, 111, 808
B: northeast exit: 47, 83, 409, 626, 690, 826
C: southwest exit: 105, 111, 690, 808, 826
D: southwest exit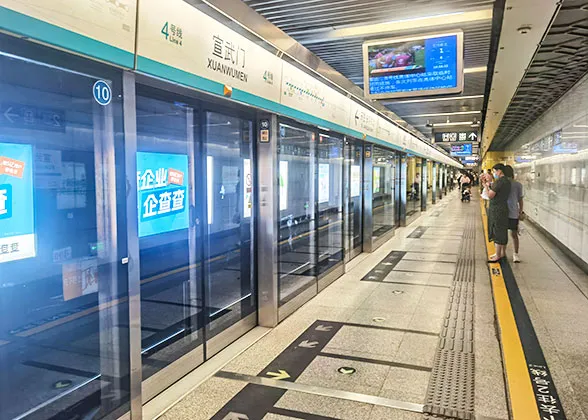 Xizhimen
Surroundings: Ring Plaza of Beijing, North Railway Station, Ministry of Health, State Post Bureau of the People's Republic of China, People's Hospital of Peking University
Buses Exchangeable:
A: northwest exit: 85, 375, 438, 632, 16, 26, 601, 651Fast, Yuntong 105, 7, 27, 105, 111, 347, 360, 634, 808, Yuntoong 104, Yuntong 106, Yuntong 205, Night 206, Night 209
B: northeast exit: 27, 347, 618, 919, 44 Inner Ring, 44 Outer Ring, 800 Inner Ring, 800 Outer Ring, Yuntong 104, Night 206, 939, 7, 105, 808
C: southeast exit: 7, 105, 111, 808, 21, 84, 387, 490, 618, 691, 694, 939, 44 Inner Ring, 800 Inner Ring
D: southwest exit: 632, 651, Yuntong 106, Night 209, 21, 84, 387, 392, 490, 604, 618, 650, 691, 693, 694, 939, 44 Outer Ring, 800 Outer Ring, 7, 16, 26, 27, 105, 111, 347, 360, 362, 601, 634, 808, Yuntong 205, Night 206



Zoo
Surroundings: Beijing Zoo, Beijing Aquarium, Five Pagoda Temple, Exhibition Center, Exhibition Center Hotel, Planetarium, Paleozoological Museum of China
Buses Exchangeable:
A: northwest exit: 319, 347, 360, 601, 634
C: northeast exit: 15, 19, 26, 45, 65, 102, 103, 107, 332, 334, 360, 685, Tourism Bus 4, 390, 319, 697, 714, 814, Special Line 4
D: southwest exit: 27, 102, 103, 105, 107, 111, 114, 118, 392, 693, 707, 717, 319, 347, 360, 362, 534, 601, 632



National Library
Surroundings: Dance School, National Library, Shenzhou International Hotel, Shenzhou Building, Rock Carving Art Museum, Capital Skating Stadium, Zhenjue Temple, Jiulong Business Center A, B, C, China Meteorological Administration, Capital Indoor Stadium, National Library of China, Zizhuyuan Park
Buses Exchangeable:
A: northwest exit: 86, 319, 320, 332, 634, 645, 689, 695, 717, 732, 808, 814, Special Line 4, SL 6, Yuntong 105, Yuntong 106, Yuntong 205, Night 209, 653
B: northeast exit: 86, 319, 320, 332, 634, 645, 689, 695, 717, 732, 808, 814, Special Line 4, Special Line 6, Yuntong 105, Yuntong 106, Yuntong 205, Night 209, 653
C: southeast exit: 332, 645, 732, 27, 362, 534, 632, 808, 814, 334, 347, 360, 360 Fast, 482, 601, 634, 697, 714, 808, 814, Special Line 4, Yuntong 105, Yuntong 106, 319, Yuntong 104, Yuntong 205, Night 206, Night 209
D: southwest exit: 334, 347, 360, 360 Fast, 482, Special Line 5, 114, 362, 480, 534, 601, 714, Yuntong104, Night 206, Night 211, 118, 809



Weigong Cun
Surroundings: Institute of Technology, Xinhua Bookstore, Central Radio and Television University, Central University for Nationalities,
A: northwest exit: 26, 85, 320, 332, 651Fast, 653, 660, 689, 697, 717, 732, 808, 814, Special Line 4, SL 6, Yuntong 105, Yuntong 106, Yuntong 205, Night 209
B: northeast exit: 26, 85, 320, 332, 651Fast, 653, 660, 689, 697, 717, 732, 808, 814, Special Line 4, SL 6, Yuntong 105, Yuntong 106, Yuntong 205, Night 209, 660, 849, 651 Fast, Yuntong 103
D: southwest exit: 634, 849, Yuntong 103, 651Fast, 660, 26, 73, 320, 332, 689, 653, 697, 695, 717, 808, 814, SL4, SL6, Yuntong 105, Yuntong 106, Yuntong 205, Night 209



Renmin University
Surroundings: Renmin University of China, Yanshan Hotel, UME Huaxing International Studio, Huayu Fashion Shopping Center, Digital Building, Friendship Hotel, State Administration of Foreign Experts Affairs
Buses Exchangeable:
A: northwest exit: 85, 320, 332, 355, 365, 653, 683, 689, 699, 717, 732, 801, 808, 814, SL4, SL6, Yuntong 105, Yuntong 106, Yuntong 205, Night 209, 384, 26, 323, 323 Fast, 425, 619, 651Fast, Yuntong 101, Yuntong 201, 300, 300 Fast, 957
B: northeast exit: 302, 323, 323快, 425, 361, 367, 422, 619, 658, 660, 683, 695, 731, 801, 836, 967, Yuntong 101, Yuntong 201
C: southeast exit: 302, 323Fast, 425, 361, 367, 422, 619, 658, 660, 695, 731, 801, 836, Yuntong 101, Yuntong 201
D: southwest exit

Haidianhuangzhuang
Surroundings: Haidian Hospital, China Electronics Plaza, Haidian Theatre
Buses Exchangeable:
A: northwest exit: 304, 386, 630, 671, 944, 85, 307, 320, 332, 355, 365, 681, 683, 697, 699
B: northeast exit: 304, 386, 630, 653, 689, 671, 944, 85, 307, 320, 332, 355, 365, 681, 683, 697, 699
C: southeast exit: 304, 386, 630, 653, 671, 944, 302, 689, 717, 731, 801, Special Line 4, Special Line 6
D: southwest exit: 302, 320, 653, 808, 689, 717, 731, 801, Special Line 4, Special Line 6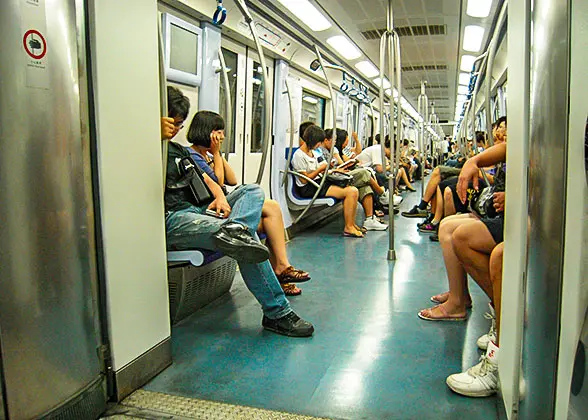 Zhongguancun
Surroundings: Pacific Digital Computer City, Resource Plaza, Splendid Times Building, Ideal International Plaza, China Power International Development Limited, High School of Peking University, Zhongke Building, People's Court of Haidian District, New Oriental Building
Buses Exchangeable:
A: northwest exit: 320, 963, 731, 498, 814, 982, Yuntong 105, Yuntong 205, Yuntong 110, 332, 732, 47, 26, 302, 333 Inner Ring, 384, 641, 718, 740 Outer Ring, 751, 808, 913, 944 Branch, 983 Branch, Yuntong 106, Yuntong 109, Yuntong 113, Special Line 4, 740 Inner Ring
B: northeast exit: 320, 963, 731, 498, 814, 982, Yuntong 105, Yuntong 205, Yuntong 110, 381, 696, 47, 983 Branch, 826, Yuntong 113, Yuntong 109, 333 Outer Ring, 26, 333 Inner Ring, 348, 466, 641, 751, 740 Inner Ring, 913, 944, Special Line 9
C: southeast exit: 302, 307, 320, 332, 355, 365, 466, 681, 683, 697, 699, 717, 718, 731, 732, 801, 808, Special Line 4, Special Line 6, Yuntong 105, Yuntong 106, Yuntong 205
D: southwest exit: 302, 307, 320, 332, 355, 365, 681, 683, 697, 717, 718, 731, 732, 801, 808, Special Line 4, Special Line 6, Yuntong 105, Yuntong 106, Yuntong 205



East Gate of Peking University
Surroundings: Peking University, Boya Tower, Library of Peking University, Elementary School of Peking University, Elementary School of Tsinghua University, Beijing University Publishing House, Perking University Science Park, Peking University Gymnasium, Pacific Digital Computer Ocean, Yanshan Police Station
Buses Exchangeable:
A: northwest exit: 319, 331, 365, 375, 438, 498, 628, 656, 681, 717, 562, 801, 826, 814, 982, Special Line 4, SL 6, Yuntong 105, Yuntong 205
B: northeast exit: 319, 331, 365, 375, 438, 498, 628, 656, 681, 717, 562, 801, 826, 814, 982, Special Line 4, SL 6, Yuntong105, Yuntong 205
C: southeast exit: 307, 320, 355, 365, 498, 681, 696, 697, 699, 717, 731, 801, 814, 826, 966, 982, SL4, SL 6, Yuntong 105, Yuntong 205, Yuntong 110, 302, 963
D: southwest exit: 307, 320, 355, 365, 498, 681, 696, 697, 699, 717, 731, 801, 814, 826, 966, 982, Special Line 4, SL 6, Yuntong 105, Yuntong 205, Yuntong 110, 963



Yuanmingyuan
Surroundings: Old Summer Palace (Yuanmingyuan), Yuanmingyuan Police Station, West Gate of Tsinghua University, Peking University Science Park, Perking University
Buses Exchangeable:
A: northwest exit
B: northeast exit: 319, 320, 331, 432, 498, 628, 690, 696, 697, 801, 826, Special Line 6, 438, 664
C: southeast exit: 319, 320, 331, 432, 498, 628, 690, 696, 697, 801, 826, Special Line 6, 438, 664, 365, 375, 656, 681, 683, 699, 717, 562, 814, 826, 957 Fast, 982, Special Line 4, Yuntong 105, Yuntong 205, 332, 333 Outer Ring.394, 732, 718, 808, Yuntong 106, Yuntong 114, Yuntong 118, Night 209



Xiyuan
Surroundings: University of International Relations, Hualu Hotel, Xijingyuan Cemetery, Summer Palace
Buses Exchangeable:
A: northwest exit: 375, 476, 482, 512, 534, 996, 801, 384, 393, 634, Special Line 5, Special Line 10
B: northeast exit: 319, 320, 384, 432, 438, 509, 512, 628, 671, 683, 690, 696, 697, 718, 732, 801, 808, 826, Special Line 10, Night 209, 331, 332, 333 Inner Ring, 394, 476, 482, 498, 634, 952, 968, 996, Special Line 5, SL 6, Yuntong 106, Yuntong 108, Yuntong 114, Yuntong 118
C: southeast exit: 319, 320, 331, 332, 333 Outer Ring, 394, 432, 438, 498, 628, 671, 683, 690, 696, 718, 732, 801, 808, 826, Special Line 5, Special Line 6, Special Line 10, Yuntong 106, Yuntong 108, Yuntong 114, Yuntong 118, Night 209, 384, 476, 482, 509, 634, 952, 968, 996
D: southwest exit



Beigongmen
Surroundings: North Gate of Summer Palace (Beigongmen), Party School of the CPC Central Committee
Buses Exchangeable:
A: northwest exit: 331, 498, 718, 817, 303, 330, 346, 375, 384, 393, 634, 683, 696, 697, 801, Special Line 5
C: southeast exit
D: southwest exit: 808



Anheqiao North
Buses Exchangeable:
A: southeast exit
B: southwest exit
C: northeast exit: 330, 697, 718, Yuntong 112, 346, 375, Special Line 10
D: southwest exit: 498, 346, 375, 718, Special Line 10, Yuntong 112
-