Tianjin Transportation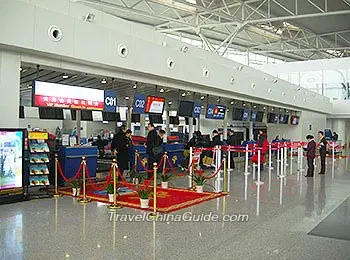 Check-in Counters,
Binhai International Airport
Air

Airport code: TSN


Location: Tianjin Binhai International Airport is located in Zhanggui Zhuang, Dongli District, about 13 kilometers (about 8 miles) away from the downtown area.

Brief Intro: As the second largest airport in Northern China ranking only after the Capital International Airport in Beijing. It is 400,000 square meters (about 99 acres) with a parking apron that can admit 40 airplanes at the same time. At present Binhai International Airport has 39 domestic and international airlines, reaching Shanghai, Xi'an, Shenzhen, Wuhan, Seoul, and so on.


Airport Facilities and Services


Airport Transportation: Airport Shuttle Bus, City-bus, Taxi……


How to Travel between Tianjin and Beijing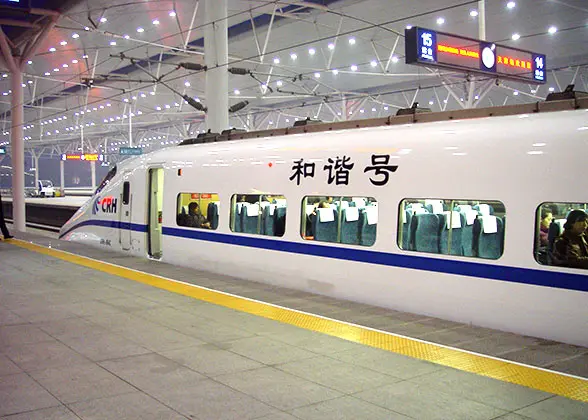 High-Speed Train
Tianjin is an important railway hinge linking the Northeast, North, East, and South of China via several major railway lines, such as Jingha (Beijing-Harbin) Railway, Jingji (Beijing-Jinan) Railway,
Beijing-Tianjin Intercity High-Speed Railway
, and
Beijing-Shanghai High-Speed Railway
. There are six important train stations in the city, including
Tianjin Railway Station
(namely East Railway Station),
West Railway Station
, North Railway Station,
South Railway Station
,
Binhai Railway Station
and
Tanggu Railway Station
. Travelers can easily take trains from these stations to over 40 cities all over China, such as Beijing, Shanghai, Guangzhou, Xi'an, Hangzhou, Harbin, Jinan, Qingdao, Shijiazhuang, Taiyuan, and Nanjing among others.
Long-Distance Bus
A group of long-distance bus stations in the city can definitely bring you convenience with Tianhuan Long-distance Bus Station in Nankai District as the most important one. Buses here are mainly destined for major cities in other provinces, such as Hebei, Shanxi, Inner Mongolia, Jiangxi, and so on. Other stations provide service to neighboring cities.
If you want to drive to the city from Beijing, you can go along Jingjintang highway, one of the finest highways throughout China. The whole journey will take you only one and a half hours; both fast and convenient!
West Long-distance Bus Station: No.2, Xiqing Dao, Hongqiao District
Tianhuan Long-distance Bus Station: conjunction of Hongqi Lu and Anshan Xidao in Nankai District

Ship
Xingang Port is the biggest man-made port within China and is a must if you decide to come to the city by ship. Its domestic sea routes are to Dalian and Longkou; while its international routes are to Inchon in Korea (every Thursday and Saturday) and Honshu in Japan (every Monday). During high tourism seasons, there are passenger liners from Japan and Europe arriving in this port.
If you want to go to Beijing from Xingang Port, you can take a taxi to Tianjin Train Station and then take trains to Beijing, both fast and convenient.
Xinggang Port Inquiring Phone: 022-25213380
Ticket-selling Phone: 022-23394290

At present, there are six metro lines in operation in the city, Line 1, Line 2, Line 3, Line 5, Line 6 and Line 9. In terms of the city's further plan, there will be other 11 lines constructed, such as Line4, Line 7, Line8 and line 10, all of which could cover the thirteen districts of the city.


Line 1: Liuyuan ⇔ Tianjin University of Finance & Economics


Line 2: Caozhuang ⇔ Binhai International Airport


Line 3: Xiaodian ⇔ South Railway Station


Line 5: North Danhe Road ⇔ First Teaching Hospital of Tianjin University of TCM


Line 6: Nancuiping ⇔ Nansunzhuang


Line 9: Railway Station ⇔ Donghai Road


Metro Maps

* Tianjin Light Rail, namely Jin Bin Mass Transit, is the east section of metro line 9. It supplies a rapid transit between the city's urban area and the Binhai new area. From Zhongshanmen station in downtown area, it takes 46 minutes for passengers to reach Binhai area.



Bus & Metro Search
City-Bus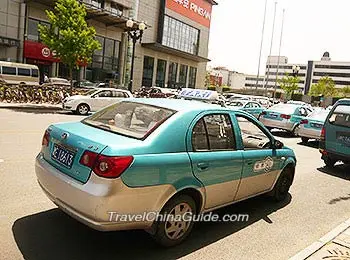 Local city-bus system consists of school bus routes, special sight-seeing routes and regular routes which include inner city and suburban lines. If you take an inner city bus route, you will pay CNY1 for twelve kilometers (about 7.5 miles) or less and CNY1.5 for more. If you take a suburb line you have to pay CNY1 for the first ten kilometers (about 6.2 miles) and CNY0.5 for each extra five kilometers (about 3.1 miles)

Taxi
Generally, taxi service is quite convenient in the city. You can easily flag down one along the street and bustling commercial centers. However, some taxi drivers may overcharge when you hail one at airport, railway stations or long-distance coach stations. Then you'd better ask the driver to use taximeter. It should be noted that the charging standard is the same between daytime and night.
Fare

Cars with the emission over 1.6 liters (0.4 gallon)

Cars with the emission less than 1.6 liters (0.4 gallon)

Starting Fare for First 3km (2mi)

CNY8
CNY8

Fare between 3-10km (2-6mi)

CNY2/km
CNY1.7/km

Fare beyond 10km (6mi)

CNY3/km
CNY2.5/km

Fuel Surcharge

CNY1 per ride
-
- Last modified on Oct. 08, 2019 -