Tianjin Railway Station
Tianjin Railway Station, namely East Railway Station, is only about 2 miles (3 km) away from the Binjiang Avenue in city center, and about 4 miles (6.5 km) from
West Railway Station
. Located at the boundary of Heping, Hedong, and Hebei Districts, it is the primary and busiest station in the city.
Address: No.1, Xinwei Road, Hebei District

Schedule and Ticket Booking
Tianjin Railway Station was first built in 1886, and rebuilt twice respectively in 1988 and 2007. It was reopened on August 1, 2008, accompanied by the operation of Beijing-Tianjin Intercity High Speed Railway. There are over 80 pairs of high speed C trains running between these two cities. The duration is only about 30 minutes to 1 hour. It also offers train service to and from many other cities all over China, including Beijing, Shanghai, Harbin, Guangzhou, and Xi'an.

Major Rail Lines from this station to:

High Speed Train Schedule
(Last Update on Apr 15, 2022)
To
Trains
Duration
Ticket Fare (CNY)
First/ Second Class Seat

Beijing South

C2614, C2004, C2616, G8912...
36 departures from 06:31 to 21:30
0h30m - 0h51m
CNY 85/ 50
USD 13/ 8

Shanghai Hongqiao

G119, G267, G1227, G1254...
6 departures from 10:01 to 15:40
5h31m - 6h00m
CNY 831.5/ 494
USD 131/ 78

Xi'an North

G1709, G1284, G1281, G1296...
7 departures from 08:05 to 16:05
5h37m - 6h34m
CNY 832/ 520
USD 131/ 82

Zhengzhou

G1709, G305, G1284, G1281...
13 departures from 08:05 to 18:06
3h11m - 4h34m
CNY 493.5/ 308.5
USD 78/ 49

Qingdao

G1247 at 17:33
4h11m
CNY 452.5/ 268.5
USD 71/ 42

Harbin West

G1237, G1237, G1237, G1261...
6 departures from 10:50 to 14:08
6h17m - 6h53m
CNY 767.5/ 474.5
USD 121/ 75

The above schedule is for reference only. For real-time schedule and ticket booking, please click the arrival stations.

Normal Speed Train Timetable
(Last Update on Apr 15, 2022)
To
Trains
Duration
Ticket Fare (CNY)
Soft/ Hard Sleeper

Shanghai

Z171, K47, Z281, T131 from 01:21 to 22:51
11h40m - 17h31m
CNY 456.5/ 299.5
USD 72/ 47

Guangzhou

T368, Z238, Z114 from 03:01 to 22:44
22h20m - 26h10m
CNY 754/ 456
USD 119/ 72

Harbin

K1451, K927, T243, Z113...
14 departures from 01:51 to 20:39
10h12m - 17h56m
CNY 427.5/ 279.5
USD 67/ 44

Xi'an

K1572, K388 at 01:45 and 02:47
18h7m - 18h14m
CNY 486/ 307.5
USD 77/ 48

Chengdu

K388 at 02:47
29h16m
CNY 717/ 467
USD 113/ 74

The above schedule is for reference only. For real-time schedule and ticket booking, please click the arrival stations.
See more
Tianjin Train Schedule
Station Plan
Tianjin Train Station consists of the station building, South Square and North Square.

Station Building
There are two main entrances, one in the north side and one in the south side.

Enter from North Side:
Terminal in the north side is mainly used for high speed departures to Beijing. On 1F, there is North Entrance No. 1 and No.2, Exits. Go upstairs by stair, escalate or lift, passengers can reach the waiting hall on 2F. The ticket check gates No. 12 to 18 are for the intercity high speed rides to Beijing. There is self-service luggage storage lockers set up on this floor. The ticket office, however, is set up on -1F in the transfer hall near the subway ticket center.

Enter from South Side:
Facing the south terminal, ticket office is on the left hand. Enter through the south entrance, in the lobby, passengers can found left luggage office and drinking water booth. Go upstairs to the 2F, passengers can find the waiting area and ticket checking gate by the information on the LED screens. Ticket checking gates No. 1 to 7 serve non-bullet rides and gates No. 8 to No. 11 serve other high speed rides.

Underground Transport Plaza
The transport plaza under the terminal building has 4 levels. The B1 is mainly for public traffic and ticketing. It has the underground entrance hall, the exit passages, railway ticket office, fast food restaurants, taxi waiting area, and parking lot. The B2 has the waiting hall for subway
line 2
,
line 3
, and
line 9
. They are the platforms for subway lines 2 and 9 on B3. On B4, it is the platform for subway line 3.

South Square
South Square, also called Front Square, faces the Haihe River. There is a luggage consignment office on the square, right in the west of the south terminal. Bus stations set up on the South Square serve buses including: No. 24, 27, 28, 35, 50, 97, 98, 185, 186, 188, 462, 574, 621, 634, 635, 639, 645, 650, 660, 676, 689, 806, 827, 836, 845, 868, 905; Night bus No. 24 and 27.

North Square
It is also named Back Sqaure by local people. The subway entrances of line 2, line 3 and line 9 are set up on North Square. Taking the subway, travelers can easily reach places in different directions. For example: travelers can transfer to subway line 2 to reach the Airport Economic Zone or Caozhuang at Xiqing District. If you want to go to Huayuan Hi-Tech Industrial Zone or Xiaodian at Beichen District, you can take subway line 3. Well, subway line 9 can take you to Donghai Road for transfer to Tanggu, Binhai area as well as Tianjin cruise port.
City bus service can also be found on North Square. Travelers can take bus No. 96, 607, 701, 813, Tianjin-Binhai Express Line 3 there.
Also, there is a long-distance bus center, Tongsha Central Long-distance bus center on North Square. Buses to Beijing, Chengde, Langfang, Xi'an etc are in service.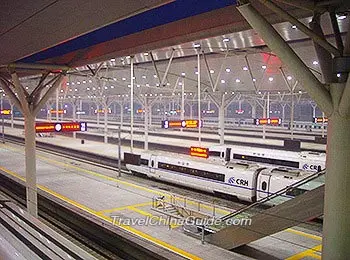 How to transfer from Tianjin Railway Station to Other Places

To
Ancient Cultural Street
: Travelers can take bus No. 861 from Qiushiyuan bus stop, 470 yards away from the North Square, to Dongma Road to get there. Travelers can also take subway line 2 to Dongnanjiao, use D exit and walk about 900 yards to get there. Taking a taxi would cost about CNY10 and take about 10 minutes.

To West Railway Station: Passengers can take subway line 2 to Xinanjiao and then change to line 1 to West Station directly. The duration is about 25 minutes. By taxi, the duration would be around 15 to 20 minutes and cost is around CNY20.

To
Binhai International Airport
: Travelers can take subway line 2 to the airport directly. The duration would be around 30 to 40 minutes. Travelers can also take the airport shuttle bus directly. The shuttle bus departs from the Tongsha Central Long-distance Center on North Square. The first bus departs from Tongsha Coach Center at 6:00am and the last bus at 18:00pm; interval is 30 minutes. The ticket price is CNY15 per person. The return bus from airport to the station operates from 8:00am to the last flight arrival.

To
South Railway Station
Travelers can take metro line 3 to the South Station.

To Cruise Port: Travelers can take subway line 9 to Citizen Square and then take bus No. 513 to get there. The duration would be around 2 hours. A direct taxi ride from Tianjin train station would cost around CNY200 and takes about 1.5 hours.
Tianjin Bus/ Subway Search
Facilities and Services

Ticket office: The ticket office in south terminal has 30 ticket counters. Ticket counter No. 1 sells
China Rail Pass
, No. 3 is the refund counter, No. 23 for ticket change. Other ticket counters can be used for ticket collection and purchase. Ticket office in north terminal has 15 ticket offices. Ticket counter No. 62 is the refund counter and serves Rail Pass, No. 50 for ticket change. Ticket counters can be adjusted based on the passenger flow; travelers may double check the information above with staff after arrival.

Left luggage service: The left luggage office or lockers can be found on both 1F and 2F. Passengers can follow the signs to its location or ask the inquiry desk for help. The cost would be CNY10 to 20 for one piece per day based on the luggage size.
Print

- Last modified on Apr. 15, 2022 -
Questions & Answers on Tianjin Railway Station
Asked by Chris from SOUTH AFRICA | Jun. 15, 2020 18:27

Reply
Can I leave my luggage at Tianjin Railway station?
I will have almost 8 hours and maybe I can take a short sightseeing around.

Answers (1)
Answered by Eleanor from UK | Jun. 16, 2020 18:04

0

0

Reply
Yes. No problem. You can leave your luggage and it is charged according to the size of the luggage.
Asked by Winslow from CHILE | Aug. 05, 2019 01:30

Reply
Where is the recommended area to find a hotel?
Where is considered city center of Tianjin?
Answers (1)
Answered by Duran from AUSTRALIA | Aug. 05, 2019 17:32

0

0

Reply
Most people choose to stay near Xiaobailou and Binjiang Road area as well as places near this Tianjin Railway Station. They are both considered city center area.
Asked by Saravanan from INDIA | Jan. 21, 2019 00:24

Reply
Railway station to airport
I have booked train ticket from jinzhou to tianjin.I need to go the tianjin binhai international airport.how to find airport shuttle bus stop from the railway station.i tried looking on the google map but it is too confusing.please help me....

Answers (1)
Answered by Colin | Jan. 21, 2019 18:05

0

0

Reply
The bus departs from Tongsha Bus Station near the railway station. You need to go to there to buy the ticket and board the bus.
Asked by Daniel from SPAIN | Dec. 15, 2017 00:34

Reply
Radisson Blu
Hello, for going walking to the Radisson Blu Hotel (66 Xinkai Road, Hedong District, Hedong, 300011 Tianjin, China ), what exit gate do I have to take? I think it is North Gate, but I am not sure.
Answers (1)
Answered by Ramiro from AUSTRALIA | Dec. 15, 2017 03:12

0

0

Reply
See from the map, it should be closer to the North Square (North Gate).