China Rail Pass
China Rail Pass is a prepaid card which can be used to take bullet trains running on intercity high speed railways. Passengers get onboard after swiping the China Train Pass at the self-service check-in machine. Although no discount is offered when traveling with the pass, it saves the trouble of buying ticket before every trip.
China Railway Pass comes in two types: gold and silver. Both have unlimited use if there is enough balance for the journey. There is an annual fee of CNY10 per train pass.
Applicable High Speed Train Routes
Changchun-Hunchun
Wuhan-Huanggang
Wuhan-Huangshi
Wuhan-Xiaogan
Fuzhou-Longyan
Longyan-Xiamen
Qingdao-Rongcheng
Shenzhen-Pingshan
Shenyang-Dandong
Dongguan-Huizhou
Chongqing-Wanzhou
Changsha-Zhuzhou-Xiangtan
Kunming-Yuxi
Beihai-Nanning-Guilin
How to use
Before departure, pass holders check into the station by swiping their card at the self-service check-in machine. When they arrive at their destination, they need to swipe the card again to leave the station. At this point the ticket fare will be deducted. Gold card holders should take first class seats, and silver card holders can only take second class seats.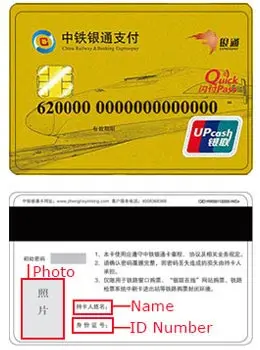 A Golden Card of China Rail Pass
How to get the Train Pass
The pass can be purchased at designated offices of Bank of China (BOC) and ticket windows of the related railway stations. Passengers need to provide valid passport or Mainland Travel Permit. A deposit of CNY30, and a ticket fare of minimum CNY300 for the silver card and CNY500 for the gold card will be charged when first purchasing the pass. If you ask someone to buy the pass for you, both of you need to provide ID certificates.
Recharge the pass
Passengers can recharge their passes at the designated offices of BOC and ticket windows of the related railway stations. The money in a card should not exceed CNY1,000. Passengers should make sure that the balance in their pass can cover the cost from the first to last station of their route, otherwise they cannot enter the station.
Can someone else use my card?
No. Your card carries your personal information and only you can use it.
Can I print out the paper ticket after the rail journey?
Yes, you can. The paper ticket can be printed out at designated ticket windows of the related railway stations within 31 days after the trip. Each ticket can be printed out once.
How do I know my seat number if I use the pass?
Currently, passengers taking high speed trains along Beijing-Tianjin and Changchun-Hunchun Railways can get their seat numbers before boarding. They can swipe their pass on a self-service queuing machine and get a slip which has departure date and time, train number, seat number, and the number of the pass. With both the pass and the slip, you can successfully check in. You should cancel the seat at a designated ticket window within 30 minutes after the departure time if you did not get onboard.
| Station | Locations of self-service queuing machine | Locations of seat cancellation windows |
| --- | --- | --- |
| Beijing South Station | Beside the escalators near North and South Entrances on 1F; near the entrance to No.8 Entrance Hall on -1F; near the southwest escalator in the south of -1F; in No.2 and No.3 ticket offices on 2F. | Ticket window no. 32 and 33 |
| Tianjin Station | Between the ticket office and entrance on the south square; near the entrance on north square; opposite the ticket office on -1F in north station building. | Ticket window no. 1 on south square; ticket window no. 62 on -1F of north square. |
| Tianjin West Station | Near A2, A3, B2, B3, A6, A7, B6 and B7 check-in gates. | Ticket window no. 2. |
| Wuqing Station | Inside ticket office. | Ticket window no. 4. |
| Tanggu Station | Beside No.7 ticket window in ticket office. | Ticket window no. 1. |
| Changchun Station | Inside east and west waiting halls on 2F. | Ticket window no. 11 and 13 on south ticket office. |
| Changchun West Station | At the entrance. | Ticket window no. 1. |
| Jilin Station | Beside the escalators near east and west entrances. | Ticket window no. 1 inside east ticket office; ticket window no. 1 inside west ticket office. |

Note: Cancellation should be done within 30 minutes after train departure at the station where you get the seat number but haven't got onboard.

At present, other routes do not have the self-service queuing machines, so passengers will not know which seat to take until they get into the carriage. Usually, some seats are reserved for pass holders and they can sit on any seat in the reservation zone. If all the reserved seats are taken, pass holders can take other seats with the permission of the conductors. Pass holders can only stand in the carriage if all seats are occupied.
| | |
| --- | --- |
| Self-service Check-in Machine | Bullet Trains in Tianjin Railway Station |
Change, refund or loss of the pass
Passengers can have their China Rail Pass changed or refunded at the designated ticket windows in railway stations. A service fee of CNY20 is charged for refunding the pass. If you lose the pass, you can buy a new card, but cannot redeem the balance on the lost card. A service fee of CNY10 is charged for a new card.
Major Designated Ticket Windows
---
Beijing-Tianjin Intercity Commuter Pass
The Commuter Pass, a kind of China rail pass, is only available for passengers traveling along the Beijing-Tianjin Intercity Railway and its extension line. There are two types: Gold Pass for first class seats and Silver Pass for second class seats. Different from the regular China rail pass, it offers discounts. It can only be purchased at designated ticket windows. This pass can also only be used by the holder. The Commuter Pass is valid for one year from its issue date. The balance will be frozen after the pass expires, so you need to use it up prior to the expiry date.
Type
Price (CNY)
Allowed Trip Numbers
Discount
Golden Pass
1,240
20
5%
3,510
60
10%
4,995
90
15%
Silver Pass
1,030
20
5%
2,940
60
10%
4,600
100
15%
Designated Ticket Windows
Beijing South Station: No. 32 and No. 33 ticket windows in No. 3 Ticket Office; No. 27, No. 31 and No 78 ticket windows
Tianjin Station: No.2 ticket window of the ticket office in south terminal building; No. 15 ticket window of -1F on north square; No. 25, No. 26, No. 29 and No. 61 ticket windows
Wuqing Station: No. 1 and No. 4 ticket windows
Tanggu Station: No. 1 and No. 7 ticket windows
Yujiapu Station: No. 16 and No. 21 ticket windows
- Last modified on Apr. 19, 2021 -
Questions & Answers on China Rail Pass
Asked by Eugene from UNITED KINGDOM | Nov. 19, 2019 21:25

Reply
Can I get onto the platform with just a confirmation and passport ID?
I asked the inquiry desk at Shanghai Hongqiao rail station today about the rail pass, but she said it is only available on 3 trains each day (to Hangzhou), and the rail pass is generally only useful around Beijing.

She also said that from today (20 Nov 2019) that I would be able to get through ticket barriers on to the platform with just a booking confirmation and passport ID, no printed ticket required. Is this true, and does it apply to all lines?
Answers (1)
Answered by Eve | Nov. 19, 2019 23:56

0

0

Reply
I also heard about this new, it seems the e ticket project. As I read that passport holder need to verify passport at station ticket counter first before first travel, then only passport is needed for checkin at the checkin gate. But no idea if it refers to all route. I guess it is not for all routes, as only a few stations are in the e ticket project now.
Asked by Tay from SINGAPORE | Oct. 25, 2019 17:22

Reply
I am singaporean . Any discount for senior 65 years n above buy hsr ticket guangzhou-yangshou
Answers (1)
Answered by TravelChinaGuide | Oct. 28, 2019 00:27

0

0

Reply
Thank you for your inquiry.

However, we are sorry that there is no discount for senior passengers. Senior passengers need to buy nornal adult tickets. Hope for your kind understanding.
Asked by Mattia from MEXICO | Sep. 21, 2019 09:06

Reply
Is there a train pass that can be usted on all trains not only on high speed?
Answers (1)
Answered by Tammy from AUSTRALIA | Sep. 23, 2019 20:53

0

0

Reply
NO, the pass can only be used on appointed routes.
Asked by ROBERTO VALDEMAR from USA | Jul. 15, 2019 17:36

Reply
RE: RAIL PASS
IS IT BETTER TO BUY A RAIL PASS OR JUST PAY FOR EACH TICKETS?
CAN I BUY THE TICKETS/RAIL PASS HERE IN LOS ANGELES CALIFORNIA USA
WHICH WOULD BETTER?
Answers (2)
Answered by Kimi from MALAYSIA | Jul. 18, 2019 02:54

0

0

Reply
You can only buy the pass at appointed station or bank office in China mainland. To buy a pass or ticket, it depends on your schedule. Rail pass only support appointed trip too, so if you will always travel same route, you can buy a rail pass. If you will travel multiple routes, the pass would not work.
Answered by Cyrus from MOZAMBIQUE | Jul. 27, 2019 04:42

0

0

Reply
There are some desadvantages on it. Sometimes, on bullet train, there is short of second class, so when you pass card, how will you know what class you bought ticket...

Asked by shaan shakir from AU | Jul. 03, 2019 04:54

Reply
Traveling- ( Beijing-xian then Shanghai- Guangzhou
Is the Rail pass valid for these routes? I need a bullet train pass. is it same.
Answers (2)
Answered by Braxton | Jul. 03, 2019 19:36

0

0

Reply
No rail pass works for this two trips. You need to buy normal ticket instead.
Answered by Shaan from AUSTRALIA | Jul. 04, 2019 03:38

0

0

Reply
Thank you