Tianjin West Railway Station
Tianjin West Railway Station is the transportation hub of
Beijing-Tianjin
,
Beijing-Shanghai
,
Tianjin - Xian
and
Tianjin-Shanghai
Railways. It is about 4 miles (6.5 kilometers) to Tianjin Railway Station, 15 miles (24 kilometers) to Binhai International Airport, 39 miles (62 kilometers) to the Cruise Port, and 2.5 miles (4 kilometers) to Ancient Cultural Street. It is also close to Tianjin Eye, Stone Boat, Xigu Park, and
Haihe River
.
Address: No. 1 of Xizhan Front Street, Hongqiao District, between the Ziya River and the South Grand Canal

Schedule & Ticket Booking
The Tianjin West Train Station currently operates not only bullet trains to and from Beijing, Shanghai, Qingdao, Jinan, Nanjing, Hangzhou, Wuhan, Changsha, Dalian, and Harbin, but also ordinary types to and from Beijing, Shanghai, Shijiazhuang, Chengde, Yantai, Baotou, Rizhao, Hefei, Weihai, and Fuzhou etc.
(Last Update on March 8th, 2017)
Destinations
Train No.
Duration
Ticket Price (CNY)
Ticket Booking
First Class Seat/ Soft Sleeper
Second Class Seat/ Hard Sleeper
Beijing South
C2614, G8912, G8918, G8924... 12 departures from 06:52 to 22:54
35m-48m
65.5/94.5
54.5
Beijing
K52, T64, Z8, Z10...
12 departures from 03:39 to 13:54
1h15m - 3h21m
110.5
77.5
Shanghai Hongqiao
G211, G213, G1227, G1251... 10 departures from 09:31 to 17:32
5h03m - 5h54m
868.5
513.5
Shanghai
1461, T109 at 13:47 and 20:58
13h45m/17h32m
456.5
279.5/299.5
Qingdao
G171, G173 at 10:51 and 13:51
4h36m/4h38m
394
269
Jinan West
G51, G211, G329... 23 departures from 07:00 to 21:25
1h10m/1h36m
234.5
139.5
Nanjing South
G51, G211, G213... 13 departures from 07:00 to 17:32
3h41m-4h17m
678.5
403.5
Hangzhou East
G51, G1223, G1227, G53 from 07:00 to 15:43
5h23m-7h12m
842.5
500
Wuhan
G363, G293, G1273... 7 departures from 08:00 and 15:34
5h50m/7h19m
839.5
524.5
Shijiazhuang North
4481, K213, Y515 from 07:20 to 15:44
5h34m-6h19m
174.5
117.5
Station Plan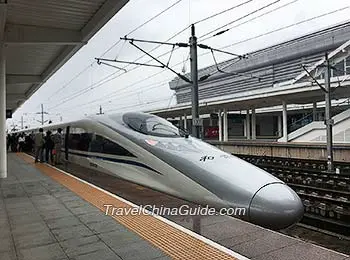 Platform
Tianjin West Railway station consists of three parts: the terminal building, the north square and the south square.
The terminal building covers an area of about 68 acre (680,000 m²) and comprises five floors, two above ground, and three underground, viz:

2F: waiting hall, East Entrance, West Entrance, security checks, boarding gates, VIP waiting room, Automatic Ticket Hall, fast food restaurants…

1F: entrance hall, South Entrance, North Entrance, security checks, ticket office…

-1F: exit hall, parking lots, transfer hall, exits and entrances for subway
line 1
, city bus stops, and taxi stands

-2F: platform of subway
line 6

-3F: platform of subway line 4 (under construction)
South Square is the major square of the station. The bus stops are located in the east of the square. Buses including No. 10, 15, 24, 31, 52, 153, 161, 168, 574, 601, 631, 635, 639, 651, 687, 688, 746, 810, 824, 829, 840, 859, 865, 869, 904, 910, 952 and 962 are in service. Taxi stands and parking lots can be found on B1 floor of South Square.
Subway entrances/exits of line 1 and line 6 are set up on South Square as well.
In addition, in its west, there is a long-distance bus station, with services to/from nearby regions like Cangzhou, Baoding and Jinan etc.
The north square, which is smaller than the south one, is also equipped with bus stops, taxi stands, parking lots and China Railway Express office. The bus stops are set up on the west side of the square, buses No. 461, 469, 503, 570, 574 and 652 can be found there.
How to transfer from Tianjin West Train Station to other places?
To
Ancient Cultural Street
: Passengers can take bus No. 24, 829 or 651 to Beimen and then walk eastward for about 770 yards to get there. This bus trip would take about 15 minutes. Taking a taxi would cost about CNY15 and take around 10 minutes.
To
Tianjin Railway Station
: Passengers can take subway line 1 to Xinanjiao and then change to
line 2
to get there. The duration is around 20 minutes and cost is CNY3 per person. Taking a taxi would take about 20 minutes and the taxi fare is about CNY25.
Except the subway and taxi, passengers can also try to take a high speed ride as well. At this time, there are 30 pairs of high speed trains running between the two stations. It only takes 8 minutes for this trip. The ticket price is CNY9 per person for second class seat, CNY15.5 for first class seat and CNY29 for business class seat.
To Tianjin South Railway Station: Passengers can take subway line 6 to Hongqi South and change to line 3 to get to the final destination. This trip may take about 1 hour. Taking a taxi would take about 30 to 40 minutes without traffic problem. The taxi fare would be about CNY60.
To
Binhai International Airport
: Travelers can take subway line 1 to Xinanjiao and then take subway line 2 to the airport directly. This trip by subway would take about 50 to 60 minutes. Travelers can also choose a taxi as well. The taxi fare would be around CNY60-80 and the duration would be about 40 minutes.
To Cruise Port: Travelers can take subway line 1 to Xinanjiao and take line 2 to Tianjin train station. From there travelers can continue the trip by subway
line 9
to Citizen Square. After reaching Citizen Square, take bus No. 513 to the port. The duration would be about 2.5 hours. Taking a taxi directly from west station would cost CNY200 and the duration would be around 80 minutes.

Tianjin Bus/ Subway Search
Facilities and Services
Ticket office: The main ticket office is located to the east of South Entrance. The ticket office opens 24 hours a day, and with window 2 for the physically challenged travelers, window 3 for ticket refund, window 4 to 6 for collection of online bookings, window 7-8 for student ticket, window 10 for ticket change. The rest counters are for ticket selling. Services of these ticket counters can be adjusted based on the passenger flow; travelers may double check the information above with staff after arrival.
Waiting Hall: Toilets, drinking water, fast food restaurants, small shops can be found in the waiting hall on 2F. There are totally 24 boarding gates. Gate No. 1 to 7 serve passengers to Beijing; No 8 to 17 serve those to Shanghai and Qinhuangdao; No. 18 to 21 serve passengers to take normal rides and No. 22 to 24 serve those to Baoding.
Print