Hangzhou Railway Station
Hangzhou Railway Station is also known locally as Chengzhan Railway Station. It is 6 miles (10 km) from East Railway Station, 11 miles (18 km) from South Railway Station, 5 miles (8 km) from West Lake and 19 miles (31 km) from Xiaoshan International Airport. First opened in 1999, it is one of the major rail stations in the city, and the largest in Zhejiang Province.

Address: At the intersection of East Huancheng Road and Xihu Road in the Shangcheng District


Hangzhou Railway Station See-off Service

Schedule and Ticket Booking
Hangzhou Train Station mainly operates regular trains to and from Beijing, Guangzhou, Lanzhou, Zhengzhou, Xi'an and Chongqing. The high speed trains to Shanghai are also available here.


Major Rail Lines from this station to:
High Speed Train Schedule
(Last Update on Apr 25, 2023)
To
Trains
Duration
Ticket Fare (CNY)
First/ Second Class Seat

Shanghai

G7358, G7358, G7552, G1866...
173 departures from 06:10 to 22:32
0h45m - 1h58m
CNY 74/ 47
USD 11/ 7

Nanjing South

D3076, G3192, G172, G1862...
130 departures from 06:33 to 21:47
1h1m - 4h26m
CNY 145/ 86
USD 21/ 13

Suzhou

G1866, G7492, G7372, G7372...
41 departures from 07:26 to 20:43
1h20m - 2h24m
CNY 144/ 47
USD 21/ 7

Wuhan

D3076, G1544, G3242, G2389...
24 departures from 06:33 to 18:38
4h15m - 6h34m
CNY 459/ 266
USD 68/ 39
Normal Speed Train Timetable
(Last Update on Apr 25, 2023)
To
Trains
Duration
Ticket Fare (CNY)
Soft/ Hard Sleeper

Beijing

Z282, K102 at 16:55 and 19:22
17h42m - 20h23m
CNY 527.5/ 343.5
USD 78/ 51

Chengdu East

K529, K351 at 12:26 and 18:25
32h52m - 35h35m
CNY 735.5/ 476.5
USD 108/ 70

Taiyuan

K1806, K892, K1396 from 11:30 to 21:54
20h1m - 23h58m
CNY 538/ 351
USD 79/ 52

Suzhou

K828, K470, K808, T112...
13 departures from 02:03 to 19:50
2h32m - 5h22m
CNY 135.5/ 94.5
USD 20/ 14

Guangzhou

T869, K209, Z695, K827...
5 departures from 12:35 to 21:49
15h22m - 20h39m
CNY 554.5/ 331.5
USD 82/ 49

Xi'an

K308, K392, T112, K606...
10 departures from 02:27 to 21:47
16h29m - 22h35m
CNY 484.5/ 317.5
USD 71/ 47

The above schedule is for reference only. For real-time schedule and ticket booking, please click the arrival stations.

See detailed
Hangzhou Train Schedule
Station Plan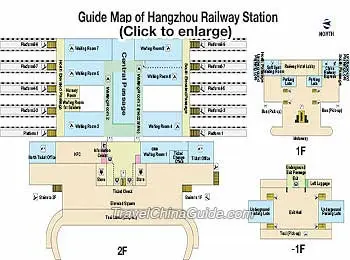 Hangzhou Railway Station Map
(Click to enlarge)
Hangzhou Railway Station consists of a terminal building and a square. The 3-storey terminal building connects with a 17-storey multi-purpose building which provides many services including shopping, dining, entertainment and accommodation etc.



Terminal Layout:


2F: waiting rooms, check points, nursing room, ticket offices, waiting room for military personnel, taxi stand (drop-off), restaurants, stores


1F: platforms, soft seat waiting room, left luggage, parking lot


-1F: taxi stand (pick-up), arrival hall, parking lots, exit



Square Layout:
Bus stops are available on the square. There are cafés and restaurants available such as KFC, Burger King and Daniang Dumplings around the square, too.

How to get to the station from downtown area?

Arrival by bus:
At Chengzhan Railway Station: 3, 7, 11, 21, 39, 49, 88, 90, 100, 100 (inter-zone line), 116, 140, 140 (inter-zone line), 185, 188, 200, 210, 222, 225, 229, 263, 270, 276, 281, 281 (peak time line), 290, 300, 325, 528, 849, 900, 1002, B3, K155, Airport Shuttle Pinghai Road Line, Sightseeing Bus Line 2 (Y2)
At Xiangxie Mansion: 3, 30, 62, 92, 116, 151, 190, 251, 295, 801, K155
At Yaoyuansi Lane: 30, 62, 92, 116, 151, 190, 251, 801
When arriving by bus, passengers will be dropped off on the elevated square. Ticket holders, either E-ticket or paper ticket should enter the station directly to find a seat in the correct waiting room according to the ticket information. For those without, the ticket offices are located at the south and north sides on the same level. Once passengers have obtained their tickets they should proceed to the appropriate waiting room to await their departure.

Arrival by
Subway Line 1
&
Line 5
:
Passengers arriving the station by subway will get off on -2F of the terminal building. There are escalators and lifts leading to upper waiting rooms and ticket offices.

Arrival by taxi:
When passengers come by taxi, they can go directly to the elevated square outside the entrances on 2F of the station building.
From East Railway Station: It takes about 23 minutes and costs around CNY25.
From Xiaoshan International Airport: It takes approximately 40 minutes and costs CNY120.
From West Lake Scenic Spot (Bai Causeway): It takes 20 minutes or so and costs about CNY25.
Ticket Check and Boarding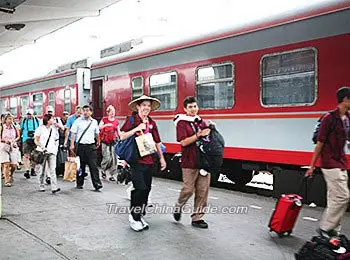 Platform
Before checking-in, passengers should know exactly where to have the ID certificate bearing tickets checked. Foreign ID certificate, like passport can only be checked manually. Please note that there may be two trains at the platform and be sure to board the correct one.

How to exit and leave the station?
Upon arrival, passengers will be directed to the arrival hall on -1F to get out from underground passage and then they can choose relevant transportation to leave the station.

Leave by subway:
Subway entrances are on -1F and the subway platforms are on -2F.

Leave by bus:
From the arrival hall passengers can take escalators or stairs leading up to the square at street level. Bus terminals are located on each side of the square.

Leave by taxi:
Passengers planning to leave by taxi can find taxi stands on -1F. It is very convenient.

Popular destinations from the station:

To West Lake scenic spot:
1. Take the bus 7 and get off at Hubin, Shaoniangong or Duanqiao station.
2. Take the bus 290 or 900 and get off at Shengli Theater station.
3. Take the bus Y2, which runs around West Lake, you can get off at the scenic spot of your choice.
4. Take the subway line 1 and get off at Longxiangqiao station. Leave by exit C4 and walk along the Pinghai Road for 250 yards to the lakeside.

To East Railway Station
Subway line 1 will get you there directly.

To Xiaoshan International Airport
Take the airport shuttle bus from the parking lots in the central of station square. The bus is available between 04:45 and 20:45 at 30 minutes intervals. The journey usually takes about 70 minutes and the fare is CNY 20 per person.
Facilities and Services

Ticket Office:
There are two ticket offices on the second floor of the station building: one is at the south end, and the other at the north end. The services include ticket purchase, refunds and exchanges as well as ticket loss.

Waiting Hall: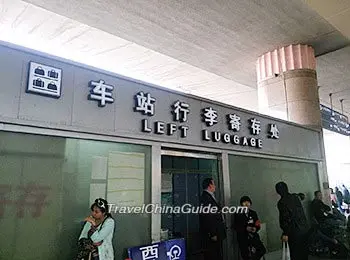 Left Luggage Office
There are eleven waiting rooms in total: eight normal waiting rooms and three special waiting rooms for mother & baby, military personnel and soft seat/sleeper ticket holders. The soft seat/sleeper waiting room is on 1F, all the rest are on 2F. The first waiting room on the right side of the waiting hall is for CRH passengers.

Left Luggage Service:
Luggage lockers can be found in the waiting area; the daily charge is CNY 10 for a small locker and CNY20 for a large locker. There is also a left luggage office near the station exit on 1F, and usually the charge for one piece of luggage is CNY 8-10 per day.



Other Services:
1. There is a China Railway Express near exit on 1F for consigning luggage.
2. On the second floor of the station building, there is a Passenger Service Center providing consulting service.
3. Free WIFI named "SRWS-FREE" is available in the station for passengers' convenience.
Print
- Last updated on Aug. 27, 2023 -