Tianjin Attractions
Tianjin is a good choice as a travel destination. With its cool sea breeze and fresh sea air you will definitely feel refreshed. Historical relics, natural scenery, temples, churches, assembly halls and commemorative sites of the Chinese revolution will illuminate the city's past, present and future, and give visitors a lot of things to do. The city is honored as a 'Building Museum' as it was occupied by nine foreign imperial powers before, leaving behind many buildings with extraordinary and exotic architectural styles, a real feast for the eye!
Top 10 Attractions in Tianjin (Jinmen Shijing)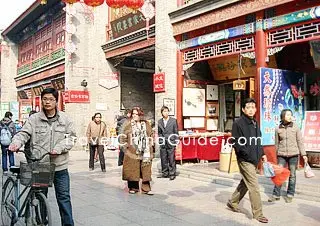 Culture Street

Ancient Cultural Street (Jinmen Guli)
It is a business street located in Nankai District of Tianjin, with the Temple of the Queen of Heaven as its geographical center. There are many stores along this street dealing in jade articles, antiques, traditional handicrafts, especially famous Niren Zhang painted sculptures and Weiji kites. What makes the street so amazing is that buildings on both sides imitate the architectural style of those in the Qing Dynasty (1644-1911). Besides, the street is a popular place to savor the delicious local snacks, such as the Go Believe stuffed buns, Erduoyan (the Ear-hole Lane) Fried Glutinous Cakes and tea soup.



Tianjin Radio and Television Tower
It is the fourth highest TV tower in the world after Toronto TV Tower in Canada, Moscow Tower in Russia, and Oriental Pearl TV Tower in Shanghai, China. It is located in Tianta Lake, like a sword thrusting into the sky. There is a restaurant in the tower at the height of 814 feet (about 248 meters) to 912 feet (about 278 meters) which can simultaneously accommodate more than 200 guests and provides a bird's eye view of the whole city.



Huangyaguan Great Wall
Huangyaguan Great Wall is an important military project of the Northern Qi Dynasty (550-577) and is located at the juncture of four cities, Beijing, Tianjin, Tangshan and Chengde. It is a wonderful example of ancient Chinese military engineering. Within the pass, more than 40 crisscrossing lanes form the shape of the eight diagrams, giving the town a nickname, the Eight-Diagram Town. In the center of the town, there is the Great Wall Museum. A marathon race is held at Huangyaguan every year in the middle of May, attracting thousands of runners.
| | |
| --- | --- |
| Folk Custom Museum | Decorated Old Street |

Mt. Panshan Scenic Area
Panshan Mountain, a very famous place to visit, is blessed with strange rock formations, verdant trees, clear streams and mighty peaks. It is made up of Shang Pan which is famous for vigorous pine trees, Zhong Pan which well-known for unique rocks, and Xia Pan that is renowned for crystal clear streams.

Water Park
More than half of Water Park's area is covered with water, which makes this park a lovely and special tourist attraction. In the park there are twelve small islands connected by arched bridges and small mounds. Weeping willows along the water edge and lotus flowers in the water make there a relaxing place. At the southernmost part of the Water Park complex, there is the Tianjin Zoo that covers an area of 132.9 acres (53.77 hectares) with more than 200 kinds of animals.

Haihe River
Like a beautiful painting, Haihe River makes the city as charming as that is seen in your imagination. In addition, Haihe River Park and Wanghailou Church enhance Haihe River's beauty in great deal. You shouldn't miss the very appealing Haihe River at night as it will surely not disappoint you.

Dagu Fort
(Taku Forts)
Built in 1858 close to the sea, Dagu Fort was used to protect Beijing, the
capital city of the Qing Dynasty. If you ever visit Dagu Fort, there are other places of interests around worthy your time as well, such as Haimen Bridge and Dagu Beacon.



Nanshi Food Street and Hotel Street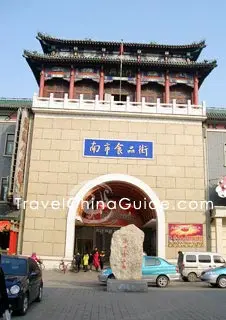 Nanshi Food Street
As a large city, Tianjin can indulge you with almost all eight of the classical Chinese cuisines, of which seven types can be enjoyed in Nanshi Food Street, namely, Shandong, Jiangsu, Sichuan, Anhui, Guangdong, Zhejiang and Hunan Cuisines. Undoubtedly each cuisine is a feast for your taste buds.

Stepping out of Food Street through Xingge Gate, its west gate, you will see the Hotel Street with a group of buildings modeled the architectural style of the Qing Dynasty and provide real enjoyment if staying in one of these hotels.



Dule Temple
Dule Temple is more than 1,000 years old and consists of a complex of grand structures. In Dule Temple you can see the oldest multi-storied wooden pavilion in the country and the Kwan-yin statue, one of the biggest clay sculptures preserved in China.



Zhonghuan Cailian (Charming Middle Beltway)
Zhonghuan means Middle Beltway of the city. High buildings, verdant trees, lovely flowers and parks are dotted along this beltway, which endows the whole city with a special glamour of modernity.
More Attractions

Baxian Mountain lies about 19 miles northeast of Jixian County, adjoining Eastern Qing Tombs in the east and Huangyaguan Great Wall in the west.



Dabei Buddhist Temple is the largest, oldest and best-preserved temple in the city, with the statue of Kyan-yin (the Bodhisattva of Mercy) enshrined in its main hall.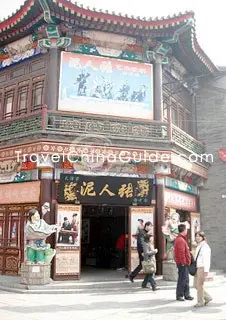 Niren Zhang
Painted Sculptures Shop

Great Mosque
is located in the Muslim Quarters in Hongqiao District. It stores two Quran in the size of a half or a third of a matchbox.

Happy Valley
is a large amusement park suitable for all ages in the norththeast of downtown.

Porcelain House
is a French-style building constructed with porcelain. Its windows, doors, pillars, and roofs are decorated by exquisite chinaware.

Seashore Holiday Resort
is a bathing beach famous for its seashore hot spring. It is one of the largest man-made bathing beaches in China at present.

St. Joseph Cathedral
(Old Xikai Church) is the largest Roman Catholic Cathedral in Tianjin. It's also named the French Church because it is located in the former French Concession and was built by French missionaries.

Temple of the Queen of Heaven
is one of the top three Mazu Temples in China to worship the Goddess of Sea. It's also where the Tianjin Folk Custom Museum is located.