Tianjin Weather
Located near Beijing, Tianjin's weather is similarly characterized by four distinct seasons – dry and windy springs, hot and rainy summers, cool and pleasant autumns, dry and cold winters. Like most cities in northern China, July tends to be the hottest month, during which the average temperature can reach 26

C (79

F) or even higher, while January is the coldest with an average temperature of -4

C (25

F).



Best Time to Visit Tianjin
It is strongly recommended to visit in spring from March to May and autumn from September to October. The natural scenes are most beautiful in the two seasons, when the climate is also at its most stable and agreeable time.
7-Day Tianjin Weather Forecast
Tianjin Weather by Month
Averages for Tianjin Weather
High/Low Temperatures of Tianjin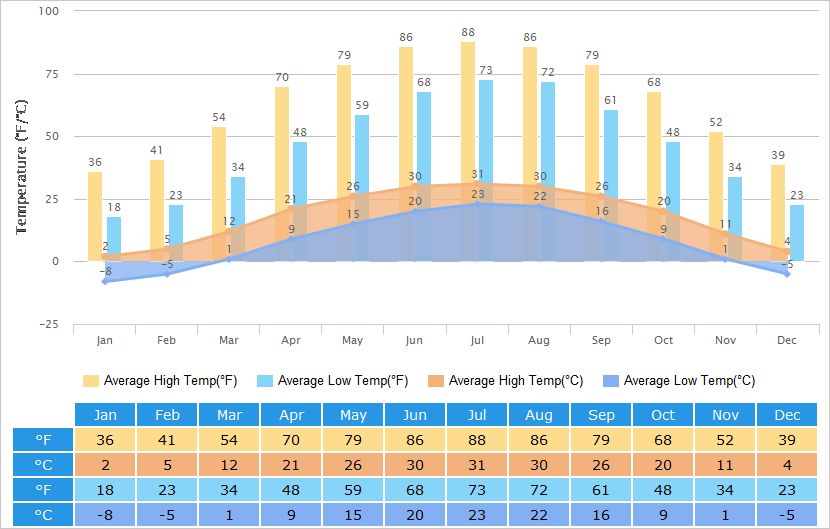 Average Temperatures of Tianjin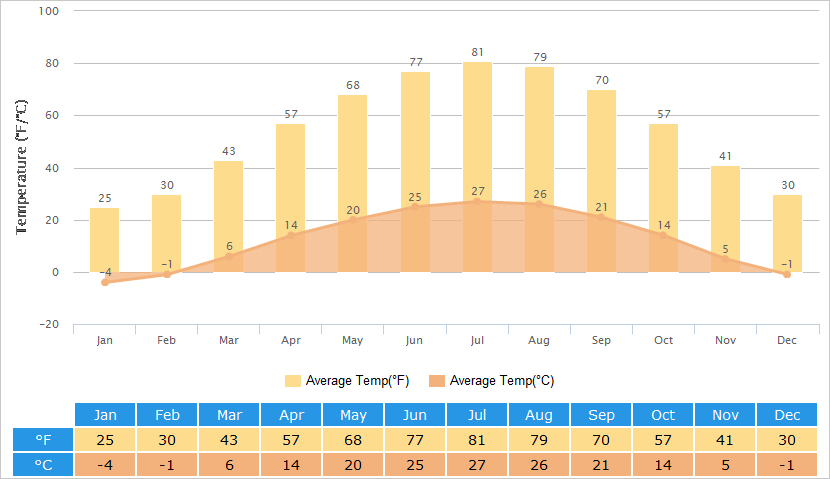 Humidity Graph of Tianjin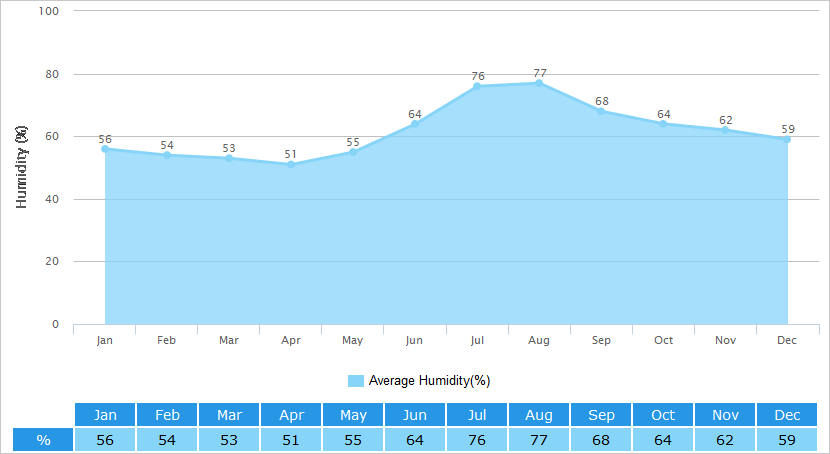 Average Rainfall of Tianjin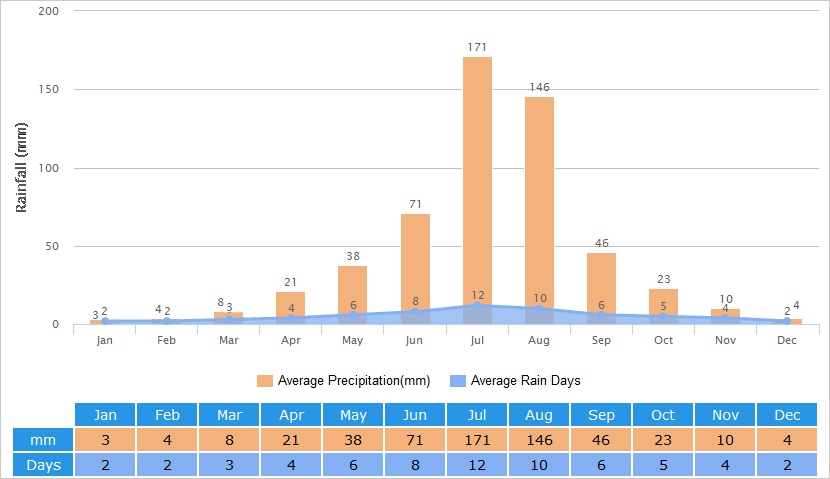 Air Quality of Tianjin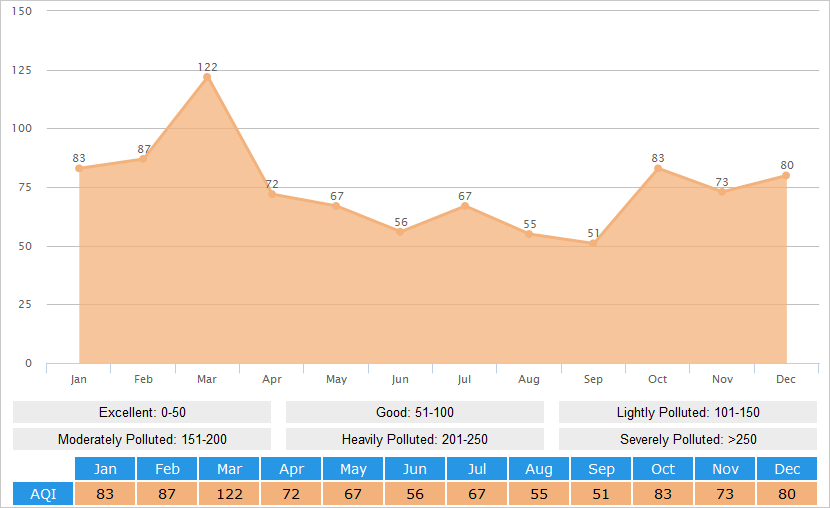 Tianjin Climate - Seasons & Travel Advice
Less influenced by the inland China sea - Bohai Sea, Tianjin possesses a semi-moist continental monsoon climate, with monsoon prevailing all year round. It has four clearly divided seasons and each season has its own beautiful scenery. The annual precipitation is 550-650 millimeters, 75% of which is mainly concentrated in summer.
Spring
The weather in spring from late March to early May is pleasant and suitable for traveling. You can go outing to climb Mt. Panshan and pay a visit to the Dule Temple at the foot of the mountain on your way back as well. However, there will be windy weather and sandstorms occasionally. In early spring, you may have to wear a wool sweater plus a thick jacket (or a wind coat), but a long-sleeved T-shirt may be enough for late spring.
Summer
Summer in the area is usually from middle May to the end of August when the climate is also very sultry. The rainy season of June to August generates 75% of the whole year's rainfall, so rainwear is a requisite. The temperature difference between day and night can be big, so it is best to wear a light overcoat at night so as not to get a cold. The annual Tianjin Beer Festival is held in July.
Autumn
Autumn weather is cool with a mild and pleasant temperature, but only lasting 50-56 days from September to late October. At this time, you may just bring long-sleeved T-shirts plus one or two light overcoats. The autumn Iis a good time to enjoy the red, yellow and green leaves on Huangyaguan Great Wall.
Winter
Winter there is both cold and long, starting from November and ending in February. The temperature can drop to -15

C (5

F), accompanied by a piercing wind. Thus, you have to wear wool sweaters, down coats, woolen scarfs and gloves. It has become a fashion to have a hot spring spa at Dijing Hot Spring City or Donglihu Hot Spring Holiday Resort.
- Last updated on Sep. 03, 2020 -
Questions & Answers on Tianjin Weather
Asked by avinash kurhade from INDIAA | Nov. 06, 2019 22:28

Reply
I am visiting Tianjin during Nov 11 to Dec 6.
What are the precautions that I should take during my visit to that city?
Answers (1)
Answered by Ada from CANADA | Nov. 10, 2019 17:41

0

0

Reply
The temperature might be around 0C-10C. So you need to bring padded pants and jackets, wollen coats and so on.
Asked by Tina from MALAYSIA | Sep. 25, 2019 06:45

Reply
We are visiting Tianjin from 19th to 26th October 2019. How is the weather during that time?
Answers (1)
Answered by Morgan from UKRAINE | Sep. 26, 2019 01:31

0

0

Reply
Based on the previous statistics, the temperature may range from 10C to 20C during that period of time. It will be a little bit cold. You are suggested to wear jackets, long-sleeved shirts, sweaters, jeans and pants.
Asked by Win Htike from MYANMAR | Aug. 06, 2018 02:09

Reply
How about the weather in August to September of Tianjin and can I buy some souvenirs?
Answers (1)
Answered by Karma from FRANCE | Aug. 07, 2018 19:23

0

0

Reply
The temperature may be 20C to 30C. You can wear short sleeves and shirts, preparing a jacket in rainy days. Of course you can buy some souvenirs.