Tianjin Weather in December
With the average temperature varying from -5 to 4 °C (23-39 °F), Tianjin weather in December is cold and it makes people feel frigid although most of the time is sunny with bright sunshine. Strong northwest wind, haze, and frost may appear. More seriously, there may be several waves of cold air attacking, bringing down the temperature to below zero and freezing lakes and rivers.
Although the weather is cold, many scenic spots and activities can be chosen, such as skiing, skating, appreciating snowscape, enjoying hot springs and so on. Meanwhile, the travel cost is lower in December compared with other peak travel seasons.
Averages for Tianjin Weather in December
Temperature: -1°C / 30°F
High Temperature: 4°C / 39°F
Low Temperature: -5°C / 23°F
Humidity: 59%
Rainfall: 4 mm
Rainy Days: 2 days
Sunrise: 07:12 ~ 07:31
Sunset: 16:48 ~ 16:58
Air Quality in December
Average AQI:80

What to Wear in Tianjin in December
Considering the cold climate, tourists are supposed to wear cold-proof winter clothes, like wool sweater, parka, downcoat, padded trousers, long boots, scarf, gloves and hat.


Things to Do in Tianjin in December
December is one of the best time to enjoy skiing in Tianjin and the famous ski resorts include Yulong Ski Resort, Nancuiping Mountain Ski Resort and Panshan Ski Resort. At Tianta Lake Scenic Area, it is great to climb up to the top of the
Tianjin Radio and Television Tower
to overlook the whole city and enjoy skating at the frozen lake surrounding the tower. Temple of the Queen of Heaven, also the seat of Tianjin Folk Custom Museum offers a perfect chance to learn China's folk culture via various folk exhibitions and folk performances.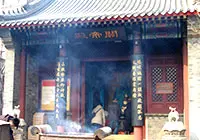 Temple of the Queen of Heaven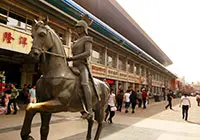 Foreign Commodities Market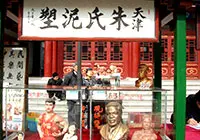 Ancient Cultural Street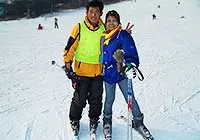 Yulong Ski Resort
What is the Temperature in Tianjin in December?
High/Low Temperatures of Tianjin in December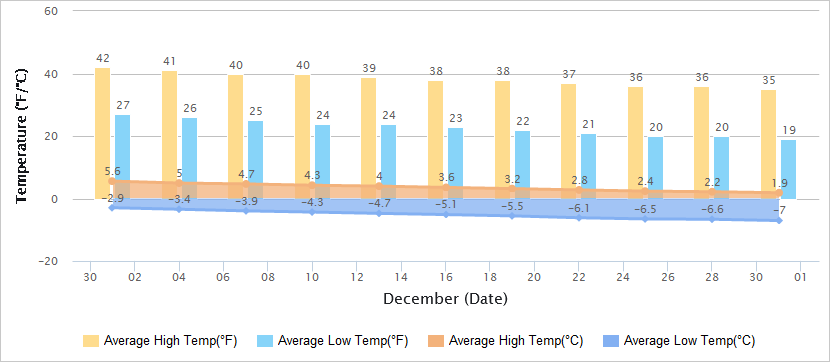 Air Quality of Tianjin in December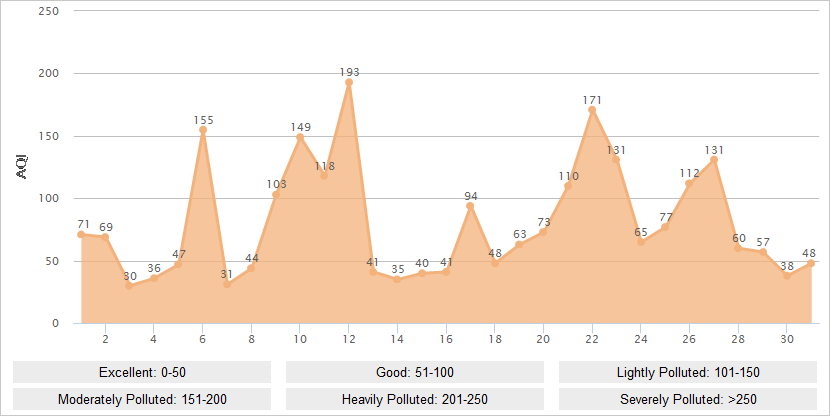 Historical Tianjin Weather in December
Dec
Temperature
Sunrise / Sunset
Humi-
dity
(%)
High
Low
1
5.6°C / 42°F
-2.9°C / 26.7°F
07:12 / 16:49
19
2
5.5°C / 41.9°F
-3.1°C / 26.4°F
07:13 / 16:49
32
3
5.2°C / 41.4°F
-3.3°C / 26°F
07:14 / 16:49
21
4
5°C / 41°F
-3.4°C / 25.9°F
07:15 / 16:48
16
5
4.9°C / 40.8°F
-3.6°C / 25.5°F
07:15 / 16:48
16
6
4.8°C / 40.6°F
-3.7°C / 25.3°F
07:16 / 16:48
20
7
4.7°C / 40.4°F
-3.9°C / 24.9°F
07:17 / 16:48
24
8
4.6°C / 40.2°F
-4°C / 24.8°F
07:18 / 16:48
19
9
4.5°C / 40.1°F
-4.2°C / 24.4°F
07:19 / 16:48
18
10
4.3°C / 39.7°F
-4.3°C / 24.2°F
07:20 / 16:48
17
11
4.2°C / 39.6°F
-4.5°C / 23.9°F
07:21 / 16:49
14
12
4.1°C / 39.3°F
-4.6°C / 23.7°F
07:21 / 16:49
13
13
4°C / 39.2°F
-4.7°C / 23.5°F
07:22 / 16:49
24
14
3.9°C / 39°F
-4.9°C / 23.1°F
07:23 / 16:49
67
15
3.7°C / 38.6°F
-5°C / 23°F
07:24 / 16:49
41
16
3.6°C / 38.4°F
-5.1°C / 22.8°F
07:24 / 16:50
15
17
3.4°C / 38.1°F
-5.3°C / 22.4°F
07:25 / 16:50
18
18
3.3°C / 37.9°F
-5.4°C / 22.2°F
07:26 / 16:50
19
19
3.2°C / 37.7°F
-5.5°C / 22.1°F
07:26 / 16:51
23
20
3°C / 37.4°F
-5.6°C / 21.9°F
07:27 / 16:51
26
21
2.9°C / 37.2°F
-6°C / 21.2°F
07:27 / 16:52
25
22
2.8°C / 37°F
-6.1°C / 21°F
07:28 / 16:52
20
23
2.6°C / 36.6°F
-6.3°C / 20.6°F
07:28 / 16:53
38
24
2.5°C / 36.5°F
-6.4°C / 20.4°F
07:29 / 16:53
22
25
2.4°C / 36.3°F
-6.5°C / 20.3°F
07:29 / 16:54
18
26
2.3°C / 36.1°F
-6.5°C / 20.3°F
07:29 / 16:55
44
27
2.3°C / 36.1°F
-6.6°C / 20.1°F
07:30 / 16:55
48
28
2.2°C / 35.9°F
-6.6°C / 20.1°F
07:30 / 16:56
62
29
2.1°C / 35.7°F
-6.7°C / 19.9°F
07:30 / 16:57
69
30
2°C / 35.6°F
-6.9°C / 19.5°F
07:31 / 16:58
33
31
1.9°C / 35.4°F
-7°C / 19.4°F
07:31 / 16:58
16
- Last modified on Sep. 03, 2020 -