Tianjin Weather in August
On the whole, Tianjin weather in August is still hot. The average temperature fluctuates from 22 to 30 °C (72-86 °F). It is vital to take some measures to protect from sunstroke. Rain comes frequently with about 146mm rainfall in the 10 rainy days, after which the humidity is high. Together with the high temperature, it makes people feel sticky, like bating in sauna.
In late August at the alternate period from summer to autumn, it starts to feel cool and comfortable, especially at night and in the early morning.
Averages for Tianjin Weather in August
Temperature: 26°C / 79°F
High Temperature: 30°C / 86°F
Low Temperature: 22°C / 72°F
Humidity: 77%
Rainfall: 146 mm
Rainy Days: 10 days
Sunrise: 05:12 ~ 05:39
Sunset: 18:49 ~ 19:29
Air Quality in August
Average AQI:55

What to Wear in Tianjin in August
It is recommended for tourists to wear breathable and thin clothes, such as shorts made of light cotton fabric, skirts, T-shirts, dresses, and etc. Sunglasses and raingears are also necessary.


Where to Go in Tianjin in August
Mt. Panshan
is a perfect summer resort for sweltering August, where you can hike among the dense trees, breath fresh air, appreciate strange rocks and visit various Buddhism temples. You call also visit Haichang Ocean Park to see sea animals, watch fantastic shows performed by animal stars, and join in diverse interactive programs. Hot climate makes people want to get close to water and Dongjiang Bay Beach is a nice place to go. In the evening, you can stroll through Italian Style Street, taste delicious food at open-air restaurants, and enjoy the beautiful melody and a cup of wine at bars.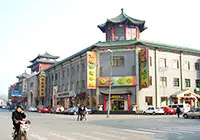 Nanshi Food Street
Century Clock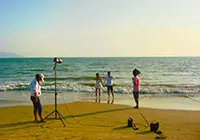 Dongjiangwan Beach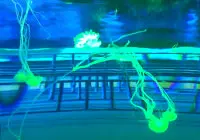 Haichang Ocean Park
Other Tips
Traveling to Tianjin in August, tourists are advised to take care to avoid sunstroke, and also bring raingears in case of rains. During "sauna weather", it is advised to avoid going out during pre- and post-noon hours.
What is the temperature in Tianjin in August?
High/Low Temperatures of Tianjin in August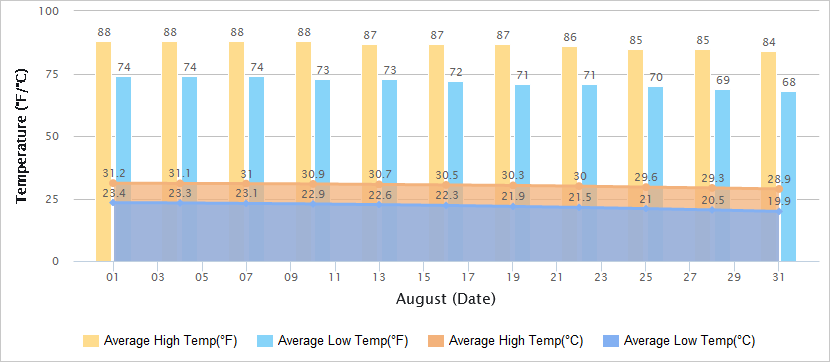 Air Quality of Tianjin in August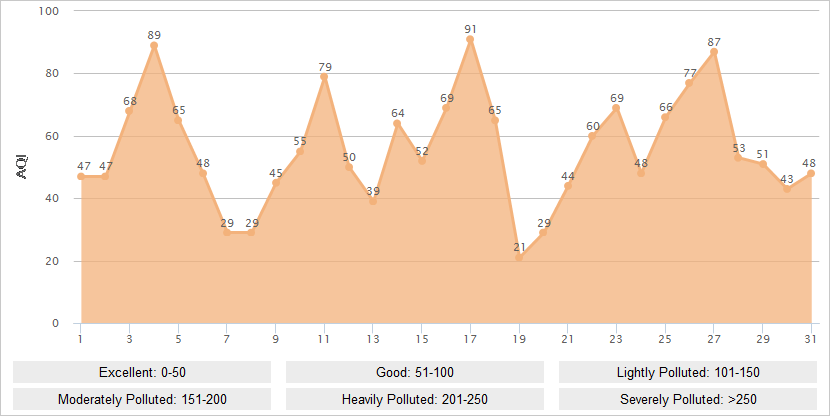 Historical Tianjin Weather in August
Aug
Temperature
Sunrise / Sunset
Humi-
dity
(%)
High
Low
1
31.2°C / 88.1°F
23.4°C / 74.1°F
05:12 / 19:23
56
2
31.2°C / 88.1°F
23.4°C / 74.1°F
05:13 / 19:22
62
3
31.2°C / 88.1°F
23.3°C / 73.9°F
05:14 / 19:21
51
4
31.1°C / 87.9°F
23.3°C / 73.9°F
05:15 / 19:20
42
5
31.1°C / 87.9°F
23.2°C / 73.7°F
05:15 / 19:19
49
6
31.1°C / 87.9°F
23.2°C / 73.7°F
05:18 / 19:23
35
7
31°C / 87.8°F
23.1°C / 73.5°F
05:16 / 19:18
33
8
31°C / 87.8°F
23.1°C / 73.5°F
05:17 / 19:17
35
9
30.9°C / 87.6°F
23°C / 73.4°F
05:18 / 19:15
46
10
30.9°C / 87.6°F
22.9°C / 73.2°F
05:19 / 19:14
42
11
30.8°C / 87.4°F
22.8°C / 73°F
05:20 / 19:13
39
12
30.8°C / 87.4°F
22.7°C / 72.8°F
05:21 / 19:12
51
13
30.7°C / 87.2°F
22.6°C / 72.6°F
05:22 / 19:10
60
14
30.7°C / 87.2°F
22.5°C / 72.5°F
05:23 / 19:09
55
15
30.6°C / 87°F
22.4°C / 72.3°F
05:25 / 19:07
48
16
30.5°C / 86.9°F
22.3°C / 72.1°F
05:26 / 19:05
56
17
30.4°C / 86.7°F
22.2°C / 71.9°F
05:27 / 19:04
50
18
30.4°C / 86.7°F
22°C / 71.6°F
05:27 / 19:02
53
19
30.3°C / 86.5°F
21.9°C / 71.4°F
05:28 / 19:01
55
20
30.2°C / 86.3°F
21.8°C / 71.2°F
05:29 / 19:00
55
21
30.1°C / 86.1°F
21.6°C / 70.8°F
05:30 / 18:58
48
22
30°C / 86°F
21.5°C / 70.7°F
05:31 / 18:57
54
23
29.9°C / 85.8°F
21.3°C / 70.3°F
05:32 / 18:55
73
24
29.8°C / 85.6°F
21.2°C / 70.1°F
05:33 / 18:54
35
25
29.6°C / 85.2°F
21°C / 69.8°F
05:34 / 18:52
21
26
29.5°C / 85.1°F
20.8°C / 69.4°F
05:35 / 18:51
27
27
29.4°C / 84.9°F
20.6°C / 69°F
05:36 / 18:49
77
28
29.3°C / 84.7°F
20.5°C / 68.9°F
05:37 / 18:48
63
29
29.2°C / 84.5°F
20.3°C / 68.5°F
05:37 / 18:46
40
30
29°C / 84.2°F
20.1°C / 68.1°F
05:38 / 18:45
46
31
28.9°C / 84°F
19.9°C / 67.8°F
05:39 / 18:43
49
- Last modified on Sep. 03, 2020 -