Tianjin Weather in October
October is the autumn in Tianjin, and the weather gets a little bit cold. The average temperature fluctuates from 9 to 20 °C (48-68 °F). Most of the time is sunny or cloudy, with the average rainfall of only 23mm. Generally speaking, the Tianjin weather in October is quite pleasant, and it is very comfortable for outdoor traveling; the natural scenery becomes colorful as leaves turn yellow, orange, and red, etc. All these make October one of the best months for travelling.
From October 1st to 7th is the
National Day
Holiday in China, so it is suggested to avoid this period. Or remember to book the hotel and tickets of scenic spots in advance.
Averages for Tianjin Weather in October
Temperature: 14°C / 57°F
High Temperature: 20°C / 68°F
Low Temperature: 9°C / 48°F
Humidity: 64%
Rainfall: 23 mm
Rainy Days: 5 days
Sunrise: 06:07 ~ 06:38
Sunset: 17:12 ~ 17:54
Air Quality in October
Average AQI:83

What to Wear in Tianjin in October
Blouse, long-sleeve t-shirt, thin sweater, leather coat and trench coat are recommended to wear when traveling to Tianjin in October. As for shoes, a pair of comfortable sneakers or hiking shoes can better cope with the easy walking while traveling around.


Things to Do in Tianjin in October
In October, Huangyaguan Great Wall is surrounded by colorful autumn sceneries. Looking afar, it looks like a giant dragon winding on a colorful blanket, very attractive. Meanwhile, it is neither too hot nor too cold to climb the Great Wall. Dule Temple (Temple of Solitary Joy) gives you the chance to enjoy architectural style of Ming and Qing dynasties (1368 - 1911), view the beautiful murals, and appreciate inscription written by Qing Emperor Qianlong (1711-1799). After nightfall, you can take a stroll along Haihe River, take a cruise and appreciate the charming night scenery.
Other Tips
As the climate is getting cold, it is advised to eat more vegetables and fruits to improve the body's immune system and ability to resist the illness.
What is the temperature in Tianjin in October?
High/Low Temperatures of Tianjin in October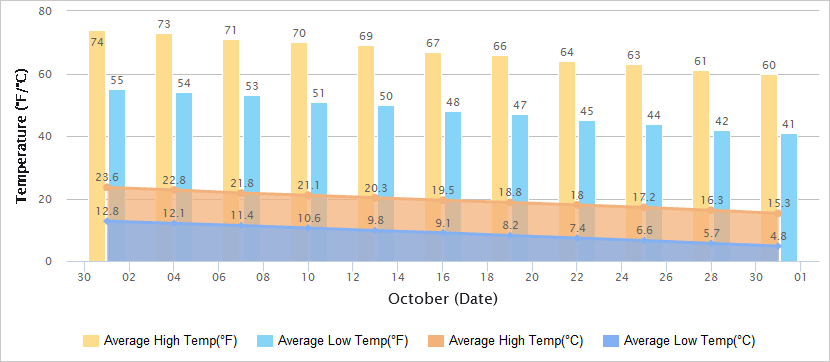 Air Quality of Tianjin in October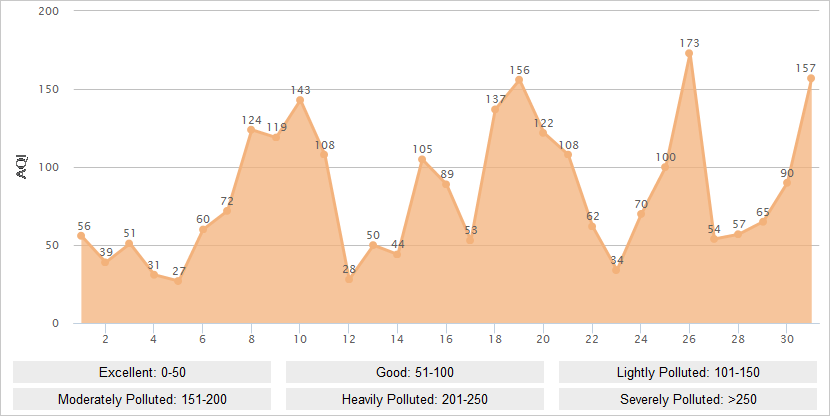 Historical Tianjin Weather in October
Oct
Temperature
Sunrise / Sunset
Humi-
dity
(%)
High
Low
1
23.6°C / 74.4°F
12.8°C / 55°F
06:07 / 17:54
42
2
23.3°C / 73.9°F
12.6°C / 54.6°F
06:08 / 17:53
29
3
23.1°C / 73.5°F
12.3°C / 54.1°F
06:09 / 17:51
23
4
22.8°C / 73°F
12.1°C / 53.7°F
06:10 / 17:49
27
5
22.3°C / 72.1°F
11.9°C / 53.4°F
06:11 / 17:48
39
6
22.1°C / 71.8°F
11.6°C / 52.8°F
06:12 / 17:46
39
7
21.8°C / 71.2°F
11.4°C / 52.5°F
06:13 / 17:45
57
8
21.6°C / 70.2°F
11.1°C / 51.9°F
06:14 / 17:43
77
9
21.3°C / 70.8°F
10.9°C / 51.6°F
06:15 / 17:42
83
10
21.1°C / 68.9°F
10.6°C / 51.1°F
06:16 / 17:40
65
11
20.8°C / 69.9°F
10.4°C / 50.7°F
06:17 / 17:39
45
12
20.6°C / 69.1°F
10.1°C / 50.1°F
06:18 / 17:37
45
13
20.3°C / 68.5°F
9.8°C / 49.6°F
06:19 / 17:36
45
14
20.1°C / 68.1°F
9.6°C / 49.2°F
06:20 / 17:34
55
15
19.8°C / 67.6°F
9.3°C / 48.7°F
06:21 / 17:33
55
16
19.5°C / 67.1°F
9.1°C / 48.4°F
06:22 / 17:31
39
17
19.3°C / 66.7°F
8.8°C / 47.8°F
06:23 / 17:30
54
18
19°C / 66.2°F
8.5°C / 47.3°F
06:24 / 17:29
68
19
18.8°C / 65.8°F
8.2°C / 46.7°F
06:25 / 17:27
57
20
18.5°C / 65.3°F
8°C / 46.4°F
06:26 / 17:26
46
21
18.3°C / 64.94°F
7.7°C / 45.8°F
06:27 / 17:24
48
22
18°C / 64.4°F
7.4°C / 45.3°F
06:28 / 17:23
27
23
17.7°C / 63.82°F
7.1°C / 44.7°F
06:29 / 17:22
31
24
17.4°C / 63.3°F
6.8°C / 44.2°F
06:30 / 17:20
32
25
17.2°C / 62.9°F
6.6°C / 43.9°F
06:31 / 17:19
36
26
16.9°C / 62.4°F
6.3°C / 43.3°F
06:32 / 17:18
46
27
16.6°C / 61.8°F
6°C / 42.8°F
06:33 / 17:17
43
28
16.3°C / 61.3°F
5.7°C / 42.3°F
06:34 / 17:15
31
29
16°C / 60.8°F
5.4°C / 41.7°F
06:35 / 17:14
16
30
15.7°C / 60.2°F
5.1°C / 41.1°F
06:36 / 17:13
17
31
15.3°C / 59.5°F
4.8°C / 40.6°F
06:38 / 17:12
26
- Last modified on Sep. 03, 2020 -