Huangyaguan Great Wall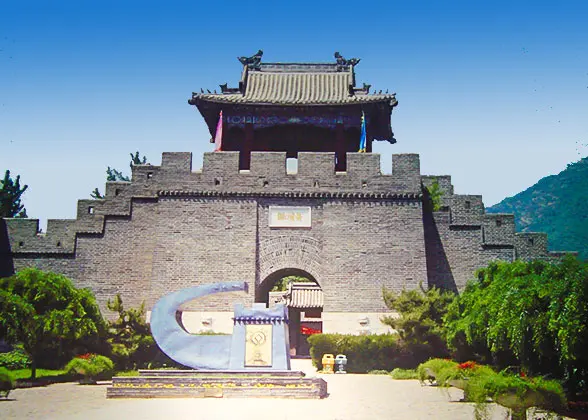 Huangyaguan Pass
Huangyaguan Great Wall is considered to be a miniature of the Great Wall of China. In this section, you can find the stone base built in the Northern Qi Dynasty (550 - 557) and the brick battlements laid in the Ming Dynasty (1368 - 1644). Watchtowers there are either solid or hollow, and have different shapes, including round ones and square ones. Outside, you may see independent outposts a few meters away from each other; inside, there are also ramparts to reinforce the defense system.

Basic Facts of Huangyaguan Great Wall

Huangyaguan Pass was first built during the Northern Qi Dynasty and repaired extensively during the Ming Dynasty under the supervision of Qi Jiguang, a renowned general of that time.

Stretching 42 kilometers (26 miles) from the General Pass in Beijing to Malan Pass in Hebei, there used to be 52 watchtowers and 14 beacon towers in total. However, most of this part of the wall has collapsed due to lack of renovation. Starting from 1984, people spent three years repairing 3,025 meters (3,308 yards) of the wall and 20 watchtowers.

Because the cliff rocks to the east of the pass are mostly yellow and they look gilded at the sunset, the pass got its name Huangya (Yellow Cliff) Pass.

The Pass of Huangyaguan
Surrounded by abrupt mountains, Huangya Pass is one of the most important passes with barbicans, turrets, emplacements, barracks and other indispensable military facilities orderly arranged. Within the pass, more than 40 crisscrossing streets form the shape of the Eight Diagram, which gives the pass a nickname, Eight Diagram Fortification City. In the center of the Eight Diagram Street block is the Huangyaguan Great Wall Museum, which used to be the Dispatcher's Office in the Ming Dynasty. Here, you can have a look of the weapons and daily necessities used by soldiers of the Ming Dynasty. Besides the constructional sites, you can also feel the cultural atmosphere by viewing poems inscribed in the Stele Forests and couplets carved on the bamboo strips in the Couplet Hall.

Huangya Water Gate
Built during the reign of Ming Emperor Yongle (1403 – 1424), this pass connects the Huangya Pass on the west and Taiping Mountain Stronghold on the east. With a length of 75.5 meters (83 yards) and a height of 12.5 meters (41 feet), there are five arches below the wall allowing the river to flow through. During the wartime, the arches would be closed, and soldiers would settle gun barrels along the battlements to defend against enemies coming from the waterway. In ordinary days, it was just like a giant bridge over the river.

It is 1,000 meters (1,100 yards) east of the Huangya Pass in the Xiaopingan Village, guarding the valley of that region. There is a statue of Qi Jiguang standing in front of it, commemorating this eminent general who made great contributions to the state.

Widow Tower
To the west of Taiping Stronghold stands a square tower named the Widow Tower, which is a two-storey beacon tower donated by twelve women whose husbands helped to build Huangyaguan Great Wall but lost their life during the construction. It functioned as a military fortress during the wartime with crenels and emplacements built on the second floor. It is also a piece of architectural artwork worth a close viewing. You can find dragon's head sculptures on two sides of the roof, and figurines of kylins, phoenixes, and lions crouching at the four points of the eave.

Huangya Sky Ladder
Walking westward for 503 meters (550 yards) from the Huangya Pass, you will get to the steepest segment of this section, the Huangya Sky Ladder. Stairs there are not very smooth. Some of them even crack in the middle. Stretching to the top of the ridge, this long stairway seemingly leads to the sky. Climbing over the ladder, you will reach the primitive Great Wall built in the Northern Qi Dynasty, marking the end of the Huangyaguan section.
Entrance Fee
CNY 70
CNY 40 for children between 1.2m(3.9 feet) and 1.5m (4.9 feet);
Free for children under 1.2m.
Sightseeing Bus
one-way: CNY 30; round-trip: CNY 50.
Opening Hours
7:30 - 18:00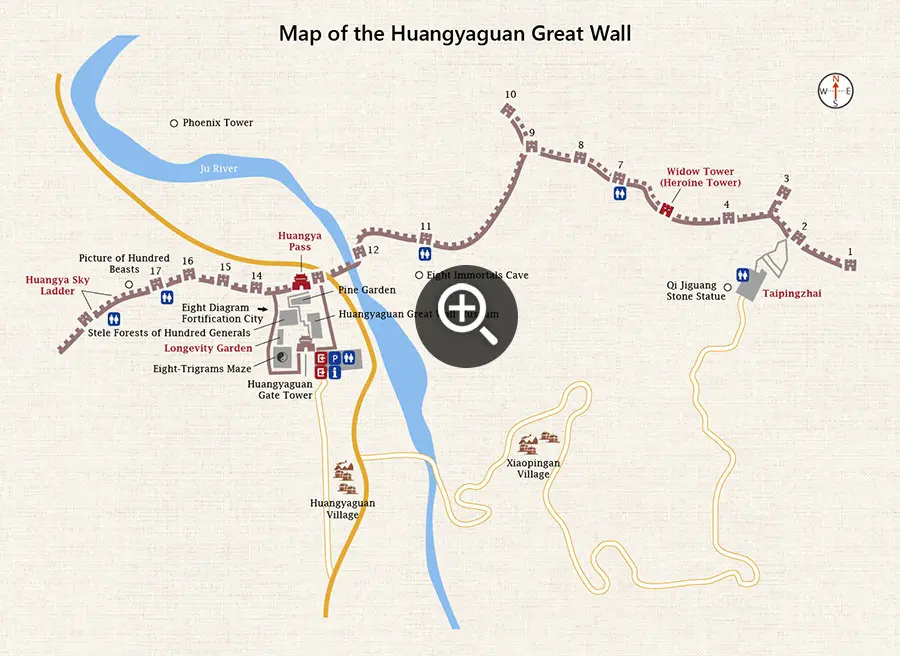 Map of Huangyaguan Great Wall
How to Tour Huangyaguan Great Wall

There are two entrances to the scenic area: one is at Huangya Pass (main entrance) and the other is at Taiping Mountain Stronghold (east entrance). You can start hiking from either of them to the other end, which may need about one to two hours' time. Besides, the spots inside the pass are also worth visiting. Therefore, the whole trip will take about three hours.

There is a distance of 2.2 kilometers (1.5 miles) between the two entrances with sightseeing buses shuttling between. The twisting mountain road would require half an hour's driving. The ticket price is CNY 30/per person.

It is recommended to start from Taiping Mountain Stronghold and hike westwards to Huangya Pass. It is a relatively energy-saving route, because you will go downhill all the way to the pass. Besides, there are more farmhouses around the pass where you can have meals and rests.

If you still feel very energetic after reaching the Huangya Pass, you can keep hiking westwards. With cracked stairs and collapsed towers along the way, an original section built in the Northern Qi Dynasty lies at the west end waiting for you to explore it.

Huangyaguan Great Wall Marathon
There will be a marathon race on this section in the middle of May annually. Thousands of runners will be attracted by this distinctive racing route every year. Step by step, the beauty of this section will be revealed to the gaze of every participant.
See detailed Great Wall Marathon

How to get to Huangyaguan Great Wall from Beijing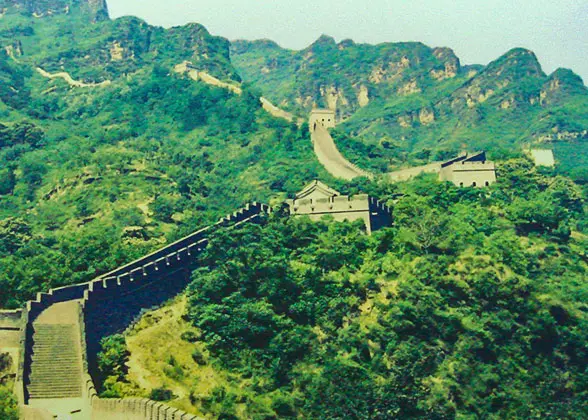 The section is located in the north of Jizhou District of Tianjin. To get to the scenic area, you should reach Jizhou District at first, which is about 100 kilometers (60 miles) away from Beijing.



By coach
Take a long-distance bus from Beijing Sihui Long-Distance Bus Station to Jizhou District. The bus runs from 6:40 to 19:30 with an interval of about half an hour. Duration is about 3 hours and ticket fare is CNY 40. Upon arrival, take Bus No. Ji3 to Huangyaguan Fengjingqu, which departs every 1 hour. Or you can take a taxi to the scenic area. It takes about 40 minutes and costs around CNY 70.



By train
Take a train from Beijing East Railway Station to Jizhou North Railway Station. The trip is about one hour and the ticket price is CNY 14.5 for a hard seat. Then, charter a minibus to the scenic area, which is one hour's driving away from the train station.


Click to check real-time China Train Schedule

How to get to Huangyaguan Great Wall from Tianjin

By coach
1. Take a long-distance bus from Tianjin Tongsha Passenger Station to Huangyaguan Great Wall directly. The buses depart at 7:10, 10:10, 14:00, and 15:00. Duration is about 2 hours and bus fare is CNY 48.
2. Take a bus from Tianjin Tongsha Passenger Station to Jizhou District, and it takes about 1.5h. Upon arrival, take Bus No. Ji3 or a taxi to the Great Wall.


By Train
Take a train from Tianjin Railway Station or Tianjin North Railway Station to Jizhou North Railway Station. It would take 1.5 - 2.5 hours and costs less than CNY 20 to the county. Then, charter a minibus to the scenic area.

Where to Rest and Dine
There are local farmers' houses near the Huangya Pass (main entrance), which provide meals and accommodation. Once you finish the visit, you can have an immediate rest there and also taste the local cuisine.



Related Tour: Huangyaguan Great Wall Hiking


Read more about Top 10 Things to Do in Tianjin
- Last updated on May. 29, 2023 by Brenda Lian -
Questions & Answers on Huangyaguan Great Wall
Asked by Sham from MALAYSIA | Nov. 17, 2019 04:36

Reply
How much is the taxi charges from Jixian Railway station to Great wall
Answers (1)
Answered by Oliver from GERMANY | Nov. 18, 2019 22:36

0

0

Reply
Generally speaking, it costs CNY 80 to CNY 100 for the single trip.
Asked by Sim from SINGAPORE | May. 08, 2019 02:54

Reply
Thinking to take a long distance bus from Beijing airport to Tianjin then go huangyaguan village.
Is this more convenient compare with taking bus from sihui bus station?
Answers (1)
Answered by Claire from UNITED KINGDOM | May. 13, 2019 00:23

0

0

Reply
Yes, it will be ok for you to take a long-distance bus from PEK to Tianjin first. :)
Asked by Gabriel from UNITED STATES | Sep. 26, 2018 12:47

Reply
Hi I am traveling for work to Tianjin and i will have 1 day Free to visit Huangyaguan .
If i am able to make it to the wall do i need to have a ticket to get there? Or can i just start exploring it by myself even if i am not in a group tour?
Answers (1)
Answered by George from UNITED KINGDOM | Sep. 26, 2018 18:50

0

0

Reply
Yes, of course you can explore it by yourself. You can get there and then buy a ticket. Have a nice trip!