Great Wall Marathon
In 2018, five marathons will be held along different sections of Great Wall: Huangyaguan Pass in Tianjin; Badaling Ancient (Badaling Remnant), Luoguo, Jinshanling, and Mutianyu in Beijing. For participants and spectators, it will be a fantastic experience to explore the wall.

Great Wall Marathon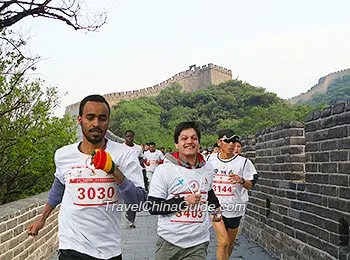 Since 1999, with the exception of 2003 (due to SARS), it has been held in every May on the Huangyaguan Pass in Tianjin. With increasing numbers of the participants from all over the world, the race is now an international event acknowledged by the Association of International Marathons and Distance Races (also known as AIMS).

In addition to the 42 km full marathon, the half marathon distance was introduced in 2001. 5 km and 10 km distances were also added to the event in 2004. In 2013, a 7.5 km Fun Run was introduced to replace the 5 km and 10 km distances. Then in 2014, the 7.5 km Fun Run was extended to 8.5 km. Over 3,000 runners participated in the 18th competition in 2017.

Full race participants must be at least 18 years old. Half race participants must be at least 16 years old. Fun Run runners must be at least 12 years old, but those under the age of 12 are also welcome as long as they are accompanied by a runner aged 16 or above.



Time: May 19 (Saturday), 2018


Starting Point: Yin and Yang Square
Great Wall of China Marathon
It is usually held annually on May 1st, which provides full race, half race, 10km, and 5km distances. It attracts participants from all over the world. The 14th competition in 2015 attracted more than 1,000 participants. Notably, it held two races in 2016 for the first time. One was held on May 1st at Badaling Ancient Great Wall. It was the first time for participants to run the race on this wild and genuine section, a unique and unforgettable experience. The other was held on October 16th at Juyongguan.



Time: Badaling Great Wall: May 1, 2018 ; Luoguo Great Wall: October 21, 2018


Registration Hotline: +86-15101680346


Registration Fee: USD 250
Jinshanling Great Wall Marathon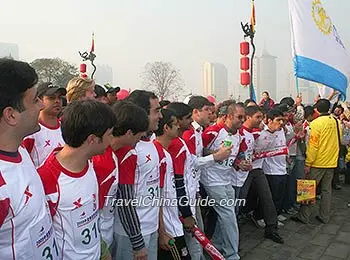 It is another race originated from the year of 2013. From then on, the event takes place on every third Sunday of April. The course runs along Jinshanling Section. It is an event mainly organized by the Luanping County Government and Tourist Bureau of Hebei Province. It covers full marathon, half marathon, and 10 km run.



Time: 9:30, April 15 (Sunday), 2018


Deadline for Registration: 17:00, March 15, 2018


How to Register: 0314-8830222 (hotline)


Registration Fee: 200 US Dollars / Semi or Full Race; 160 US Dollars / 10 km Run

"The Great Wall"
"The Great Wall" originated in 2015, and is held annually in the Huairou District of Beijing. The route comprises the three most beautiful scenic spots of the Huairou District:
Yanqi Lake
,
Hongluo Temple
, and Mutianyu Great Wall. The marathon is well-known for its abundant and delicious supplies. On April 22, 2017, the World Earth Day, the race was held in Mutianyu Great Wall and themed on environmental protection. The Award Ceremony will be held on the wall. All the participants can get a cable car ticket at Mutianyu Great Wall. Thus, they can have a bird's-eye view of this magnificent heritage site after the race.

Time: May 13, 2018

Registration Hotline: 86-0519-81165781

Registration Fee: 100 US Dollars / Super or Full Race; 80 US Dollars / Semi Race; 50 US Dollars / Mini Race

Events: 42.195km+5km; mini race

Starting Point: Jiugukou

Ending Point: Mini Race: Playground of University of Chinese Academy of Sciences; Semi Race: Parking lot of Hongluo Temple; Full Race: Culture Exhibit Center of Mutianyu Great Wall; Super Race: Parking lot of Mutianyu Great Wall.
Tips
The courses are unique and tougher than traditional ones. But there is no doubt that those held on the Great Wall of China will be the most exciting ones, because participants will be challenged by many steps with steep ascents and descents, and also some narrow passages. They can not only enjoy the excitement of the race but also have a great opportunity to see the stunning view of the wall. It will be an incredible experience for both participants and spectators.
Please note that the race requires a high physical condition of the participants, so people with the following diseases are advised not to take part: heart disease, high blood pressure and cardiovascular disease, coronary artery disease, arrhythmia, and diabetes mellitus.

Go to see:
Beijing Marathon