Great Wall Marathon
In 2018, five marathons will be held along different sections of Great Wall: Huangyaguan Pass in Tianjin; Badaling Ancient (Badaling Remnant), Luoguo, Jinshanling, and Mutianyu in Beijing. For participants and spectators, it will be a fantastic experience to explore the wall.

Great Wall Marathon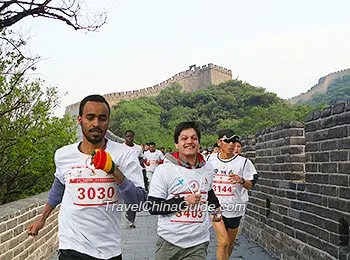 Since 1999, with the exception of 2003 (due to SARS), it has been held in every May on the Huangyaguan Pass in Tianjin. With increasing numbers of the participants from all over the world, the race is now an international event acknowledged by the Association of International Marathons and Distance Races (also known as AIMS).

In addition to the 42 km full marathon, the half marathon distance was introduced in 2001. 5 km and 10 km distances were also added to the event in 2004. In 2013, a 7.5 km Fun Run was introduced to replace the 5 km and 10 km distances. Then in 2014, the 7.5 km Fun Run was extended to 8.5 km. Over 3,000 runners participated in the 18th competition in 2017.

Full race participants must be at least 18 years old. Half race participants must be at least 16 years old. Fun Run runners must be at least 12 years old, but those under the age of 12 are also welcome as long as they are accompanied by a runner aged 16 or above.



Time: May 19 (Saturday), 2018


Starting Point: Yin and Yang Square
Great Wall of China Marathon
It is usually held annually on May 1st, which provides full race, half race, 10km, and 5km distances. It attracts participants from all over the world. The 14th competition in 2015 attracted more than 1,000 participants. Notably, it held two races in 2016 for the first time. One was held on May 1st at Badaling Ancient Great Wall. It was the first time for participants to run the race on this wild and genuine section, a unique and unforgettable experience. The other was held on October 16th at Juyongguan.



Time: Badaling Great Wall: May 1, 2018 ; Luoguo Great Wall: October 21, 2018


Registration Hotline: +86-15101680346


Registration Fee: USD 250
Jinshanling Great Wall Marathon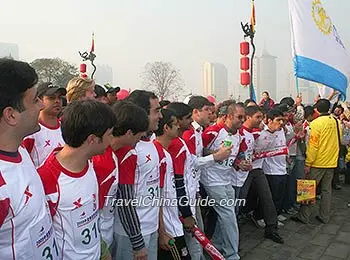 It is another race originated from the year of 2013. From then on, the event takes place on every third Sunday of April. The course runs along Jinshanling Section. It is an event mainly organized by the Luanping County Government and Tourist Bureau of Hebei Province. It covers full marathon, half marathon, and 10 km run.



Time: 9:30, April 15 (Sunday), 2018


Deadline for Registration: 17:00, March 15, 2018


How to Register: 0314-8830222 (hotline)


Registration Fee: 200 US Dollars / Semi or Full Race; 160 US Dollars / 10 km Run

"The Great Wall"
"The Great Wall" originated in 2015, and is held annually in the Huairou District of Beijing. The route comprises the three most beautiful scenic spots of the Huairou District:
Yanqi Lake
,
Hongluo Temple
, and Mutianyu Great Wall. The marathon is well-known for its abundant and delicious supplies. On April 22, 2017, the World Earth Day, the race was held in Mutianyu Great Wall and themed on environmental protection. The Award Ceremony will be held on the wall. All the participants can get a cable car ticket at Mutianyu Great Wall. Thus, they can have a bird's-eye view of this magnificent heritage site after the race.

Time: May 13, 2018

Registration Hotline: 86-0519-81165781

Registration Fee: 100 US Dollars / Super or Full Race; 80 US Dollars / Semi Race; 50 US Dollars / Mini Race

Events: 42.195km+5km; mini race

Starting Point: Jiugukou

Ending Point: Mini Race: Playground of University of Chinese Academy of Sciences; Semi Race: Parking lot of Hongluo Temple; Full Race: Culture Exhibit Center of Mutianyu Great Wall; Super Race: Parking lot of Mutianyu Great Wall.
Tips
The courses are unique and tougher than traditional ones. But there is no doubt that those held on the Great Wall of China will be the most exciting ones, because participants will be challenged by many steps with steep ascents and descents, and also some narrow passages. They can not only enjoy the excitement of the race but also have a great opportunity to see the stunning view of the wall. It will be an incredible experience for both participants and spectators.
Please note that the race requires a high physical condition of the participants, so people with the following diseases are advised not to take part: heart disease, high blood pressure and cardiovascular disease, coronary artery disease, arrhythmia, and diabetes mellitus.

Go to see:
Beijing Marathon
- Last modified on Dec. 10, 2018 -
Questions & Answers on Great Wall Marathon
Asked by Sam APPALSAMY from SOUTH AFRICA | Dec. 10, 2018 09:06

Reply
The Grand Slam of Marathons
I am running 7 Marathons on 7 Continents, The Great Wall Marathon being the Asian Leg. Can I register independently as I have family and friends that are joining me on this adventure. I have completed the Vancouver, Rio de Janeiro and Cape Town Marathons

Thank you and kind regards
Answers (1)
Answered by Jim from AUSTRALIA | Dec. 10, 2018 19:37

0

0

Reply
Yes, you can as long as you provide your past grades and proof of Marathons. You can see more specific information in the official site of the Great Wall Marathon.
Asked by Lenka Vrátná from ČESKO | May. 05, 2018 13:48

Reply
Hello, we would like to register for October 1/2 Marathon
and I am looking for the map of the track so I see the elevation etc, but I can´t find it anywhere :( could you help?
Thanks a lot,
Lenka
Answers (1)
Answered by Aurora from USA | May. 07, 2018 21:54

0

0

Reply
Maybe you can always pay attention to on the Beijing Great Wall Marathon official website. Hope to help you.
Asked by erasto c olave from PHILIPPINES | May. 02, 2018 20:29

Reply
I'm presently here at Beijing China and has resident visa until 31 August 2018.
May I ask how to join the half marathon for this month..many thanks

Erasto Olave
Philippine
Beijing China
Answers (1)
Answered by Elinor from USA | May. 04, 2018 01:19

0

0

Reply
I'm afraid you cannot attent the half marathon in May because the last date for registration has passed. You can pay close attention on the offical website of Beijingrun and more accurate information will be posted on this website.
Asked by Roel from NETHERLANDS | Dec. 11, 2017 14:24

Reply
GREAT WALL marathon 2018
Hi,

I'll be in China for holiday and would like to run the 1/2 marathon on Sunday 20th of May 2018. Where can I buy my ticket (and perhaps a hotel for a few days)??

With kind regards

Roel Ramaker
Answers (3)
Answered by Mason from DENMARK | Dec. 11, 2017 21:23

1

0

Reply
Well, I find half marathon of Huangyaguan Great Wall on 20th of May 2018. Do you refer to this? If yes, you can sign up on the official website of Great Wall Marathon. As I know, TravelChinaGuide doesn't provide hotel booking service. If you have Chinese friends, you can ask help for them and book rooms for you in advance.
Answered by Roel Ramaker from NEDERLAND | Dec. 13, 2017 00:42

0

0

Reply
HI MASON,

THNKS. Do you know the webiste of this marathon??

Cheers

Roel
Answered by Mason | Dec. 13, 2017 19:47

0

0

Reply
You can try to search the official website of 'The Great Wall Marathon'. It has English version. I heard this website before. My friend told me that he signed up there last year.
Asked by David Nagle from CHINA | Jan. 10, 2016 05:53

Reply
Attending Great Wall Marathon
My name is Dave and I live in Guangzhou, China. To attend this race , do I need to apply for one of the packages or can I apply for one of the races and not take the packages. I teach here and I would not get the days off for both of the packages? I would more than likely take a day off and fly or take the train p to Beijing for the race. What is the cost for the 8.5 km. race? Please let me know as I am very keen on attending the race.
Answers (4)
Answered by Lisa | Jan. 10, 2016 20:40

1

0

Reply
Oh, the 8.5km race is annually held in Tianjin Huangyaguan Wall. Now that you are residenting in China, it is certainly no need to join the tour package. Just write to the committee at gwm_booking

263.net.cn or call them for registration: 010-63552521 or 010-68512395. I heard the registration fee is CNY1,500. Also ask them how to pay.
Answered by David Nagle from CHINA | Jan. 19, 2016 01:08

0

0

Reply
Hello again. I just have a few more questions. 1) Do the runners all stay at the same hotels or do they go and stay at the ones they want to? 2) Do the runners have to arrange for their own transport to the wall, do they get picked up at designated spots or picked up at their hotels? 3) When is the deadline for entries? If I have anymore questions, I will email you again. Thank you for your time.
Answered by Lisa | Jan. 20, 2016 00:47

0

0

Reply
David, I am not their staff. According to what I found on their website, they provide transportation and meals to all participants. However, they don't make it clear how the participants are picked up. Currently, they haven't published the deadline for registration. If you have any question, please write emails or make phone calls to them.
Answered by Paul from USA | Mar. 13, 2016 12:46

0

0

Reply
David, I hope you see this, my question to you is: have you registered for the race? I will be living in China (possibly Beijing) for a few weeks to a month and would like to do the race without the travel package just like you. Please let me know if you were successful and what you did to register. Perhaps we can meet up and share accommodations. Thanks.