Code: GW16
Huangyaguan Great Wall Hiking
Huangyaguan Great Wall
, located in the southern mountainous area of Jizhou District in Tianjin, is about 130 kilometers (80 miles) from Beijing. Although 1,400 years old, it's in good condition after continuous renovations, so even suitable for fresh hikers.
The ticket fare is CNY 70. If you plan to visit the nearby Baxian Cave, too, the combo ticket costs CNY85.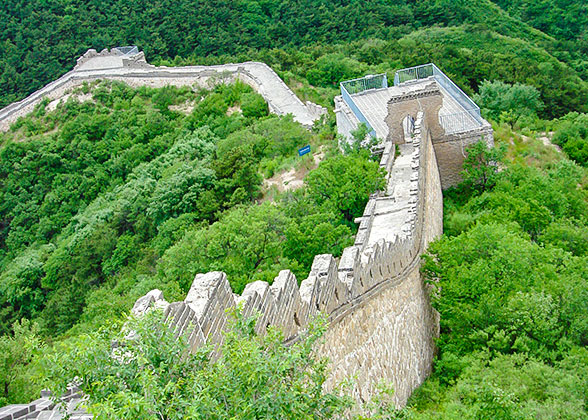 How to Get to Huangyaguan Great Wall from Beijing
1.
Train
→ Take train K7783 from Beijing East Railway Station to Jizhou North Railway Station. The travel time is 07:52 to 08:49 and ticket fare is CNY14.5.
→ Change to bus no. 530 to Dule Temple and then local bus no. Ji3 to Huangyaguan. Bus no. 530 departs frequently with ticket fare of CNY2 but bus no. Ji3 departs about every 1-1.5 hours with ticket fare of CNY5. If you cannot wait for that long, take a private car from Jizhou North Railway Station directly, at the cost of about CNY15-20 per person or CNY70-100 per car; duration is about 40 minutes.
2.
Bus
→ Take a shuttle bus from Beijing Sihui Long-distance Bus Station to Jizhou District, which runs daily about every half an hour from 06:40 to 19:30. A ticket costs CNY 30 - 40 per person and the trip takes about 3 hours.
→ After getting off at Jizhou Long-distance Bus Station, take local bus No. Ji 3 to Huangyaguan. Or you can take a local private car to the scenic area, at the cost of about CNY70-100 per car or CNY15-20 per person and with the duration of about 40 minutes.
Huangyaguan Great Wall Visit Itinerary
The whole scenic area consists of the Great Wall, Huangyaguan Pass which divides the Great Wall into east section to Taipingzhai and west section to Wangmaoding Peak, and some scenic spots outside Huangyaguan Pass.
There are two entrances to climb the Great Wall: one main entrance at the Huangyaguan Pass and the other at the Taipingzhai Village at the east end. We recommend you to start from Taipingzhai, in which way you climb along the east section downward most of the time, helping save your energy.

Taipingzhai Village – Taipingzhai Great Wall – Huangyaguan Pass

After buying ticket, you may take a shuttle bus to reach Taipingzhai Village at the cost of CNY30 per person and with the duration of about 30 minutes. After, start your hiking there.

Upon arrival, you will see a statue of General Qi Jiguang, under whose charge this section of Great Wall was built. Up on the wall, you will first come across a round watchtower. From here you can overlook Taipingzhai Village at the foot of the mountain.

Turn left and continue your hiking. After passing two or three more towers, you will see a section of single-sided wall, with a parapet only on one side. Here you will find a watchtower protruding out of the wall, which is the mysterious Widow Watchtower. It is said that this tower was constructed with the help of twelve wives whose husbands had died defending the wall. A handrail is available for protection as you continue.

After, you will see another unique tower, a round building with a square pavilion on top, the Phoenix Watchtower. Continue for a while, you will reach the Huangyaguan Pass.

If you feel tired, you may stop here and get out from Huangyaguan Pass. If feel energetic, continue to hike the west section.

Huangyaguan Pass - Wangmaoding Peak – Huangyaguan Pass

The west section is not very long and mostly well-preserved in good condition. Along it, you will also find a section of single-sided wall, but not as well preserved as the east section. This part was built along the ridge of the mountain and connects two cliffs at either end. Here, too, a handrail has been installed along the way for safety purposes. Soon you will pass a sightseeing platform called Fairy Peak. Continue to climb and you will see a steep pathway about 30 meters (33 yards) long with 300 steps. At the end of the pathway is Wangmaoding Peak. The west section ends here. Retrace your steps, and return to the Huangyaguan Pass.

Scenic Spots Outside Huangyaguan Pass

Outside the pass, you will encounter some interesting scenic spots, including Stone Steles Forest, Longevity Garden where the Chinese word "longevity" is engraved in thousands of styles, Great Wall Museum, Eight Diagrams Street, and gate tower. If interested, spare some time for a visit.

Around the Huangyaguan Pass, there are also farmyards offering dining service. You may fill your stomach first, and turn back to Beijing.

More Great Wall Hiking Routes:
Badaling Hiking: Explore Badaling in one day
Mutianyu Hiking: Mutianyu Hiking routes with practical tips
Simatai Exploration: One day hike tour to Simatai and Gubei Water Town
Gubeikou Hiking: One day exploration to the wild Gubeikou
Jinshanling Hiking: Guided one-day Jinshanling hiking, starting from $69 per person



Beijing Independent Travel To Tianjin
Extension to Tianjin: Three-day Beijing to Tianjin extension trip