Tianjin Hiking Tours
Tianjin 01 : 3-Day Tianjin - Jixian County (Mount Panshan Scenic Area)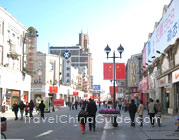 Have you ever tried to go hiking in Tainjin? Or would you like to hike on the mountain here? Hiking on the Mount Panshan in Jixian County will be a fantastic experience. The Mount Panshan Scenic Area is located in the northern part of Tianjin Municipality, 110 kilometers (68.4 miles) away from the urban area of Tianjin and 88 kilometers (54.7 miles) away from Beijing.

The best time to set out is in the morning. Firstly, you may take a train to Jixian County and then catch a tourist bus to Mount Panshan or you just hire a car direct to the scenic area. However, taking a train is better since the landscapes along the railway is beautiful. The journey takes approximately two and a half hours. After arriving there, you can choose to lodge in a village-style mountain hotel, and have a meal before you start your hiking tour. You will enjoy the hike, admiring the astonishing peaks, odd rocks and the ancient temples. If you like, you may go on a picnic on the mountain and then finish your tour.
Tianjin 02 : 3 Days Tianjin Tianjin-Mt. Baxian-Jixue Waterfall-Changzhou Village-Jiushanding
There is another wonderful route for you to follow in Tianjin. You can leave the urban area of Tianjin, travel through Mount Baxian, Jixue Waterfall, Changzhou Village and then arrive at the Jiushanding Scenic Area which is located in the Xiaying Town of Jixian County. This journey can be completed within three days. So do not forget to carry lodging requirements and enough food.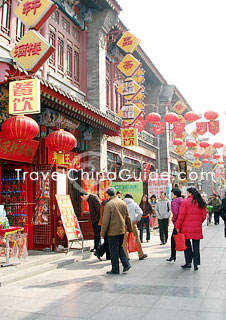 Tianjin Ancient Culture Street
On the first day, at about 20:00, you can set out from the urban area of Tianjin. You may hire a car or you can drive yourself. Just follow Jinzhonghe Street and transfer to the Jinji Expresway at the junction of Waihuan (Outer Ring). At about 23:30 you will arrive at Mount Baxian Scenic Area, where you can pitch your camps and stay overnight.
The second day, get up at 7:00 and start your hiking at around 8:00. After two hours' walking, you will reach the Jixue Waterfall. Then you may have a break there and have a view of the unspoiled scenery there. At noon, have your lunch there before you go on your journey to Changzhou Village. And you spend a night in the village. Or if you cannot get to the village before dark, you will have to pitch your camp in the mountains.
For the third day, you also have to get up early at 7:00 and prepare for the last day's hiking. Then you start your journey at around 8:00 and go directly to the last destination, the Jiushanding Scenic Area. There you can enjoy the wild plants and the charming natural scenery. In particular, you will see the Huangyaguan Great Wall on the mountain just like a huge dragon. Finally, you can return to Tianjin urban area with many happy memories and hopefully a lot of photographs.