Taipingzhai Great Wall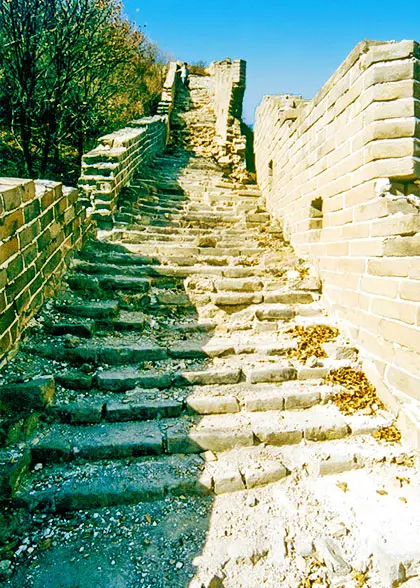 Taipingzhai Great Wall in Tianjin
Taipingzhai Great Wall, also known as Taiping Mountain Stronghold, is an important component of Huangyaguan Great Wall, another vital mountain fortress of the Great Wall during the Ming Dynasty (1368 - 1644).
Basic Facts of Taipingzhai Great Wall

Starting from Banlagang Mountain to the east and arriving at the Widow Tower to the west, it winds through precipitous mountains for about 955 yards (873 meters). The main body of this section was built at the mountain ridge of an altitude of 2,300 feet (701 meters).

It was first constructed in the Northern Qi Dynasty (550 – 577) and was retained in 1466 supervised by General Qi Jiguang, the chief commanding officer of Ji Garrison (one of the 11 garrisons in the Ming Dynasty).

The architectural styles of the military towers vary considerably. There are square, round, solid and hollow towers with some inside and some outside the Great Wall.

There are six watch towers, one battlement, one barbican, and one shortcut leading to the Great Wall.
Commanding Platform of Qi Jiguang
It is at the foot of Banlagang Mountain, the east end of Taipingzhai. General Qi Jiguang used to gather soldiers there to appoint tactical tasks.
Barbican
The barbican is a defensive screen in front of the Taiping Mountain Stronghold in the Ming Dynasty. It is now the entrance square and there stands a 28-foot (8.5-meter) -high statue of Qi Jiguang. Local people built this statue to commemorate his great contribution to frontier peace and stability. To its west is a section of wall extending 30 yards (27 meters) to where a sentry post was situated.
Widow Tower
At the western end of Taipingzhai section is a square stone tower called the Widow Tower, donated by 12 women whose husbands died during the construction of the Great Wall in the Ming Dynasty. These widows erected this tower to commemorate their husbands' notable exploits. The tower has two storeys and measures 43 feet (13 meters) high. Arched arrow windows can be seen on the four sides of the tower. Sculptures of dragons' heads were carved at the two ends of the roof ridge respectively. There are figurines of auspicious beasts like kylins and phoenixes at every cornice.
Admission Fee
CNY 50 (including the entrance fee to Huangyaguan)
Free for children less than 3.9 feet (1.2 meters) in height.
Opening Hours
07:30 – 18:30
Taipingzhai Great Wall Travel Tips

Taipingzhai is actually the east entrance to Huangyaguan Great Wall. After touring around, you can hike westward along the wall to reach the Huangya Pass in 1-2 hours.

There is no need to bring too many snacks with you. There are farmhouses around the Huangyaguan Pass, offering meals and accommodation. Once you arrive at the pass, you can rest and feast yourselves with delicious local dishes there.
How to Get to Taipingzhai from Beijing
This section is in the north of Jixian County in Tianjin, 60 miles (100 kilometers) east of Beijing. To get there you need to arrive at Jixian County first either by coach or train. The scenic area is within an hour's drive from both the coach and train stations in Jixian.



By coach
Take a long-distance bus from Beijing Sihui Long-Distance Bus Station to Jixian County. The bus runs every half an hour from 06:30 to 19:30. It should take about two hours and costs CNY30-40. Upon arrival, you can rent a minibus, which costs about CNY 25-30 per passenger.



By train
Take a train from Beijing East Railway Station to Jixian County Railway Station. It should take about one hour and costs CNY 14.50 for a hard seat. Upon arrival, you can charter a minibus to the scenic area.


Click to check the real-time China Train Schedule
How to Get there from Tianjin

By coach
Take a long-distance bus from Tianjin Jinyu Passenger Station or Tianjin Tongsha Passenger Station to Jixian County. Then, rent a minibus to the scenic area.
Station
Operating Time
Duration
Price
Tianjin Jinyu Passenger Station
The bus runs every ten minutes from 06:30 to 18:30
Approximately 1.5 hours
Approximately CNY 40
Tianjin Tongsha Passenger Station
7:00, 10:00, 12:00, 14:00, 15:00, 16:40


By train
Take a train from Tianjin Railway Station or Tianjin North Railway Station to Jixian County Railway Station. The journey should take around two hours and no more than CNY 20. Then, charter a minibus to the scenic area.
- Last updated on Apr. 15, 2021 -
Questions & Answers on Taipingzhai Great Wall
Asked by Laurel from USA | Mar. 10, 2014 16:26

Reply
Will be in Port at Tianjin. Which is closer/better Badalin, Mutianyu or Jixian? Day trip?
Answers (1)
Answered by William from USA | Mar. 12, 2014 04:20

0

1

Reply
If you come to PRC for the first time, I suggest you visit the Badaling section. Jixian is in Tianjin. However, it's about 350 kilometers from Tianjin Port. It takes more than 3 hours by bus. It costs around CNY 20 from Tianjin Port to Tanggu Railway Station. You can take high speed train from Tanggu to Beijing South and then take subway line 4 to Xinjiekou. There you can catch a taxi to Deshengmen. There you can catch No.877 bus to Badaling. I think you can finish your trip in one day.