Tianjin Weather in September
Entering autumn, Tianjin weather in September becomes cool and comfortable. The average temperature varies from 16 to 26 °C (61-79 °F). However, the afterheat of summer may come occasionally, bringing scorching weather. Meanwhile, the temperature difference between day and night gets larger and larger, thus, it is important to add clothes when getting out in the morning or evening in case of catching cold. It rains once in a while, so the climate is relatively dry with the average rainfall of 46mm.
In general, September is one of the best time to visit Tianjin. In addition to the moderate temperature, the green leaves start to turn colorful, offering picturesque scenery.
Averages for Tianjin Weather in September
Temperature: 21°C / 70°F
High Temperature: 26°C / 79°F
Low Temperature: 16°C / 61°F
Humidity: 68%
Rainfall: 46 mm
Rainy Days: 6 days
Sunrise: 05:40 ~ 06:06
Sunset: 17:56 ~ 18:42
Air Quality in September
Average AQI:51

What to Wear in Tianjin in September
For daytime sightseeing in September of Tianjin, it is suitable to wear breathable clothes, such as shirts made of cotton and linen, thin dresses, T-shirts, skirts, light pants and so on; while in the evening, add another piece of thin overcoat to cope with the lower temperature.


Things to Do in Tianjin in September
Binhai Aircraft Carrier Theme Park
provides you the chance to step onto a real aircraft carrier, watch combat performances, appreciate live flying car stunt, and enjoy exotic Russian songs and dances. Shi Family Grand Courtyard is a traditional folk residence in north China style; inside you can also appreciate Zhang's painted clay figures, Chinese paper-cutting and experience folk marriage customs. Happy Valley is an amusement park where you can watch wonderful performances, experience thrilling roller coaster, release yourself and harvest unexpected happiness.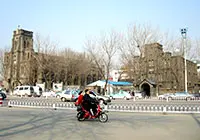 Wanghailou Church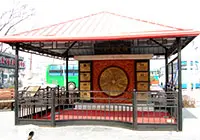 Jade Emperor Pavilion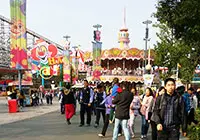 Happy Valley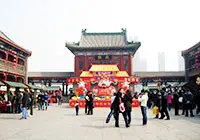 Ancient Cultural Street
What is the temperature in Tianjin in September?
High/Low Temperatures of Tianjin in September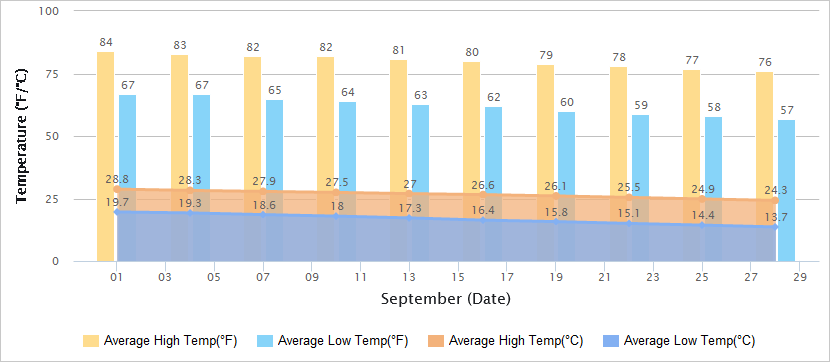 Air Quality of Tianjin in September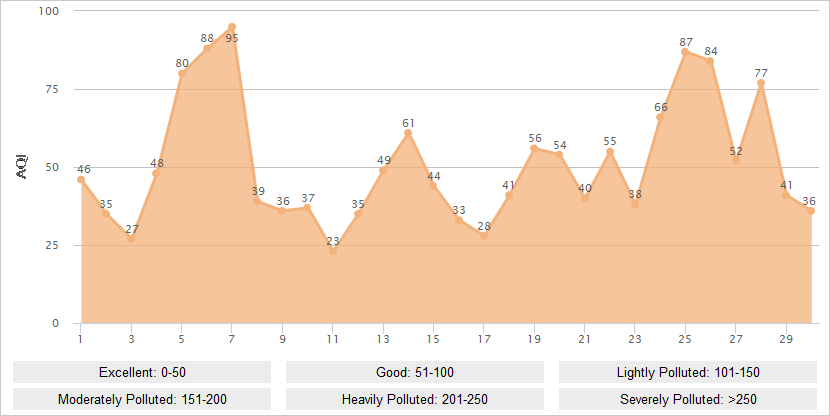 Historical Tianjin Weather in September
Sep
Temperature
Sunrise / Sunset
Humi-
dity
(%)
High
Low
1
28.8°C / 83.8°F
19.7°C / 67.5°F
05:40 / 18:42
48
2
28.6°C / 83.4°F
19.7°C / 67.5°F
05:41 / 18:40
46
3
28.5°C / 83.3°F
19.5°C / 67.1°F
05:42 / 18:39
44
4
28.3°C / 82.9°F
19.3°C / 66.7°F
05:43 / 18:37
41
5
28.2°C / 82.8°F
19.1°C / 66.3°F
05:44 / 18:35
41
6
28.1°C / 82.5°F
18.8°C / 65.8°F
05:45 / 18:34
23
7
27.9°C / 82.2°F
18.6°C / 65.4°F
05:46 / 18:32
40
8
27.8°C / 82°F
18.4°C / 65.1°F
05:46 / 18:31
41
9
27.6°C / 81.6°F
18.2°C / 64.7°F
05:47 / 18:29
39
10
27.5°C / 81.5°F
18°C / 64.4°F
05:48 / 18:28
29
11
27.3°C / 81.1°F
17.8°C / 64°F
05:49 / 18:26
37
12
27.2°C / 80.9°F
17.5°C / 63.5°F
05:50 / 18:24
36
13
27°C / 80.6°F
17.3°C / 63.1°F
05:51 / 18:23
36
14
26.9°C / 80.4°F
17.1°C / 62.7°F
05:52 / 18:21
32
15
26.7°C / 80°F
16.6°C / 61.8°F
05:53 / 18:19
36
16
26.6°C / 79.8°F
16.4°C / 61.5°F
05:54 / 18:18
33
17
26.4°C / 79.5°F
16.2°C / 61.1°F
05:54 / 18:16
21
18
26.2°C / 79.1°F
16°C / 60.8°F
05:55 / 18:15
26
19
26.1°C / 78.9°F
15.8°C / 60.4°F
05:56 / 18:13
20
20
25.9°C / 78.6°F
15.5°C / 59.9°F
05:57 / 18:11
30
21
25.7°C / 78.2°F
15.3°C / 59.5°F
05:58 / 18:10
31
22
25.5°C / 77.9°F
15.1°C / 59.1°F
05:59 / 18:08
16
23
25.3°C / 77.5°F
14.9°C / 58.8°F
06:00 / 18:27
27
24
25.1°C / 77.1°F
14.6°C / 58.2°F
06:01 / 18:05
44
25
24.9°C / 76.8°F
14.4°C / 57.9°F
06:02 / 18:03
55
26
24.7°C / 76.4°F
14.2°C / 57.5°F
06:03 / 18:02
32
27
24.5°C / 76.1°F
14°C / 57.2°F
06:03 / 18:00
11
28
24.3°C / 75.7°F
13.7°C / 56.6°F
06:04 / 17:59
21
29
24°C / 75.2°F
13.5°C / 56.3°F
06:05 / 17:57
39
30
23.8°C / 74.8°F
13.3°C / 55.9°F
06:06 / 17:56
52
- Last modified on Sep. 03, 2020 -