Tianjin Dining
Tianjin dining culture is renowned throughout China, and not only its traditional snacks, but the cuisines from other regions of China can also be found. Nanshi Food Street is a fairly good place for you to sample these cross-cultural Chinese dishes. These traditional and famed snacks cannot be missed should you ever come to visit this charming municipality.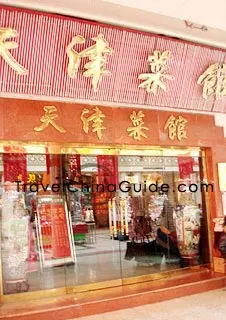 Top Three Snacks of Tianjin
Shiba Jie Mahua (Shiba Jie Fried Dough Twist)
Shiba Jie Mahua is sweet-smelling and crispy. It cannot go bad even being stored for several months.

Goubuli Baozi (Goubuli Steamed Stuffed Bun)
Goubuli means the infant of a restaurateur; while Baozi means steamed stuffed bun. Goubuli Baozi has had more than 150 years of history. It is not an exaggeration to say that Goubuli Baozi is a food calling card of Tianjin. Now its chain restaurants can be found in Shanghai, Beijing, Shenzhen and other cities in China as well as cities in America, Japan and Korea.

Erduoyan Zhagao (Ear-hole Fried Cake)
With relatively fine ingredients and a renowned reputation, Erduoyan Zhagao is almost 100 years old.

Except for the traditional must-eat snacks mentioned above, exotic flavors can be enjoyed here as well. Korean, Japanese and other western style cuisines will make your mouth water and satisfy your stomach.

Recommended Restaurants
Goubuli Baozi General Restaurant
Address: No.77, Shandong Lu, Heping District

Erduoyan Zhagao
General: No.37, Beimenwai Dajie, Hongqiao District
Food Street Branch: No.16, 1 Qu

Shiba Jie Mahua Hotel Street Branch
Address: No.18, Jiashang, Beilou, Hotel Street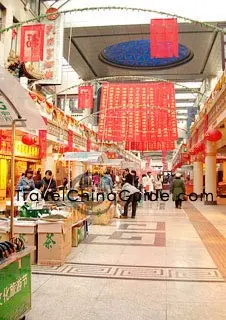 Tianfu Laoma Restaurant
Special in: Sichuan cuisine
Address: No.85, Liuwei Lu, Hedong District

Lao Sichuan
Special in: Sichuan cuisine
Address: Nanlou, Hexi District

Yang Shangshu
Special in: Moslem food
Nanmen (South Gate) branch: No.406, Nanmen Wai Dajie, Nankai District
Benxi Lu branch: No.19, Benxi Lu, Hongqiao District

Friday's
Special in: western food
Address: 1 F, Teda International Hotel & Club, Tianjin

Barcelona Western Food Restaurant
Address: No.10, Binyou Dao, Hexi District
- Last updated on Jul. 12, 2022 -
Questions & Answers on Dining in Tianjin
Asked by Mr.GUESTNOR from GB | Sep. 02, 2015 03:03

Reply
Nankai District, Tianjin, China
1. Can anybody help me in finding out HALAL Restaurants in that area.
2. the shortest travel via fast train from Guangzhou.

Thanks in advance for your assistanse
Answers (2)
Answered by Cindy from FRANCE | Sep. 05, 2015 04:47

0

0

Reply
You can go to Bogda Halal Food Restaurant. It provides good halal foods. The prices are reasonable and acceptable. The address is Building No.5, Jiatai Garden, Changshi Road, West Water Park Street, Nankai District.

From Guangzhou, there are several normal speed trains. They depart at 07:45, 11:30, 17:53, 19:32 from Main Railway Station and 11:10, 20:38 from East Railway Station. It takes around one day and two hours on the way.
Answered by Mr.GUESTNOR from GB | Sep. 23, 2015 07:40

0

0

Reply
Hi there,
Cindy thank you so much.
Asked by Huda from BANGLADESH | Oct. 04, 2012 13:05

Reply
Where can i have Indian Food in Tianjin
Answers (1)
Answered by Hank | Oct. 07, 2012 04:39

0

0

Reply
Bawarchi Indian Restaurant on No. 69, 3rd floor, Shanggu Business complex West Building, Tianta Road, Nankai District is recommended for you. It is a good restaurant with delicious food.
Asked by Charles from KENYA | Aug. 09, 2011 02:11

Reply
What is the cost of a accommodation in a guest house or 3 star hotel i Tianjin
Answers (1)
Answered by Flora from CHINA | Aug. 09, 2011 02:54

0

0

Reply
The cost is different in a large range.
Asked by D.Mahesh from GERMANY | Jul. 29, 2011 06:40

Reply
Are there Indian restaurants in Tianjin. Can you pl. guide me since I will be there shortly D.Mahesh
Answers (1)
Answered by Jamie from CHINA | Jul. 30, 2011 00:46

0

0

Reply
I know one is called Ba Wa Qi Indian Restaurant located at 3F of Building B, Shanggu Commercial Area, Tianta Road, Nankai District.