Tianjin Dining
Tianjin dining culture is renowned throughout China, and not only its traditional snacks, but the cuisines from other regions of China can also be found. Nanshi Food Street is a fairly good place for you to sample these cross-cultural Chinese dishes. These traditional and famed snacks cannot be missed should you ever come to visit this charming municipality.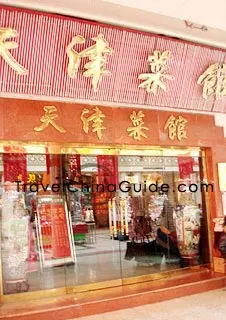 Top Three Snacks of Tianjin
Shiba Jie Mahua (Shiba Jie Fried Dough Twist)
Shiba Jie Mahua is sweet-smelling and crispy. It cannot go bad even being stored for several months.
Goubuli Baozi (Goubuli Steamed Stuffed Bun)
Goubuli means the infant of a restaurateur; while Baozi means steamed stuffed bun. Goubuli Baozi has had more than 150 years of history. It is not an exaggeration to say that Goubuli Baozi is a food calling card of Tianjin. Now its chain restaurants can be found in Shanghai, Beijing, Shenzhen and other cities in China as well as cities in America, Japan and Korea.
Erduoyan Zhagao (Ear-hole Fried Cake)
With relatively fine ingredients and a renowned reputation, Erduoyan Zhagao is almost 100 years old.
Except for the traditional must-eat snacks mentioned above, exotic flavors can be enjoyed here as well. Korean, Japanese and other western style cuisines will make your mouth water and satisfy your stomach.

Recommended Restaurants
Goubuli Baozi General Restaurant
Address: No.77, Shandong Lu, Heping District
Erduoyan Zhagao
General: No.37, Beimenwai Dajie, Hongqiao District
Food Street Branch: No.16, 1 Qu
Shiba Jie Mahua Hotel Street Branch
Address: No.18, Jiashang, Beilou, Hotel Street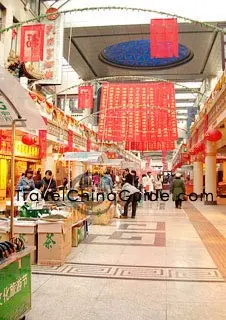 Tianfu Laoma Restaurant
Special in: Sichuan cuisine
Address: No.85, Liuwei Lu, Hedong District
Lao Sichuan
Special in: Sichuan cuisine
Address: Nanlou, Hexi District
Yang Shangshu
Special in: Moslem food
Nanmen (South Gate) branch: No.406, Nanmen Wai Dajie, Nankai District
Benxi Lu branch: No.19, Benxi Lu, Hongqiao District
Friday's
Special in: western food
Address: 1 F, Teda International Hotel & Club, Tianjin
Barcelona Western Food Restaurant
Address: No.10, Binyou Dao, Hexi District