Tianjin Shopping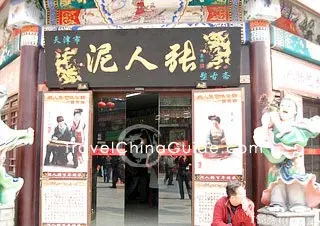 Tianjin has both modern shopping malls and distinctive traditional stores, both of which will fulfill your desire. Binjiang Dao Business Street and Heping Lu Business Street are the busiest and most prosperous shopping centers in Tianjin. Most of top malls or department stores can be found on these two streets, like Quanye Chang, Isten Department Store, Jinhui Shopping Square, and so on, of which Quanye Chang is the most famous.

Gu Wenhua Jie needs a particular mention here. Traditionally designed stores line either side of the street, dealing in paintings, calligraphy, jade, or other renowned Chinese arts and crafts. It is a good place to find souvenirs and enjoy the architectural spectacle. To some extent Gu Wenhua Jie is like Shuyuan (Academy of Classical Learning) Gate in Xi'an.

A variety of Tianjin specialties will provide you many choices for commemorating your visit to this beautiful city, such as Yangliu Qingnian painting, Wejin kites, Niren Zhang painted sculptures, paper-cuts, etc. You can visit Gu Wenhua Jie, Yilin Ge, Wenyuan Ge for inspiration, and to buy.

If you are willing to spend time to wander around the stores and malls, you will surely find the perfect gift or memento.
Shopping Places:

Shenyang Dao Antique Market
Being the biggest antique market in China, Shenyang Dao Antique Market is filled with all kinds of shops selling porcelains, paintings, gold, silver, copper, jade articles, and so on. Points for Attention When Shopping.

Gu Wenhua Jie
Bus route: You can take No. 1, 4, 12, 15, 619, 611, 612, 624 or 824 bus to get to Gu Wenhua Jie.

Friendship Department Store
Address: No.21, Youyi Lu, Hexi District

Quanye Chang
Address: crossroad of Binjiang Dao and Heping Lu, Heping District

Parkson Shopping Center
Address: No.162, Heping Lu, Heping District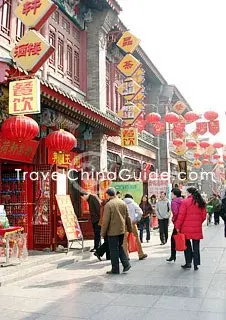 Jinhui Shopping Square
Address: No.189, Nanjing Lu, Heping District

Isten Shopping Mall
Address: No.209, Nanjing, Heping District

Supermarkets


Wal-Mart
Heping Lu branch: No.66, Fu'an Dajie, Heping District
Xinkai Lu branch: crossroad of Huachang Dajie and Xinkai Lu, Heping District

Carrefour
Nankai Branch: No. 168 Bai Di Rd, Nankai District
Longcheng Branch: -1F, Xin'an Plaza, No.138 Dongmalu, Nankai District
Hedong Branch: 160-16 Zhangguizhuang Road, Hedong District
Hebei Branch: No.28-18, crossing of Hongxing Road and Zhenli Street,Hebei District
Haiguang Temple Branch: No. 302, Nanjing Road, Nankai District
- Last updated on Jun. 01, 2023 -
Questions & Answers on Shopping in Tianjin
Asked by Mathias Mauro from ANGOLA | Jun. 01, 2023 16:10

Reply
Looking for malls, shops
Looking for malls, shops.
Hello, I am in Tianjin, 3 days, properly at the Civil Aviation University of China (CAUC), I do not know anything yet, I am in need of places that sell clothes / shoes with quality and at a good price, as well as means of technology (smartphones, etc.) Please
Answers (1)
Answered by Victor | Jun. 01, 2023 19:26

0

0

Reply
I'm not sure which district you are in. If you are in Dongli District, you can go shopping in Xinye Square, which is located in No. 1, Erjing Road, Dongli Economic Development Zone (Walk 80 meters to Exit A of Dongli Development Zone Metro Station).
Asked by Alain from FRANCE | Mar. 17, 2023 07:22

Reply
What day is the Tianjin flea market, outside on the streets?
Answers (1)
Answered by Scott | Mar. 19, 2023 20:50

0

0

Reply
There are many flea markets there. Which one are you talking about?
Asked by ELENI MYLONAKI from CHINA | Oct. 28, 2019 16:37

Reply
Cheap market in Tianjin
Hello,

Where can I find to buy cheap underwear and accessories as those we buy from Chinese fashion websites ?I am based in Tianjin. I also like to know where to find underground fashion and platform sneakers.

Thanks a lot
Answers (1)
Answered by Gabbty from THAILAND | Oct. 29, 2019 20:58

0

0

Reply
Maybe you can go to Qingfang Clothing Market, located at East Haihe Road, Hebei District.
Asked by Ahmed Saied from EGYPT | Jun. 22, 2019 05:41

Reply
I am coming from Beijing to Sheraton hotel at Tianjin.
which railway station is the shortest distance?
Answers (1)
Answered by Gina from USA | Jun. 23, 2019 20:11

0

0

Reply
You can take intercity train from Beijing South Railway Station to Tianjin Railway Station with 30 mins. Then take metro Line 9 to Shimin Square Station (Exit A), and walk north of around 1km to your hotel.