Tianjin Shopping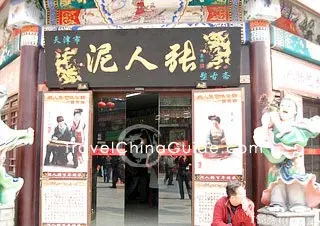 Tianjin has both modern shopping malls and distinctive traditional stores, both of which will fulfill your desire. Binjiang Dao Business Street and Heping Lu Business Street are the busiest and most prosperous shopping centers in Tianjin. Most of top malls or department stores can be found on these two streets, like Quanye Chang, Isten Department Store, Jinhui Shopping Square, and so on, of which Quanye Chang is the most famous.

Gu Wenhua Jie needs a particular mention here. Traditionally designed stores line either side of the street, dealing in paintings, calligraphy, jade, or other renowned Chinese arts and crafts. It is a good place to find souvenirs and enjoy the architectural spectacle. To some extent Gu Wenhua Jie is like Shuyuan (Academy of Classical Learning) Gate in Xian.

A variety of Tianjin specialties will provide you many choices for commemorating your visit to this beautiful city, such as Yangliu Qingnian painting, Wejin kites, Niren Zhang painted sculptures, paper-cuts, etc. You can visit Gu Wenhua Jie, Yilin Ge, Wenyuan Ge for inspiration, and to buy.

If you are willing to spend time to wander around the stores and malls, you will surely find the perfect gift or memento.
Shopping Places:

Shenyang Dao Antique Market
Being the biggest antique market in China, Shenyang Dao Antique Market is filled with all kinds of shops selling porcelains, paintings, gold, silver, copper, jade articles, and so on. Points for Attention When Shopping.

Gu Wenhua Jie
Bus route: You can take No. 1, 4, 12, 15, 619, 611, 612, 624 or 824 bus to get to Gu Wenhua Jie.

Friendship Department Store
Address: No.21, Youyi Lu, Hexi District

Quanye Chang
Address: crossroad of Binjiang Dao and Heping Lu, Heping District

Parkson Shopping Center
Address: No.162, Heping Lu, Heping District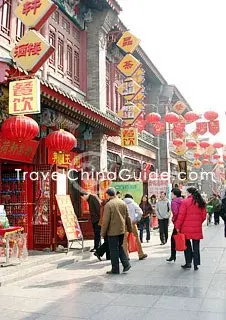 Jinhui Shopping Square
Address: No.189, Nanjing Lu, Heping District

Isten Shopping Mall
Address: No.209, Nanjing, Heping District

Supermarkets


Wal-Mart
Heping Lu branch: No.66, Fu'an Dajie, Heping District
Xinkai Lu branch: crossroad of Huachang Dajie and Xinkai Lu, Heping District

Carrefour
Nankai Branch: No. 168 Bai Di Rd, Nankai District
Longcheng Branch: -1F, Xin'an Plaza, No.138 Dongmalu, Nankai District
Hedong Branch: 160-16 Zhangguizhuang Road, Hedong District
Hebei Branch: No.28-18, crossing of Hongxing Road and Zhenli Street,Hebei District
Haiguang Temple Branch: No. 302, Nanjing Road, Nankai District