Shuyuanmen Ancient Cultural Street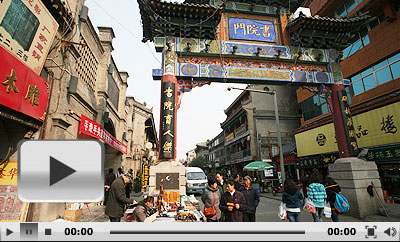 Shuyuanmen Cultural Street Pictures
Situated on the eastern side of the South Gate, Shuyuanmen, namely Shuyuan Gate, is a cultural street factually restored in the style of the ancient architectures of the Ming (1368-1644) and Qing (1644-1911) dynasties. It is about 570 meters (623 yards) long and about 10 meters (11 yards) wide. Shuyuanmen won its name because the Guanzhong Shuyuan (central Shaanxi academy, established in the Ming Dynasty), which was one of the leading academies in ancient China and the highest institution of Shaanxi Province in Ming Dynasty and Qing Dynasty, was located here. Xi'an Normal School and its attached primary school are now established on the site of Guanzhong Shuyuan. Rambling down the street, you may taste the true life of people in Xi'an and find the remains of an ever-refulgent dynasty.
After visiting the
Bell Tower
, walk along the South Avenue until you see a traditional archway on the east side of the road. That is Shuyuan Gate. Through the archway on which 'Shu Yuan Men' is carved, a green flagstone street extends, and you can see the 2-storey stores in ancient style along both sides and smell the aroma of Chinese ink. Most storekeepers, sitting leisurely in their stores, holding a little teapot or two small jade balls in their hands, never hustle. These stores deal mostly in the four treasures of study: curios, jade articles, gold and silver ornaments, calligraphies and paintings of celebrities, copybooks and handcrafted keepsakes.
There are authentic works by some celebrated artists, but you can always try bargaining for the one you want. You can find here paintings by Liu Wenxi, a Xi'an artist who drew the images on the RMB 100 note.
Shadow play figures, papercuts and face painting in the ancient style are typical folk handcrafts of Shaanxi Province that are colorful and appealing to tourists. Shadow play figures are made of animal skin, and were used for shadow play shows in ancient times. The technique of making it is so difficult that now fewer and fewer figures of shadow-play are for sale. The facial makeup painted by Zhang Xuanwu, a folk artist of Shaanxi Province, are favored among tourists. Zhang Xuanwu stated that he could paint more than 350 different faces, handed down from his ancestors.
Stalls outside the 2-storey stores are equally attractive. Along the street, Xun (an ancient egg-shaped wind instrument with eight holes) and jade articles are commonly seen. Walking in the area of Shuyuanmen cultural street, you may hear the sounds of the Xun and the bamboo flute played by storekeepers now and again to drum up trade, which is not quite a melody but more the symbol of Xi'an. Jade articles here are mostly from Lantian County of Xi'an, which is famous for the quality of jade from ancient China. If you are lucky enough, you will see the old folk artist giving a traditional Chinese painting or calligraphy presentation in front of the site of Guanzhong Shuyuan. Attracted by such fascinating work, perhaps you cannot help but buy one. At the east of the end of Shuyuan Gate is the famous
Stele Forest
.
How to Get to Shuyuanmen:
1. Take Bus No. 6, 11, 12, 16, 23, 26, 29, 31, 35, 36, 40, 46, 203, 204, 208, 215, 215 (branch), 216, 221, 222, 239, 258, 311, 321, 323, 402, 405, 501, 502, 512, 600, 603, 605, 608, 608 (branch), 609, 616, 701, 704, 706, 707, 800, 910 or Tourist Bus No. 7 to Nanmen (South Gate) Stop.
2. Take
Metro Line 2
to Yongningmen (Yongning Gate) Stop.
Xi'an Bus / Metro Search
Opening Hours:
A whole day (stores in Shuyuanmen usually open from 9:00 to 22:00)
- Last updated on Nov. 18, 2021 -
Questions & Answers on Shuyuanmen Ancient Cultural Street
Asked by May from MALAYSIA | May. 16, 2019 17:09

Reply
Public transport from Xi'an Airport to City
We will be arriving at 00:25AM, is Shuttle Bus Service to Holiday Inn Express Bell Tower hotel available at this time? Which bus stop should stop at? Thank you.
Answers (1)
Answered by Chris from NEW ZEALAND | May. 16, 2019 23:44

0

0

Reply
You can take the South Gate Xi'an hotel line to Xi'an Hotel and then take a taxi to your hotel. The bus fare is CNY25 and the cab fare is around CNY15.
Asked by Sally from INDONESIA | Sep. 13, 2018 09:44

Reply
Is there any recommended food stalls or restaurants in the Shuyuanmen Street?
Thanks in advance!
Answers (1)
Answered by Sam from SINGAPORE | Sep. 13, 2018 20:52

0

0

Reply
There is a Zui Changan Restaurant served in the local dishes is good and it is located in No. 56, Shuyuanmen Street。
Asked by Jh from SINGAPORE | Mar. 06, 2016 02:21

Reply
Shuttle Bus service at the Xi'an Airport
We will be arriving at 23.00, is the Shuttle Bus Service to Railway Station available at this time, we are going to Bell Tower Hotel upon arrival. Thanks in advance.
Answers (1)
Answered by Paco from SPAIN | Mar. 06, 2016 20:22

0

0

Reply
Yes, the Railway Station Line operates until 00:00. By the way, it usually takes 30 to 60 minutes to check out. If you cannot catch that, you may consider taking Xishaomen Line to the terminus: Xishaomen Airport Business Hotel. This line operates until flights finish. Upon arrival, take a taxi to Bell Tower Hotel for around CNY 15.