Shopping Vs. No-Shopping Tours in China
When browsing various travel itineraries of China, you will find that most of the China tour operators arrange souvenir shops and factories stops in their tours, which seems to be an unwritten rule. However, there are also China tour operators providing high-end itineraries without any shopping stops, but at a higher price. For travelers, how to make the best use of their money and select the most cost effective tour is crucial. Is it better to book a shopping tour or no-shopping tour? Don't be too quick to make the judgement. Learn something about them first and then make your decision.
What is the main difference between shopping and no-shopping tours? - Price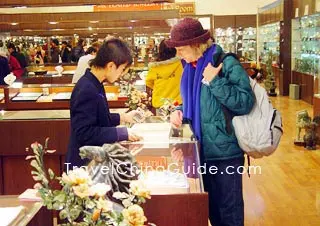 Shopping in a jade store
The main difference between shopping and no-shopping tours lies in their prices. China tours with no shopping stops are usually charged higher than similar products involving shopping stops. As a common practice, the lower the price of the tour package, the more shopping stops you may have to accept. However, if you are booking a China tour with no shopping stops, you won't waste time in shopping stops, in spite of the high tour price. Such tour packages are usually all-inclusive and leave more time for sightseeing at each attraction.

Read more: China Tour Package Price

Why are the prices of shopping and no-shopping tours different?
Why are shopping tours charged lower than tours without shopping stops? To make their tours more appealing with lower quotation, many China tour operators are willing to cooperate with souvenir shops and factories, who offer a certain amount of commission to them, so that their tours can be cheaper. Besides, the income of tour guides serving in shopping tours partially relies on the commission from the shops and factories. In other words, the shops and factories sponsor the China tour operators. In exchange, the tour operators are required to lead tourists to their places to purchase goods.

Pros and cons of shopping and no-shopping tours
Shopping Tours
Low tour price
Suitable for budget travelers
Tight travel schedule
Hidden charges may occur
Average service quality
vs
No-shopping Tours
High tour price
Suitable for visitors with limited time
Allow more time in sightseeing
No hidden charges
High service quality
Tips for joining shopping tours
1. Make sure that you can accept the number of shopping stops each day, the nature of the shops, and the length of the stopover in each shop before making the final reservation. Some China tour operators or guides may add shopping stops or extend the layover time in some shops in real practice. Therefore, you are advised to confirm this with the tour operator in advance and see if you can accept such cases.
A small stall selling handicrafts
2. You may wonder what kind of shops will be arranged by China tour operators in their itinerary. They are always shops selling jade wares, silk products, and pearls. Sometimes, you may be led to a factory producing such products. Actually, if you are interested in the manufacturing process, these are not bad choices for you to go.

3. Ensure that the tour operator and guides won't force you to buy things before you book a tour from them. Generally speaking, reliable travel agencies can guarantee this. However, some small agencies may allow their guides to force or even threat tourists to do unnecessary shopping. If tourist do not purchase things, some black-hearted guides may leave them in the shops and not permit them to go until they buy something. Some guides may even abandon the group members who don't like to shop and leave.

4. Don't make impulsive shopping. Some shops may sell their goods at an extremely high price. You may find that you have been ripped off after cooling down. Besides, the quality of the goods are not guaranteed. Some stores even sell counterfeit and shoddy products so that you need to examine the goods carefully before paying. One more important thing is keeping the relevant documents like shopping receipt, invoice, warranty, and certificate of appraisal well. They are helpful in safeguarding your legal rights in case that there is any trap.
| | |
| --- | --- |
| Buying clothes in Xiushui Street, Beijing | Inside a department store of Shanghai |
Be careful about low-price tours
When comparing tour packages, you may find that the prices of similar tour packages offered by different China tour operators can be quite different. Some tour packages are unusually cheap and are even sold below the cost or for free. Be careful about such tours. In this operation pattern, all the profit of the tour operators comes from the commission of shops and self-paying projects. Therefore, it won't be strange that shopping stops are arranged one after another and guests are cheated or forced to shop.

Read more: 6 Most Common Tricks of Fraud Tour Operators in China



Further Reading:
China Group Tour Vs. Private Tour
China Guided Tour Vs. Independent Tour
Tipping in China: Tipping When Joining a China Tour
China Private Tours

You May Also Like:
- Last updated on Nov. 29, 2022 -
Questions & Answers on Shopping Vs. No-Shopping Tours in China
Asked by Jovel from HONGKONG | Apr. 01, 2020 12:56

Reply
What is the postal code/ zip in west kowloon?
Answers (1)
Answered by Erica from DENMARK | Apr. 02, 2020 18:37

0

0

Reply
999077
Asked by Masrur Anowar from BANGLADESH | Jun. 15, 2019 00:22

Reply
Looking for electronic markets
I would like to know about free and wholesale electronics device market in shanghai,or near pudding,with cheap price and varieties of mobile's,computers etc...Thanks
Answers (1)
Answered by Charlotte from NEW ZEALAND | Jun. 18, 2019 19:16

0

0

Reply
You are suggested to go to Xinqiujiang Digital World Market, which is located at No.500 to 526, Qiujiang Road, Hongkou District. Hope helpful!
Asked by Khulan from MONGOLIA | Aug. 05, 2018 23:53

Reply
Is there any cosmetic or nail products wholesale market in China expect Guangzhou?
Answers (1)
Answered by Neil from UNITED KINGDOM | Aug. 06, 2018 23:18

0

0

Reply
Yes, there is.
Meibo Town wholesale market, located at the meeting point of Guangzhou Railway Station and Baiyun International Airport is the largest one in Guangzhou.