China Guided Tour Vs. Independent Tour
Generally speaking, guides tours are hassle-free, thus more suitable for first timers to China and senior visitors, or visitors that have less travelling experience or do not have much time planning the itineraries. Well, if you are a savvy traveler with rich experience and strong self-care ability, and you have plenty of time and love taking adventures on your own, independent tour will be an ideal choice.
Price: Is an independent tour to China cheaper than a guided tour?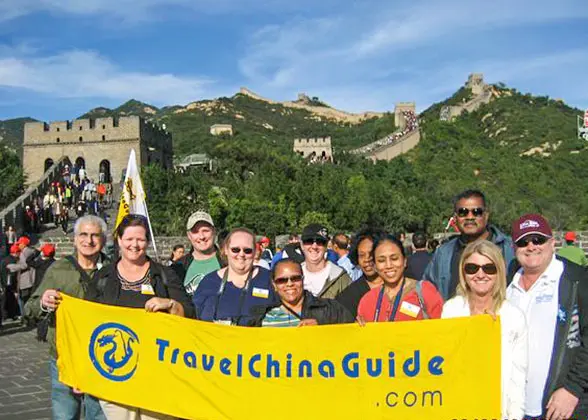 Our group on Badaling Great Wall
Not always. Outsiders always take it granted that independent China tours are cheaper than guide tours. Why? There are two possible reasons. First, China tour operators make profits from the guided tour packages. Second, guided tours usually involve tour guides and drivers, whose services are to be paid and included in the tour package price.

However, in real practice, China tour operators usually enjoy good discounts from hotels, restaurants, airlines, and tourist attractions, which can make the total price of a guided tour much lower than that of a similar independent tour, because the individual visitors usually cannot get the discount.

Full Arrangement Guided Tour Vs. Self-care Independent Tour
The easiest and most convenient way to explore China is to join a guided tour. The China tour operator will arrange everything for you, including a detailed itinerary, lodging, meals, entertainment, driver and guide. If you determine to conduct an independent tour, you'd better measure your self-care ability first because you need to arrange all things by yourself. Without any prearrangement done, it may all boil down to your whims and fancies. To guarantee a smooth trip, you are highly recommended to carry out some researches before departure, well plan an itinerary, and prepare the knowledge about the travel destination well. Besides, book hotels, air tickets, and train tickets in advance. If possible, make a plan on your daily schedule and transportation.

Flexibility
Itineraries of guided tours are fixed and normally cannot be altered, except some private guided tours. However, traveling independently will offer more flexibility. It may be a little troublesome and time-consuming but challenging enough and offers more chances to get close to see the authentic China and its people, as well as their everyday lives. Without the burden of others, you can go sightseeing at your greatest convenience and preferences, but the condition is that you can take care of yourself very well and make good preparations for all cases.

Time Efficiency
Following the classic travel itineraries developed and conducted many times by travel experts, guided tour will definitely be the best choice if you want to explore more attractions in the limited time. Joining a guided tour, you can make full use of time for sightseeing, because there are always vehicles shuttling directly between your hotel and the destination, wasting no time on the way. Traveling individually, you will spend more time if using public transport tools. Renting a car will save your time, but the cost is high. In case that you have enough time and prefer to a slow-paced travel, it is fine to choose travelling independently.

Knowledgeable Guide Vs. Self Guide
Choosing a guided tour means you will have a knowledgeable guide. An experienced tour guide always knows the best travel route so as to save your strength and time. With a knowledgeable guide, what you see is not merely the beautiful scenery but the underlying culture and history of the tourist sites. After the tour, you will have a better understanding of Chinese culture. More importantly, by joining a guided tour, you don't need to worry about the language barrier. Traveling alone requires one to know some basic Chinese to communicate with locals, ask for directions, order meals, etc., although this might not be necessary in big cities in China. What really matters is that you may get to know a little about the tourist attractions even after the visit, especially those with unique Chinese or oriental cultural background, such as the Forbidden City in Beijing and the Terracotta Army in Xi'an. If you want to have a good travelling experience, it's necessary to do some researches in advance to get the relevant historical knowledge.

Safety
Compared with independent tours, traveling in a group is safer as the tour operators are responsible for your safety. They will arrange a private driver and a guide to escort and serve you during the trip and handle unexpected situations. Guided tours also create a bond of relationship and members normally help each other out in case of emergency or encountering problems along the way. Of course the guide will be the first one to help out in such situation. Such tours are especially suitable for the senior and female tourists. Individually, you will have to tackle all the problems yourself. However, as China is one of the safest countries in the world, you don't have to worry much about your safety. The important thing is to take care of your belongings.



Further Reading:
China Group Tour Vs. Private Tour
Shopping Vs. No-Shopping Tours in China
Tipping in China: Tipping When Joining a China Tour
China Private Tours
- Last updated on Nov. 04, 2021 -
Questions & Answers on China Guided Tour Vs. Independent Tour
Asked by Debkumar Bandyopadhyay from INDIA | Oct. 24, 2018 20:55

Reply
We, Sr citizens want to visit some tourist places close to Kumming.
We have direct flight from kolkata by air china.
Pl advise if this is possible. We can follow it up.
Answers (1)
Answered by Dave from CANADA | Oct. 25, 2018 22:39

0

0

Reply
Well, you can visit some attractions in Kunming including Yunnan Stone Forest, Dianchi Lake, Golden Temple, Western Hills or some sights in Dali, Lijiang, which are closed to Kunming. You can also choose to find a reliable agency and they will arrange a more reasonable itinerary for you.