Food Service of TravelChinaGuide.com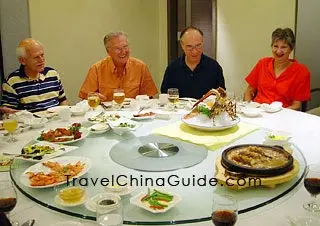 Our a la carte meal service
We TravelChinaGuide will do our best to provide our clients with well-arranged dinners when traveling. We do hope you can enjoy Chinese delicacies during the tour.

What does B, L, ad D stand for in your itineraries?

Answer: In our itineraries, B, L, and D stand for the meals included. B is for the breakfast, L for lunch and D for dinner.
---

Are the meals shown in the itinerary pre-arranged or could we make our own orders when we sit down at the table?

Answer: To guarantee the hygiene and quality, most of the meals are pre-arranged in the government approved restaurants, which are all set-menu meals. You can not make your own orders at this point. We also arrange a la carte meals in some restaurants, which have been inspected by the management of our company. If you have special requirements for meals, please inform us before the tour starts so we can make relevant arrangements.

Our Recommended Tours including A La Carte Meals:
11 Days Essence of China
9 Days Classic China
12 Days Soul of China & Tibet
---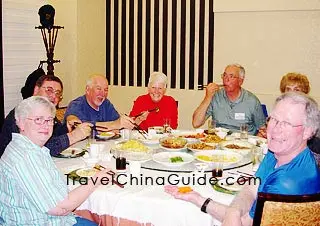 Our a la carte meal service

What kind of meals will be available on tour?

Answer: All breakfasts are served at your hotel with western style buffet including fruits, cold and hot cereals, Chinese dim sum etc. Lunch and dinner are usually Chinese food. Each lunch and dinner will be offered with two cups of soft drink free of charge.
---

Do you provide vegetarian (including no chicken or seafood) meals?

Answer: Yes, we do provide vegetarian meals if required. We always respect the clients' dietetic habits and try our best to cater to their needs. But we would like to explain that if you are not on a private tour, you will have to share the vegetarian dishes with other members of the group.
---

Do we share large tables with other people?

Answer: If you are on a private tour, you will have your own table, but if you join in a group tour you will have to share a large table with other members of your group.
---
Dumpling dinner for our clients

Do we have our meals with our guides?

Answer: The guide and the driver will dine at the same restaurant with you, but they will not share a table with you.
---

Can I arrange my own meals rather than the pre-arranged restaurants in the tours?

Answer: Yes, you can but we do not suggest you do so.
Firstly the restaurants we arrange are all approved by the national tourism administration or local tourism bureau and therefore are reliable in terms of hygiene and quality. Secondly, we arrange good restaurants located the closest to the place you will visit, that is to say, we will save time spent in transit and allow you the maximum time to enjoy your sightseeing as well as your meal. If you prefer to find a restaurant yourselves, you might not be able to find a reliable one with good quality because you are not familiar with local area. You might also sacrifice valuable eating and sightseeing time searching for a restaurant.
---

What are the suggestions for dinners that are not included in the program?

Answer: Besides some unique meals, like roast duck, we leave almost all dinners to discover for yourselves. You do not need to worry, however, about where or what to have for dinner. In each city, there are good things to eat and you only need to ask for suggestions from your local guide. Please always remember to choose a restaurant respected for its hygiene and quality.

China is a country of good food and there are eight main cuisines. Make sure to try some of these typical dishes when you have time.
---

Can you give us an idea of how much Chinese Yuan we will need for meals during our tour? Do they accept credit cards?

Answer: The meal price depends on the grade of the restaurant you choose and the dishes you order. Credit cards are only accepted in large hotels. In most of the restaurants in China, Chinese Yuan is more popular. In order to avoid embarrassment, we advise you to ask whether credit card is accepted before making an order.
---

Can I order drinks by cup in Chinese restaurants?



Answer: Yes. Some restaurants offer fresh juice, tea, milk, and coffee by cup. Other drinks including beer, coke, and Chinese wine, are usually sold by bottle. You can find the prices on the drink menu. Hot water is free.

Further Reading:
Chinese Food & Drink
- Last modified on Apr. 11, 2019 -
Questions & Answers on Food Service
Asked by Ms.Peking Duck from JAPAN | May. 07, 2009 07:36

Reply
I think that food is the most important thing in your life so it should always be interesting or exciting!
Answers (1)
Answered by Mr.HABA from CHINA | Jul. 24, 2010 02:01

1

1

Reply
Agree with you.
As our Chinese say,民以食为天,Which means:to the people foodstuff is all-important!