Incredible Zhangjiajie
111: 11 Days Private Tour of Beijing - Xi'an - Zhangjiajie - Shanghai
Tour Type:
Private Tour, any part of the itinerary can be customized
Guide & Driver:
English-speaking guide, experienced driver with an air-conditioned vehicle
Highlights:
Must-see sights in China - Badaling Great Wall, Forbidden City, Terracotta Army.
Have a leisurely walk or an exciting bicycle ride on the time-honored City Wall.
Discover Avatar Hallelujah Mountain & experience world's highest glass bridge.
Cruise on Huangpu River to take in the impressive skylines of Shanghai.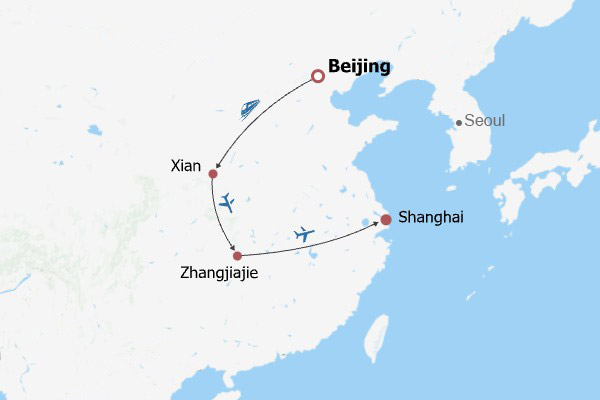 Welcome your arrival anytime at the airport and transfer to hotel by a private car.
Our professional guide will meet you at the Arrival Hall of the airport, holding a welcome sign with your name on. Afterwards, he or she will escort you to the carefully selected hotel by a comfortable private vehicle. En route, the guide will give you some basic introduction of Beijing city. After hotel check-in, you are free to enjoy the rest of the day as you like. You may have a good rest in the hotel and get prepared for the forthcoming tour; or stroll around to get familiar with the city.

Visit Tian'anmen Square and Forbidden City; enjoy a la carte welcome lunch with Peking Roast Duck; take a rickshaw ride through Hutong alleys and visit a local family; further explore royal culture at Temple of Heaven. (B+L)
Today's private China tour will begin with a visit to
Tian'anmen Square
, which is located in the heart of Beijing City. It is regarded as the world's largest square in downtown area. The Monument to the People's Heroes and the Chairman Mao Memorial Hall are here. You can also see the Great Hall of the People, the National Museum, and the Tian'anmen Tower around the Square.
Next, our guide will lead you to the
Forbidden City
right to the north of the Square, which is also known as Palace Museum. It was the royal palace of the Ming and Qing dynasties (1368 – 1911 AD). As the best-preserved and the largest wooden royal architectural complex in the world, it also contains a large number of unique and priceless cultural relics. There are also many secrets to discover when you visit the complex. For instance, there is a small door under the terrace into Palace of Heavenly Purity. What was it used for? In rigid feudal hierarchy, it was the channel for the eunuchs and maids to go across in front of the palace fast. Sometimes, it was also the drainage tunnel when in a rainstorm. Emperor Tianqi in late Ming Dynasty (1368 - 1644) liked to hide in the tunnel when playing hide-and-seek in his childhood.
★
Privileges of Our Guests
►
Forbidden City is very popular, so it is not easy to buy the entry tickets. But take it easy. We will book them for you once they are released, to ensure a smooth trip.
►
When inside, our guide will accompany you to sightsee along the best route proved by tons of millions of visitors. He or she will also adjust the route based on your preference.
►
The visiting time we have planned is at least 2 hours, so as to cover all important palaces. You are the boss and you decide how long to sightsee there.
★
A La Carte Welcome Lunch with Peking Duck
At noon, enjoy a delicious a la carte welcome lunch (valued at CNY150 per person and included in our price). The restaurant we have selected for you is a noted restaurant welcomed among locals, instead of those touristy eateries with low quality. The dishes are rich and distinctive, and prices reasonable. Peaking Roast Duck is one of their specialties. The guide will assist you with the ordering and give you some other recommendations based on your flavor. You can look forward to more authentic and tasty Chinese food in the following days. Give some hints: distinctive snacks in Xi'an and delicate and fresh dishes in Shanghai.
Next, proceed to Shichahai to see
Hutongs
. In order for you to better experience the life of old Beijingers, we will arrange a rickshaw ride along the traditional alleyways, which will last for around 40 minutes. Then, walk into the home of a family living in one of the traditional Siheyuan courtyards there, have a talk with the owner, and learn their daily lives.
Afterwards, the guide will accompany you to visit the
Temple of Heaven
which originally served as a place for emperors to worship the God of Heaven in the Ming and Qing dynasties. The most precious architectures inside are Hall of Prayer for Good Harvest and Circular Mound Altar. At present, it has developed into a large park for the locals to exercise and relax, so you can have a chance to blend in with local life there.
Meals: Western buffet breakfast, A la carte welcome lunch
Forbidden City, Beijing
Temple of Heaven, Beijing
Visit Badaling Great Wall, Sacred Way, and Ming Tomb; drive by Bird's Nest on the way back. (B)
Today comes a climax of this private China tour. In the morning, the guide will accompany you to visit Great Wall, a landmark of China and an icon of Chinese nation. The section we have chosen for you is
Badaling
, the best-preserved and the most famous among all. Standing up there, you will see the Wall zigzagging on the mountain ridges into the distance, very grand and impressive.
Today's lunch will be on your own, and our guide will be happy to provide you some advice.
Afterwards, continue to explore
Ming Tombs
, the resting place of 13 emperors of the Ming Dynasty (1368 - 1644). We will focus on its two highlights:
Sacred Way
and
Dingling Tomb
. Along the two sides of the Sacred Way, stand 12 stone human figures and 24 stone animals, guarding the tomb for centuries. Dingling Tomb is the only excavated tomb there and the guide will accompany you to go underground to see what treasures have been buried there.
At the end of the day, return to downtown and send you back to the hotel. En route, pass by the
Bird's Nest
where you can add more amazing photos to your travel album.
Meals: Western buffet breakfast
Our Guests on the Great Wall
Hutong Alleyway
Day 4
Beijing to Xi'an by High Speed Train
Visit Summer Palace; take a high speed train to Xi'an and transfer to hotel. (B)
After breakfast, you will pack your luggage and check out from hotel. The guide will come to pick you up and escort you to visit the
Summer Palace
. It's a representative Chinese classic garden, as well as one of the best-preserved royal gardens of the country. The lake, mountain, woods, bridges, pavilions and more "get along so well" with each other, showing the super garden building skills of ancient Chinese artisans.
After that, the guide will escort you to the railway station and assist you to get on a high speed train to Xi'an. China high speed train is one of the world's fastest and most advanced, so a must-try for overseas visitors. It takes about 4.5-5.5 hours on the way and those with shortest duration are always our prior choices.
Upon arrival in Xi'an, an ancient capital city with abundant historic relics, our local guide and driver will pick you up and transfer you to the hotel for check-in.
Meals: Western buffet breakfast
Visit Terracotta Army and the discoverer's home; try your hand to make a mini terracotta figure; explore Small Wild Goose Pagoda and Xi'an Museum. (B)
Coming to Xi'an, one should never miss the
Terracotta Army Museum
. It is a grand military army built 2,200 years ago to protect Emperor Qin Shihuang (259 BC - 210 BC) - the first emperor of China in his afterlife. It is reputed as the Eighth Wonder in the world, not only because of its grandness, but also its high superb craftsmanship. Observing carefully and you will find the soldiers are all different from each other in hairstyles, face shapes, moustaches and more details.
Lunch is on your own, and the guide will give you some recommendations nearby.
★
Privilege of Our Guests
►
The discovery of Terracotta Army is one of the greatest archaeological discoveries in 21st century. After lunch, the guide will accompany you to learn some stories behind the dramatic discovery right at the home of its discoverer, Mr. Yang Zhifa. Mr. Yang is a farmer living nearby and dug out a clay figure when digging a well in 1974. At his home, you will see the hue used to dig out the first clay warrior.
►
Next, make a souvenir on your own for this Terracotta Army trip. At a local workshop, an artisan will guide you to make a mini terracotta figure. After being completed, you may follow the tradition of Qin artisans to carve your special symbol or name on it, and take it home.
After, return to downtown to visit the
Small Wild Goose Pagoda
and the adjacent
Xi'an Museum
. Although experiencing several earthquakes, the brick pagoda still stands there solid. This is because its base is round like a tumbler. What a smart design! Xi'an Museum collects nearly 130,000 pieces of historical relics, most of which are from Zhou Dynasty (11th century BC to 221 BC), Qin Dynasty (221 BC to 206 BC), Han Dynasty (206 BC to 220 AD), and Tang Dynasty (618 to 907). It also displays models of ancient Xi'an city in different time periods.
When the visit is over, send you back to the hotel.
Meals: Western buffet breakfast
Terracotta Army Museum, Xi'an
Small Wild Goose Pagoda, Xi'an
Day 6
Xi'an to Zhangjiajie by Flight
Visit City Wall and connect with local people at City Wall Park; visit Great Mosque and taste Xi'an snacks in Muslim Quarter; explore Hanyangling Museum; then fly to Zhangjiajie and transfer to hotel. (B+L)
After having breakfast in the hotel, the guide will lead you to the
City Wall Park
, where lots of local people do morning exercises. It is a good place to communicate with them and even join them to play Tai Chi or have other fun.
Afterwards, go up to the
City Wall
. It is not merely a wall, but a defensive system consisting of the wall, moat, suspension bridges, watch towers, gates, and more. Have a leisurely stroll to find where they are and what were they used for. The perimeter of the City Wall is 13.74 kilometers (8.5 miles), so many visitors choose to cycle along it. If you prefer it, the guide can assist you to rent a bike.
Next, move on to the
Great Mosque
combining typical Islamic and traditional Chinese architectural features. Later, have a stroll in the nearby
Muslim Quarter
. It is a food paradise, where all kinds of Xi'an snacks can be found. Surely, we will arrange for you a snack tour there, at a popular restaurant and varieties of mouth-watering snacks are ready for you to try.
In the afternoon, along the way to airport we will visit the
Han Yang Ling Museum
, also called Yangling Mausoleum of Han Dynasty (202 BC - 220 AD). What makes it different is that the excavation areas are covered by glass. You can go underground and walk on the glass floor to see the excavation spot closely and clearly. If lucky, even see how the archaeologists work on the spot.
After, transfer you to the airport to take the flight to Zhangjiajie. Upon arrival, you will be picked up and transferred to the hotel directly by our local guide and driver.
Meals: Western buffet breakfast, Local flavor lunch
Xi'an City Wall
Muslim Bazaar
Full day tour in Zhangjiajie National Forest Park: visit Yuanjiajie Scenic Area by Bailong Elevator, Tianzi Mountain, Golden Whip Stream, and Ten-mile Gallery by round-trip small train. (B+L)
This whole day will be spent in
Zhangjiajie National Forest Park
. Firstly, the guide will lead you to
Yuanjiajie Scenic Area
which is famous for the Southern Sky Column - the shooting spot of the famous movie Avatar.
★
Ride Bailong Elevator – World's Highest Outdoor Lift
Our guide will lead to take Bailong Elevator to reach the Yuanjiajie Scenic Area. It is the world's highest outdoor elevator, with the height difference of 335 meters (1,099 feet). It takes only 66 seconds to the top. If climbing on foot, over 3 hours will be needed. If by car, 4-5 hours on the winding mountain road will be needed.
After visiting Yuanjiajie, take a sightseeing car to
Tianzi Mountain Nature Reserve
, where you can find a large array of valuable and rare plants, as well as diverse animals. Later, head to Golden Whip Stream. This stream stretching for 5,710 meters (3.5 miles) is named after the Golden Whip Rock which looks exactly like a whip shining under the sunlight. At last, take a small train to Ten-mile Gallery. This "gallery" is 5 kilometers (3 miles) long, with lush woods, beautiful flowers, and oddly-shaped rocks on both sides, very scenic.
Meals: Western buffet breakfast, Lunch
Zhangjiajie National Forest Park
Rural Life
Visit Zhangjiajie Grand Canyon, experience thrilling glass bridge, and have a boat trip on Baofeng Lake. (B+L)
Today's first destination,
Zhangjiajie Grand Canyon
, will definitely leave you with an unforgettable impression. This Grand Canyon can be regarded as the Zhangjiajie landscape museum, integrating mountains, caves, and lakes. You can have a whole view of karst topography blending with the twitter of the birds and lively animals.
★
Challenge Yourself at World's Highest Glass Bridge
While visiting Zhangjiajie Grand Canyon, the
Glass Bridge
hanging over it will be included. It is the world's longest and highest, with a relative height of around 300 meters (984 feet) and a length of 430 meters (1,411 feet). It must be one of the most thrilling experiences in your life to walk cross it.
★
Scenic Cruise on Baofeng Lake with Folk Song Performance
Later, take a boat to cruise on
Baofeng Lake
, which is surrounded by picturesque landscape. You will also have a chance to listen to beautiful folksongs by local people in traditional costumes.
Meals: Western buffet breakfast, Lunch
Zhangjiajie Glass Bridge
Baofeng Lake
Day 9
Zhangjiajie to Shanghai by Flight
Visit Tianmen Mountain by round-trip cable car, and 72 Qilou to see the highest stilt house style architecture in the world; fly to Shanghai and transfer to hotel. (B+L)
Today's first stop will be
Tianmen Mountain
, the highest mountain in Zhangjiajie with an altitude of 1,518.6 meters (4,982 feet). Its name comes from the natural wonder - Tianmen Cave. The cave is named so, literally Heavenly Door, because it looks like a door leading to the heaven if looking afar.
★
Privileges of Our Guests
We will include a round-trip cable car ride at Tianmen Mountain, to save you energy and time for sightseeing. Up on the mountain, we will ensure the visiting time for around 4 hours. After ascending there by cable car, the guide will lead you to walk the Glass Skywalk, then take the 7-level escalator to go down and visit Tianmen Cave and climb 999 Heavenly Stairs. At last, take the cable car to get down. We can also adjust the visiting time per your request.
In the afternoon, visit 72 Qilou. Qilou means high stilt house and "72" indicates there are many of them. Measuring 109.9 meters (360.6 feet) high, it is the highest stilt house style architecture in the world, which has been included in the Guinness World Records. Looking from a distance, it looks like a village of the Tujia ethnic minority floating in the air. In addition to appreciating the distinctive architecture, various snacks are waiting for you to try.
The Zhangjiajie tour will end here. You will then be escorted to the airport and take a flight to Shanghai. When you arrive in Shanghai, our guide and driver based there will transfer you to the hotel.
Meals: Western buffet breakfast, Lunch
Visit Shanghai Urban Planning Exhibition Hall and Yu Garden; enjoy a la carte farewell lunch; cruise on Huangpu River and have a leisurely stroll on the Bund; then explore old cultural block of Tianzifang. (B+L)
The itinerary in this morning will cover
Shanghai Urban Planning Exhibition Hall
and
Yu Garden
. The Shanghai Urban Planning Exhibition Hall displays how Shanghai grew from a small fishing village into a giant modern metropolis. It also exhibits the clever city planning with models, photos, videos and more. The Yu Garden with exquisite design and elegant environment is a classic private garden with more than 400 years' history. It's the best of its kind in Shanghai. After, walking past Yuyuan Bazaar outside the Yu Garden and take the private car to the noted restaurant we have selected for you. An
a la carte farewell lunch
will be served there.
★
Appreciate Cityscape Joyfully on Huangpu River Cruise
Afterwards, take a pleasant
cruise
on the Huangpu River, which is flanked by old Euromerican style buildings in the west and outstanding skyscrapers in the east. They are the representative cityscape of Shanghai in the past, present and future.
Free time will then be left for you to explore
the Bund
for a while. The day will conclude with a leisurely stroll in an old cultural zone, Tianzifang, where you will experience elegant and artsy culture.
Meals: Western buffet breakfast, A la carte farewell lunch
Shanghai Bund Area
Tianzifang
Day 11
Departure from Shanghai
Transfer to airport and see you off there; a pleasant trip home! (B)
Your 11-day private China tour will come to an end today. Please check out from hotel and get all your belongings ready. According to your homeward flight schedule, our guide and the driver will transfer you to the airport. We wish you a nice journey home and hope to see you again in the future!

Meals: Western buffet breakfast
This trip can be customized to meet your individual needs!
| Destinations | 4 Stars Hotels | 5 Stars Hotels |
| --- | --- | --- |
| Beijing | Beijing New World Centre Tongpai Hotel | Hotel New Otani Chang Fu Gong |
| Xian | Holiday Inn Xian Big Goose Pagoda | Wyndham Grand Xian South |
| Zhangjiajie | Expert Village Courtyard Hotel | Pullman Zhangjiajie Hotel |
| Shanghai | Ocean Hotel Shanghai | Renaissance Shanghai Yu Garden Hotel |
Tour Prices
Christmas & 2024 Special:
12% off
- Book before Dec 31, 2023
Prices with 4 Stars Hotels
2-3 travelers
4-5 travelers

USD2879

USD2529

USD2579

USD2269
Prices with 5 Stars Hotels
2-3 travelers
4-5 travelers

USD3199

USD2819

USD2899

USD2549
Prices are per person on twin sharing basis.
The prices in red reflect 12% discount.
Price Includes
Domestic airfares & train fares
Hotel accommodation with breakfasts
A la carte lunches as itinerary specifies
Private English-speaking guides
Private drivers & air-conditioned vehicles
Entrance fees to tourist sites
Price Excludes
International airfares
Entry Visa fees
Personal expenses
Tips or gratuities for guides and drivers
Itineraries you may also like: