Tianmen Mountain
Tianmen Mountain takes its name after the Tianmen Cave, a natural karst cave under the mountain. The mountain is relatively gentle, full of old trees, winding vines, mosses, stalagmites, sits upon 494 acres. The rare mountaintop scenery makes it the most beautiful sky garden world over, and a paradise. Owing to this, it became Tianmen Mountain National Forest Park, a national forest park in 1992. The plank road and glass skywalks on the cliffs are worthwhile going. The mountain summit of a height of 4,982 feet (1,518 meters) is about 5 miles from the downtown Zhangjiajie. Below are the major spots to visit:
| | |
| --- | --- |
| Tianmen Mountain in Mist | Winter Scenery on the Mountain |
Tianmen Mountain Cableway: The World's Longest Cableway
The cableway in Tianmen Mountain is the world's longest at a length of 24,458 feet (7,455 meters). It begins in the City Garden downtown, and ends on the summit. It hangs like a rainbow, and hints of being a dragon in the clouds. The cableway throughput is 1,000 passengers per hour, and it averages 28 minutes per trip. In high season you have to wait in line for hours.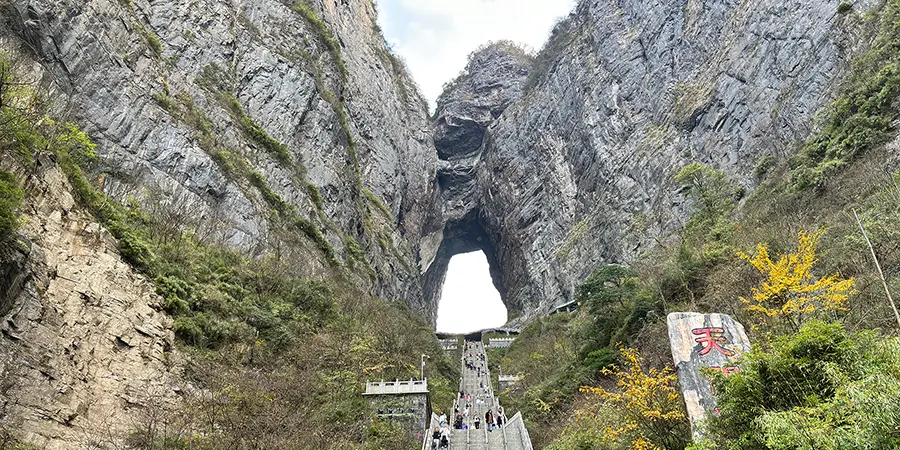 Tianmen Cave
Heaven-linking Avenue
Heaven-linking Avenue, also known as 99 Bending Road or Big Gate Road, is a most hazardous road. It was built in 1998 with 99 consecutive turnings, and a total length of 6.7 miles (10.77 kilometres) was the road wonder. You can watch it from the cable car. You can also get to the mountaintop by this road with the shuttle bus of Tianmen Mountain scenic area.

Tianmen Cave: The Portal to the Heaven
The principal attraction on Tianmen Mountain, Tianmen Cave is a grand karst cave 431 feet high, 187 feet wide and 197 feet deep spanning under the mountain. Looking from afar, the cave looks like a way up to the heaven, hence the name, Tianmen, meaning Heavenly Door. The cave is shrouded by the year-round dense mists. Sometimes, cloaks of clouds gather at the cave's opening, with the sun glowing through it. , forming magical scenery.

Tianmen Mountain Temple
Tianmen Mountain Temple, on 5 acres of land, and featured by the overhanging eaves, is the western Hunan regional Buddhism centre. It started building in the Ming Dynasty (1368-1644) and rebuilt in 2002. The temple enshrines one of the five relics of Sakyamuni Buddha in China. From the square in front of the temple, you get a panoramic view of the mountain.

Glass Skywalk
The glass skywalk marks the Tianmen Mountain tour climax. It is most fitting for the adventurous. On sunny days, the blue sky and white clouds accompany your walk. You will be both pleased and shocked by the sensation of walking on the clouds and the drop into the void below your feet. On cloudy days, the view of the glass corridor itself is a sensation. Now there are three glass skywalks in the east, west and Panlong Cliff respectively.


See also: Zhangjiajie Grand Canyon Glass Bridge

Recommended Touring Routes

Take the cable car from the downtown City Garden to the summit → enjoy the sky garden on the peak →take the escalator down to the Tianmen Cave → after exploring Tianmen Cave, get down to the entrance gate by sightseeing bus → change to a shuttle bus for downtown


Take the shuttle bus from City Garden to the entrance gate → reach the Tianmen Cave by sightseeing bus → after sightseeing, take the escalator up to the summit → tour the sky garden on the peak → take the cable car back to the City Garden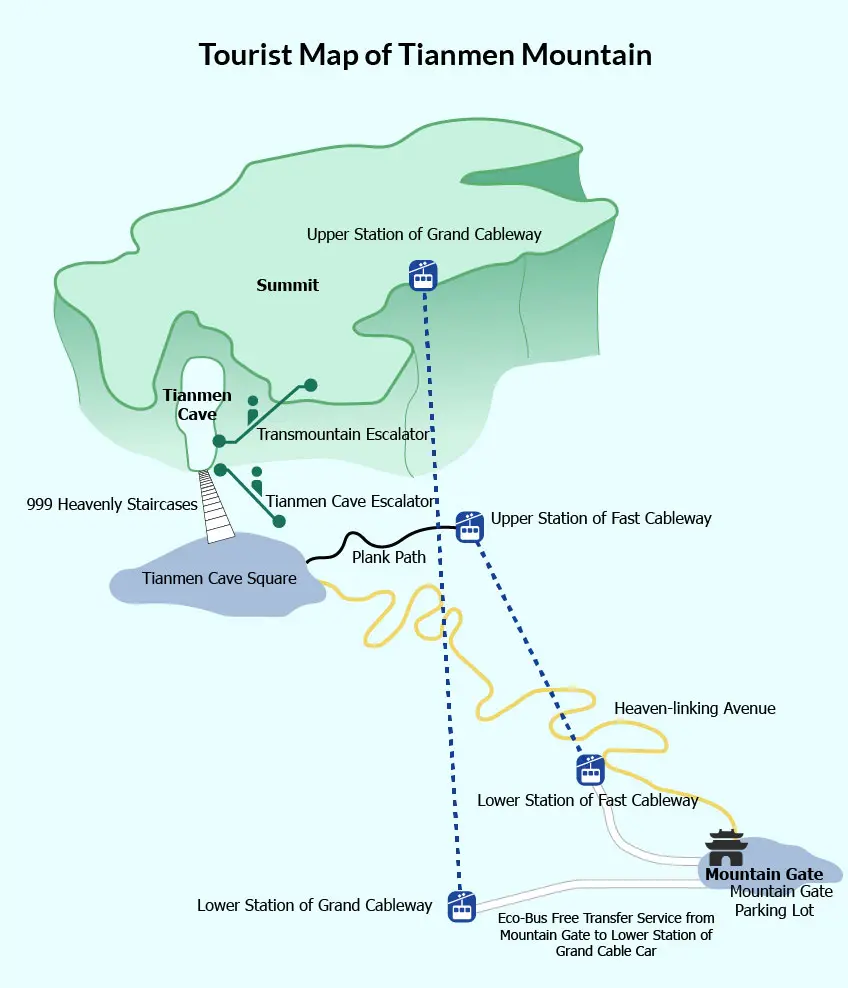 Map of Tianmen Mountain
How to Get to Tianmen Mountain

By Bus

Take bus 1A, 1B, 10A, or 13 and get off at Tianmen Mountain Cable Car Company Station. Then walk 240 yards (220 meters) to take the cable car or shuttle bus to the scenic area.

Take bus 4 and get off at Tianmen Mountain Cable Car Station. Then take the cable car or shuttle bus to the scenic area.

Take bus 5, 6, 8 and get off at Gezihua International Hotel Station. Then walk 400 yards (360 meters) to the downward cableway station.

By Taxi
Taxi costs you CNY 10 from downtown area to the City Garden cableway station, and CNY 30 when coming from the airport.
Admission Ticket
CNY 232, including scenic spot ticket CNY 75 + traffic fare within scenic area CNY 183
The transport includes single-way cableway, shuttle bus, and the upper escalator between Tiammen Cave and the mountaintop.
Note: Free for children measuring below 4.2 feet (1.3 meters) and under 6 years old.
CNY 148 for tourists between 6 and 18 years old.

Surcharge inside the Scenic Spot
Peak forest cableway on the mountaintop: CNY 25 for single-way; the concessionary fare (see * below) is CNY 15.
The lower escalator to Tianmen cave: CNY 32 for single-way; the concessionary fare is CNY 20.
Note: Free for children below 4.2 feet (1.3 meters).
* Concessionary fare is applied to tourists taller than 4.2 feet (1.3 meters) and under 18 years old.
A pair of shoe covers for glass skywalk is CNY 5.
Opening Hours
Mar. to Nov.: 06:30-18:00
Dec. to Feb.: 08:00-17:30

Top 9 Things to Do in Zhangjiajie
- Last modified on Nov. 28, 2019 -
Questions & Answers on Tianmen Mountain
Asked by Sabrina from SWITZERLAND | Nov. 23, 2019 00:52

Reply
Is the Cable car still on maintenance of Tianmen Mountain?
And is the price as high even though we can't use the cable car?
Answers (1)
Answered by Vanio from BRAZIL | Nov. 24, 2019 02:43

0

0

Reply
I went today, still under maintenance and the price remains.
Asked by TAN from SINGAPORE | Nov. 20, 2019 08:57

Reply
TianMen sightseeing in half day
If i arrive around noon at ZJJ railway station in mid december, do you think it is possible to complete a TianMen sightseeing by 5pm and return to base before proceed to Wulingyuan by bus for night, as hotel already booked. Appreciate any help, thanks!
Answers (1)
Answered by Sara from AUSTRALIA | Nov. 21, 2019 18:10

0

0

Reply
Yes, it is doable. May you have a great trip!
Asked by TAN from SINGAPORE | Nov. 02, 2019 08:26

Reply
Winter Period of Tianmen Mountain Scenic Area
Are the attractions and cable car closed during winter season, mid to end December 2019?
Answers (4)
Answered by A. Guest from CH | Nov. 04, 2019 03:15

0

0

Reply
I walked by the cable car station at the bottom in the late afternoon today and it looked dead. There was a sign at the ticket area, written in Chinese, but I could pick out the dates 2019.11.01 - 2019.11.30.

I'd also like to know if I have hit a period when they are closed. :-(
If so, would this apply to the bus transport as well as the cable car?
Is there a Tianmen website one can check? None seems to stand out.
Answered by Maki from CANADA | Nov. 06, 2019 03:43

0

0

Reply
The cable car is closed for maintenance, but you can take the shuttle from the cable car station instead, since the mountain is still open (we went yesterday) and very busy!
Answered by Chris from CANADA | Nov. 18, 2019 15:28

0

0

Reply
Do you know when it will be open again? We arrive on Nov 28.
Answered by Liz from SINGAPORE | Nov. 18, 2019 17:52

0

0

Reply
As I know, the cable car is closed during Nov 1-Nov 30.
Asked by rudy from INDONESIA | Oct. 14, 2019 00:44

Reply
hello how many hours should i spend to enjoy tianmen shan?
Answers (1)
Answered by Gloria from CANADA | Oct. 15, 2019 21:00

0

0

Reply
Usually, half of the day will be enough.
Asked by Ple from THAILAND | Aug. 27, 2019 01:13

Reply
Luggage room in Tianmen Mountain
There is luggage room for deposit my bag and fee to pay or free don't pay
Answers (1)
Answered by Adam from USA | Aug. 28, 2019 01:43

0

0

Reply
It is near the ticket office and takes CNY5-10 per bag according to different sizes.