Top 9 Things to Do in Zhangjiajie
As one of the most popular tourism destinations in China, Zhangjiajie is famous for its natural landscape. The Wulingyuan Scenic Area in Zhangjiajie, composed of four core scenic areas, was included by UNESCO in the World Natural Heritage list in 1992. What are the top things to do in Zhangjiajie and what are the must-visit places? Let's have a look!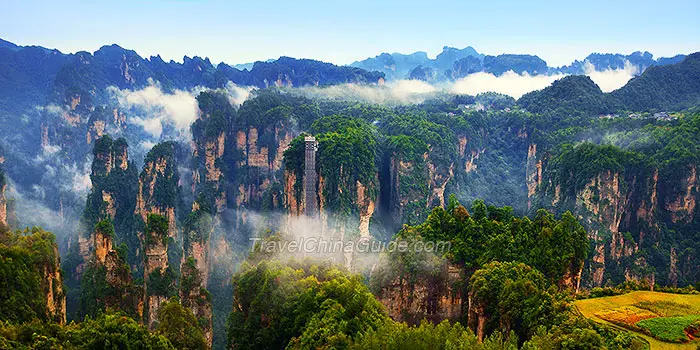 This is one of the core scenic areas of Wulingyuan and definitely a must-visit place in Zhangjiajie. It covers an area of 130 square kilometers and consists of six parts such as Yellow Stone Stronghold, Golden Whip Stream and Yuanjiajie. Yellow Stone Stronghold is the largest viewing platform in the whole Forest Park and you can enjoy the spectacular view of the mountains surrounded by cloud and mist. Yuanjiajie was the setting place of the famous film Avatar. The most remarkable scenic spot of Yuanjiajie is the First Bridge with a height of more than 300 meters (980 feet), which is the highest natural stone bridge ever found in the world. What's more, the clear streams passing through the valleys in the Golden Whip Stream is one of the most beautiful sceneries in the park.

See more about
How to get to Zhangjiajie National Forest Park

Recommended Tour:

Zhangjiajie 3 Days Tour from

$429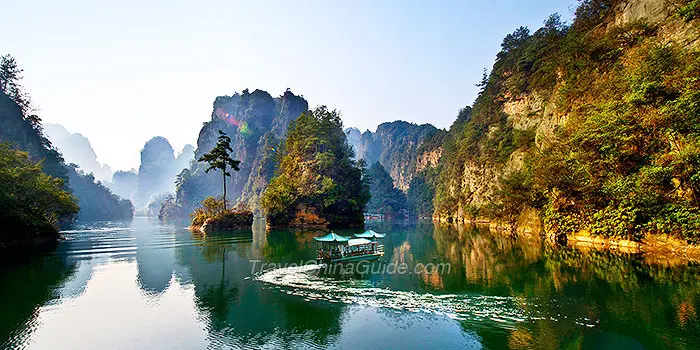 Situated in the northeast of Wulingyuan Scenic Area, Suoxi Valley is near the Forest Park. The name Suoxi, literally rope stream, just vividly describes the rope-shaped creeks. The magnificent mountains and clear water are like a splash-ink landscape painting unrolling in the paradise. The mountains are not as dangerously steep as those in the forest park, but you can still enjoy the elegance of this place. There is the largest karst cave in China, Yellow Dragon Cave. Boating on the Baofeng Lake is one of the top things to do in Zhangjiajie. You can also see the steep Baizhang Gorge and picturesque Ten-Mile Gallery.

Recommended Tour:

4 Days Itinerary in Zhangjiajie from

$589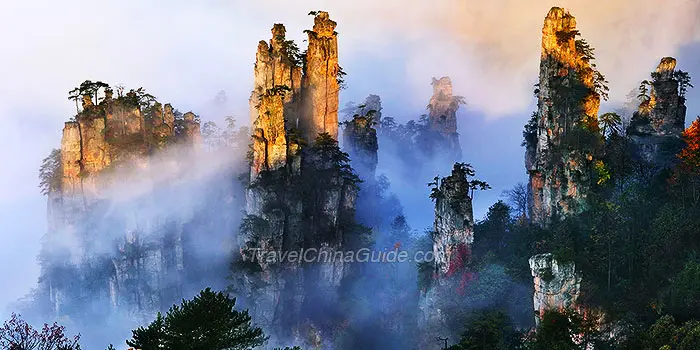 Visiting Tianzi Mountain is one of the best things to do in Zhangjiajie. Tourists can choose to take an eco-car to view the whole scenic area or hike along the way. Billions of years ago, Tianzi Mountain was still a vast ocean. Later, because of the complicated and long geological process, Tianzi Mountain gradually took shape. Various stunning and steep peaks are the highlights of the scenic spot. What's more, the scenery will be more beautiful after rain. The mountains hiding in the mist and cloud will make you feel like in heaven.

Recommended Tour:

Zhangjiajie 2 Days Tour Package from

$257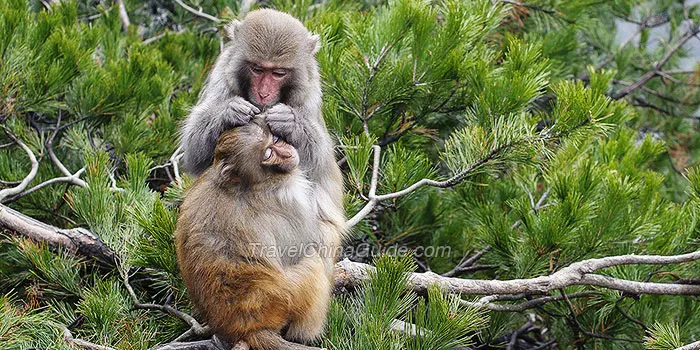 Hiking in Yangjiajie is undoubtedly one of the top things to do, especially for backpackers and adventurous tourists. As one of the core attractions in Wulingyuan Scenic Area, Yangjiajie is well known for its steepness and magnificence. Comparing to other areas, it is newly developed so that it is more original and less crowded. Oolong Village is the most dangerous and interesting scenic spot. It used to serve as a stronghold of bandits. The village is more than 300 meters high and surrounded by steep stone walls. The only way leading to the top is a 1,000-meter-long path, along which there are many natural barriers.

Recommended Tour:

5 Days Shanghai & Zhangjiajie from

$989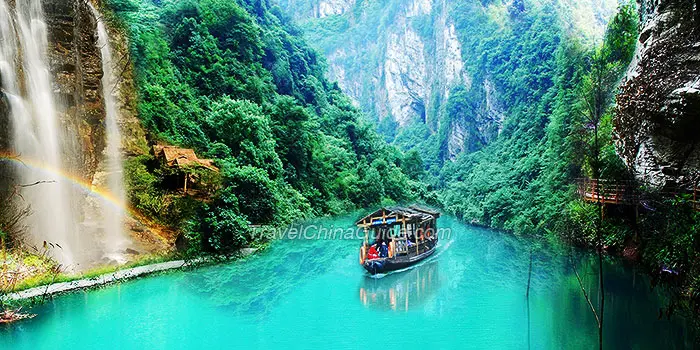 Another must-see place in Zhangjiajie is the Grand Canyon. The canyon is lush with vegetation and the fresh air will make you feel like in a natural oxygen bar. The most remarkable site should be the terrific Glass Bridge. In addition to the deep gorges and cool mountain streams, Butterfly Spring Waterfall is also very spectacular. A Strip of Sky, located at the entrance of the canyon, is a narrow valley with cliffs which can only pass one person at a time. After experiencing the breathtaking cliff of A Strip of Sky, you cannot miss the Sky Ladder Plank Road. The plank is very narrow and stretches at a pretty steep slope where you can overlook the view of the Strip of Sky.

Recommended Tour:

1-Day Grand Canyon Tour to Glass Bridge from

$148

Book a ticket for Zhangjiajie Grand Canyon & Glass Bridge.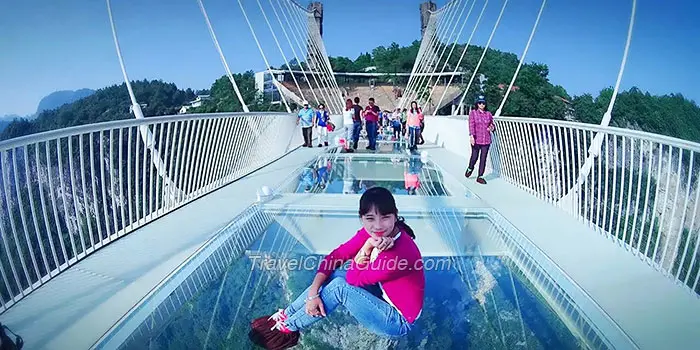 One of the fun things to do in Zhangjiajie is to experience the second longest and highest glass bridge in the world. The bridge is located in the Grand Canyon, with a length of 430 meters (1,410 feet) and a height of 300 meters (985 feet). The bridge hangs over the valley and you can have an unforgettable experience to walk on it and enjoy the natural landscape in such a transparent high place. If you love some extreme sports, maybe you would like to challenge more heart-pounding activities such as the highest bungee jumping in the world.

Recommended Tour:

13 Days to Beijing, Zhangjiajie, Xi'an, Guilin, Shanghai from

$2859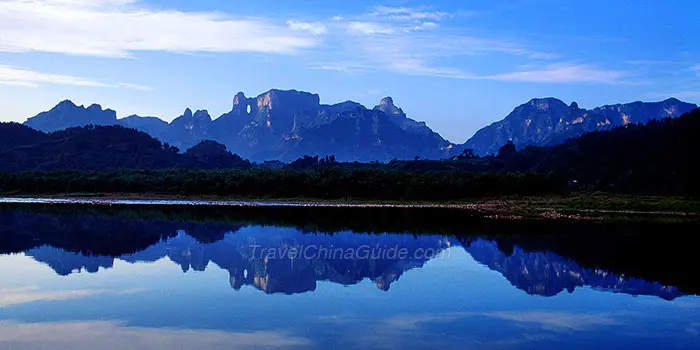 Tianmen Mountain is undoubtedly one of the best places to visit in Zhangjiajie. The name of the mountain comes from the natural karst Tianmen Cave on the top, which is 431 feet high and 187 feet wide, like a gate leading to heaven. Besides the grand cave, you will have a chance to experience the longest cable way in the world with a length of 7,455 meters (24,458 feet) and enjoy the full view of the mountain in the cable car within 30 minutes. Ancient trees and twining vines are ubiquitous in the whole scenic area. Besides appreciating the old-growth forest and Tianmen Mountain Temple, trying the transparent glass skywalks built along the cliff is also an exciting thing you can't miss.

Book a ticket for Tianmen Mountain
.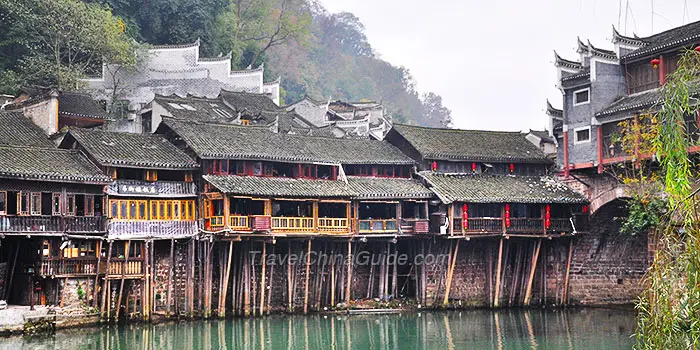 After enjoying the beautiful landscape, it's time to appreciate the cultural relics of the city. One of the best things to do in Zhangjiajie is to visit Fenghuang Ancient Town where Miao and Tujia Nationalities live. Home to a prestigious Chinese writer Shen Congwen (1902-1988), the town was known for his novel Border Town. The town was built in the Qing Dynasty (1644 - 1911) with red sandstone walls and the streets were paved with flagstones. Tuojiang River flows through the town and there is a narrow wooden bridge across the river under the North Gate. Walking along the river to sightsee in the town is a good option. You can visit former residences of the celebrities and appreciate ancient buildings. Boating on the Tuojiang River to view the stilted buildings on both sides is also very enjoyable.

Recommended Tour:

5 Days Zhangjiajie & Fenghuang from

$709

See also:
How to Travel between Zhangjiajie and Fenghuang
9
Red Stone Forest in Guzhang County of Xiangxi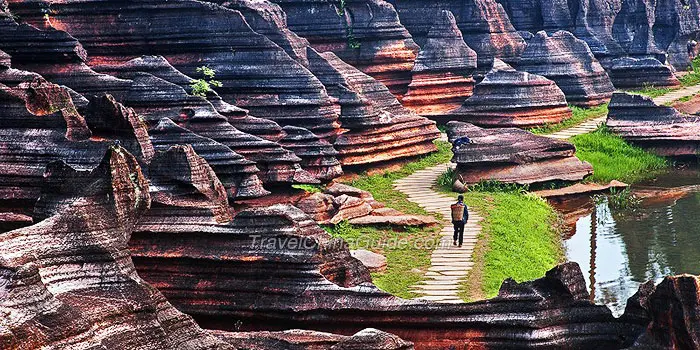 The Red Stone Forest must be added on the top things to do in Zhangjiajie because it is a karst spectacle and a great photogenic site. Its red color is pretty rare in all the karst landscapes. Especially in sunny days, various strange red rocks and graceful hills are shining under the sun. Making full use of your imagination, you will find some stones are like the humps of camels and some are like galloping horses. Besides the magnificent red stones, you can also view stone caves and natural bridges.
- Last modified on Sep. 08, 2020 -
Questions & Answers on Top 9 Things to Do in Zhangjiajie
Asked by Canada | Sep. 24, 2020 05:59

Reply
Where is Red Stone Forest located? How far is it from Zhangjiajie?
How long does it take to visit the forest?
Answers (1)
Answered by Aaliyah | Sep. 29, 2020 20:13

0

0

Reply
It is located at Duanlong Village of Guzhang County. And it is about 105 kilometers away from Zhangjiajie. The suggested sightseeing time is 3-4 hours.
Asked by Tommy from THAILAND | Sep. 21, 2020 02:17

Reply
How to reach Red Stone Forest in Guzhang County of Xiangxi
How to go to Red Stone Forest in Guzhang County of Xiangxi from Zhangjiajie or Furong Ancient Town.

Answers (3)
Answered by Jayce | Sep. 23, 2020 18:55

0

0

Reply
You are suggested to take a train from Zhangjiajie National Forest Park to Mengdonghe Railway Station.
After arriving, hire a private car to the scenic area directly.
Answered by Tommy | Sep. 24, 2020 02:33

0

0

Reply
And How much admission ticket?
Thank you so much.
Answered by Jayce | Sep. 29, 2020 20:16

0

0

Reply
As I know, the admission ticket is CNY 120 per person.
Asked by Cindy Chimonides from CANADA | Sep. 08, 2020 09:21

Reply
3 days in Zhangjiajie
What is the best way to see all the 9 scenic spots in Zhangiajie that you mention above? Do you advise to stay in Zhangjiajie or Wulingyuan? Should we stay in Zhangjiajie one night then Wulingyuan for two nights?
Is Red Stone Forest in Zhangjiajie National Park?

Answers (1)
Answered by Cameron | Sep. 23, 2020 18:56

0

0

Reply
It is suggested to visit these scenic area by taking public transportation. Both Zhangjiajie and Wulingyuan are ok for you to stay. You can easily find the accommodation. Don't worry. In addition, no, Red Stone Forest is not located inside Zhangjiajie National Park.
Asked by Faisal from PAKISTAN | Jan. 13, 2020 08:56

Reply
Now Zhangjiajie Glass Bridge open or closed
And please share the timing
Answers (2)
Answered by Elva from USA | Jan. 14, 2020 19:16

0

0

Reply
It opens from 8:00 to 17:00.
Answered by Muhammad Faisal from PAKISTAN | Jan. 15, 2020 11:46

0

0

Reply
Thank you dear
Asked by Ashvin from INDIA | Dec. 16, 2019 21:52

Reply
is 2 days enough to cover al the 9 sight seeing places in zhangjiajie?
Answers (2)
Answered by Marin from DENMARK | Dec. 19, 2019 01:15

0

0

Reply
Generally speaking, you can.
Answered by Ashvin from INDIA | Dec. 19, 2019 17:27

0

0

Reply
Thank you Marin!