Zhangjiajie Glass Bridge
Zhangjiajie Glass Bridge, aka Zhangjiajie Grand Canyon skywalk, is the world's longest and highest glass bridge, hanging over
Zhangjiajie Grand Canyon
. Looking from a distance, it looks like a piece of white silk floating between the clouds and fog, hence it is also called Yuntiandu, meaning "a way of clouds to the sky". Standing on it, if dare to, you can have a bird's eye view of the Grand Canyon.
Basic Facts of Zhangjiajie Grand Canyon Glass Bridge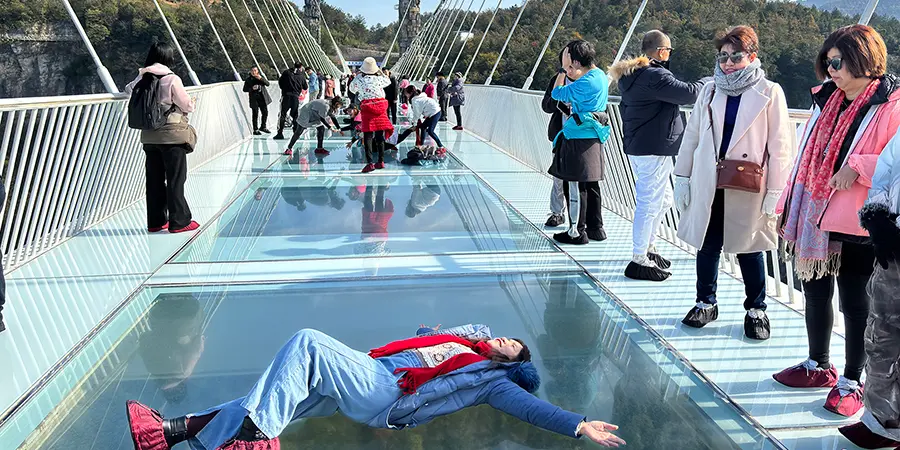 Length: 430 meters (1,411 feet)


Width: 6 meters (20 feet)


Height: 300 meters (984 feet)


Highlight:
The bridge bottom is paved with transparent glass, to give visitors an extremely thrilling feeling and a better perspective of sightseeing. In addition, in the middle of the bridge, there is a bungee platform. When opened, it will be world's highest bungee, measuring 270 meters (886 feet) above the ground.

How to tour Zhangjiajie Glass Bridge
1. If you will visit both the Glass Bridge and the Grand Canyon, it's better to visit the Glass Bridge first to avoid detour and save time and energy.

2. There are cable cars up to the Glass Bridge. A one-way ticket is CNY35. The cable car upper terminal is only 10 minutes' walk from the Glass Bridge.

3. Visitors had better book a ticket in advance, as no ticket is sold on the spot, except discounted tickets for some Chinese citizens. The tickets are available 1 day to 2 months prior to the visit date. But you are advised to book it as early as possible, especially during the peak season. A valid ID certificate like passport is required for both booking the ticket and entering the scenic site.

4. Zhangjiajie Grand Canyon has three kinds of ticket, all valid for one day only:
| | |
| --- | --- |
| Ticket A for the Grand Canyon | CNY 118 plus insurance fee of CNY 3 |
| Ticket B for the canyon and Glass Bridge | CNY 219 plus insurance fee of CNY 3 |
| Ticket C for the Glass Bridge | CNY 138 plus insurance fee of CNY 3 |

Note: Free for children under 1.3m (4.3ft).

5. The entering time is set when booking the ticket:
For Ticket B: 8:00 – 9:59, 10:00 – 12:59, and 13:00 – 15:00
For Ticket C: 15:20 – 17:00.
Please enter the site during the reserved time; otherwise the ticket will automatically turn invalid.

6. Passenges with Ticket B must enter the canyon before 15:30.

7. Open Time: 07:30-17:30

Recommended Guided Tour:

1-Day Zhangjiajie Grand Canyon Tour to Glass Bridge from $186

Worry-free day tour with all fees included, plus professional guide and private driver.

Tips on Walking the Bridge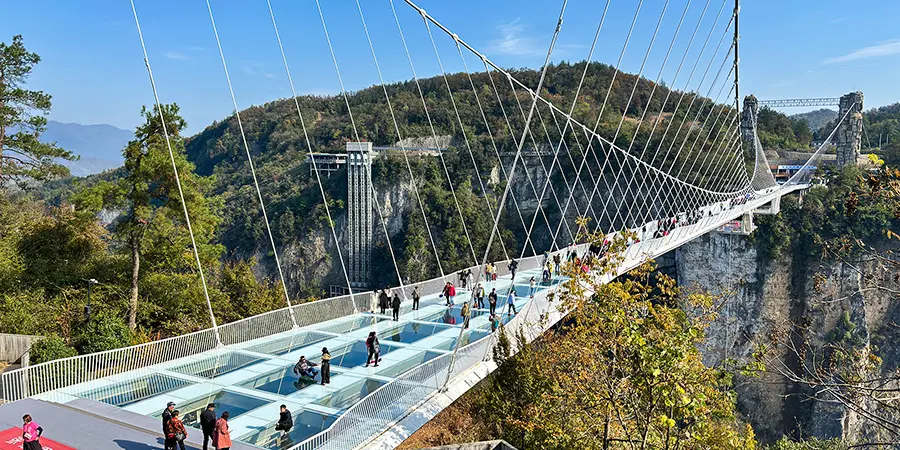 1. The bridge may be closed if the weather is bad.

2. All visitors to the bridge need to wear a pair of shoe covers. One can get one for free at the entrance to the bridge.

3. One can only bring a cell phone with cover and small-sized bags like a purse or waist-bag while walking on the bridge. You can leave other belongings at the left luggage office. The service fee is CNY5 per piece of small bag and CNY10 per piece of large bag.

4. High heels and metal spiked shoes are not allowed on the bridge.

5. Do not run or jump on the bridge or stand against the rail.

6. Those who have heart disease, high blood pressure and acrophobia as well as drunk visitors are not recommended to set foot on the bridge.

Zhangjiajie Grand Canyon Glass Bridge Vs. Tianmen Mountain Glass Plank
Tianmen Mountain is also located in the city of Zhangjiajie, about 60 kilometers (37 miles) away from the Grand Canyon. Different from the Grand Canyon Glass Bridge hanging in the air, Tianmen Mountain Glass Planks are inserted into the mountain cliffs. There are three of them and the most famous one is at a height of over 1,400 meters (4,593 feet). It is exciting and thrilling to walk on them, too. If you unfortunately do not get a ticket for the glass bridge, these glass planks are also a good try. There are fewer tourists there and the ticket can be generally bought on the spot.

How to get to Zhangjiajie Glass Bridge

From Wulingyuan Scenic Area, the most famous scenic spot in Zhangjiajie:
Take a bus from Wulingyuan Bus Station to the canyon directly. It takes about 40 minutes.



From Downtown Zhangjiajie
Take a bus from Zhangjiajie Long-distance Bus Center to the canyon. The travel time is about an hour.



Top 9 Things to Do in Zhangjiajie


10 Famous Places in China with Rising Popularity over the Web
- Last updated on Apr. 18, 2022 -
Questions & Answers on Zhangjiajie Glass Bridge
Asked by Sunil Perera from QATAR | Apr. 21, 2020 02:20

Reply
I am travelling from Qatar. Which airport i need to book air ticket, and route to glass bridge.
Answers (1)
Answered by Damian from GERMANY | Apr. 26, 2020 22:43

0

0

Reply
It is suggested to take a plane to Beijing Capital Airport first. Then transfer to a flight to Changsha. Upon landing, take airport shuttle bus to Changsha Railway Station and then take a train to Zhangjiajie. After arriving, take a bus from Zhangjiajie Long-distance Bus Center to the canyon.
Asked by monika from GERMANY | Dec. 30, 2019 04:17

Reply
How to reach the Zhangjiajie Glass Bridge?
Hi,
we will arrive by train at the morning and leave at the late evening.
How can we go to the bridge? Is there a bus station near the trainstation?
Will 12 hours be enough to visit the canyon and the bridge?
Thank you in advance!
Answers (1)
Answered by Kira from MALAYSIA | Dec. 30, 2019 19:30

0

0

Reply
You can take bus from Central Bus Station, near to Railway Station, to Wulingyuan Bus Station, then take direct bus from there to glass bridge.
Asked by Ralph Wandolph Empay from VIETNAM | Dec. 10, 2019 01:53

Reply
I'm going to the glass bridge on December 20. How much are the tickets for one person?
Thanks!
Answers (1)
Answered by Liam from UAE | Dec. 11, 2019 23:12

0

0

Reply
As I know, the fare is CNY 130/person.
Asked by Yuki from PHILIPPINES | Nov. 27, 2019 19:04

Reply
Glass Bridge Tickets - Senior Discount for Foreigners
Hi! Is the discount for seniors applicable to foreigners? Thanks.
Answers (1)
Answered by Sara from CANADA | Dec. 01, 2019 19:26

0

0

Reply
Sorry, I'm not sure. It is suggested to take your passport in case it is needed.