Yangjiajie Scenic Area
Yangjiajie Scenic Area is one of the core attractions of Wulingyuan Scenic Area, joining to Zhangjiajie National Forest Park in the east and Tianzi Mountain in the north. It is well-known for its magnificence, steepness, comeliness and tranquility. Yangjiajie Scenic Area is divided into three major sightseeing areas, namely, Xiangzhi Stream, Qingfeng Gorge, and Hundred Monkey Valley.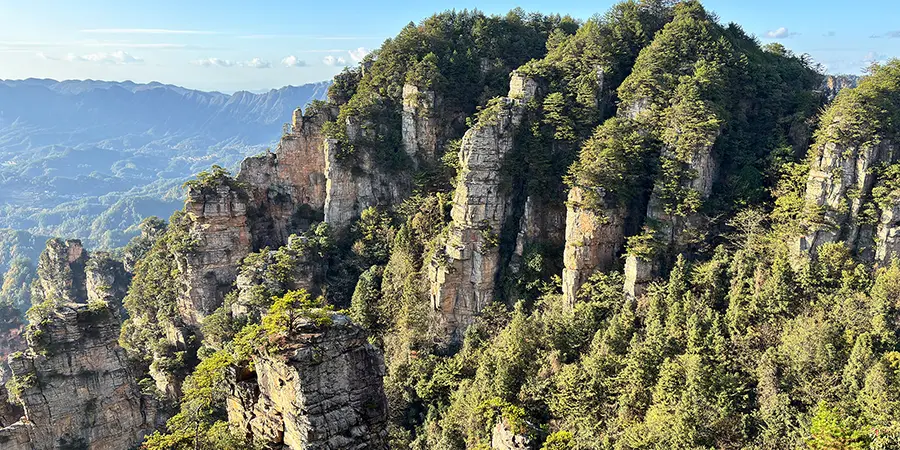 Xiangzhi Stream
Xiangzhi Stream is situated in the east of Yangjiajie Scenic Area. The meandering stream shaded by tall trees, steep trails, and twittering birds make up a land of idyllic beauty. There are 35 named attractions inside the area, among which the major attractions are One Step to Heaven and Oolong Village.

One Step to Heaven
It is actually a mountain peak 1,130 meters (1,230 yards) above sea level. There are 32 iron stairs leading to the mountaintop. The top is flat, with 5 meters (5 yards) long and 4 meters wide, and is enclosed with iron railings.

Oolong Village
Oolong Village is one of the most dangerous attractions of Yangjiajie Scenic Area. It was a fastness of bandits in ancient times. The village is about 300 meters (330 yards) high and surrounded by steep cliffs. Only a 1,000-meter-long (1,094 yards) path leads to the village. Besides, a number of natural barriers stand along the path.
Qingfeng Gorge
Qingfeng Gorge is located in the north of Yangjiajie Scenic Area. There is a waterfall named Longquan Waterfall at the entrance of the gorge, so it is also called Longquan Gorge. The towering stone peaks and clear streams form delightful scenery. The main attractions inside the area are Tianbo Mansion, Longquan Waterfall, and the King of Vines.



Tianbo Mansion
Tianbo Mansion is neighboring to Oolong Village. Tourists can head for Tianbo Mansion from the village through a hanging bridge between two peaks. The mansion is a good viewing platform to overlook the extremely beautiful scenery. There you can also see 10 parallel stone wall peaks standing among the green trees, like city walls.



Longquan Waterfall
Trace about 2 kilometers (1.3 miles) along the river from the gateway of the gorge and you will see a splendid waterfall, of 80 meters (87 yards) high. Standing in front of the waterfall, you will feel cool over the whole body. Looking at the bottom of the waterfall, you can get a glimpse of the swimming fishes. The ripples on the crystal river, the swaying shadows of the trees and the sunlight may give you a sense of quietness.



The King of Vines
In a stone wall with about 100 meters high grows an ancient vine. Due to the largeness and rareness of the vine, it is called the King of Vines. The tendrils in various shapes fasten themselves to cover half of the cliff. It's surprising to see such a large area of ancient vines.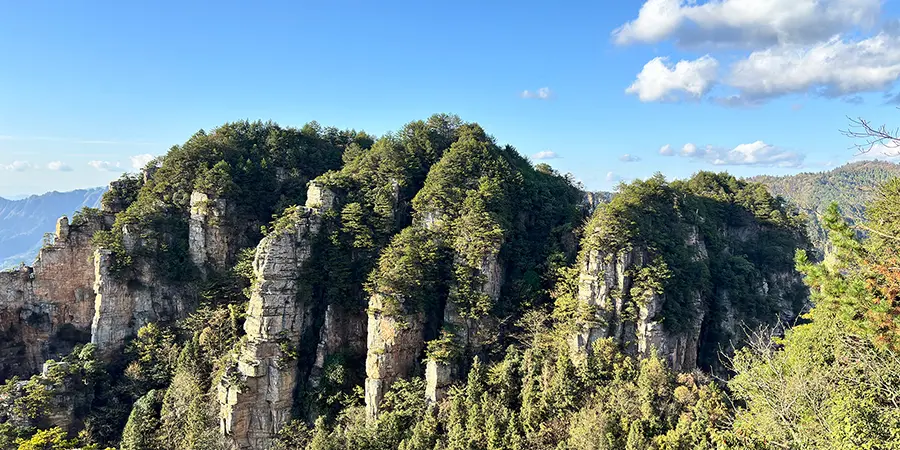 Hundred Monkey Valley
Hundred Monkey Valley is also called Baihou Valley. The valley is the home to macaques and egrets. The macaques in groups often turn up between the cliffs and valleys. Flocks of egrets live among the green leaves. Also, you can watch groups of white cranes flying across the treetops.
Travel Tips

Because Yangjiajie is not developed completely, you will find it difficult to walk on some roads. Tourists with a relatively weak strength should better end the tour in Oolong Village, as the road forward is rather steep.

Bring enough food with you, as there are no restaurants inside the scenic spot.

A complete tour inside by foot takes about 5 hours.
How to get to Yangjiajie Scenic Area
Take a bus from passenger bus station in the city center to Tianzishan Town and get off at the intermediate station, Zhonghu. It takes about 70 minutes and CNY11 per passenger. Zhonghu is about 2 kilometers (1.3 miles) from the ticket office of Yangjiajie Scenic Area. After getting off, one can get there by walking or local vehicle at CNY2.
Admission Fee
March to November: CNY 225 for adults and CNY 160 for children between 1.3 meters (4.2 feet) and 1.5 meters (5 feet)
December to next February: CNY115 for adults and CNY 85 for children between 1.3 meters and 1.5 meters.
Free entry for children below 1.3 meters but they need to pay CNY 65 for the sightseeing bus.

Note:
1. The admission fee includes visit to Yangjiajie Scenic Area, Zhangjiajie National Forest Park, Suoxi Valley Nature Reserve, Tianzi Mountain Nature Reserve and sightseeing bus ride inside these scenic areas.
2. Insurance expense CNY 3 is additionally charged.
3. The ticket has 3-day validity from March to November and 4-day validity from December to next February.
Yangjiajie Cable Car
CNY 76
CNY 46 for children between 1.3 meters and 1.5 meters
Free for children below 1.3 meters
Opening Hours
07:00-18:00

Top 9 Things to Do in Zhangjiajie
- Last updated on Nov. 13, 2019 -
Questions & Answers on Yangjiajie Scenic Area
Asked by Jin from USA | Nov. 11, 2019 23:30

Reply
How to get here from Wulingyuan City
If I stay at Wulingyuang City (to the east), whats the best commute to get to this YJJ Area?
Answers (1)
Answered by Samuel from ITALY | Nov. 13, 2019 19:56

0

0

Reply
You can take direct bus from Wulingyuan Coach station to Yangjiajie station. It costs CNY10 with 45 minutes on the way.
Asked by Chester from WALES | Oct. 30, 2019 01:08

Reply
steep cliffs and drop-offs in the Yangjiajie park
My daughter is afraid of heights so we will need to avoid buses/trains that pass steep cliffs, cable cars and hiking paths right off of great heights.
which areas would you recommend to stick to and which areas/tours/bus lines/etc to stay away from?

many many thanks.
Answers (1)
Answered by Joey from SINGAPORE | Nov. 03, 2019 17:48

0

0

Reply
Well, you might need to consider changing your travel plan. It is famous for steep cliffs and great mountains. You have to take cable car to the peak and visit other attractions. You can visit national forest park.
Asked by isabelle from FRANCE | Jun. 03, 2019 09:53

Reply
What is bus time schedule from Zhangjiajie center bus station to Tianzishan town and back?
thanks in advance (because I read different things ...)

Answers (1)
Answered by Rosie from IRELAND | Jun. 03, 2019 19:39

0

0

Reply
The buses depart from about 06:30 to 16:00 to Tianzishan and the return buses are from about 07:20 to 17:00.