Zhangjiajie Grand Canyon
In Zhangjiajie Grand Canyon, the plunging waterfalls, the dense trees, the fresh air, and the mist on the stream make you feel like you are in an otherworldly sort of place. A spring meanders in the canyon, along which are trails built with planks. On the way, you can see the longest and highest glass bridge in the world as well as the karst landform in the north temperate zone. You have to walk for over two hours to visit the Zhangjiajie Grand Canyon, so remember to wear sports shoes and bring some food. You are recommended to start at the top of the canyon and move downhill, the following attractions coming into view successively.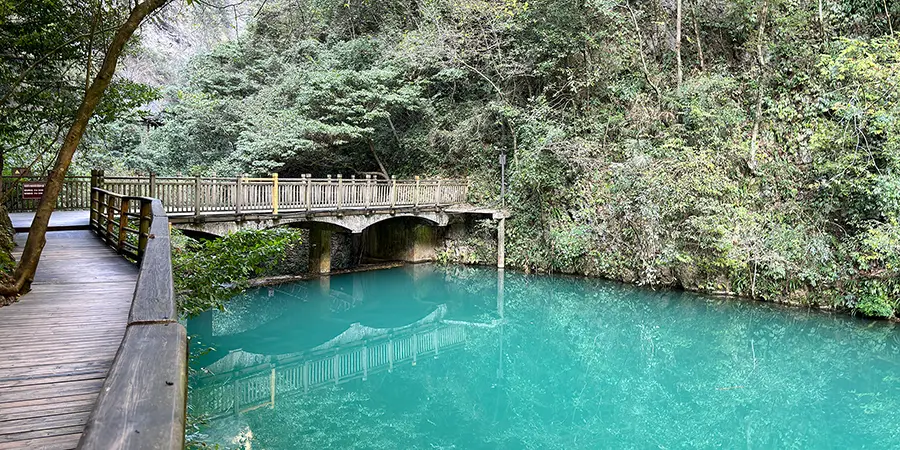 Beautiful Zhangjiajie Grand Canyon
A Strip of Sky & Sky Ladder Plank Road
'A Strip of Sky' is a narrow valley through which only one person can pass at a time. The valley is over 700 meters (765 yards) long with a drop of 300 meters (985 feet) from the beginning to the end. After passing through the valley, you will see Sky Ladder Plank Road. This road is very steep and the planks are narrow, making it look like a sky ladder. Walking along it for three minutes, you come to the best place to see the entire 'A Strip of Sky'.
The canal is 1 meter (3 feet) deep and 1 meter wide, but over 10 kilometers (6 miles) long. It directs the spring from the lofty cliffs. The excavation took local people seven years, and many of them sacrificed their life for it. Thanks to the canal, residents of eight nearby villages have water to drink and irrigate the rice fields.
Tip: There is a skidway made of granite slates among the A Strip of Sky, the Sky Ladder Plank Road, and the Southern Red Flag Canal. It takes you only 3-5 minutes, 20 minutes shorter than walking.
| | |
| --- | --- |
| Dangerous Plank Road | Thrilling Glass Bridge |
Tianmen Mountain
of Zhangjiajie, which is inserted on the mountain side with a height of 1,430 meters (4,690 feet), Zhangjiajie Grand Canyon Glass Bridge hangs over a valley. It provides a superb panorama of the entire grand canyon. Standing on it is like floating in the air. Come and have a try if you are brave enough. There is also a rope line nearby, which surely excites your nerves.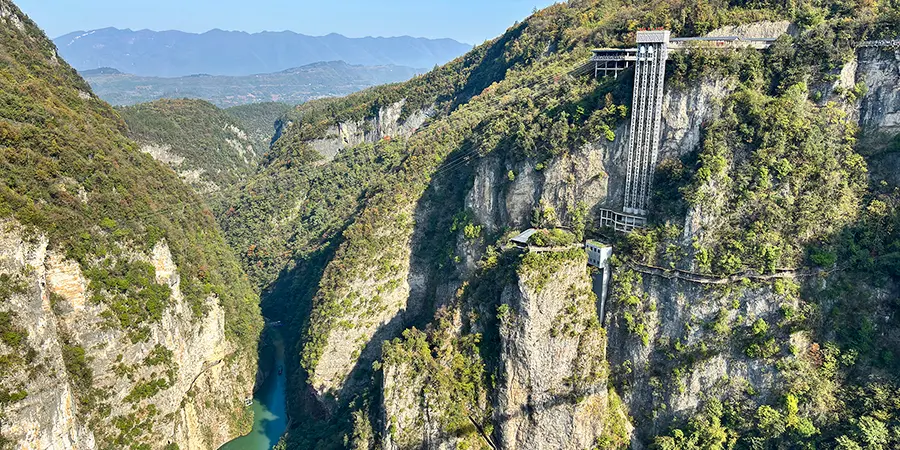 A Grand Waterfall
Barrel Cliff & Flying Fox Rushing Downhill
The cylindrical cliff is neither chiseled by human nor eroded by waterfalls, and only grasses grow on it with no trees. Geologists and botanists cannot explain why. Keep moving 10 meters (10 yards), you can see the Flying Fox Rushing Downhill. On the cliff, a big rock gets in the running waterfall's way and the water forms a rock cover, which looks like a fox rushing downhill.
Pearl Wallfall & Butterfly Spring Waterfall
The spring flows slowly downward along the cliff on which lots of plants grow. Then it forms many pearlescent crystal droplets on those plants. Thus the cliff is called Pearl Wall. After two minutes' walk, the Waterfall of Butterfly Spring comes into view. It flows past trees and lawns, and butterflies dance there every day, giving it its name.
There are thousands of swallow nests on Swallow Cliff. These rock swallows are smaller than ordinary ones and do not nest in houses. Their nests can be cooked and eaten.
At the end of Zhangjiajie Grand Canyon, there is a reservoir where you need to take a boat. Ducks play on the reservoir, you may also see egrets flying past.
How to Get to Zhangjiajie Grand Canyon
The Grand Canyon of Zhangjiajie is located at Sanguansi Township of Cili County, next to
Wulingyuan Scenic and Historic Interest Area
.
1. From Zhangjiajie Central Bus Station, take a bus to Wenya Hot Spring and get off at the canyon.
2. From Zhangjiajie Central Bus Station, take a bus to Wulingyuan; and then transfer to the bus to the Grand Canyon, or the bus to Cili County and get off at the Canyon. It takes around 1h.
3. From Wulingyuan Bus Station, take a bus to Zhangjiajie Grand Canyon or the bus to Cili and get off at the canyon. It takes no more than 20 minutes.
Entrance Fee
Ticket A for the Grand Canyon: CNY 118 plus insurance fee of CNY 3;
Ticket B for the canyon and Glass Bridge: CNY 219 plus insurance fee of CNY 3;
Ticket C for the Glass Bridge: CNY 138 plus insurance fee of CNY 3;
Free for children under 1.3m (4.3 feet).

Cable car to the Glass Bridge: CNY 35
Skidway: CNY 22
Rope line: CNY 30

Note: For those planning to visit the Glass Bridge, please book a ticket beforehand, because the ticket is not available on spot. Valid ID certificate like passport is required for purchasing the ticket.
Opening Hours
March-November: 07:30-17:30
December-February: 08:00-16:00
On Chinese New Year Holiday: 08:00-17:00

Top 9 Things to Do in Zhangjiajie
- Last updated on Jun. 20, 2022 -
Questions & Answers on Zhangjiajie Grand Canyon
Asked by Myrna from CANADA | Apr. 20, 2021 12:04

Reply
Best time to visit Zhangjiajie Grand Canyon
When would there be less crowds? I love the photos I have seen with mist. Is there a better time of the year to see the mist in the mountains?
Answers (1)
Answered by Samuel | Apr. 25, 2021 19:03

0

0

Reply
Generally speaking, April to June, September to November would be the best time to visit the scenic area.
Asked by David Nieves from COLOMBIA | Dec. 28, 2019 11:37

Reply
Hi. Is it possible to take a bus between Cali and the glass bridge?
We don't want to go through Zhangjiajie, since I see a direct route.
Thanks for the info.
Answers (1)
Answered by Sammy from CANADA | Dec. 30, 2019 01:54

0

0

Reply
Sorry, I don't know where Cali is you mentioned. Generally speaking, you might need to hire a car to the scenic area you want.
Asked by MerMer88 from AUSTRALIA | Sep. 26, 2019 06:02

Reply
Where do I buy all the tickets online of Zhangjiajie Grand Canyon?
Hello, We are a group of 5 and plan to visit in Nov. Would you recommend buying all the entrance ticket in advance? We are planning a visit on Day 1 to Grand Canyon + Glass bridge + Yellow Mountain Cave, Day 2 to ZhangJiajie National Park, Day 3 TianAnMen Mountain.
Could you please advise how long it takes for these attractions? would you think it is doable in 3 days time? Besides, any suggestion for evening activities or local town?
Any budget hostel recommendation please either in Wulingyuan/ZhangJiaJie city?
Thanks so much for the info. Appreciate
Answers (2)
Answered by Dexter from SINGAPORE | Sep. 28, 2019 19:36

0

0

Reply
It is better to buy the ticket in advance. I think your itinerary is great but the time is too tight. Usually, it takes 2-3 days to visit National park. Do you intend to live in the hostel in scenic area or back to the downtown?
Answered by MerMer88 from AUSTRALIA | Sep. 30, 2019 03:07

0

0

Reply
We will stay in WuLingYuan. Would you suggest this itinerary doable? as we also have 2x 68YO my parents coming with us. Where can I get all these tickets online? Any reliable website? And once purchase online do we still have to exchange the ticket?
Would early Nov be very crowded? as in long queue for lift and cable car?
We will catch the overnight train from Shanghai and arrived in ZhangJiajie around 13:00 and probably catch public bus straight to our accommodation in WuLingYuan, after drop off the baggage we plan to head to Yellow Dragon cave hopefully able to do it before they close for the day. I read it was 18:00 correct?
Second day we will be in ZJJ National park exploring (any recommended route to try get to all main spot? I know it will be challenging)
Third day we plan to head Grand Canyon and Baofeng Lake
Fourth Day we will check out very early from our accommodation in WuLingYuan and head to ZhangJiajie downtown to visit TianMen Mountain before we have to head off to train station. Our train departing at 16:30 in the afternoon of the fourth day.

Please advise your thought with above plan. Is it doable in your opinion? and any suggestion I can input in the plan? or which area I should pre-purchase the tickets online?

Thank you so much!!
Asked by Pear from THAILAND | Aug. 19, 2019 10:24

Reply
Grand Canyon lift & walk & parking
If I go to glass bridge and then Grand Canyon, my questions are
1. Is there a lift to take us down?
2. If there is a lift, how far do we walk to the clear blue water ( in the photo above)? Is it difficult walk?
3. Is there any walking route at the Grand Canyon?
4. Is there a parking lot for car driver to pick us up when we have enough of the walk by the blue water? What's the name of the parking lot?
We are deciding if we should go down the Grand Canyon after the glass bridge with our 65yr old folks. And we try to find a way to tell our Chinese driver to meet us at the bottom when we can't speak English and we don't speak Chinese. Thank you very much
Answers (3)
Answered by Randy from USA | Aug. 22, 2019 19:47

0

0

Reply
There is lift you can take with CNY21/person. The blue water in photo is just a beautiful view in the scenic area, and I'm not sure where it is. It is suitable for walking to visit the wonderful views in grand canyon so most of areas has walking routes. Maybe you can tell your driver to wait for you at the gate.
Answered by Pear from THAILAND | Aug. 25, 2019 21:09

0

0

Reply
More questions:
1. Which gate should I tell the driver to pick up? Any specific name in Chinese & English?
2. Also, how long does it take to walk down from the glass bridge to the lift, then to the grand canyon, then to the gate you mention?
3. Is there any walking map from the glass bridge to the lift, then to the grand canyon, then to the gate you mention? Is there any link to download/photo of the walking map?
THank you so much
Answered by Randy from USA | Aug. 26, 2019 20:55

0

0

Reply
Since your driver is Chinese, he will know where the main gate is. You can take lift after you walk through glass bridge. I think there is map picture in scenic area.
Asked by silkmurthy from INDIA | Aug. 18, 2019 10:24

Reply
Is it possible to cover Zhangjiajie grand canyon and glass bride in one day?
Answers (1)
Answered by Mack from UNITED KINGDOM | Aug. 20, 2019 19:36

0

0

Reply
There are two glass bridges. One is in Grand Canyon, the other is in Tianmenshan Forest Park and it is 80km away from grand canyon. If you tend to go to the glass bridge in Grand Canyon, then one day is enough.