Tianzi Mountain Nature Reserve
Tianzi Mountain Facts
Location: in the northern part of Wulingyuan Scenic Area in Hunan Province
Height: the highest peak is about 1,262m (4,140 feet)
Area: 67 square kilometers (16,550 acres)

Tianzi (Son of Heaven) Mountain Nature Reserve is one of the four scenic spots in Wulingyuan (three other spots are Zhangjiajie National Forest Park, Suoxi Valley Nature Reserve and Yangjiajie Scenic Area).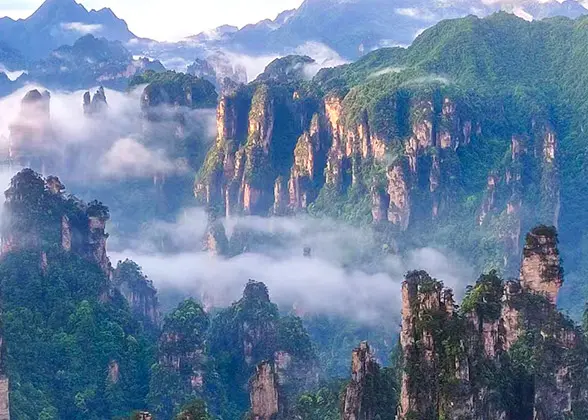 Tianzi Mountain
Tianzi Mountain provides stunning views of peaks, which rise one after another. It is known as 'the Monarch of the Peak Forest'. At the top of the mountain, visitors can see the full extent of the Wulingyuan Scenic Area. Beautiful scenes of the mountain greet visitors in different seasons. There are four wonders: the Sea of Clouds, the Radiance of the Moonlight, Rays of Sunshine and the Snow in winter.

Formation of Tianzi Mountain
Just like Suoxi Valley, Tianzi Mountain was formed by sedimentary rocks 318 million years ago. Those rocks, eroded by the water and wind, slowly turned into quartz stones, which formed those amazing peaks in the scenic area.

Legend of Tianzi Mountain
Tianzi Mountain takes its name from a man, Xiang Dakun. He was the leader of the Tu ethnic group during the last years of the Southern Song Dynasty (1127 -1279). Xiang Dakun led a revolution and avowed himself as Tianzi (Son of Heaven). Visiting this scenic area, visitors can see many sites about his story, the most impressive being: the Yu Bi Peaks, the Xi'an Nü San Hua, and the Shen Bing Ju Hui.

With pine trees on the top, the Yu Bi (imperial brushes) Peaks rise upward into the sky. Legend goes that they are brushes the Tianzi-Xiang Dakun used that became stone peaks after his martyrdom. The Xi'an Nv San Hua (floral tributes by fairies) is slightly opposite the Yu Bi Peaks. A legend goes that Xiang Dakun and his army were defeated to fall back on the Tianzi Mountain. He fought to the finish, but finally jumped off the cliff. A girl in love with him went across the mountain to search for him. She strewed flowers over the cliffs and turned into a stone statue. Shen Bing Ju Hui is a forest of soldier-like peaks arrayed for a review.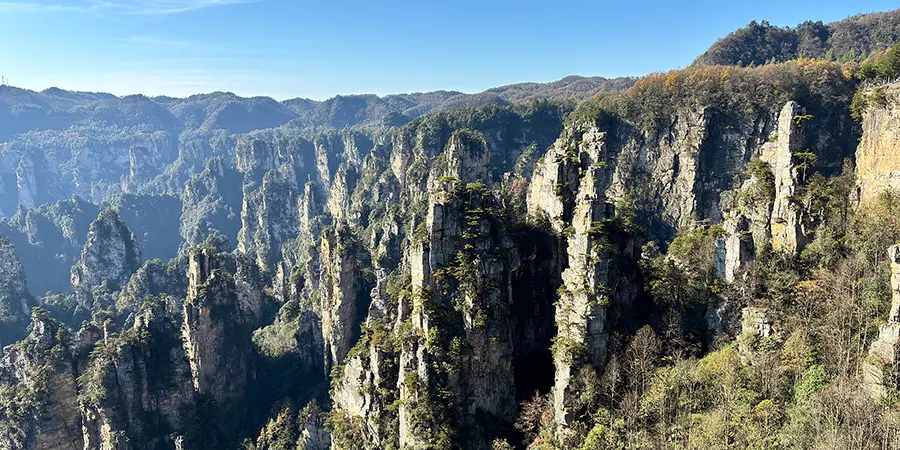 Tianzi Mountain in Winter
Cable Car in Tianzi Mountain Scenic Area
Visitors can take a cable car to see these charming peaks. With 692 meters' (about 2,270 feet) difference in elevation, the aerial tramway is 2,084 meters (about 2,279 yards) in length. The minimum running time is six minutes and twenty-two seconds for a single trip during which visitors can keep the wonderful scenery of the Tianzi Mountain in view.

Best Time to Visit Tianzi Mountain
The yearly average temperature is 12 degrees centigrade, and annual average rainfall is 1,800 millimeters. There are around 240 frost-free days. The best months to explore this mountain are April, May, September and October.

How to get to Tianzi Mountain Nature Reserve
Zhangjiajie Central Bus Station (to the northwest of
Zhangjiajie Railway Station
) has regular tourist buses to Tianzi Mountain and the bus journey takes about 80-90 minutes. Then take battery car inside the scenic area.
Entrance Fee
March to November: CNY 225 for adults and CNY 160 for children between 1.3 - 1.5 meters (4.3 - 4.9 feet)
December to February: CNY 115 for adults and CNY 85 for children between 1.3 - 1.5 meters
Free entry for children below 1.3 meters but they need to pay CNY 65 for the battery car.

1. With the validity of three consecutive days from March to November and four consecutive days from December to next February, the admission fee includes Zhangjiajie National Forest Park, Tianzi Mountain Nature Reserve, Suoxi Valley Nature Reserve, Yangjiajie Scenic Area and the battery car.
2. Tourists can pay CNY 3 to buy the insurance.
Cable Car (Single-trip)
CNY 72;
CNY 43 for children between 1.3 - 1.5m;
Free for children under 1.3m.
Opening Hours
7:00 - 18:00

Top 9 Things to Do in Zhangjiajie
- Last updated on Nov. 07, 2019 -
Questions & Answers on Tianzi Mountain Nature Reserve
Asked by Luana from BRASIL | Nov. 05, 2019 13:15

Reply
What time does the cable car of Tianzi Mountain closes?
How can I go up without getting the cable car? And until what time can I get down by cable car?
Answers (1)
Answered by Steven from USA | Nov. 07, 2019 16:42

0

0

Reply
The cable car runs from 7:00 to 17:30. You can walk up the path of mountain to the peak.
Asked by Jessie from PHILIPPINES | Sep. 12, 2019 18:34

Reply
Is it already icy in mid december in zhangjiajie? We are planning to go on December 16-19 2019.thank
Answers (1)
Answered by Adam from UNITED KINGDOM | Sep. 16, 2019 17:43

0

0

Reply
The temperature will be around 5-15C in December. You need to bring warm clothes like sweater, jacket, padded coat, etc.
Asked by Elsa Loh from SINGAPORE | Aug. 10, 2019 09:33

Reply
How is the Tianzi Mountain weather in early Nov? What is the temperature?
Answers (1)
Answered by Allison from UNITED KINGDOM | Aug. 12, 2019 23:19

0

0

Reply
According to the previous statistics, the temperature may range from 10C to 25C during that period of time. It will be cool and comfortable. You can prepare jackets, long-sleeved shirts, jeans and pants.
Asked by Eva from USA | Jul. 05, 2019 07:57

Reply
Can I go to Tianzi Mountain and Avatar Mountain in the same day?
Hi! We are planning to be in Zhangjiajie 3 days. One the 1st day we will go see Tianmen Mountain and on the last - sky bridge and Grand Canyon. But I want to know if I can squeeze Avatar Hallelujah Mountain and Tianzi Mountain in one day? Thank you
Answers (1)
Answered by Poppy from USA | Jul. 07, 2019 20:59

0

0

Reply
Yes, I think you can make it in the same day. There is direct bus you can take between these two attractions.
Asked by sadguna from INDIA | Sep. 29, 2018 02:30

Reply
can we take one way cable car to Tianzi Mountain & other time walking is possible
Answers (1)
Answered by Rena from USA | Sep. 29, 2018 20:48

0

0

Reply
Of course you can if you have good physical strength. A popular way is to take the cable car up to the mountain and go down on foot. The down ride may take about 2 - 3 hours on foot.