Zhangjiajie Nightlife
Although people of the Han Nationality are the principal part in Zhangjiajie, the populations of ethnic minority groups like the Tujia and Miao are sizeable. The night life is not as modern as that in the big cities, but it definitely has its own flavor.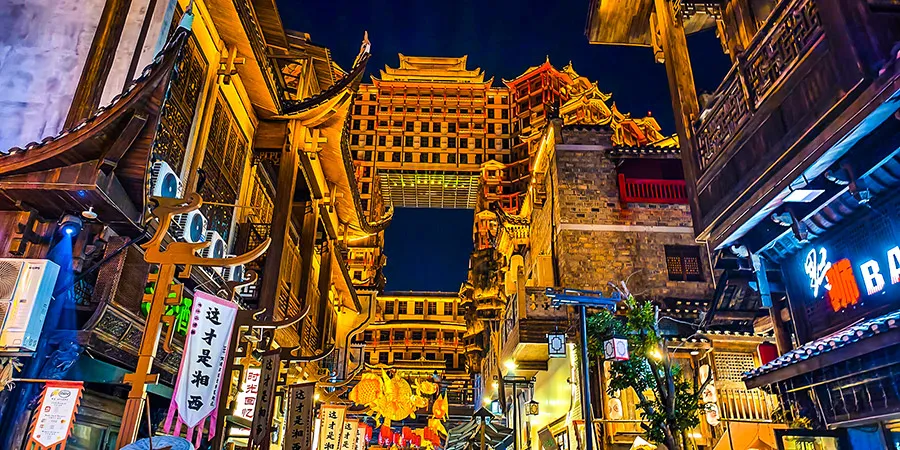 "Charming Xiangxi" Show
Tourism is a major industry in Zhangjiajie and people visit the city particularly to see the folk singing and dancing performances at night in Wulingyuan Scenic Area or at the Charming Xiangxi (refers to Zhangjiajie)Theatre. In Zhangjiajie there are two lists of plays of the folk singing and dancing performance: one is 'Charming Xiangxi' and the other 'Dream Zhangjiajie'. At the show of 'Charming Xiangxi', the actors all come from the local Tujia and Miao families, and their fair-sounding singing and multicolored folk finery are the highlights of the party. Performances of Xiangxi Magic and Xiangxi Ganshi (chucking corpse) add to the mysterious and thrilling luster of the show. The performance lasts for three hours, and it provides a window into the soul of the culture of Zhangjiajie.

At night, the streets of Zhangjiajie are full of vendors selling barbecue and local snacks. One such snack, Glutinous Rice Balls in Rice Wine Soup, is made of small glutinous rice balls, Chinese dates and sweet rice wine. This snack is not only very nutritious, but tasty as well. The cost is typically CNY1. Bean curd, grilled dried Tofu, Grilled Beef Skewers, and Grilled Mutton Skewers are very special local snacks found in the night market and are very inexpensive. Tujia Spicy Radish and pickled vegetables must be included in your tasting menu.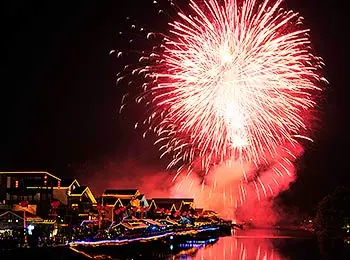 Zhangjiajie in Night
Drinks
The Tujia minority group has a long history of wine making. Their methods are fairly dainty and they use many different ingredients to make a wide variety of wines including: Rice Wine, Corn Wine, Kaoliang Spirits, Gegen Wine, and Snake Wine. Once you've tasted their wines, you will never forget the unique taste.

Bars
Half Past Eight Making-Friends Bar
Address: No.1 Beizheng Street, Yongding District

Shui Mo Fang Tea Bar
Address: No.3 Renmin Road

Teahouse
Dushi Long (City Dragon) Teahouse
Address: No.8 Renmin Road

Hong Taiyang (Red Sun) Teahouse
Address: aNo.27 Beizheng Street
- Last modified on Jun. 04, 2019 -
Questions & Answers on Nightlife in Zhangjiajie
Asked by Tan from MALAYSIA | Oct. 30, 2014 22:26

Reply
Where is Xiangxi dance show located in Wulingyuan scenic area in Zhangjiajie?
Where is it located? Inside the park or outside? What is the transport to go back to hotel after the show?
Answers (1)
Answered by Jerry from NETHERLANDS | Nov. 02, 2014 02:29

2

0

Reply
You may refer to the show played in the Beautiful Xiangxi Theatre. It is inside the Wulinyuan scenic area. If your hotel is in ZJJ city, after the show you have to take a private to get back.