Zhangjiajie Attractions - Things to Do
Top Things to Do

Zhangjiajie National Forest Park

Wulingyuan Scenic Area

Fenghuang Ancient Town

Tianzi Mountain Nature Reserve

Tianmen Mountain

Zhangjiajie Grand Canyon

Yuanjiajie

Top 9 Things to Do in Zhangjiajie
Recommended Tour
Beijing and Supernatural Zhangjiajie

From Zhangjiajie: Fenghuang Ancient Town
Due to its position between the Yunnan-Guizhou Plateau and the Dongting Lake, Zhangjiajie boasts of strange-shaped peaks and rocks, the hidden valleys, the wandering waters and the limestone caves. It needs some planning to create an itinerary that includes all the charming scenic spots so that you will not miss any beautiful scenery in the city. Mainly all the featured scenic spots centralize in the north part of the city -
Wulingyuan Scenic Area
which became China's first National Forest Park in 1983. The park is located in Hunan Province about 265 kilometers (about 165 miles) northwest of Changsha. The area is comprised of three major parklands-Zhangjiajie National Forest Park, Suoxiyu Nature Reserve and Tianzi (Son of Heaven) Mountain Nature Reserve. Additionally, Tianmen Mountain just south of the city is another 'must see' scenic area. Visitors should allow for plenty of time at each scenic area and a typical itinerary would include the following sequence:

How to Travel between Zhangjiajie and Fenghuang

Day 01: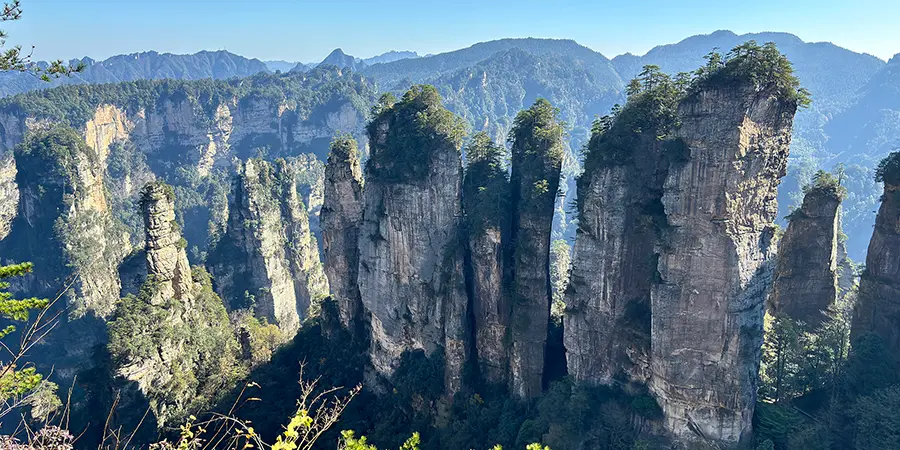 Zhangjiajie National Forest Park
Zhangjiajie National Forest Park
It is located in the southwest part of Wulingyuan and boasts pavilions, bridges, caves, lakes and waterfalls. Two of the most prominent scenic attractions are Golden Whip Stream and Yellow Stone Stronghold (Huangshi Zhai). Golden Whip Stream is about 7.5 kilometers (about 4.7 miles) long and is known for its pristine waters, steep cliffs and green mountains. Scenic highlights include Golden Whip Rock, Zicao Pond and Chonghuan Tree. Yellow Stone Stronghold rises about 800 meters (about 0.5 miles) above the ground and is characterized by overhanging cliffs and jagged rocks. Visitors will encounter unusual and beautiful sights such as Fir Forest Path, Heavenly Book and Precious Box, A Pillar Piercing the Southern Sky and Pick Star Platform. The best way to get to the top of the stronghold is by cable car; a one-way trip costs CNY48. Besides, Bailong Elevator can directly take visitors to the top of Zhangjiajie National Forest Park in 1 minute and 58 seconds; a single trip costs CNY72.

Getting there: Take the shuttle bus at Zhangjiajie long-distance bus station to the Zhangjiajie National Forest Park. The fare is CNY8.


Suoxi Valley Nature Reserve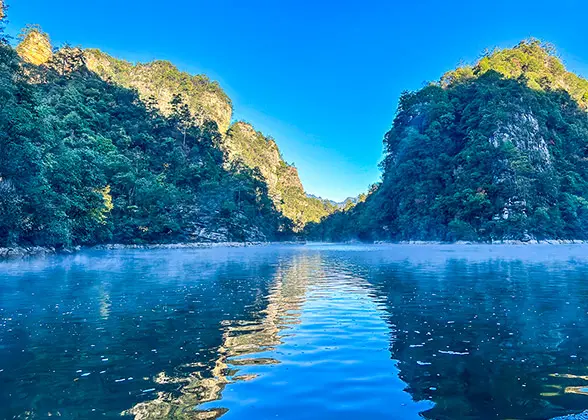 Baofeng Lake in Suoxi Valley
Suoxi Valley Nature Reserve is adjacent to Zhangjiajie National Forest Park and has many well-known places of interest. Among these are the stunning Bao Feng Gorges featuring the so-called 'Four Wonders' - Baofeng Lake, Baofeng Waterefall, Yingwo Stronghold and A Gleam of Sky. You can take a boat ride on the lake for about CNY62. Another popular destination is the Yellow Dragon Cave. This is actually a system of limestone caves that includes an underground stream, a waterfall, ninety-six passageways and thousands of stalagmites and stalactites.

Getting there: Since the above two scenic areas are very close, you can visit them within one day. There are shuttle buses from the Zhangjiajie National Park to Suoxi Valley Nature Reserve. Tour guides can show you where to take the bus.


Day 02:
Tianzi Mountain Nature Reserve
Located in the northern part of Wulingyuan, Tianzi Mountain rises 1,262 meters (about 0.8 miles) above sea level. The most popular tourist routes here are Yellow Dragon Spring>, Teaboard Tower, Lao Wu Chang, Feng Qi Mountain and Shi Jia Yan. You can take a cable car to see these charming sights. A one-way cable car trip costs CNY 52.

Getting there: You can catch the special shuttle bus at Suoxi Valley Nature Reserve to go to the Tianzi Mountain Nature Reserve.

Yangjiajie Scenic Area
This scenic area is not so well equipped with tourism facilities compared with other attractions of the city, but not crowded. By now, only three areas Xiangzi Stream, Qingfeng Gorge, and Hundred Monkey Valley have been opened, so at most half a day is enough for you to enjoy its wildness and beauty.

Getting there: From Tianzi Mountain, you can take the shuttle bus to get to Yangjiajie.

There are four entrances to the Wullingyuan Scenic Area: east gate (Wulingyuan ticket office is five kilometers (about 3 miles) from Suoxiyu County); west gate (Yangjiajie Ticket Office); south gate (Zhangjiajie Ticket Office is fifty kilometers (about 31 miles) from the city center) and north gate (Tianzi Mountain ticket office). In order to protect the natural environment, tourists can take environmentally friendly buses in some parts of the Scenic Area. The fares for these buses are included in the general ticket price of CNY248. The ticket is valid for three days in peak season adn four days in low season and includes admittance to the entire park except for Bao Feng Lake and Yellow Dragon Cave. Because of its central location, the Hostels in Suoxi Valley Nature Reserve are our accommodation recommendation. You can conveniently reach most of the Wulingyuan's scenic destinations from these hostels. There are many other places to stay in different locations as well.
| | |
| --- | --- |
| Tianmen Mountain | Zhangjiajie Grand Canyon |

Day 03:
Located just eight kilometers (about five miles) south of Zhangjiajie Village, Tianmen Mountain (Heavenly Door) Scenic Area has been designated as the second national forest park in Zhangjiajie. Rising nearly 1,520 meters (about 4,987 feet), Tianmen is the highest peak of the city and is regarded as the 'soul' of the scenic area. There are many graceful trees, karst hillocks and medicinal herbs and plants on the mountain. Tianmen also has its 'four wonders' - Tianmen Mountain Cableway, Tongtian Dadao (Avenue Leading to the Sky), Tianmen Cave and Bonsai Garden on Air. In addition, tourists can visit cultural scenic spots such as the Tianmen Mountain Temple and the Lingquan (Spring of Spiritualism) Temple.

Getting there: Take the bus No.5 in the city center and get off at Nanzhuangpin Station and then walk there.

Day 04:
Zhangjiajie Grand Canyon
Wandering on the plank roads in Zhangjiajie Grand Canyon, big or small waterfalls, meandering streams, dense forests and difform cliffs always accompany you on both sides. In addition, the fresh air must make you refreshed. You can also walk on the worldwide longest and highest Glass Bridge there.

Getting there: Take a long-distance bus from downtown or a shuttle bus from Wulingyuan Scenic Area to get to the canyon.

If you have more time to stay in Zhangjiajie, there are other places you may want to visit. Two popular destinations are the TuJia Folk Customs Park and the Puguang Buddhist Temple. You can take bus No. 5 in the city center to reach TuJia and the admission fee is CNY40. Bus No.1 and 7 can take you direct to Puguang from the railway station and the admission fee is CNY20. Another scenic spot you might enjoy is the Fenghuang Ancient Town located some 210 kilometers (about 130 miles) west of Zhangjiajie Village. Here you can experience that Chinese minorities lead a life of primitive simplicity unaffected by the ways of modern development.

- Last updated on Jun. 20, 2022 -
Questions & Answers on Zhangjiajie Attractions
Asked by katie from CHINA | Feb. 08, 2022 15:09

Reply
Are dogs allow at the Zhangjiajie parks?
I have a little corgi, would they allow dogs at the park?
Answers (1)
Answered by Judy | Feb. 23, 2022 10:29

0

0

Reply
No, pets are not allowed in the scenic area.
Asked by Alex from UKRAINE | Apr. 21, 2021 01:33

Reply
Camping in Zhangjiajie
Hi, I'd like to go camping. Are there any places in Zhangjiajie where you can stay in your tent for a night?
Answers (2)
Answered by Sebastian | Apr. 25, 2021 18:46

0

0

Reply
Yes, as I know, you can. Tianzi Mountain area is a recommended place.
Answered by Alex | Apr. 25, 2021 19:49

0

0

Reply
Thank you
Asked by Lukas from GERMANY | Oct. 06, 2019 04:02

Reply
Is it possible to visit Tianmen Mountain in one day from Wulingyuan?
I'm staying for 5 nights in Wulingyuan during December. Is it possible to make a day trip from there to Tianmen Mountain and return back to Wulingyuan in the evening? How would I do that and how long does it take?
Answers (1)
Answered by Jennie from USA | Oct. 12, 2019 02:23

0

0

Reply
It is doable. You can take bus to Zhangjiajie Coach station first, then take bus from there to Tianmen mountain, vice verse. It takes around 1.5 hours on the way.
Asked by Chirag Somani | Sep. 19, 2018 01:21

Reply
Is there any cheapest way to reach Nvue Resor? Like go through bus to some level and then take taxi.
Answers (1)
Answered by Fisia from USA | Sep. 20, 2018 02:01

0

0

Reply
Near the railway station, there is a bus station where there are buses to Wulingyuan scenic area. The ticket fare is about CNY15 -20 per person and the duration is about 1 hour. When you get off the bus, you can take a taxi to the hotel.