Incredible Zhangjiajie
SG08: 11 Days Small Group Tour of Beijing - Xi'an - Zhangjiajie - Shanghai
Tour Type:
Small Group of maximum 18 travelers, guaranteed departures
Guide & Driver:
English-speaking guide, experienced driver with an air-conditioned coach
Accommodation:
10 nights at good 5-star hotels
Meals:
10 western buffet breakfasts, 7 lunches with some being a la carte style, 1 dumpling dinner
Highlights:
Must-see sights in China - Mutianyu Great Wall, Forbidden City, Terracotta Army
See the floating mountains of Avatar in real life in Zhangjiajie Forest Park
Have an exciting walk on the world's highest and longest glass bridge
View the soaring city skylines and feel the pulse of modern Shanghai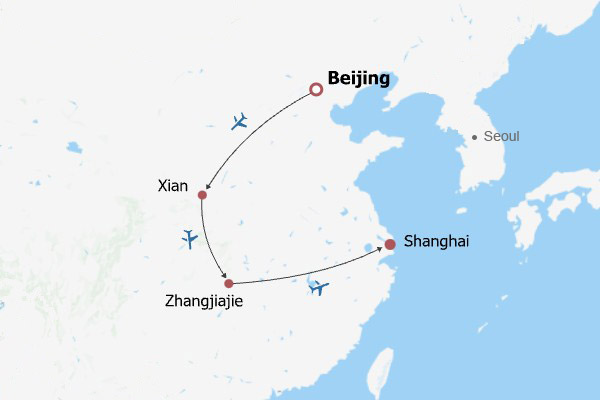 After your flight arrives at Beijing Airport, and you have claimed your luggage and cleared customs, you will meet your local guide at the exit. The driver will convey you to the hotel and assist you with checking in. The rest of the day is free for you to arrange.
Accommodation:
The Great Wall Hotel Beijing





- the former Sheraton
To start your China group tour, your guide will host a short pre-trip meeting at your hotel lobby this morning. This includes a final briefing and preparations for your trip. After that, you will begin the trip with a visit to
Tiananmen Square
. The majestic surrounding buildings, such as the Monument to the People's Heroes, the Great Hall of the People, the Museum of the Chinese Revolution, along with Tiananmen Gate which was built in the Ming Dynasty (1368 - 1644 AD) constitute this majestic square, a spectacular city site. Next, we will take you to explore the marvelous
Forbidden City
. Located in the city center, it is an excellent and unique masterpiece of ancient imperial architecture that shows the wisdom and technical ingenuity of the ancient people.
► Discover Less-known Spots in Forbidden City with Our Guide
Is there a hall superior to the Hall of Supreme Harmony in Forbidden City? Hall of Supreme Harmony is known for the highest specification in Forbidden City, and it was the place for major ceremonies. We can't find a hall superior in the building specification, but there are two halls played more important roles in ancient times, on the two sides of the square in front of Hall of Supreme Harmony. On the east side, Tiren Pavilion was the place for examinations once, to select erudite talents. Opposite to the Tiren Pavilion, Hongyi Pavilion on the west side was the royal treasury in Qing Dynasty, keeping gold, silver, jade, jewelry and more. Only with talents and money, the country could have a development.
After a busy morning of sightseeing, we will drive to a popular local restaurant for an
a la carte welcome lunch
where you are able to order the dishes of your choice (to a value of CNY150.00 per person, and included in our price). The roasted Peking duck is highly recommended.
Your journey then continues to the
Temple of Heaven
, which is the largest existing imperial altar in China. As well as enjoying the splendid architecture, you will also find local residents singing, dancing and reading in the park, which will offer you an opportunity to observe ordinary people's lives here.
Meals: Western buffet breakfast, A la carte welcome lunch
Our group at Tiananmen Square
Explore the Temple of Heaven
We believe that you have probably heard much about the Great Wall of China. Today you will visit the
Mutianyu
section of the Great Wall and have a chance to witness, in person, this extraordinary project in human history. A round trip cable car ride is included. Standing on the wall and appreciating its snaking path along the mountain ridges will certainly bring you unique feelings.
We suggest you have a large breakfast, because the visit lasts a whole day and the restaurants in the mountain area are not up to our standard. You may make your own arrangements to have some fast food for lunch at the site.
Later we will return to the city and leave you with free time to wander and explore a well-known lively market. You will be dazzled by the colorful goods of many kinds.
Meals: Western buffet breakfast
A gorgeous view of the Mutianyu Great Wall
Day 4
Beijing to Xi'an by Flight
After the hotel check-out, your guide will pick you up and take you to visit the world famous
Summer Palace
. Built in 1750, it represents the pinnacle in the Chinese traditional art of garden construction. Artfully taking advantage of the surrounding mountains and lakes, the Summer Palace not only represents a resplendent imperial garden, but also reflects the exquisite beauty of nature. Afterwards, we will pass by the
Olympic Bird's Nest
and you will have a short stop nearby to take some photos.
Then, we will take you to an upmarket local restaurant having fantastic food with
a la carte menu
(valued at CNY150.00 per person and included in our price).
After lunch, you will take a
Hutong
visit. Hutong is an alleyway, which has a history as long as Beijing city. Courtyards with gray bricks in the narrow residential alleys will leave you with a great impression of old Beijing. We have also specially arranged for you to experience Chinese Paper Cutting. In the late afternoon, you will wave goodbye to Beijing and catch the flight to Xi'an. Upon your arrival at Xi'an airport, your local guide and driver will welcome you and escort you to the hotel for checking in.
Meals: Western buffet breakfast, A la carte lunch
Accommodation:
Sheraton Hotel





Hutong rickshaw tour
Jade Belt Bridge in the Summer Palace
Begin the morning with a hearty breakfast at the hotel, then we will head for the
Terracotta Army
, which is famous for its incredible artistic skill displayed and its tremendous scale. In 1974, the army of terracotta warriors was discovered by local villagers when they were drilling a well. After a series of excavations by archeologists, this amazing hidden treasure was finally revealed to the world. This discovery not only made Chinese people proud of their forefathers, but amazed the whole world.
★
Travel Different:Want to Know Who First Discovered the Terracotta Army? Keep up Our Family Visit
The life-size clay figures shocked the world after its first appearance but few people know who, when, and how these clay soldiers are found. Today you will be guided to visit the home of the first discoverer of the Terracotta Warriors to acquire the answers. In 1974, Mr. Yang Zhifa first discovered these lifelike clay statues when he was digging a well and then the giant underground army was unearthed by archaeologists. It is possible for you to communicate with Mr. Yang's family members to learn more hiding stories about him and see the meaningful tools like a hoe and a wooden cart once used to dig out the clay pieces.
DIY a Mini Terracotta Warrior
Our next stop is to make a small terracotta warrior in Yaodong, a kind of Chinese cave dwelling. It is said all terracotta warriors were made in this kind of traditional cave dwelling as they can offer a moderate temperature. This is very important for clay figure making and you can try making a small size terracotta soldier here like an ancient artisan. Nevertheless, the whole making process is simplified now and takes about 40 minutes to complete. There will be an artisan giving a very detailed instruction about the whole process and you can follow it step by step. The body of statue is mainly made via a mold but the features of the face need to be sculptured by yourself. Even kids can enjoy making a cute cartoonish clay soldier and take the self-made work back home.
Lunch is on your own and our guide will gladly assist. Then you will visit the
Small Wild Goose Pagoda
, an ancient Buddhist tower, which was built more than 1,300 years ago and still stands in its elegance. Here you can also visit the newly built Xi'an Museum. This evening, you will enjoy a delicious
dumpling dinner
and appreciate the classic
Tang Dynasty Music and Dance Performance
.
Meals: Western buffet breakfast, Dumpling dinner

Friendly Tips
Clients visiting in Jan, Feb, Mar and Dec need to arrange the dinner and evening activity on their own for this day, since the theater is usually not open at that time.
The life-size Terracotta Army built more than 2,200 years ago
Day 6
Xi'an to Zhangjiajie by Flight
You will spend the whole morning visiting the City Wall area. First you will see the local people doing their morning exercises in the
City Wall Park
where you can also take part in the practice of Tai Chi. The master will teach you how to practice this set of Chinese Kung Fu exercises in order to keep fit and healthy. Then follow your guide to ascend the
City Wall
, which is the fortification for Xi'an city, built in the Ming Dynasty, a real ancient ruin. Having fun on the wall is easy, just hire a bike, ride around the old city wall, getting excited all the way, returning the bike when you get tired.
An
a la carte lunch
(valued at CNY120.00 per person and included in our price) will be served at a famous local restaurant.
Then you go on to the
Provincial History Museum
and the
Great Mosque
. After, you have time to wander around the Muslim Quarter. There are a lot of interesting knickknacks and traditional local snacks for you to sample. Then your guide and driver will escort you to the airport and help you board the flight to Zhangjiajie. On arrival, you will be greeted and taken to the hotel.
Meals: Western buffet breakfast, A la carte lunch
Accommodation: Pullman Zhangjiajie Hotel





An exciting day in the fantastic
Zhangjiajie National Forest Park
awaits you! Yuanjiajie Scenic Area, Tianzi Mountain Nature Reserve, Golden Whip Stream and Ten-mile Gallery are the main spots that you will explore today.
The spectacular Bailong Sight-seeing Elevator in Yuanjiajie rapidly takes visitors up to the mountain top, where you get a magnificent vista. Also, do not miss the chance to view the Avatar Hallelujah Mountains in the distance. Tianzi Mountain Nature Reserve is hailed as 'the Monarch of the Peak Forest', so you can imagine how magnificent it is. Golden Whip Stream, with overlapping peaks, rippling waters, verdant forests and tranquil valleys gives everyone a visual feast. Making your way through the Ten-mile Gallery is like a journey across a huge scroll of scenic paintings.
Meals: Western buffet breakfast, Lunch
Admire the natural landscape in Zhangjiajie Forest Park
Today, your forest park exploration continues to the world's highest and longest glass bridge at
Zhangjiajie Grand Canyon
. You will have a chance to challenge your courage. Later, you will take a boat excursion on the Baofeng Lake, which offers you fresh air and the opportunity to capture a lot of beautiful photos.
Meals: Western buffet breakfast, Lunch
Challenge the glass bride at Zhangjiajie Grand Canyon
Day 9
Zhangjiajie to Shanghai by Flight
Today we get the chance to take the world's longest cable car to ascend
Tian Men Mountain
, eight kilometers away from Zhangjiajie city area. Its name comes from the natural wonder Tianmen Cave, which is like a portal to the heaven. Our sightseeing ends in the afternoon, and then we set out for the airport for the flight to Shanghai. Your guide will welcome you at the airport in Shanghai and transfer you to the reserved hotel for checking in.
Meals: Western buffet breakfast, Lunch
Accommodation: Radisson Blu Hotel Shanghai New World





Shanghai Museum
is a beautiful site with modern interior and exterior, and with excellent, well organized displays covering ancient Chinese bronzes, paintings, ceramics, ethnic minority arts and crafts, and even ancient Chinese currencies. After seeing so many antiques, we will transfer you to
Yu Garden
, a beautiful garden with a history of more than 400 years. Every bridge, hall, pavilion, pond, rockery in the garden has its own personality. With the tour guide's detailed introduction, you will learn some of the characteristics of a traditional Chinese garden. Later, we will leave you with some time at the nearby Yu bazaar, full of traditional commodities, in the old City God Temple area of Shanghai.
An
a la carte lunch
(valued at CNY120.00 per person and included in our price) at a popular local restaurant follows.
Shanghai boasts China's tallest building, Shanghai Tower. This afternoon, we will head to its 52nd floor to visit the tallest book store in China and even in the world. Taking the world's fastest elevator, we will soon arrive at the fancy "Duo Yun Book Store". Its Chinese name means that the book store is built above the cloud, very romantic and beautiful. It also features a fantastic view platform where you can overlook the Huangpu River and see other landmarks like the Oriental Pearl Tower at a height of 239 meters (784 ft.). Enjoying a coffee break and appreciating the stunning skyline of the city would be one of the best things to do on your China tour. And then go to
the Bund
, where you will have a short
cruise tour
along the Huangpu River. Then you will have the opportunity to take some free time to walk around the Bund and see the different styles of buildings along one side, and boats, big and small, traveling along the Huangpu River. It is a must to see this great view in Shanghai. Your amazing trip comes to an end when your guide and driver transfer you back to the hotel and bids you bon voyage.
Meals: Western buffet breakfast, A la carte farewell lunch
Local people playing Tai Chi at the Bund area
Day 11
Departure from Shanghai
As this is the last day of your vacation, after having breakfast at the hotel you will need to prepare for your departure flight. You can take a taxi to Pudong airport, about a 1.5-hour drive. We wish you a safe journey home and we will be always happy to serve you again in the future.

Meals: Western buffet breakfast
B-- Breakfast
L-- Lunch
D-- Dinner
Prices are per person in US Dollars; departures are guaranteed even with two persons!
Special Deal
10% off
- book 60 days before,
5% off
- book 30 days before
Arrival Date
Departure Date
Double Occupancy
Single Room Supplement
May 19(Fri)
May 29(Mon)
$3069
$829
May 26(Fri)
Jun 05(Mon)
$3069
$829
Jun 02(Fri)
Jun 12(Mon)
$3059
$789
Jun 09(Fri)
Jun 19(Mon)
$3059
$789
Jun 16(Fri)
Jun 26(Mon)
$3059
$789
Jun 23(Fri)
Jul 03(Mon)

$3059

$2906

$789
Jun 30(Fri)
Jul 10(Mon)

$3099

$2944

$789
Jul 07(Fri)
Jul 17(Mon)

$3099

$2944

$789
Jul 14(Fri)
Jul 24(Mon)

$3099

$2944

$789
Jul 21(Fri)
Jul 31(Mon)

$3099

$2944

$789
Jul 28(Fri)
Aug 07(Mon)

$3099

$2789

$789
Aug 04(Fri)
Aug 14(Mon)

$3099

$2789

$789
Aug 11(Fri)
Aug 21(Mon)

$3099

$2789

$789
Aug 18(Fri)
Aug 28(Mon)

$3099

$2789

$789
Aug 25(Fri)
Sep 04(Mon)

$3099

$2789

$789
Sep 01(Fri)
Sep 11(Mon)

$3099

$2789

$849
Sep 08(Fri)
Sep 18(Mon)

$3099

$2789

$849
Sep 15(Fri)
Sep 25(Mon)

$3099

$2789

$849
Sep 22(Fri)
Oct 02(Mon)

$3099

$2789

$849
Oct 06(Fri)
Oct 16(Mon)

$3099

$2789

$849
Oct 13(Fri)
Oct 23(Mon)

$3099

$2789

$849
Oct 20(Fri)
Oct 30(Mon)

$2939

$2645

$849
Oct 27(Fri)
Nov 06(Mon)

$2939

$2645

$849
Nov 03(Fri)
Nov 13(Mon)

$2939

$2645

$849
Nov 10(Fri)
Nov 20(Mon)

$2939

$2645

$849
Dec 08(Fri)
Dec 18(Mon)

$2859

$2573

$759
Dec 22(Fri)
Jan 01(Mon)

$2859

$2573

$759
Remark: The prices in red reflect the current discount.
Prices are per person in US Dollars; departures are guaranteed even with two persons!
Special Deal
10% off
- book 60 days before,
5% off
- book 30 days before
Arrival Date
Departure Date
Double Occupancy
Single Room Supplement
Jan 06(Sat)
Jan 16(Tue)

$2419

$2177

$649
Feb 24(Sat)
Mar 05(Tue)

$2479

$2231

$669
Mar 11(Mon)
Mar 21(Thu)

$2479

$2231

$669
Mar 25(Mon)
Apr 04(Thu)

$2479

$2231

$669
Apr 08(Mon)
Apr 18(Thu)

$2589

$2330

$699
Apr 19(Fri)
Apr 29(Mon)

$2589

$2330

$699
May 10(Fri)
May 20(Mon)

$2589

$2330

$699
May 24(Fri)
Jun 03(Mon)

$2589

$2330

$699
Jun 10(Mon)
Jun 20(Thu)

$2579

$2321

$669
Jun 21(Fri)
Jul 01(Mon)

$2579

$2321

$669
Jul 05(Fri)
Jul 15(Mon)

$2609

$2348

$669
Jul 19(Fri)
Jul 29(Mon)

$2609

$2348

$669
Aug 02(Fri)
Aug 12(Mon)

$2609

$2348

$669
Aug 16(Fri)
Aug 26(Mon)

$2609

$2348

$669
Sep 06(Fri)
Sep 16(Mon)

$2609

$2348

$719
Sep 16(Mon)
Sep 26(Thu)

$2609

$2348

$719
Oct 07(Mon)
Oct 17(Thu)

$2609

$2348

$719
Oct 18(Fri)
Oct 28(Mon)

$2479

$2231

$719
Nov 01(Fri)
Nov 11(Mon)

$2479

$2231

$719
Nov 15(Fri)
Nov 25(Mon)

$2479

$2231

$719
Dec 08(Sun)
Dec 18(Wed)

$2419

$2177

$649
Dec 22(Sun)
Jan 01(Wed)

$2419

$2177

$649
Price Includes
Domestic airfares
Hotel accommodation with breakfasts
A la carte lunches as itinerary specifies
Professional English-speaking guides
Drivers & air-conditioned vehicles
Entrance fees to tourist sites
Tips or gratuities for hotel porters
Price Excludes
International airfares
Entry Visa fees
Personal expenses
Tips or gratuities for guides and drivers
Why Travel With Us
Itineraries you may also like:
Customer Reviews

Questions & Answers
Posted on September 25, 2019

Well organised small group tour. We had very good time in china. The guides were excellent, had good knowledge about their area. Hotels all were 5star quality. Travel china went all out to arrange vegetarian food for us. Bit problem in zanghiaje as the vehicle used were too small for four of us. Later they rectified. Choice of restaurant used could be better in zangjiage. Over all we are 100% satisfied with travel china. We will recommend them if any one want to visit china.

Posted on December 15, 2018

Our experience would rate a 10 on a scale of ten. We dealt with our travel consultant Wendy Lee. She was very professional and attentive to our needs. We also had concerns with wiring funds overseas to a stranger. As it turned out our fears were misplaced. Wendy furnished us with four superb guides in all four cities. They were very knowledgeable, courteous, and helpful in all details. The hotels arranged

were 5 star and no complaints at all. The food arrangements also excellent-we gained weight, even though using chop sticks for the first time.

...

More

Posted on December 01, 2018

Our tour of 13 days, Beijing, Xian, Zhangjiajie and Shanghai. We had a great time!(with 2 additional days in Shanghai). So much to see, in so little time. I give my complements to the four guides, Candy, Lily, LJ and Chris, keeping track of our small group with so many people around. Guides were very knowledgeable in the history of all the locations visited. The pace of a couple places visited, were

rushed. I think if we had eliminated, the Kung Fu Show, Jade shop, Pearl shop and Silk shop, we could had more time at the sights. The hotels were excellent. Having spend additional time in Shanghai, it could had been ideal for the hotel to be closer to the French Concession and Tianzifang area. Since there were more eateries and shopping for our free time. The family hosting our luncheon in Xian was EXCELLENT. The rickshaw ride was quite fun.

The Dumping diner was tasty, so many to savor our taste buds. There is so little time among all the places to see and being a museum buff, that given only an hour to visit the Provincial History Museum and Shanghai Museum was a bummer. My favorite place, because I love the outdoors, was Zhangjiajie. OH MY!, what a beautiful place to be at. LJ, our guide, extremely handsome man, took the time to show what a magnificent and splendid place to be in. To finally come to visit China, on this it gave me the thought to come for another visit in the future.

...

More