Fenghuang Ancient Town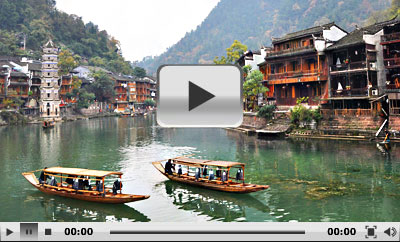 Fenghuang Ancient Town Pictures
Fenghuang Ancient Town, aka Phoenix Ancient Town and Feng Huang Gu Cheng in Chinese, is situated on the western boundary of Hunan Province in an area of outstanding natural beauty where mountains, water and blue skies prevail. 'Fenghuang' is Chinese for 'Phoenix', the mythical bird of good omen and longevity that is consumed by fire to be re-born again from the flames. Fenghuang Ancient Town is so called as legend has it that two of these fabulous birds flew over it and found the Fenghuang Town so beautiful that they hovered there, reluctant to leave.

Upon arrival visitor will be impressed by its air of mystery, elegance and primitive simplicity. The scenic spots inside the Fenghuang Old Town remain attracting the whole year, but the best time to visit is July to September, when the weather is rather pleasant. This is a world that is dominated by the colour green. The mountain slopes are covered with green foliage, the fields are green and even the Tuo Jiang River reflects the greenery. The bridges over the water and unique houses built on stilts display a harmony that is so often portrayed in traditional Chinese paintings. This is particularly true when mist pervades the scene in the early morning or after rain. It soon becomes apparent that the claim to being one of the two most beautiful towns in the whole of China is more than justified; the other town is Chang Ting in Fujian Province.
Fenghuang Ancient Town

, Zhangjiajie, Hunan

Locals wash clothes beside Tuojiang River
Fenghuang Ancient Town
is a wonderful example of what villages were like prior to the onset of modernization. Here dozens of alleys paved with flagstones run between the houses, each showing wear caused by the feet of generations of local people who have used them when going about their daily business. For the visitor, these alleys are the way to see the typical high gabled wooden houses built on stilts along the banks of the Tuo Jiang River at close quarters.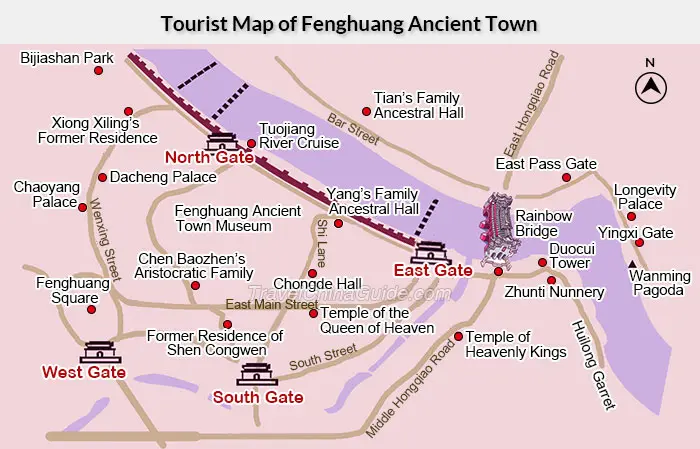 Tourist Map of Fenghuang Ancient Town

See more
Fenghuang Maps
Tuo Jiang River
Stretching diagonally from the northwest to southeast of the Fenghuang Ancient Town, Tuo Jiang River is a life force of the local people. Here in its waters women wash their clothes and the men fish with their nets, while on the bank food is prepared in much the same way as it has for centuries. The river also provides a means for boatmen to support their families by ferrying visitors up and down stream for sightseeing.
| | |
| --- | --- |
| Rippling Tuojiang River | Tian Family Ancestral Temple |
Miao Village
The
Miao ethnic minority
is predominantly settled here and a visit to a Miao village is a must when going to Fenghuang. The Miao women have a natural beauty that renders the use of cosmetics quite unnecessary. They love to dress in traditional blue garments set off with a white scarf. They love also their silver jewellery especially during festivals. Visitors will find a large array of hand made items of silver ornaments for sale in the local shops. Home made tie-dyes, printed and batik cloths are other local specialities that make wonderful souvenirs. The Miao are friendly and hospitable and like nothing more than to interact with visitors with a variety of traditional entertainments and activities. Food here also is different from that found elsewhere in China. Pickled red peppers are a particular local delicacy and their appetizing smell wafts from the many small family run restaurants.
Buildings in
Fenghuang Ancient Town
Fenghuang Ancient Town
does not rely entirely upon natural beauty to attract the visitor for this ancient town with a history spanning 1,300 years has a number of remarkable old gardens as well as distinctive residential buildings, elegant bridges and mysterious towers and pagodas. These architectural delights date from the Ming and Qing Dynasties (1644-1911). Those of special interest are the Wengchen Pavilion, Huang Si Qiao Castle, Tian Wang Temple, Da Cheng Hall, Chao Yang Palace, and the tomb of Shen Congwen and the residence of Xiong Xiling. Here too there are the North Gate and South Great Wall both excellent examples of municipal fortification.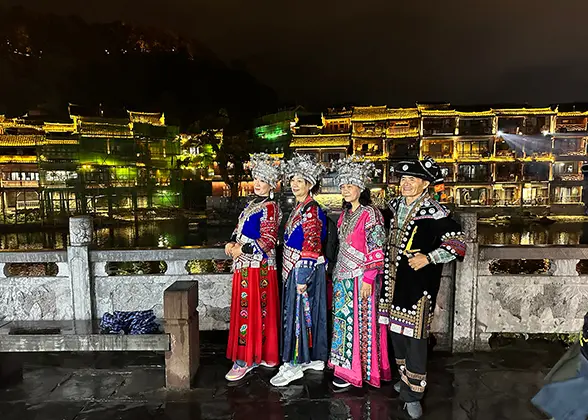 In many ways, life has not changed here for centuries and this is typified by the tough, hard working yet simple-hearted people. The town offers the visitor from both home and abroad a view of a quite different China from anything experienced in the modern cities and large conurbations that are more widely known. We are sure that the opportunity to travel in such a picturesque region will be remembered as an experience of a lifetime.
Famous People from the Town
Fenghuang Ancient Town was home to the versatile writer Shen Congwen (1902-1988) who contributed greatly to the development of modern Chinese literature. Venerated by the local residents, the one time home and the tomb of this famous writer have become tourist attractions.

There are two other notable people from the town worthy of mention. The first is Xiong Xiling the famous philanthropist who was the first premier of the Republic of China (1921-1949) following the fall of the Manchu. The other famous citizen is Huang Yongyu, an outstanding contemporary painter in the traditional Chinese style. His frescoes illustrating Buddhist stories in the Zhunti Nunnery are a major tourist attraction.

How to get to
Fenghuang Ancient Town
From Changsha
Schedule
Ticket Price
Duration
South Bus Station
15:40
CNY 134
around 5.5 to 6.5h
West Bus Station
09:00, 10:50, 14:20, 16:50
CNY 145
Changzhutan Bus Station
07:30, 10:00, 13:30, 16:20
CNY 158
Lituo Express Bus Station
12:30, 16:00
CNY 149

See also:
How to Travel between Changsha and Fenghuang
From Zhangjiajie
Central Bus Station (near the Zhangjiajie Railway Station):
Bus schedule: 08:30, 09:00, 10:00, 12:30, 14:30, 15:30, 16:20 and 17:20
Bus fare: around CNY 80
Duration: around 4 hours

Or alternatively, you can take regular buses from the bus station to Jishou first. It costs around CNY 55 per person. The whole journey is around 2.5 hours. Upon arrival, you can take regular bus to get there. It takes around 1 hour.

Zhangjiajie Airport is also a choice. Upon arrival, visitors can catch a taxi to the Central Bus Station. Then refer to the instruction above.



See also: How to Travel between Zhangjiajie and Fenghuang

From Tongren
Tongren Tourist Bus Station (near Tongren Railway Station):
Buses depart around every one hour from 08:40 to 16:30. Bus fare is around CNY 20. It takes about 1.5 hours.

Tongren Fenghuang Airport:
It is a feeder airport about 30km from Fenghuang Ancient Town. It offers flights to and from Beijing, Changsha, Guiyang (Guizhou Province), Guangzhou, Hangzhou, Kunming, Nanjing, Shanghai at present. Visitors can take tourist bus from the airport to reach the town directly, which takes around 1 hour.

From Jishou
Turn to Jishou North Bus Station near Jishou railway station. There are regular buses to Fenghuang Ancient Town, 80 minutes. Bus fare is around CNY 25.

From Huaihua
If visitors arrive at Huaihua Railway Station, they can take bus 7, 8, 48, 116, 204 or K204 to West Bus Station. There are regular buses to the town. It takes around 1.5 hours. Bus ticket is around CNY 39. Arriving at Huaihua South Railway Station, they can take bus 116 or K12 to the bus station.



See also: How to Travel between Fenghuang and Guilin
Entrance Fee

Visitors don't need to pay for admission of the ancient town, but they need to buy a ticket if they want to visit the scenic spots inside.

Combo ticket: CNY 128 (including Former Residence of Shen Congwen, Formal Residence of Xiong Xiling, Yang Family Memorial Temple, East Gate Tower, daytime boat ride on Tuojiang River, Longevity Palace, Chongde Hall, Fenghuang Ancient City Museum, and Hongqiao Art Museum)
Note: The combo ticket is valid for two days. A visitor can enter the above-mentioned spots once within the validity of the ticket.

Opening Hours
The town opens all day.

Fenghuang Ancient Town Community Fenghuang Ancient Town Photo Album



Further Reading
Top 9 Things to Do in Zhangjiajie
Top 10 Ancient Cities in China
- Last updated on Nov. 29, 2021 -
Questions & Answers on Fenghuang Ancient Town
Asked by arty from AUSTRALIA | Sep. 29, 2020 20:09

Reply
what is the easiest way from Wulong to Fenghuang?
I'd like to travel from Wulong to Fuenghung. What is the best way? bus or train? and how can I do that?
Thank you.
Answers (1)
Answered by Adalyn | Sep. 29, 2020 20:23

0

0

Reply
You are suggested to take normal speed train from Wulong Railway Station to Huaihua Railway Station first. Then walk west around 850 meters to find the West Coach Station. There are several coaches that can take you to Fenghuang.
Asked by divan from CZECH | Jan. 22, 2020 07:57

Reply
Hi, we are planning to spend 3 days in Zhangjiajie.
Is it worth to stay one more day in order to do a day trip to Furongzhen - in the morning there and in the evening back to Zhangjiajie? Or is it better to spend mentioned additional day in Zhangjiajie National Forest Park? How much time would we spend in bus Zhangjiajie - Furongzhen? Thank you.
Answers (1)
Answered by Antonio from FINLAND | Feb. 01, 2020 18:51

0

0

Reply
Yes, it is worth to stay one more day to tour around Furong Town. One day is enough for the round trip. You can spend two days in Zhangjiajie National Forest Park.
Generally speaking, the bus takes around 1.5 hours on the way.
Asked by How Lee Fong from MALAYSIA | Jan. 16, 2020 08:18

Reply
What is the distance from Phoenix city to Zangjiejie airport ?
How long it will take (duration time)
Answers (1)
Answered by Lucille from FINLAND | Jan. 16, 2020 22:05

0

0

Reply
The distance is around 220 kilometers.
About the transportation, you need to take a coach to Zhangjiajie Central Coach Coach. The duration is around 3.5 hours on the way. After arriving, take a taxi to the airport. It takes around 15 mins on the way.
Asked by RIETEPETIT | Jan. 10, 2020 01:28

Reply
How to get from Fenghuang to Kaili (or Xijiang)?
Hallo,
How to get from Fenghuang to Kaili? Are there direct busses to Kaili? How long is the journey? Our destination is Xijiang and then Congjiang...
Answers (1)
Answered by Phil from USA | Jan. 12, 2020 19:34

0

0

Reply
Sorry, there is no direct bus you can take between Fenghuang and Kaili. Maybe you can take bus from Fenghuang Bus Station to Jishou, then take train to Kaili.
Asked by elaine ng from MALAYSIA | Dec. 25, 2019 06:50

Reply
Hi! is there any bus from Furong to Fenghuang?
Answers (1)
Answered by Sammy from USA | Dec. 25, 2019 18:45

0

0

Reply
Yes, but you need to take bus to Jishou first, then take bus to Fenghuang.