Bailong Elevator
Located in Yuanjiajie, Wulingyuan Scenic and Historic Interest Area of Zhangjaijie, Bailong Elevator is the highest, fastest, fully exposed outdoor double-decker sightseeing elevator with the largest capacity in the world. Bailong Elevator goes up and down very fast with a speed of 3 meters per second (10 feet/s), which can finish a height of 326 meters (1,070 feet) within 1 minute and 58 seconds. It connects Yuanjiajie, Tianzi Mountain, Golden Whip Stream and other main scenic areas together, leaving more time for tourists to enjoy the beauty of Zhangjiajie.

The Highest Outdoor Sightseeing Elevator in the World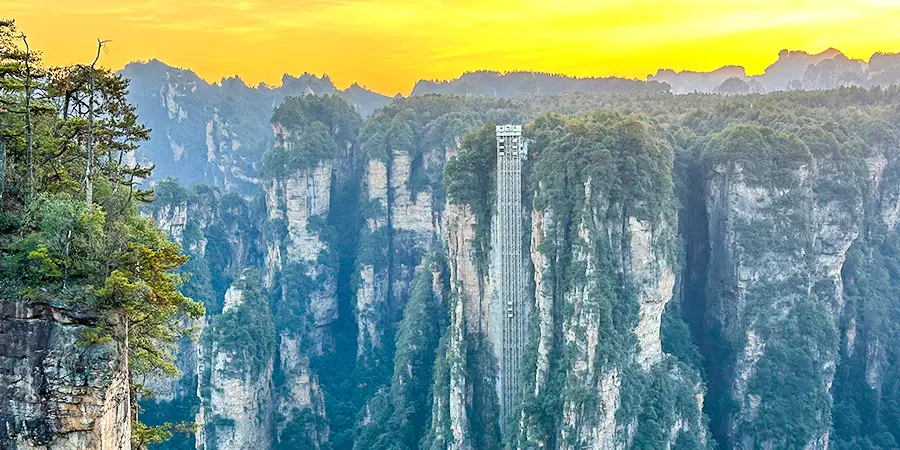 Bailong Elevator
With a vertical height of 335 meters (1,100 feet) and a running height of 326 meters, Bailong Elevator is acknowledged as the highest sightseeing elevator in the world. It mainly contains two parts in structure: 154 meters' (500 feet) solid well inside the mountains and 172 meters' (560 feet) steel derrick against the mountains. How long did it take to build Bailong Elevator? It is not easy to build this elevator, taking 2 years and 7 months from September of 1999 to April of 2002, costing CNY 180 million.

The Fastest Sightseeing Elevator in the World
Normally, it takes the elevator only 1 minute and 58 seconds to run from the foot to top of the mountain, and the running speed of the elevator gets to 3 meters per second. The fastest running speed can reach 5.5 meters per second (18 feet/s) and the whole riding lasts only 66 seconds. In the previous days when there was no elevator, it took tourists about 2 hours to climb up to the mountain top.

The Sightseeing Elevator with the Largest Capacity in the World
With three double-decker fully exposed sightseeing elevators, Bailong Elevator has the largest capacity among all sightseeing elevators all over the world. Three elevators run side by side to serve tourists and one elevator can bear up to 50 persons. When three elevators are in service at the same time, Bailong Elevator can serve 4,000 tourists per hour.

Why Take Bailong Elevator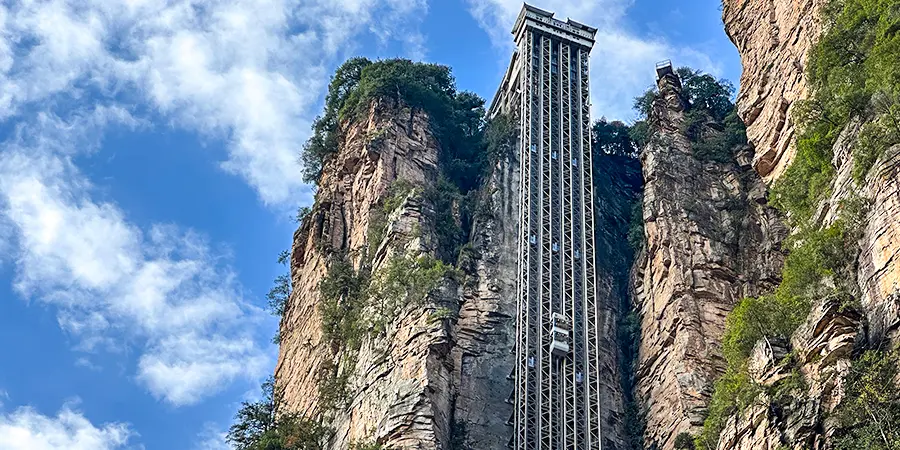 1. It connects Yuanjiajie, Tianzi Mountain and other main scenic areas together, saving a lot of time for tourists to explore and visit the scenic sites.
2.
The elevator is made of glass and transparent. During the ride, passengers can appreciate the Magic Gathering, one of the greatness in Zhangjiajie, and Gardens in Air, local residents' cottages scattering on the top of the opposite mountains, harvesting a novel sightseeing experience.
Tips for Taking Bailong Elevator
1. Standing beside the windows to better appreciate beautiful scenery. But this is not advised for those with fear of heights.
2. In peak season, it usually takes around half an hour to queue in line to get onboard. Therefore, it is suggested to take it in the early morning where there are relatively less tourists.
3. Tourists buying a round-trip ticket can go through exclusive channel without queuing.
4. Bailong Elevator is open all the time, except snowy days and other bad weathers.

How to Get to Bailong Elevator
There are 5 ticket windows in Zhangjiajie National Forest Park. The nearest one to Bailong Elevator is Zimugang Ticket Office, also known as Shuiraosimen Ticket Office. From Shuiraosimen Ticket Office, tourists can follow direction signs walking to Bailong Elevator in about 15 minutes. From Zhangjiajie National Forest Park ticket office, battery cars are available for the transfer. It is not recommended to get to the elevator from other ticket offices, for the distance is far and there is no transportation available.

Ticket Fare

CNY 72 for a single trip; CNY 144 for a round-trip;

CNY 43 for children between 1.3 - 1.5m (4.3 - 4.9 feet).

Free for children below 1.3m.

Opening Hours
09:00-18:00
- Last updated on Oct. 28, 2019 -
Questions & Answers on Bailong Elevator
Asked by Dharam from SINGAPORE | Oct. 25, 2019 00:57

Reply
About Zhangjiajie National Forest Park
Is there a discount for foreigner 60 year and above for train & bus ride in china?
Answers (1)
Answered by Alex from UNITED KINGDOM | Oct. 28, 2019 01:31

0

0

Reply
Chinese elders over 60 years old can enjoy discount policy, but I'm not sure whether foreigners can enjoy it. You can take your passport in case you need it.