Zhangjiajie Travel Guide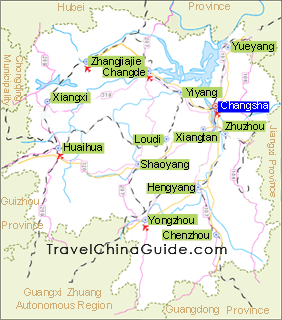 Zhangjiajie City is located on the northwestern border of Hunan Province. Covering an area of 9,516 square kilometers (about 3,674 square miles), there are four areas under its governance: Yongding District and Wuling District, Cili County and Sangzhi County. The city enjoys subtropical moist mountain climate, thus for visitors it is an ideal place to spend one's holiday.


Pictures of Zhangjiajie

The city features a variety of different terrains including: mountainous regions, upland areas, plains, and Karst rock areas. Among these, the mountains cover 76 percent of the total area. The world-famous natural heritage site 'Wulingyuan Scenic Area' is located on the base of these great mountains. Areas worth visiting include Zhangjiajie National Forest Park (known as China's first national forest park), Suoxiyu Nature Reserve, and Tianzi Mountain Nature Reserve. The scenic area hosts many natural features including: mountains, forests, caves, lakes and waterfalls and perhaps there are more than three thousand rock ridges and eight hundred ghylls. They enjoy the reputation of 'Original Picture on Mountain and River of China'. This wonderland is covered with dense forests and is considered Mother Nature's Oxygen Bar.

One of the most interesting things to do here is the experience of drifting on the Maoyan River. The Maoyan River is the upper reach of the Li River in Yongding District. The length for drifting is 25 kilometers (about 16 miles) and the zigzags in the river offer an exhilarating ride. There are four wonders on the Maoyan River: Bangtou Spring, Jianxie (intermittent) Spring, Yan (salt) Spring and Pen Wu (spout mist) Cave. These scenic spots cover the river with a mysterious color. The most renowned scenic spot is the Shui Dongzi (water hollow) Waterfall. On the bank opposite the waterfall there are several huge rocks which provide a perfect natural observation platform. This is an ideal place for visitors to take photos.

Top 9 Things to Do in Zhangjiajie
| | |
| --- | --- |
| Zhangjiajie National Forest Park | |

Classic 3 Days Zhangjiajie Tour from $389


4 Days Zhangjiajie In-depth Tour from $529


5 Days Private Tour of Zhangjiajie & Fenghuang from $629


5 Days Private Shanghai & Zhangjiajie Tour from $859
Transportation here is very convenient. Zhangjiajie Hehua International Airport has flights to destinations such as Beijing, Shanghai, Guangzhou, Xian, Nanjing, Nanning and Yinchuan, as well as Taipei and Busan. Train routes extend to Guangzhou, Beijing, Zhanjiang, Changsha and Wuxi. The highways extend in all directions, and it is worthwhile to mention that a superhighway connects Changsha and the city. New roads connect the city center to a number of scenic areas, making travel by car very convenient.
The history of Zhangjiajie can be traced back to the Neolithic Age. There are three main ethnic minority groups Tujia, Bai, Miao and other 29 minority groups living harmoniously with the Han Nationality. Many different folk cultures converge here and the visitor can experience the various folk-customs, clothing, decorations, dance and music. In 2006, Folk Songs of Sangzhi County, Hands-waving Dance of Tujia Ethnic Group, Maogusi Dance, and The Crafts of Tujia Brocade were all listed in the Protection Catalog of Chinese Intangible Cultural Heritage. The people here are all very hospitable and visitors immediately feel at home. And local snacks may become travelers' favorite.
| | | |
| --- | --- | --- |
| Phoenix Ancient Town | Tuojiang River | Stall selling handicrafts |
- Last modified on Sep. 21, 2018 -