Zhangjiajie Travel Guide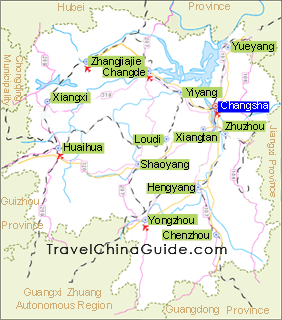 Zhangjiajie City is located on the northwestern border of Hunan Province. Covering an area of 9,516 square kilometers (about 3,674 square miles), there are four areas under its governance: Yongding District and Wuling District, Cili County and Sangzhi County. The city enjoys subtropical moist mountain climate, thus for visitors it is an ideal place to spend one's holiday.


Pictures of Zhangjiajie

The city features a variety of different terrains including: mountainous regions, upland areas, plains, and Karst rock areas. Among these, the mountains cover 76 percent of the total area. The world-famous natural heritage site 'Wulingyuan Scenic Area' is located on the base of these great mountains. Areas worth visiting include Zhangjiajie National Forest Park (known as China's first national forest park), Suoxiyu Nature Reserve, and Tianzi Mountain Nature Reserve. The scenic area hosts many natural features including: mountains, forests, caves, lakes and waterfalls and perhaps there are more than three thousand rock ridges and eight hundred ghylls. They enjoy the reputation of 'Original Picture on Mountain and River of China'. This wonderland is covered with dense forests and is considered Mother Nature's Oxygen Bar.

One of the most interesting things to do here is the experience of drifting on the Maoyan River. The Maoyan River is the upper reach of the Li River in Yongding District. The length for drifting is 25 kilometers (about 16 miles) and the zigzags in the river offer an exhilarating ride. There are four wonders on the Maoyan River: Bangtou Spring, Jianxie (intermittent) Spring, Yan (salt) Spring and Pen Wu (spout mist) Cave. These scenic spots cover the river with a mysterious color. The most renowned scenic spot is the Shui Dongzi (water hollow) Waterfall. On the bank opposite the waterfall there are several huge rocks which provide a perfect natural observation platform. This is an ideal place for visitors to take photos.

Top 9 Things to Do in Zhangjiajie
| | |
| --- | --- |
| Zhangjiajie National Forest Park | |

Classic 3 Days Zhangjiajie Tour from $389


4 Days Zhangjiajie In-depth Tour from $529


5 Days Private Tour of Zhangjiajie & Fenghuang from $629


5 Days Private Shanghai & Zhangjiajie Tour from $849
Transportation here is very convenient. Zhangjiajie Hehua International Airport has flights to destinations such as Beijing, Shanghai, Guangzhou, Xi'an, Nanjing, Nanning and Yinchuan, as well as Taipei and Busan. Train routes extend to Guangzhou, Beijing, Zhanjiang, Changsha and Wuxi. The highways extend in all directions, and it is worthwhile to mention that a superhighway connects Changsha and the city. New roads connect the city center to a number of scenic areas, making travel by car very convenient.
The history of Zhangjiajie can be traced back to the Neolithic Age. There are three main ethnic minority groups Tujia, Bai, Miao and other 29 minority groups living harmoniously with the Han Nationality. Many different folk cultures converge here and the visitor can experience the various folk-customs, clothing, decorations, dance and music. In 2006, Folk Songs of Sangzhi County, Hands-waving Dance of Tujia Ethnic Group, Maogusi Dance, and The Crafts of Tujia Brocade were all listed in the Protection Catalog of Chinese Intangible Cultural Heritage. The people here are all very hospitable and visitors immediately feel at home. And local snacks may become travelers' favorite.
| | | |
| --- | --- | --- |
| Phoenix Ancient Town | Tuojiang River | Stall selling handicrafts |
- Last modified on Jan. 22, 2019 -
Questions & Answers on Zhangjiajie Travel
Asked by Mary from SPAIN | Jan. 12, 2019 23:42

Reply
I was thinking about visiting Zhangjiajie during this Chinese New Year.
Does anybody know if it's usually packed around CNY?
Answers (2)
Answered by Audrey from GERMANY | Jan. 13, 2019 22:09

0

0

Reply
Don't worry, Mary. This scenic area will open during CNY. But there would be a lot of people because of holiday.
Answered by rh from CANADA | Jan. 22, 2019 01:08

0

0

Reply
Just there and not busy so far
Asked by Nhung Truong from CHINA | Sep. 19, 2018 22:39

Reply
Buy ticket for visit Wulingyuan scenic Area
Hi,
I am living in Wuxi and i am foreigner. I will visit wulingyuan on 30th.sep and 1st.oct. can i get ticket online?
Thanks
Nhung Truong
Answers (1)
Answered by Vida from USA | Sep. 20, 2018 19:28

0

0

Reply
Dear, you can book the ticket on Wulingyuan official website and they have English language website. Have a good time.
Asked by Hervé from FRANCE | Aug. 30, 2018 01:47

Reply
entrance furong wangcun
Ni hao,
1. I have a reservation hotel at Furong.. Must I pay the entry fees in the city
2. where is a bus station , i com from zangjiajie
Thanks a lot
Hervé from France

Answers (4)
Answered by Mandy from NEW ZEALAND | Aug. 30, 2018 23:09

0

0

Reply
Yes, you need to pay the entrance fee. However, if you go after 20:00, you don't need to pay. You can take a direct bus from Zhangjiajie to there. After arrival, there are 2.5 km from the bus station to the scenic area, you can take a taxi.
Answered by herve from FRANCE | Aug. 31, 2018 03:15

0

0

Reply
Hi mandy,
Thank you for your precious reply,
How long did you stay at Furong,
Do you know if it's possible to make in a same day , zuolong gorge ( is it a rafting,) and red forest ;
Im' already loooking forward to 2 weeks
Regards
Hervé
Answered by Mandy from NEW ZEALAND | Sep. 02, 2018 18:41

0

0

Reply
My friend had been there once and they spent there for 2 days.
The three spots you can cover within one day and there is a rafting in Mengdong River but not Zuolong Gorge. If you also want to have a rafting, then maybe one day is a little hurry.
Answered by herve from FRANCE | Sep. 03, 2018 00:01

0

0

Reply
TKS a lot, have a good week
Rgds Herve

Asked by Adrien from CANADA | Aug. 18, 2018 23:35

Reply
From Zhengzhou to Tianmen Mountain Hunan Province
We want to go from Zhengzhou to Tianmen Mountain by train. I see it takes 2 hours 45 minutes to Tianmen South station. How far is it from there to the mountain and what is the best mode of travel please? We will spend 3 or 4 days in the area in order to see the many areas of the park and mountain. Where do you recommend we stay? Is there a mountain temple to stay at one night? And is 3 days a good amount of time? We love nature. Many thanks.
Answers (2)
Answered by Daniel from GREECE | Aug. 22, 2018 22:47

0

0

Reply
Hi, I'm afraid you got the wrong railway station. You need to take a train to Zhangjiajie Railway Station. It takes about 14 to 17 hours to get there if you take a train. After arrival, it's about 6 km from the mountain and you can take a taxi directly. You can stay over night in the hotels in these scenic areas but no temple is available. 3 days or 4 days are appropriate.
Answered by Adrien from CANADA | Aug. 23, 2018 06:56

0

0

Reply
Thank you!
Asked by Alex from UNITED KINGDOM | Jun. 27, 2018 00:21

Reply
I am a solo traveller and will be in Zhangjiajie for 4 days to visit top attractions.
I was just wondering instead of taking taxi can I actually rent a scooter to explore the area by myself? For instance, am I allowed to go to Tianmen mountain by my own or everyone must use the minibus they provided?
Do you have any idea where to rent a bike and how much does it cost per day?
I appreciate your valuable answers
Answers (2)
Answered by Lily from UKRAINE | Jun. 27, 2018 22:00

0

0

Reply
As far as I know, the tourists can only take the minibus they provided.
Answered by Ben from USA | Sep. 14, 2018 23:07

0

0

Reply
You can hire a bicycle or a scooter in some hostels and you can use them on the way among the scenic areas. But in the scenic area, they are not allowed to use and you need to take the bus provided by them.