Zhangjiajie Shopping
Compared with the large cities, Zhangjiajie's local shopping is not well developed. However, as a city with a beautiful natural environment, many special local products are produced here. If you don't buy some local souvenirs for your family or your friends when you come to Zhangjiajie, you'll regret it later.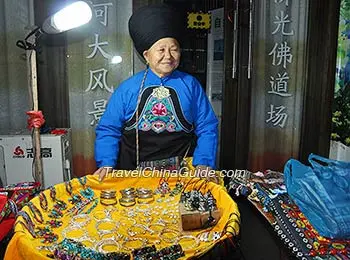 Local Souvenirs
What to Buy
Because there are three ethnic minority groups in Zhangjiajie (the Tujia, the Bai and the Miao), many beautiful handicrafts are produced here. The best one undoubtedly is the
Tujia Stickup Picture
. The artists use the root, branch, and bark from a tree, plus stone and grass to create landscape or character pictures.
Tujia Brocade
is another kind of handicraft. It was said to be the royal tribute during the Qin (221 BC - 206 BC) and Han (206BC - 220) dynasties. It is a combination of weaving and embroidery with a flavor of primitive simplicity and deep folk tradition.
Guiwen (tortoise veins) Stone Carving
is a local handicraft in the Tianzi Mountain Natural Resource Reserve. Guiwen (tortoise veins) Stone is the fossil of an ancient life-form, and the craftsmen use it to create stone carvings in different shapes such as tortoises, cattle, horses, or dragons.
When coming to Zhangjiajie, be sure to taste - the
Chinese gooseberry fruit
because it is the best fruit in Zhangjiajie. Sangzhi County is the hometown of the Chinese gooseberry. There are many other fruits here also such as the
Sweet Orange
, the
Jinxiang grapefruit
, the
Chinese chestnut
, and the
Hazelnut
. You can buy them in the supermarket.
As a tea-producing area, Zhangjiajie boasts many famous brand teas such as
Qingyan (green rock)
,
Mingcui (tea green) Tea
, and
Longxia (lobster) Tea
. Around Zhangjiajie, there are also
Yunwu (cloud and mist) Tea
and
Maofeng Tea
from
Tianzi Mountain
, and
Maojian Tea
from the Suoxiyu Natural Resource Reserve.
Tips:
When you go shopping in Zhangjiajie, pay attention to what you buy. Make sure any local products you buy can be easily carried and are permitted on a plane or train.
Where to Shop
Recently, many shopping centers have been built in Zhangjiajie improving the shopping environment. The following is some information about its shopping centers:
Guanghe Shopping Center
Address: at Jinhua Yuan, Lingyuan Road (North), Yongding District
Getting there: Take bus No.10 to arrive.
Meini Shopping Center
Address: across from the Oriental Pearl, Jiefang Road
Supermarket
Hualian Supermarket
Address: Huilong Road
Getting there: Take bus No.1, 2, 3, or 5.
Department Store
Address: Jiefang Road
Getting there: Take bus No.2, 3, 5, 6, or 7.
Meini Supermarket
Address: across from the Department Store
Getting there: Take bus No. 5, 7 to arrive.
- Last modified on Jun. 04, 2019 -
Questions & Answers on Shopping in Zhangjiajie
Asked by Jessica from MALAYSIA | May. 23, 2017 01:41

Reply
Zhangjiajie wheather & what is the best thing to buy during end of May 2017?
What is the best thing to buy, eat? Also what cloth to ware?
Answers (1)
Answered by Hebby from USA | May. 25, 2017 04:15

0

0

Reply
According to the Weather Precast, it will be cloudy and rainy at the end of May. The temperature will be 60F to 90F. You are advised to take some T-shirts, pants and thin jackets with you. The umbrella is also necessary for you at that time.
As I know, you can buy the gooseberry fruit and some nuts during that time.