Zhangjiajie Weather
With a short spring of two months and a long summer lasting five months, Zhangjiajie is mostly warm and mild in a year. July is the hottest time with the highest temperature reaching 32-38

C (90-100

F), and February is usually the coldest, when the lowest temperature is 0-2

C (32-35

F).

Best Time to Visit Zhangjiajie
April to June is the best time to go, when the climate is mild with flowers in full blossom and trees all in green. Traveling to Zhangjiajie in September through October is also great. During this time, you can see the scenery, view maples on the mountains and enjoy abundant fruits.
7-Day Zhangjiajie Weather Forecast
Zhangjiajie Weather by Month
Averages for Zhangjiajie Weather
High/Low Temperatures of Zhangjiajie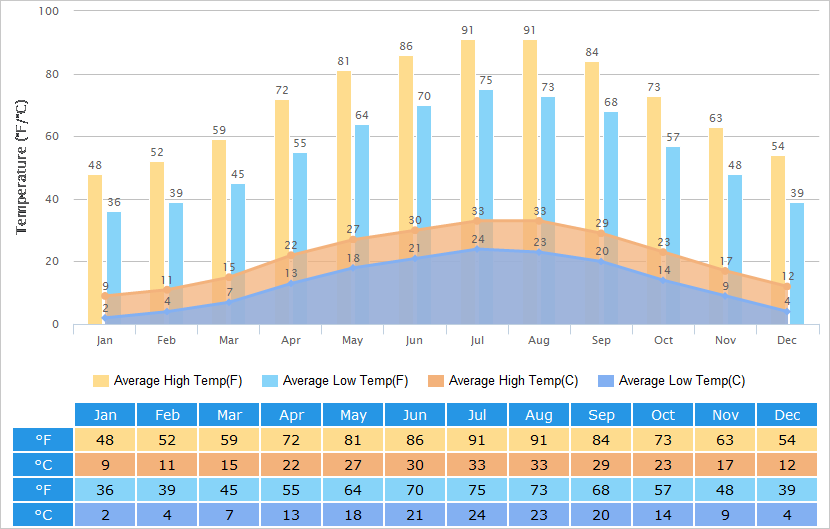 Average Temperatures of Zhangjiajie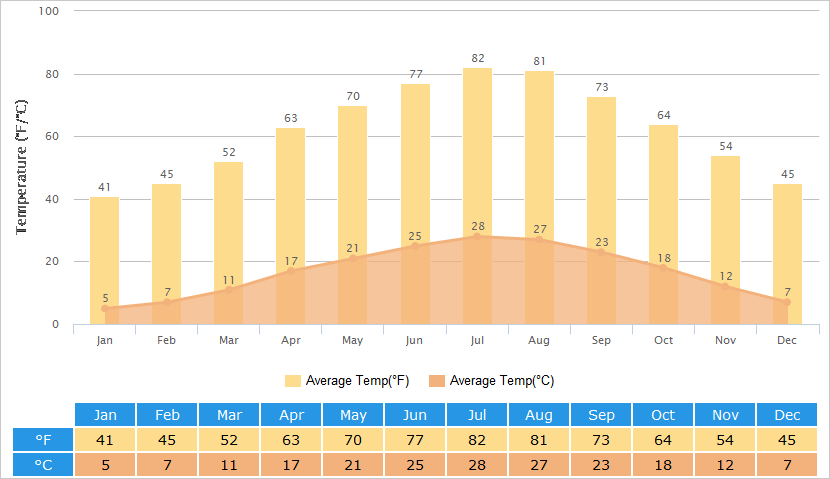 Humidity Graph of Zhangjiajie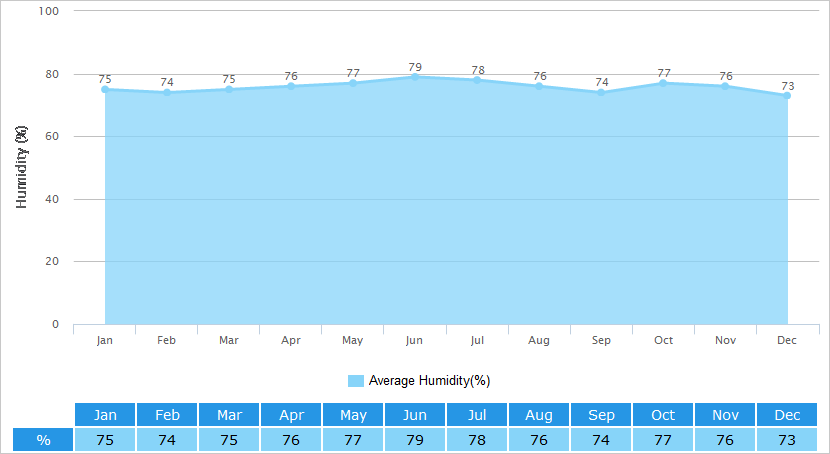 Average Rainfall of Zhangjiajie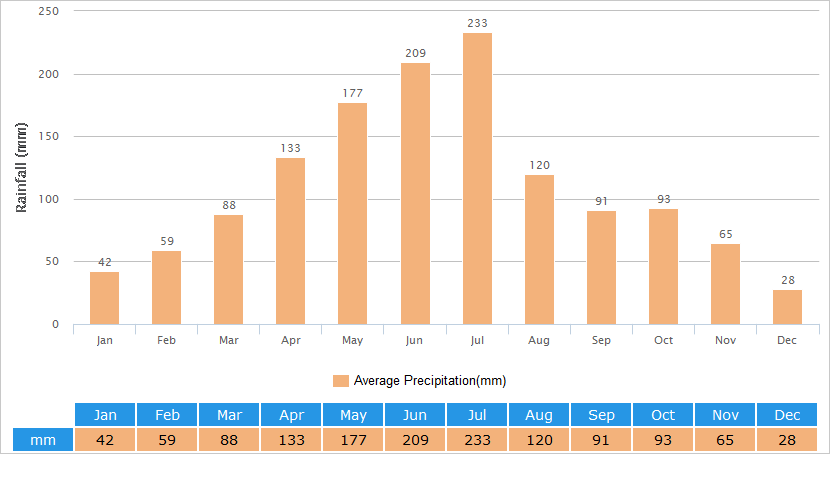 Air Quality of Zhangjiajie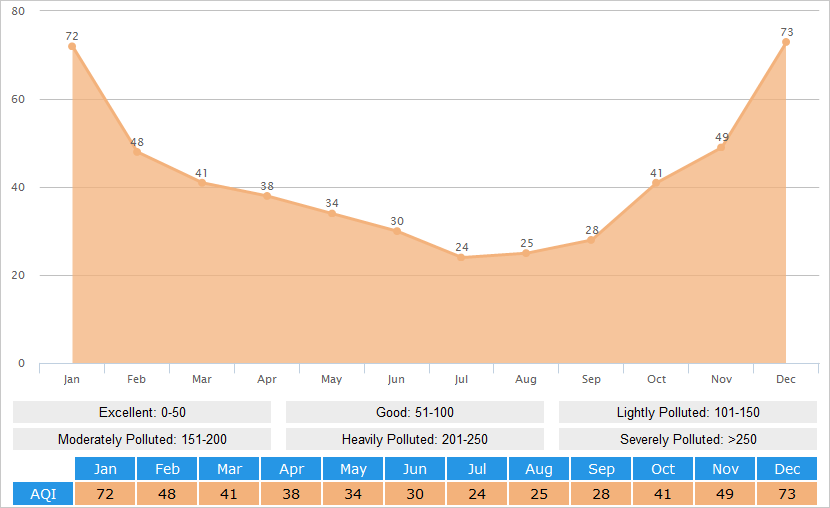 Zhangjiajie Climate – Seasons & Travel Advice
With a humid subtropical monsoon climate, Zhangjiajie is a place rich in sunshine and rainfall. Since the average elevation of the mountains is about 1,000 m (3,300 ft), the temperature rises and drops sharply between day and night, with a gap of nearly 10

C (50

F).

Spring (Mar - Apr)
Zhangjiajie weather features a very short spring, starting from late March and only lasting till late April. The temperature ranges from 15-25

C (59-77

F). Although the period of spring is brief, it is the most energetic time of a year with trees turning green and flowers blooming, perfect for taking photographs. If you meet spring rain, it is a chance to see the mountains surrounded by clouds and mists, like a picture of fairyland.
What to Wear: shirt, baseball jacket, sweatpants, sneakers
Summer (May - Sep)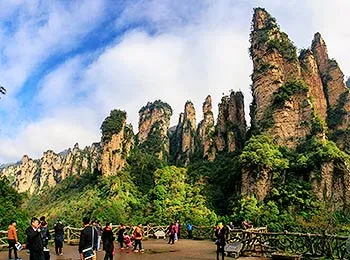 The summer is 5 months long. The weather is hottest in July and August with the average temperature ranging 28-33

C (82-91

F). Sometimes the highest temperature can reach 38

C (100

F). However, if you climb on the mountains, you will feel cool beneath the canopy of large green trees. You can play rafting along the rivers, which is an activity lots of tourists prefer in summer. July is the rainy season, so sudden rain usually falls. On rainy days, haze will make the visibility poor and climbing mountains might be dangerous, so do not take the risk.
What to Wear: T-shirt, shorts, sunglasses, sun hat
Autumn (Oct - Nov)
In autumn, the temperature is around 18-28

C (64-82

F). Maple trees on the mountains turn red, but that is only a part of the whole picture of Zhangjiajie's autumn, because most trees are evergreen. With some trees turning brown, some in red while others still green, the mountains are "painted" with colors in autumn. October to November is the harvest season. It's a great chance to taste delicious local fruits, including kiwi, pear, Chinese chestnut, and lychee.
What to Wear: hoodie, trench coat, light pants, walking shoes
Winter (Dec - Feb)
The climate in winter is not that cold with the temperature at 0-10

C (32-50

F). February is the coldest time. The lowest temperature drops to 0-2

C (32-35

F). It doesn't snow much in winter and usually melts soon, so treasure the time when you see the rare snowy mountain scenery.
What to Wear: sweater, jacket, windbreaker, hiking shoes
- Last updated on Aug. 14, 2019 -
Questions & Answers on Zhangjiajie Weather
Asked by Jane from SINGAPORE | Mar. 15, 2019 16:00

Reply
Is it better to visit Zhangjiajie at the end of Oct or mid of Nov for better scenery & weather?
Will the month of November tend to be foggy & not advisable? Which week of November on wards will start to get foggy?
Answers (1)
Answered by Rosina from USA | Mar. 17, 2019 19:17

0

0

Reply
The end of October is better than middle of Nov and it is autumn scenery.

The fog depends on the weather. Usually, it may be easily to encounter a foggy day in November. If it rains, it will have heavy fog.
Asked by ELSIE96 | Nov. 07, 2018 09:59

Reply
Have time to visit Zhangjiajie mid December - is it too cold?
Is it a good time to visit? Thanks
Answers (3)
Answered by Lucas from USA | Nov. 07, 2018 17:56

0

0

Reply
It's not a good time due to the low temperature. The highest temperature may be about 10 ℃ and the lowest temperature could be only about 0 ℃ if raining or hit by cold air.
Answered by ELSIE96 | Nov. 07, 2018 22:49

0

0

Reply
I had planned to go to Huangshan but was advised against it so looked at ZJJ - however, it maybe as cold too?
Answered by Lucas | Nov. 07, 2018 23:15

0

0

Reply
Yes, it is indeed cold but the scenery in ZJJ or Huangshan won't disappoint you. Or you can take a visit to some warmer areas, such as Sanya and Yunnan.
Asked by yong from SINGAPORE | Apr. 23, 2018 05:05

Reply
what would be the weather in zhangjiajie may 2 to june 6 ? thank you.
Answers (1)
Answered by Michelle from GERMANY | Apr. 23, 2018 22:18

0

0

Reply
The temperature is getting warmer during the period, from 17 to 32C. There are some rainy days. You need to take your shirts, jackets and jeans.