Zhangjiajie Weather in March
As a month of early spring, Zhangjiajie weather in March is not as cold as it is in January and February. Some kinds of plants start to sprout and some flowers start to bloom. Even so, the temperature is still low. During this month, the highest temperature is around 15°C (59°F) in the daytime and the lowest one is 7°C (45°F) at night. Therefore, keeping warm is still an important point to be noticed during your trip.
March is the first month of peak travel season in Zhangjiajie. The admission fee of scenic spots will be more expensive than it is in the off season from December to next February, but as the number of people is not as many as it is in next several months, the hotel expenses will be relatively cheaper and you don't have to wait in line for a long time when visiting the scenic spots.
Averages for Zhangjiajie Weather in March
Temperature: 11°C / 52°F
High Temperature: 15°C / 59°F
Low Temperature: 7°C / 45°F
Humidity: 75%
Rainfall: 88 mm
Sunrise: 06:29 ~ 07:04
Sunset: 18:36 ~ 18:56
Air Quality in March
Average AQI:41

What to Wear in Zhangjiajie in March
As mentioned before, keeping warm is still important in March. Please take thick coat, sweater, winter jacket, and scarf. Due to the frequent rain, the climate in March in Zhangjiajie is humid so that washed clothes are difficult to dry, therefore you'd better take clothes with quick-dry shell fabric and rain gears. The scenic areas are most mountains and valleys, so climbing boots are also needed.


Things to Do in Zhangjiajie in March
Golden Whip Stream in Zhangjiajie National Forest Park is one of the most well-known scenic areas of Zhangjiajie. In early spring, this is a good choice to visit. You can closely touch the nature and enjoy the charming scenery. Yellow Dragon Cave is also recommended, outside which a large area of rape flowers are in bloom.
What is the temperature in Zhangjiajie in March?
High/Low Temperatures of Zhangjiajie in March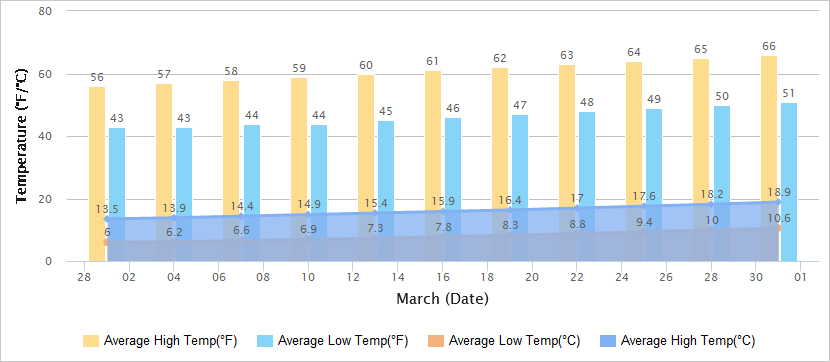 Air Quality of Zhangjiajie in March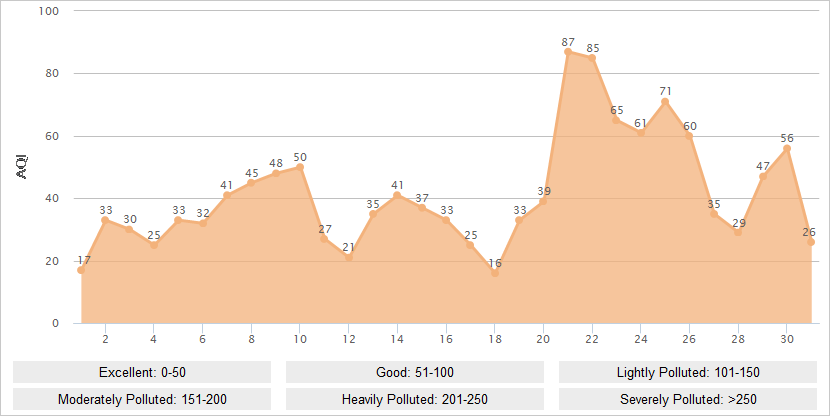 Historical Zhangjiajie Weather in March
Mar
Temperature
Sunrise / Sunset
Humi-
dity
(%)
High
Low
1
13.5°C / 56.3°F
6°C / 42.8°F

07:04

/

18:37

61
2
13.6°C / 56.5°F
6.1°C / 43°F

07:03

/

18:38

41
3
13.8°C / 56.8°F
6.2°C / 43.2°F

07:02

/

18:39

58
4
13.9°C / 57°F
6.2°C / 43.2°F

07:01

/

18:39

93
5
14.1°C / 57.4°F
6.4°C / 43.5°F

06:59

/

18:40

95
6
14.2°C / 57.6°F
6.5°C / 43.7°F

06:58

/

18:41

65
7
14.4°C / 57.9°F
6.6°C / 43.9°F

06:57

/

18:41

65
8
14.6°C / 58.3°F
6.7°C / 44.1°F

06:56

/

18:42

56
9
14.7°C / 58.5°F
6.8°C / 44.2°F

06:55

/

18:43

66
10
14.9°C / 58.8°F
6.9°C / 44.4°F

06:54

/

18:43

84
11
15.1°C / 59.2°F
7°C / 44.6°F

06:53

/

18:44

80
12
15.2°C / 59.4°F
7.2°C / 45°F

06:51

/

18:44

96
13
15.4°C / 59.7°F
7.3°C / 45.1°F

06:50

/

18:45

93
14
15.6°C / 60.1°F
7.5°C / 45.5°F

06:49

/

18:46

70
15
15.7°C / 60.3°F
7.6°C / 45.7°F

06:48

/

18:46

88
16
15.9°C / 60.6°F
7.8°C / 46°F

06:47

/

18:47

73
17
16.1°C / 61°F
7.9°C / 46.2°F

06:46

/

18:47

88
18
16.2°C / 61.2°F
8.1°C / 46.6°F

06:44

/

18:48

86
19
16.4°C / 61.5°F
8.3°C / 46.9°F

06:43

/

18:49

94
20
16.6°C / 61.9°F
8.4°C / 47.1°F

06:42

/

18:49

87
21
16.8°C / 62.2°F
8.6°C / 47.5°F

06:41

/

18:50

87
22
17°C / 62.6°F
8.8°C / 47.8°F

06:40

/

18:50

80
23
17.2°C / 63°F
9°C / 48.2°F

06:39

/

18:51

85
24
17.4°C / 63.3°F
9.2°C / 48.6°F

06:37

/

18:52

95
25
17.6°C / 63.7°F
9.4°C / 48.9°F

06:36

/

18:52

64
26
17.8°C / 64°F
9.6°C / 49.3°F

06:35

/

18:53

60
27
18°C / 64.4°F
9.8°C / 49.6°F

06:34

/

18:53

58
28
18.2°C / 64.8°F
10°C / 50°F

06:33

/

18:54

72
29
18.4°C / 65.1°F
10.2°C / 50.4°F

06:31

/

18:55

75
30
18.7°C / 65.7°F
10.4°C / 50.7°F

06:30

/

18:55

93
31
18.9°C / 66°F
10.6°C / 51.1°F

06:29

/

18:56

69
- Last modified on Sep. 02, 2019 -