Zhangjiajie Weather in September
Zhangjiajie weather in September is getting cooler with the average temperature of 20°C (68°F) to 29°C (84°F). It ushers in the period of late summer and early autumn in Zhangjiajie. There will be less cloudy days and rainy days comparing with weather in July and August.
September is still in the peak travel season, but the number of people visiting here will be less than it is in July and August. So if you are willing to feel the beauty of Zhangjiajie in late summer and early autumn and don't want to be in the crowd, it is really a nice choice to come to Zhangjiajie in September.
Averages for Zhangjiajie Weather in September
Temperature: 23°C / 73°F
High Temperature: 29°C / 84°F
Low Temperature: 20°C / 68°F
Humidity: 74%
Rainfall: 91 mm
Sunrise: 06:15 ~ 06:30
Sunset: 18:25 ~ 19:00
Air Quality in September
Average AQI:28

What to Wear in Zhangjiajie in September
In early September, it is still summer weather in Zhangjiajie. You can wear sweat-free short sleeve, shorts and jeans, and don't forget to take a coat for night with you. In late September, long sleeve shirt, trousers and jacket are necessary. With the arrival of rainy seasons, raincoat should be considered as well.


Things to Do in Zhangjiajie in September
Fenghuang Ancient Town (Phoenix Ancient Town) is a recommendatory place to visit in September with favorable temperature and humid air. What's the most important, there will be less people in September and you can feel the lingering charm and the unsophisticated ancient customs of the ancient town in a better way. With fewer rainy days, it is also a good time to experience of the thrill of Zhangjiajie Glass Bridge.
Besides, going to
Tianmen Mountain
and watching the performance Tianmen Fairy Fox is also a good choice. Tianmen Fairy Fox is an outdoor musical show performed in the Great Canyon of Tianmen Mountain, which is a moving story about the love between a person and a fox. Please note that the performance is outdoor but you don't need to worry too much about the climate. If it rains, a raincoat will be handed out to every audience for free.
What is the temperature in Zhangjiajie in September?
High/Low Temperatures of Zhangjiajie in September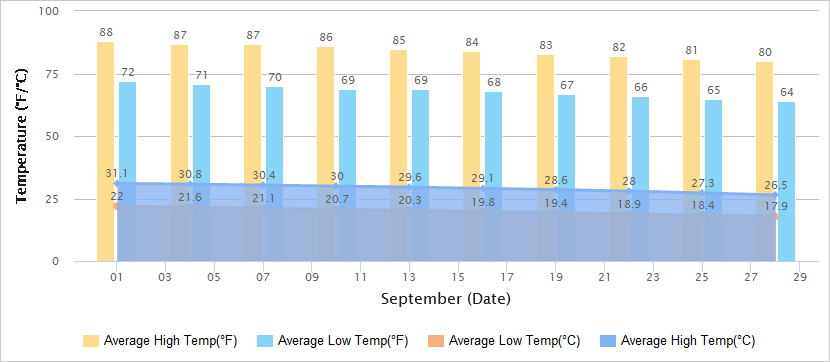 Air Quality of Zhangjiajie in September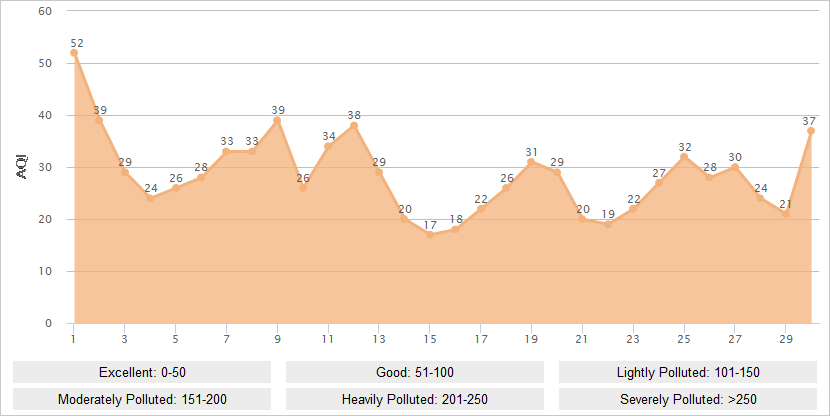 Historical Zhangjiajie Weather in September
Sep
Temperature
Sunrise / Sunset
Humi-
dity
(%)
High
Low
1
31.1°C / 88°F
22°C / 71.6°F

06:15 /

19:00

89
2
31°C / 87.8°F
21.9°C / 71.4°F

06:16 /

18:59

95
3
30.9°C / 87.6°F
21.7°C / 71.1°F

06:16 /

18:58

96
4
30.8°C / 87.4°F
21.6°C / 70.9°F

06:17 /

18:57

79
5
30.6°C / 87.1°F
21.4°C / 70.5°F

06:17 /

18:55

79
6
30.5°C / 86.9°F
21.3°C / 70.3°F

06:18 /

18:54

95
7
30.4°C / 86.7°F
21.1°C / 70°F

06:19 /

18:53

64
8
30.3°C / 86.5°F
21°C / 69.8°F

06:19 /

18:52

63
9
30.1°C / 86.2°F
20.8°C / 69.4°F

06:20 /

18:51

71
10
30°C / 86°F
20.7°C / 69.3°F

06:20 /

18:49

97
11
29.9°C / 85.8°F
20.6°C / 69.1°F

06:21 /

18:48

65
12
29.7°C / 85.5°F
20.4°C / 68.7°F

06:21 /

18:47

64
13
29.6°C / 85.3°F
20.3°C / 68.5°F

06:22 /

18:46

67
14
29.4°C / 84.9°F
20.1°C / 68.2°F

06:22 /

18:45

65
15
29.3°C / 84.7°F
20°C / 68°F

06:23 /

18:43

62
16
29.1°C / 84.4°F
19.8°C / 67.6°F

06:23 /

18:42

60
17
28.9°C / 84°F
19.7°C / 67.5°F

06:24 /

18:41

62
18
28.8°C / 83.8°F
19.5°C / 67.1°F

06:24 /

18:40

84
19
28.6°C / 83.5°F
19.4°C / 66.9°F

06:25 /

18:38

96
20
28.4°C / 83.1°F
19.2°C / 66.6°F

06:25 /

18:37

86
21
28.2°C / 82.8°F
19°C / 66.2°F

06:26 /

18:36

72
22
28°C / 82.4°F
18.9°C / 66°F

06:26 /

18:35

71
23
27.7°C / 81.8°F
18.7°C / 65.7°F

06:27 /

18:33

78
24
27.5°C / 81.5°F
18.6°C / 65.5°F

06:27 /

18:32

76
25
27.3°C / 81.1°F
18.4°C / 65.1°F

06:28 /

18:31

68
26
27°C / 80.6°F
18.2°C / 64.8°F

06:28 /

18:30

70
27
26.8°C / 80.2°F
18.1°C / 64.6°F

06:29 /

18:29

88
28
26.5°C / 79.7°F
17.9°C / 64.2°F

06:29 /

18:27

92
29
26.3°C / 79.3°F
17.7°C / 63.9°F

06:30 /

18:26

77
30
26°C / 78.8°F
17.6°C / 63.7°F

06:30 /

18:25

81
- Last modified on Sep. 02, 2019 -