Zhangjiajie Weather in November
With the arrival of late autumn, Zhangjiajie weather in November starts to become cold with the highest temperature only being around 15°C(60°F). The change of temperature between day and night, and urban area and scenic areas are also becoming larger and larger. However, the color of nature becomes much richer with green, yellow, orange, and red thanks to a large amount of kinds of plants, making a trip worthwhile, too.
If you are going to stay overnight in the scenic areas, there is no need to worry about the temperature as most hotel rooms are equipped with air-conditioners.
Averages for Zhangjiajie Weather in November
Temperature: 12°C / 54°F
High Temperature: 17°C / 63°F
Low Temperature: 9°C / 48°F
Humidity: 76%
Rainfall: 65 mm
Sunrise: 06:51 ~ 07:14
Sunset: 17:40 ~ 17:53
Air Quality in November
Average AQI:49

What to Wear in Zhangjiajie in November
The climate is relatively cold in deep autumn. The large temperature variation between urban area and scenic areas in Zhangjiajie reach to 8~10°C (46~50°F) due to the large elevation difference of more than 800 meters (2,600 feet), therefore you should take enough clothes when you go to the mountainous scenic spots. It is advisable that tourists visiting Zhangjiajie in November should wear shirt, sweater, thick jacket and windbreaker. As advised in other months, raincoat or umbrella is also necessary as the weather change quickly in the mountains.


Things to Do in Zhangjiajie in November
In this time period, the mountains in Zhangjiajie are covered by the leaves of plants with a riot of colors, forming a fantastic oil painting. You can enjoy the colorful leaves, especially the red leaves in
Suoxi Valley Nature Reserve
,
Tianzi Mountain Nature Reserve
and Yangjiajie Scenic Area. The indoor performance like Charming Xiangxi is advisable for night.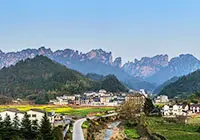 Yangjiajie Scenic Area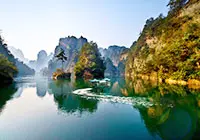 Baofeng Lake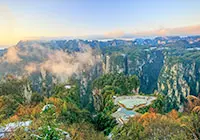 Yuanjiajie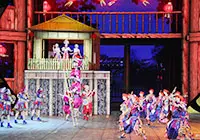 Charming Xiangxi

Top 9 Things to Do in Zhangjiajie
What is the temperature in Zhangjiajie in November?
High/Low Temperatures of Zhangjiajie in November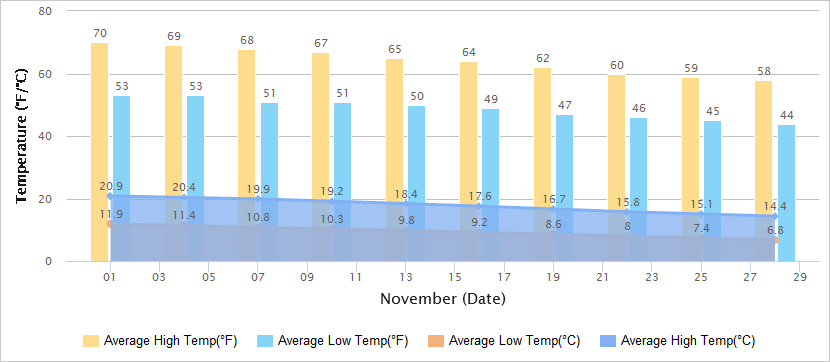 Air Quality of Zhangjiajie in November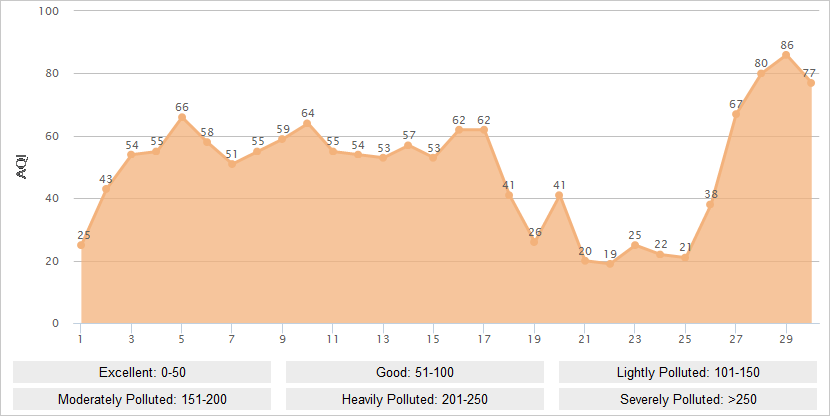 Historical Zhangjiajie Weather in November
Nov
Temperature
Sunrise / Sunset
Humi-
dity
(%)
High
Low
1
20.9°C / 69.6°F
11.9°C / 53.4°F

06:51 /

17:53

44
2
20.7°C / 69.3°F
11.7°C / 53.1°F

06:51 /

17:53

49
3
20.6°C / 69.1°F
11.5°C / 52.7°F

06:53 /

17:50

50
4
20.4°C / 68.7°F
11.4°C / 52.5°F

06:54 /

17:50

50
5
20.2°C / 68.4°F
11.2°C / 52.2°F

06:54 /

17:49

43
6
20.1°C / 68.2°F
11°C / 51.8°F

06:55 /

17:48

45
7
19.9°C / 67.8°F
10.8°C / 51.4°F

06:56 /

17:48

50
8
19.6°C / 67.2°F
10.7°C / 51.3°F

06:57 /

17:47

51
9
19.4°C / 66.9°F
10.5°C / 50.9°F

06:57 /

17:46

42
10
19.2°C / 66.5°F
10.3°C / 50.5°F

06:58 /

17:46

64
11
18.9°C / 66°F
10.1°C / 50.5°F

06:59 /

17:45

42
12
18.7°C / 65.7°F
10°C / 50°F

07:00 /

17:45

74
13
18.4°C / 65.1°F
9.8°C / 49.6°F

07:01 /

17:44

93
14
18.1°C / 64.6°F
9.6°C / 49.3°F

07:01 /

17:44

63
15
17.8°C / 64°F
9.4°C / 48.9°F

07:02 /

17:43

49
16
17.6°C / 63.7°F
9.2°C / 48.6°F

07:02 /

17:43

72
17
17.3°C / 63.1°F
9°C / 48.2°F

07:03 /

17:43

95
18
17°C / 62.6°F
8.8°C / 47.8°F

07:04 /

17:43

43
19
16.7°C / 62.1°F
8.6°C / 47.5°F

07:05 /

17:42

42
20
16.4°C / 61.5°F
8.4°C / 47.1°F

07:06 /

17:42

52
21
16.1°C / 61°F
8.2°C / 46.8°F

07:06 /

17:42

53
22
15.8°C / 61.2°F
8°C / 46.4°F

07:07 /

17:41

43
23
15.6°C / 60.1°F
7.8°C / 46°F

07:08 /

17:41

40
24
15.3°C / 59.5°F
7.6°C / 45.7°F

07:09 /

17:41

37
25
15.1°C / 59.2°F
7.4°C / 45.3°F

07:10 /

17:41

36
26
14.8°C / 58.6°F
7.2°C / 45°F

07:10 /

17:40

43
27
14.6°C / 58.3°F
7°C / 44.6°F

07:11 /

17:40

48
28
14.4°C / 57.9°F
6.8°C / 44.2°F

07:12 /

17:40

89
29
14.2°C / 57.6°F
6.6°C / 43.9°F

07:13 /

17:40

79
30
14°C / 57.2°F
6.5°C / 43.7°F

07:14 /

17:40

86
- Last modified on Jun. 27, 2019 -