Zhangjiajie Weather in April
Zhangjiajie weather in April is mild, making it one of the best time in a year for a visit. The average temperature during this month ranges from 13°C (55°F) at lowest to 22°C (72°F) at highest, not too cold nor too hot and making people feel comfortable. The green plants are sprouting and flowers are coming into bloom. However, rainy days could be rather frequent during this time. It may affect your tour to some extent, but you can appreciate different scenery with mist-covered mountains and valleys.
Comparing to the summer vacation time, visiting Zhangjiajie in this month is not that crowded and you can enjoy the fresh air and the nature with everything coming back to life at a leisurely pace.
Averages for Zhangjiajie Weather in April
Temperature: 17°C / 63°F
High Temperature: 22°C / 72°F
Low Temperature: 13°C / 55°F
Humidity: 76%
Rainfall: 133 mm
Sunrise: 05:58 ~ 06:28
Sunset: 18:56 ~ 19:14
Air Quality in April
Average AQI:38

What to Wear in Zhangjiajie in April
The April climate of Zhangjiajie is quite comfortable in this spring month, but you should still prepare cold-proof clothes as it is cold at night and sometimes windy on mountains. In general, you'd better wear shirt, blouse, jeans and rain-proof shoes. A warm overcoat should also be added for night or in case of weather changes.


Where to Go in Zhangjiajie in April
Many spots are recommended in this time. In Suoxi Valley Nature Reserve, you can visit the Ten-Mile Gallery where the natural scenery is just like pictures. In this nature reserve you can also enjoy Yellow Dragon Cave, which is a typical karst landform listed as a World Natural Heritage.
Baofeng Lake
and West Sea in Suoxi Valley Nature Reserve are also good choices. Baofeng Lake is called "a classical lake of the world", which is the only water themed scenic spot in Zhangjiajie surrounded by many mountains and used to be called "Shijiayu Reservoir". West Sea is not a real sea but a "sea of mountains". Thousands of stone peaks thickly dotted in a deep gorge, which is gorgeous and fantastic.
In the early April, wild azalea will be in full bloom in Zhangjiajie. At Baofeng Lake, you can see wild azalea dotting the lake and the mountains, forming a beautiful picture.
What is the temperature in Zhangjiajie in April?
High/Low Temperatures of Zhangjiajie in April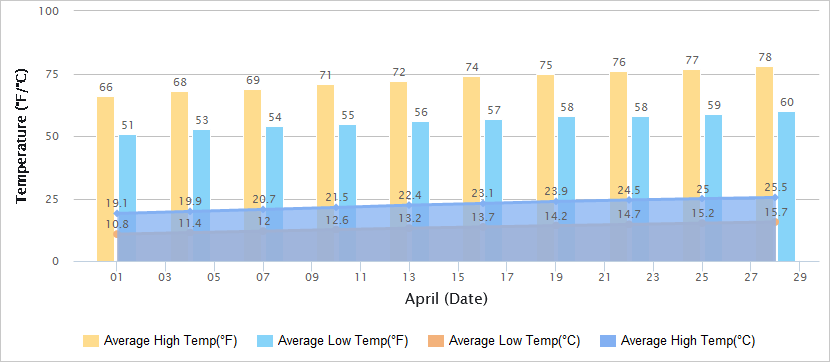 Air Quality of Zhangjiajie in April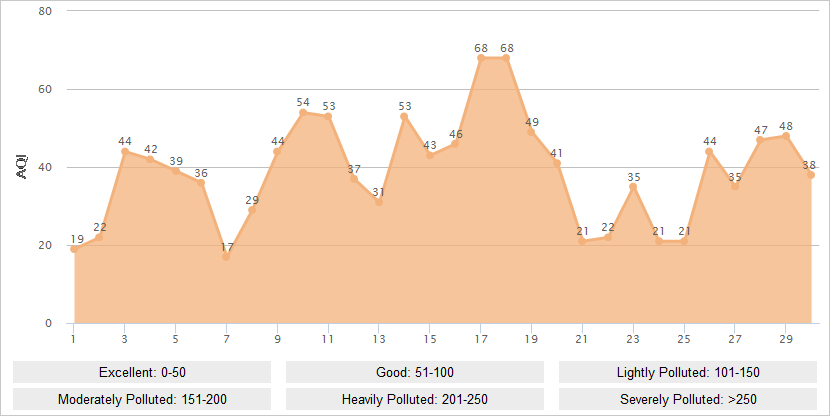 Historical Zhangjiajie Weather in April
Apr
Temperature
Sunrise / Sunset
Humi-
dity
(%)
High
Low
1
19.1°C / 66.4°F
10.8°C / 51.4°F

06:28

/

18:56

60
2
19.4°C / 66.9°F
11°C / 51.8°F

06:27 /

18:57

56
3
19.7°C / 67.5°F
11.2°C / 52.2°F

06:26 /

18:57

75
4
19.9°C / 67.8°F
11.4°C / 52.5°F

06:24 /

18:58

80
5
20.2°C / 68.4°F
11.6°C / 52.9°F

06:23 /

18:59

86
6
20.5°C / 68.9°F
11.8°C / 53.2°F

06:22 /

18:59

80
7
20.7°C / 69.3°F
12°C / 53.6°F

06:21 /

19:00

81
8
21°C / 69.8°F
12.2°C / 54°F

06:20 /

19:00

87
9
21.3°C / 70.3°F
12.4°C / 54.3°F

06:19 /

19:01

86
10
21.5°C / 70.7°F
12.6°C / 54.7°F

06:18 /

19:01

77
11
21.8°C / 71.2°F
12.8°C / 55°F

06:17 /

19:02

67
12
22.1°C / 71.8°F
13°C / 55.4°F

06:15 /

19:03

58
13
22.4°C / 72.3°F
13.2°C / 55.8°F

06:14 /

19:03

57
14
22.6°C / 72.7°F
13.4°C / 56.1°F

06:13 /

19:04

61
15
22.9°C / 73.2°F
13.5°C / 56.3°F

06:12 /

19:04

73
16
23.1°C / 73.6°F
13.7°C / 56.7°F

06:11 /

19:05

82
17
23.4°C / 74.1°F
13.9°C / 57°F

06:10 /

19:06

62
18
23.6°C / 74.5°F
14.1°C / 57.4°F

06:09 /

19:06

54
19
23.9°C / 75°F
14.2°C / 57.6°F

06:08 /

19:07

69
20
24.1°C / 75.4°F
14.4°C / 57.9°F

06:07 /

19:07

53
21
24.3°C / 75.7°F
14.6°C / 58.3°F

06:06 /

19:08

62
22
24.5°C / 76.1°F
14.7°C / 58.5°F

06:05 /

19:09

50
23
24.7°C / 76.5°F
14.9°C / 58.8°F

06:04 /

19:09

50
24
24.9°C / 76.8°F
15°C / 59°F

06:03 /

19:10

57
25
25°C / 77°F
15.2°C / 59.4°F

06:02 /

19:10

80
26
25.2°C / 77.4°F
15.3°C / 59.5°F

06:01 /

19:11

82
27
25.3°C / 77.5°F
15.5°C / 59.9°F

06:00 /

19:12

54
28
25.5°C / 77.9°F
15.7°C / 60.3°F

05:59 /

19:12

53
29
25.6°C / 78.1°F
15.8°C / 60.4°F

05:59 /

19:13

53
30
25.7°C / 78.3°F
15.9°C / 60.6°F

05:58 /

19:14

68
- Last updated on Sep. 02, 2019 -