Baofeng Lake
Baofeng Lake is a large body of water in
Suoxi Valley Nature Reserve
of Zhangjiajie. This is quite rare in the mountainous area and the lake is the only water themed scenic sopt in Zhangjiajie. After visiting a variety of mountains and valleys, the clear water brings visitors different feelings. Baofeng Lake is surrounded by mountains with many waterfalls pouring down. In addition to appreciating the clear lake, climbing the mountain surrounding the lake is also a nice thing to do.
Baofeng Lake - The Only Water Themed Scenic Spot in Zhangjiajie
Baofeng Lake is 72 meters (79 yards) deep and 2,500 meters (2,730 yards) long. It is surrounded by steep peaks and there are two small islands in the lake. One can take the Baofeng Lake cruise to appreciate the clear lake reflecting the peaks and the peculiar magnificent mountain scenery which is formed by strange peaks, waterfalls, and lush trees.
If you are lucky enough, you can meet the local lovely girls who are rowing a bamboo raft while singing the folk songs. Enjoying the scenery of Baofeng Lake on the cruise is totally different from on the shore. It is a special and wonderful experience.
Yingwo Village - A Wonderful Mountaineering Place Surrounding Baofeng Lake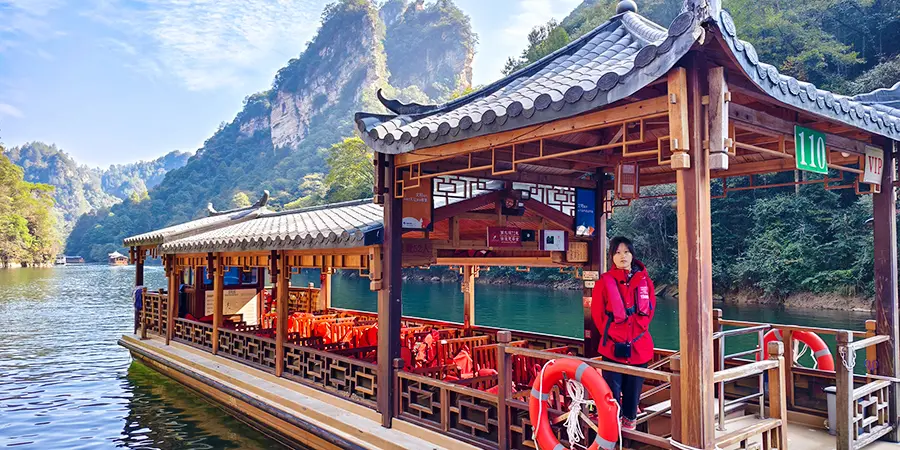 Temple Relics on Yingwo Village
It is said that there was once a bandits' village on the mountain top, hence the name, literally meaning eagles' nest, referring that bandits occupy the land like eagles. No village has been left nowadays, but the place is a great place for mountaineering. When climbing, visitors will pass through two steep peaks crowded together, leaving a gap in the middle. It is called One-Line Sky because only a slim strip of sky can be seen above. The height of the footsteps that inside One-Line Sky is more than 100 meters (110 yards) and can only accommodate one person walking.
Reaching the top of A Thread of Sky, there is another scenery. One can see an ancient temple at a short distance. On the left side is a "Echo Wall" with a height of more than 80 meters (88 yards) and a width of more than 30 meters (33 yards). Standing in front of the wall to shout, one can hear the echo wandering around. On the right side there is a huge stone called Qingtai Stage hanging over the canyon. Boarding the Qingtai Stage, one can see a variety of strange peaks and stones around.
How to Get to Baofeng Lake
There are long-distance buses from Zhangjiajie Central Long-distance Bus Station near Zhangjiajie Railway Station to Wulingyuan Long-distance Bus Station every a few minutes. The journey takes around 50 minutes and the fee is about CNY 12. Then take the Wulingyuan Bus line 2 or tourist bus and get off at Baofeng Lake.
Admission Fee
Combo Ticket
March-November: CNY 225 for adults, CNY 160 for children between 1.3-1.5 meters (1.4 - 1.6 yards);
December to February: CNY 115 for adults, CNY 85 for children between 1.3-1.5 meters;
Free entry for children below 1.3 meters but CNY 65 for the battery car.

Notes:
1.The Combo Ticket includes Suoxiyu Nature Reserve, Zhangjiajie National Forest Park, Tianzi Mountain Natural Reserve, Yangjiajie Scenic Area and free battery cars ride inside and between these scenic spots.
2. The ticket is valid for 3 days from March to November and 4 days from December to next February.
3. Visitors need to pay additional CNY 3 for insurance.
Single Site Ticket
CNY 96 for an adult.
CNY 60 for children from 1.3 meters to 1.5 meters
Free for children below 1.3 meters.
Opening Time
07:00-18:00 from April to October
07:00-17:00 from December to next March
Suggested Visiting Time
2-3 hours

Top 9 Things to Do in Zhangjiajie
- Last modified on Jun. 09, 2019 -