Avoiding China Travel Traps
When facing a great deal of China travel agents, it is easy for tourists to fall into some travel traps such as fake or low-quality tour services, insufficient time and shopping traps. In order to avoid these traps as much as possible, we suggest you choose a qualified travel agent like TravelChinaGuide.com with large-scale and standardized administration. Here are some typical traps for your reference:

Shopping in a Jade Shop

We found many Chinese travel agencies claiming they were established in 1950's on their websites, is this true or not?



Answer: This is an absolute cheating. Chinese government did not grant their permission for the establishment of any travel agency until Deng Xiaoping's opening door policy in 1978.
See more details about How to Identify the History of China Travel Agencies?
---

Nowadays there are numbers of travel services in China claiming that they are the leading tour operators in the country. However, how should we distinguish the real one from the fake one?



Answer: Hereunder are some practical tips:
A leading tour operator, such as TravelChinaGuide.com, must be a legal one, who definitely has been authorized corresponding licenses and other related documents to run not only business, but also tourist business; a leading tour operator should have been accepted by the authoritative organizations in tourism industry; a leading company must have been professional, experienced and able to offer high-level services; a leading company must be reliable and popular among customers, which can be judged by the reviews from real customers; a leading company may have got numerous media recommendations. One may tell if the tour operator is a real leading one by those mentioned means.
See more details about How to Identify a Real Leading Tour Operator.
---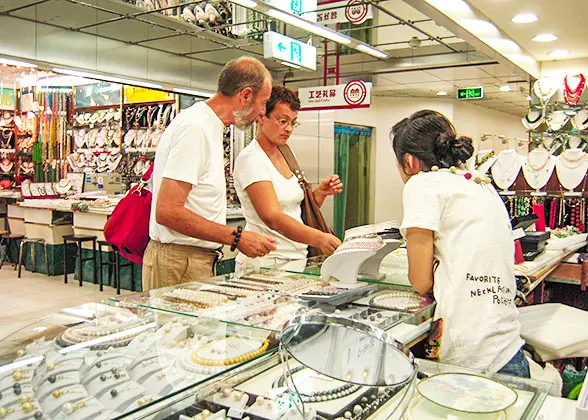 Bargainning in a Jewelry Store

Some company offer very low price. Can we believe them and book those tours?

Answer: Tour price is a very important factor, but please do not only compare the price. Just like an old Chinese saying: the higher is the price the better is the quality of the merchandise. Some operators offer quite a low price, while they are unable to provide an international standard service, even worse they break their promises. TravelChinaGuide.com organizes special tailor-made tours at customers' preference; it keeps promises and never charges hidden fees; it offers distinctive a la carte menus and holds family visit activities, etc. Please be reassured those quality and considerate services are certainly worth the money.
---

When having the tour, the guide sometimes will suggest us see the Chinese doctor or acupuncture, is this a good idea?



Answer: We suggest our clients refuse to do that with them, because they may be doing sort of commercial business with the doctors. And we assume the so-called hospitals are not real Chinese hospitals except the doctors there know something about Chinese medicine or acupuncture.
---

How to tell if a Chinese company is real or not?



Answer: Below are some tips for your convenience:

By Business License
If a company is real, it must have been authorized to receive a Business License by the local Administration for Industry and Commerce and it can be found out on the related Administration for Industry and Commerce website via the Business License number, the name of the company or the enterprise legal person. Please note that most Administration for Industry and Commerce websites do not have English versions, you may ask for help from someone who knows Chinese. Besides, due to some unknown reasons, some companies cannot be found out on the related website, you may then need to have someone went to the local Administration for Industry and Commerce to check it for you.

By Bank Account
If a company is real, definitely it has a bank account, with the company's full name as the account holder. One could consult the bank to confirm the account information. If a company asks you to pay to a personal account, it is most likely to be a trap.

By Contact Information
If a company is real, usually it has a clear office address which can be easily confirmed by searching on the online map or writing to the address. At least one fixed telephone number is available, not a mobile phone number. Have you ever met a legal and renowed company with only a mobile number? Be careful! Those companies boasting 24-hour service but only leaving mobile numbers are probably cheaters.
---

We meet some "warm-hearted" guy speaking simple English offers us cheap tea, coffee, or massage, should we follow him?



Answer: No! The response is definitely no!
A normal tea house of coffee shop will never attract customers in this way. This is a typical travel trap, and travelers, especially foreigners will always end up with being ripped off thousands of RMB!

The scenario is that you will meet someone on the street. He speaks simple English and seems very warm-hearted. He says he is an art student and there is an exhibition of his school, and it is FREE. You are taken to a shabby hotel on a narrow and back lane, and you find there is no art exhibition but some bruisers force you to buy paintings.

Another situation will be that a nice girl comes to talk to you on roadside. She says she is an English major student and she and some classmates want to practice oral English. At first, you will have a pleasant conversation. Then she invites you to a nearby tea house or coffee shop to meet her classmates. No one shows and she will ask you to order some tea or coffee first (she may use some tricks to make you order expensive teas), then she excuses herself and go to the bathroom. After waiting for 20 minutes, you realize something goes wrong. However, you have to pay for the tea or coffee if you want to leave. The prices are usually hundreds times of normal prices.

Our suggestion is that be caution if someone comes to talk to you on roadside. If he/she invites you to somewhere, stop talking and leave. Ignore touts or people who offer you free things. Always remember that there is no such a thing as a free lunch. Do not let these crooks spoil your holiday.

Further Reading: Tell Others Your Travel Traps