China Tour Guide
A China tour guide plays an important role in your travelling to China. They are professional experts to help you complete a perfect China trip. Nowadays, there are tens of thousands of licensed China tour guides who work full time to serve worldwide inbound tourists. Most of them have gone through training and passed examinations annually, but there are still unqualified tour guides that you should avoid to use.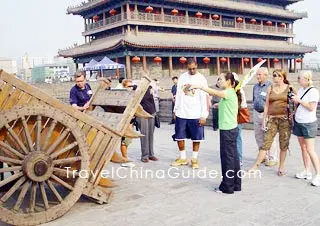 Our guide and guests on Xi'an City Wall
How Many Tour Guides Are There in China?
At present, there are more than 800,000 licensed China tour guides nationwide, but only about 200,000 tour guides have signed labor contracts with China tour operators. The rest of them are mostly de facto "free practitioners".

Among all China tour guides, Mandarin tour guides, who are mainly engaged in domestic and outbound tourism, account for about 90%. About 80,000 tour guides are in the line of inbound tourism industry. On the whole, compared with Mandarin tour guides, those who can speaking other languages are in short supply.

In terms of gender, the ratio of male and female licensed tour guides is unbalanced. Female tour guides account for about 78%.

Types of China Tour Guides
According to the language used by tour guides, they can be divided into:


Chinese-speaking Tour Guides: They speak Mandarin, regional dialects or minority languages. They mainly serve domestic Chinese tourists and inbound tourists from Hong Kong, Macao and Taiwan.



Foreign Language Tour Guides: They can speak foreign languages during the tour. The main service targets of them are foreign tourists who travel inbound and Chinese citizens who travel abroad.

By different ways of service, they can be categorized into:


Overseas Escort: He or she is usually a staff member appointed by the China tour operator that has full authority to lead a tour group to conduct outbound activities on behalf of the tour operator.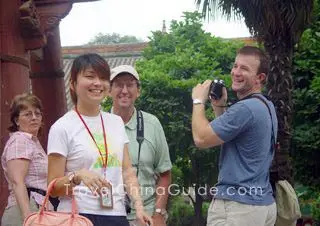 Our guide and clients in Great Mosque, Xi'an

Full-accompanying Tour Guide: He or she is a staff member who are appointed by the tour organizing agency to act as a representative and implement the reception plan with the cooperation of the overseas escort or local tour guides. He or she will accompany the group for the whole time, traveling with them till the trip ends.



Local Tour Guide: They are based locally to conduct tour activities and provide the tour group members with explanations, interpretation, pick-up and see-off, and other services in a certain city or region.



Tour Guides in Scenic Areas: They are also known as narrators. They mostly work full time in scenic sites to provide tourists with interpretation services for better understanding of the attractions.

Classes of China Tour Guides
By different technical grades, they can be categorized into four classes, including junior, intermediate, senior, and super tour guides.


Junior guides are usually green hands with less than two years' working experience.


Intermediate tour guides are the main force of many China tour operators, who are supposed to have more than two years' working experience.


Senior tour guides are those who have been engaged in tour industry for at least four years and have influences among peer counterparts.


Super tour guides are rare to see. They are required to have a work experience in the industry for more than five years and have attained significant achievements.

What Can a Tour Guide Do for You?
A China tour guide is responsible for doing the following things for you:
1. Arrange tourism activities according to the reception plan and give you a brief induction to the places to be visited.
2. Answer any of your questions during the tour.
3. Help to arrange your accommodation and meals.
4. Ensure your safety and the smooth operation of the tour.
5. Cope with emergencies.

China Tour Guides Income and Tipping
Currently, the income of a China tour guide is composed of: monthly salary + travel subsidy + commission from scenic areas and shops + tip. The monthly salary is around CNY 1,500 and foreign language guides are commonly higher than Chinese-speaking guides. The travel subsidy is calculated by day, generally between CNY 200 and 500 per day. The commission varies in different shops and scenic areas, usually depending on their profits. Tour guides in different cities have different incomes. For example, the average monthly salary of Beijing tour guides is CNY 7,500 and that of Shanghai tour guides is CNY 8,400.

Tipping is not mandatory in China, but it's common in inbound tourist activities. Therefore, you are advised to tip the tour guides to express your gratitude to their services. Below is a chart for tipping standard for reference:
| Tour Group Size | Tipping for the Guide per Group per Day |
| --- | --- |
| 1pax | CNY100 |
| 2pax | CNY120 |
| 3-4pax | CNY150 |
| 5-6pax | CNY200 |
| 7-9pax | CNY250 |
| 10+pax | CNY300 |

See also:
Tipping in China: Tipping When Joining a China Tour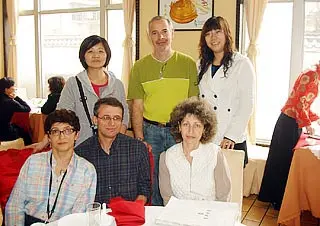 Our guide with guests in a restaurant
What Can You Expect More from a Good China Tour Guide?
In addition to the basic services listed above, you can expect more from a good China tour guide in the following aspects:

1. Long-term working experience. This makes them able to cope with unexpected situations so as to ensure a smooth and pleasant trip.

2. A good knowledge of Chinese culture. Through their explaining, you can learn more about China.

3. A strong sense of responsibility and approachable character. A good tour guide should be very attentive and try his or her best to meet the demands of tourists to enhance their travel experience. You will feel very comfortable during the tour.

How You May Be Treated by a Black-hearted Tour Guide?
Black-hearted tour guides usually refer to unlicensed private tour guides who are not appointed by travel agencies. Seemingly cheap, they may actually rip you off. Some may cheat you on price, contract terms, numbers of shopping stops, etc., some may force you to purchase unnecessary things, some are not friendly and speak bad words to you, and some may modify the travel itinerary arbitrarily or even leave the group members on the halfway. As they are not licensed and did not register in tourism administration, it's hard to make complaints. Therefore, you must be cautious not to choose such a guide to guarantee a wonderful holiday.

Are the Top-ranked Private Tour Guides on Tripadvisor Trustworthy?
Tripadvisor is a well-known travel review site in recent years. It's where many tour guides and travel agencies publish products and guests who attended the tours make comments. Generally speaking, the top-ranked tour guides are trustworthy, but there is still possibility that they are using some ways to make fake good review data. Therefore, we recommend that you choose a travel agency with a good reputation rather than hire private tour guides. The operating system of reliable travel agencies is more complete, and you don't need to worry about the quality of services and after-sales issues. However, if you use a private tour guide, what services you can get is unwarranted. If you encounter any problems, it will be difficult to safeguard your legal rights and interests.
---

Introduction to Tour Guides of Our Company

Please visit our
China Tours
to select your favorite itinerary.
- Last updated on Apr. 26, 2021 -
Questions & Answers on China Tour Guide
Asked by Sharon from SINGAPORE | Mar. 24, 2019 07:24

Reply
How do I walk from Jianguomen subway station to Hotel New Otani Chang Fu Gong?
Thanks!
Answers (1)
Answered by Emma from AUSTRALIA | Mar. 24, 2019 19:49

0

0

Reply
You need to walk southeast about 8 minutes.
Asked by Tony Law from MALAYSIA | Mar. 11, 2019 20:01

Reply
My interest is to explore Wuhan city attraction
And mainly to visit my ancestral hometown tianmen, Lau village.. Are you able to find out whereabout this village .
Answers (2)
Answered by Kevin from USA | Mar. 12, 2019 18:13

0

0

Reply
Hi, I know there is a Zhong Lau Village and a Shang Lau Village in Tianmen City, Pengshi Town. But I'm not very sure if it is the village you are looking for.
Answered by tony Law from MALAYSIA | Mar. 19, 2019 22:09

0

0

Reply
Thank you
Asked by Nelsie ann zoilon from PHILLIPINE | Aug. 21, 2018 10:44

Reply
What's the impact of euro centricity of writings about the history of tourism to china's tourism?
Answers (1)
Answered by Vicos from JAPAN | Aug. 21, 2018 18:32

0

0

Reply
In recent years, China's outbound and inbound tourism industry have a sustainable development. Starting from the favorable and unfavorable influences of euro, China tourism actively seeks the development space from the import and export tourism. At the same time, the Chinese people's income, consumption level and the pursuit of spiritual products are highly rising. Europe as one of the China's tourism destinations and source markets, is in the wave of the entry and exit travel boom in China.

The most direct impact on the tourism industry is to greatly facilitate the development of tourism business, reduce the cost, eliminate the operational risks, and stimulate the competition in the tourism market. The euro as a regional currency is both exclusive and open that would form trade barriers for China. China tourism in the euro zone will suffer the resistance.