Tour Guide - Linda Xie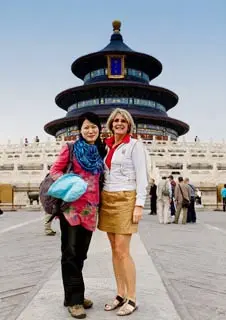 Linda with our Guest
in Temple of Heaven, Beijing
My name is Linda. I am an English-speaking tour guide for TravelChinaGuide in Beijing. I have worked here since 2007 and really love this energetic company. I enjoy every minute of my work. I am so lucky that I love what I do which makes my clients and me happy everyday.
Why do I love my job? First, I love meeting people, communicating with people, sharing my knowledge about this city and my favorite stores, showing tourists the reality of China and giving vivid description of Chinese history and culture.
Second, I love reading. Extensive reading from politics to daily life broadens my horizon and lets me think of the world. As a result of so much reading, I always find that I have interests in common with my clients. When they are with me, they feel they have a good friend in Beijing not just a tour guide.
Third, I love traveling. In my geography class, I learned that China has more than 9,600,000 square kilometers with varied landscape. I hope one day I can travel to every corner of this wonderful land. In my childhood, on weekends my parents always took me to different kinds of attractions in and around Beijing, such as the Great Wall and the Forbidden City. In summer holidays, they took me to other cities such as Guangzhou and Shenzhen. After working, I have been to many places including Xi'an, Shanghai, Guilin, Tibet and Hong Kong. I am really impressed by the picturesque Guilin, modern Shanghai, holy Tibet and classical Xi'an. However, it is still a pity that all of my travels so far have been in China. I hope one day I can visit other parts of the world and get to know people there.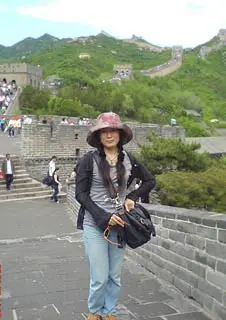 Linda Xie on the Great Wall
Fourth, I love food. I like trying different kinds of food in different cities. Just think about the delicious food in Beijing. You can eat any type of food here. I can give my clients good recommendations that suit their tastes when they are visiting Beijing! I also enjoy the various other kinds of Chinese cuisines. The hot Sichuan food, the delicious Canton delicacies, the spicy Hunan dishes and many other foods all give me a chance to get know the profound Chinese food culture and I enjoy sharing this information with you.
I was brought up in a traditional area. I used to live in a Siheyuan, which is the traditional residence with a courtyard in the center, and surrounded by houses on the four sides. These courtyards situated in Hutongs are special to Beijing. Some of the courtyards and Hutongs have been taken down due to the new arrangement of the city. Fortunately there are some left which are being preserved by the government. My childhood was spent in those Hutongs, running through the little alleys with my friends, playing hide-and-seek, kicking shuttle cocks, skipping rubber bands and so on. I have many happy memories of the Hutongs that I would like to share with you!
There's a saying in China, "It is such a delight to have friends come from afar!" I want to welcome you to China and look forward to meeting you here!
- Last modified on Apr. 11, 2019 -